A distinctive white, albino peafowl was the first to go.
Now, six months after it began in earnest, the thinning of the peafowl flock is nearly finished on Longboat Key.
Bradenton-based Nuisance Wildlife Removal was hired earlier in the year by Longboat Key to do the job, which once was estimated to mean catching as many as 150 peafowl.
NWR personnel caught 61 peafowl — 28 peahens, 19 peacocks and 14 peachicks — to date. The last one was removed Oct. 21.
Three peahens and one peachick remain free, so far, but have not escaped exile entirely.
"We're just letting the peachick get a little older," said NWR spokeswoman Christy Norris. "We're not sure which of the remaining females is the mother."
Norris said the nuisance animal removal was a lot harder than others her firm has done, which include bats, snakes, rats, armadillo, bees, opossum, squirrels and moles. Some people were attached to peafowls they fed and treated like pets.
"Yes, it makes it a little bit tougher when you have people interfering, for lack of a better term," she said.
Longtime Longbeach Village resident Kim Kessler said the birds came on the island as gifts when her high school classmate, Lark Pazling, married Bo Hunter. The couple let the birds loose in advance of a hurricane, Kessler said, and nature took its course.
Kessler said the worst of the removal came July 7 during what she calls the "Great Fox Street Massacre." She said more than one peafowl was manhandled and probably harmed during the roundup, and some people were traumatized by the incidents.
"To see the animals and the people treated they way they were was just horrific," she said.
After the July 7 conflict between the trappers and residents, the Longboat Key Police Department was tasked with keeping the peace during subsequent roundups.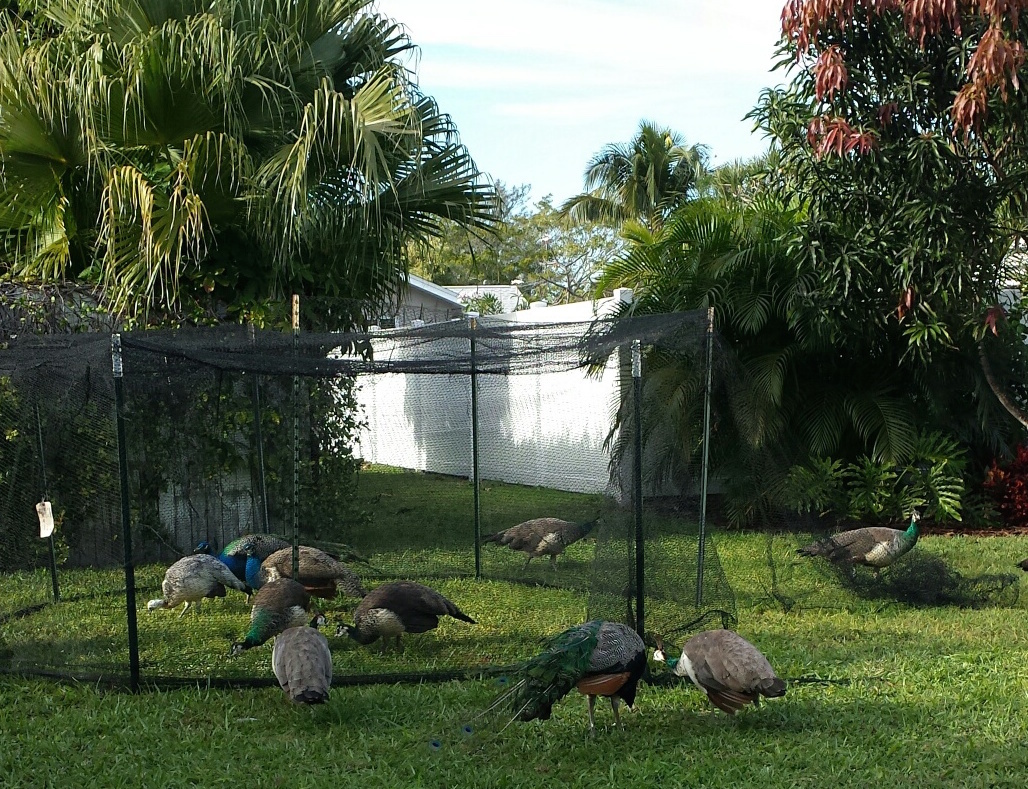 After all females are gone, as many as 12 males will stay.
"It's been a long process, but we're close," said Mark Richardson, Longboat Key streets, facilities and parks and recreation manager.
In January, Longboat Key decided to remove all peahens because they were loud, particularly during mating season, and caused property damage with their feces and talons. Traps, nets and tranquilizer darts were employed by NWR to catch the flighty birds beginning in June.
Some Longbeach Village residents still wonder whether any peafowl were killed in the process, which is a risk with tranquilizer guns, Kessler said.
The trappers say the darts were necessary.
"We began to use tranquilizers when they got trap-shy and human-shy because they grew to understand we're the people taking them away," Norris said.
The hunt became more difficult as the flock was pared down to its wiliest 10%, Richardson said.
"Now they know what our truck looks like and they won't come near it," Richardson said. "They won't go into the traps anymore either."
Norris emphasized none of the animals were harmed.
"We did not kill a single peacock," Richardson said. "I was there the entire time to make sure it was done properly."
Six of the peafowl are living at the Birds of Paradise Sanctuary & Rescue in Bradenton. The rest of the flock was distributed among several private sanctuaries, Norris said.
"No one sanctuary was going to take all 61 peafowl," she said.
Kessler said she still wants proof the peafowl have survived "their ordeal." She said she has asked for pictures, but none have been provided.
"We just don't know what happened to our birds," Kessler said. "They ate out of our hands. They showed us their tails. They showed off their chicks (The trappers) could at least produce photographs. There's no proof at all our peacocks survived the onslaught."
The project cost is up to $12,000, or not even half of the $25,000 budget.