Florida's white sand beaches on the Gulf Coast beckon vacationers from around the world. As the region's prominence as a tourist destination has grown, traffic problems for barrier islands such as Longboat Key have mounted.
At a joint meeting Oct. 26 between the Sarasota County and Longboat Key commissions, representatives discussed the need for action.
"Let me try, perhaps a little desperately, to find some positives here," said Sarasota County Commission Chairman Alan Maio. "This issue is not going to go away."
Maio said disparate regional factions must unite to effect change on the state level. He called for the formation of a regional group of mayors and leaders to lobby at the state level for transportation funding.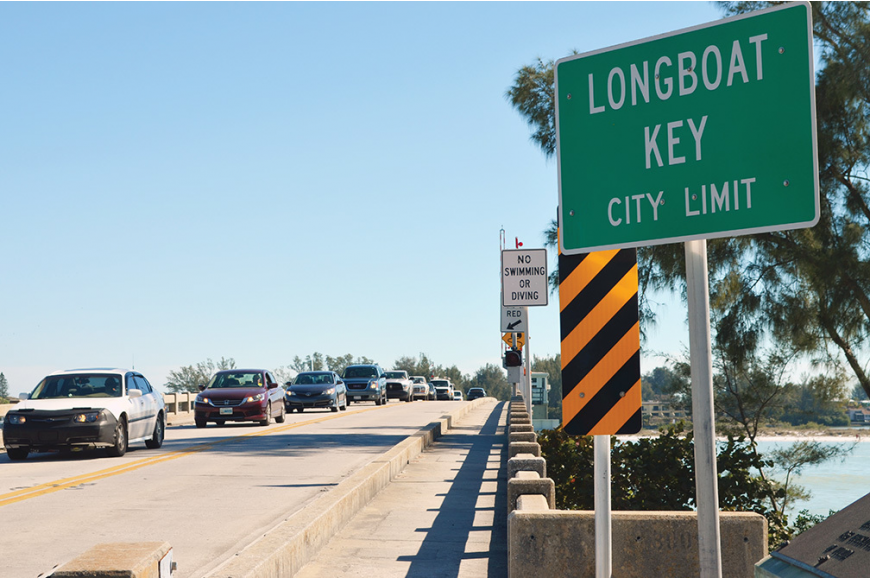 Longboat Key Mayor Jack Duncan, who has four months left before he leaves office due to term limits, said he hopes Maio follows through on his suggestion.
"Alan Maio is the key to this. He's got the leadership and connections to do it," Duncan said.
Duncan said leadership is what is needed from the Legislature. He said the intractable transportation problems on Longboat Key have to be solved by changes in infrastructure.
"In my opinion, this is a state problem," Duncan said. "They should be telling us what we need. They should be telling us demographically what we need: a bridge here, a road there. But they are not doing any of that."
Longboat Key Town Manager David Bullock said thousands of new residential units and about 1 million square feet of commercial space will eventually add traffic pressure from Sarasota to the south. 
Roughly 10,000 new units and 2 million more square feet of commercial space along Cortez Road will bring more vehicles from the north.
"For about 20 years, I was on (the Sarasota side) of the bay, and I used to get a kick out of it when Longboat Key complained about traffic," Bullock said. "They only complained about it for three months. And then they went quiet.
"Now, I'm on the other side of the bay and have been for about five years. You can see the traffic progression. The congestion is incredible."
Sarasota County Commissioner Carolyn Mason said county and city officials are at odds throughout Florida regarding traffic problems. She urged unity in lobbying the Legislature for relief and said the polarizing aspects of traffic studies should be resisted.
Longboat Key Vice Mayor Terry Gans said significant physical and fiscal hurdles must be overcome to enact comprehensive traffic solutions for barrier islands.
"We're spending millions of dollars to get people here," Gans said. "When they get here, if we're abusing them in the sense that they can't go anywhere, it will be a waste of millions of dollars eventually. 
"For Longboat Key residents, the issue is quality of life. As for the surrounding jurisdictions, we have a real economic incentive to see this thing through."
Duncan said solving the Longboat Key traffic issue requires leadership from municipalities and business associations.
"The reality is, this area is overwhelmed by pinch points where traffic comes to a standstill no matter where you are," he said.
Bullock said it's time to come to grips with the issue. Barrier islands statewide face the same traffic crunch, a problem that, left unresolved, could start to harm their economic health.
"It is a real issue that is beginning to affect the way people view Longboat Key, Lido, St. Armands, and I suspect you can just take that up and down the coast: Anna Maria, Siesta Key and so on," Bullock said. "People are saying, I don't know if I want to come to your island if I have to sit in traffic for two hours."
Suggestions for improving traffic flow in recent years have included building a third bridge over Sarasota Bay to Longboat Key, implementing a water taxi system, better timing for traffic signals and roundabouts.