After hearing nearly a week's worth of predictions of a Category 4 storm capable of unprecedented destruction, most area residents woke Monday morning to the last gusts of Hurricane Irma and a new feeling: relief.
Hurricane Irma made landfall Sunday night near Naples. As it approached the Sarasota-Bradenton area at about 11 p.m. Sunday, its intensity fell to a Category 2 hurricane with maximum sustained winds of about 100 mph, according to the National Hurricane Center. Emergency officials estimate that its storm surge was about 1 to 3 feet in most areas, instead of the 5 to 8 feet predicted.
By noon, people who evacuated began to return home, and those who stayed and waited out the storm were happy to be outdoors again.
A large tree fell during the storm and blocked the entrance to the Point Crisp neighborhood of South Siesta Key. But that wasn't stopping Harry and Mary Goodan. After climbing through the branches, the couple waded through several inches of standing water to walk the quarter-mile to their home. Meanwhile, a private contractor started removing that tree.
The thought of flooded streets didn't immediately alarm the Goodans — it's common after heavy rain, they said. But Hurricane Irma's size concerned them.
"We said goodbye to the house when we left," Harry Goodan said. "The storm was too big to trust."
When the couple made it back down the road to their home, they saw that their generator was running and there was no damage to the exterior of the building.
"You never know," Harry said.
On Morrill Street, Dylonn Cole surveyed a tree outside his house and business that caught another tree that fell, preventing it from hitting his building. Cole evacuated to Palmetto on Saturday once Sarasota County started announcing evacuation orders. "When they were predicting a Category 3 or 4, and knowing this is a wood-frame house, that was enough for me," Cole said. "This whole storm has been so bizarre."
After spending the past couple days sheltered in their Sarasota home, the Huang family was happy to get some fresh air as well. Frank and Christine Huang took their son to the playground at Payne Park. Christine Huang said the storm didn't seem all that bad. "That's why we're out playing today," she said.
Likewise, Brandon Barnett, who lives in Artisan Cove Apartments but stayed with family at a house in South Gate for the storm, said it didn't seem like too big a deal. "You really couldn't tell there was a storm until we lost power." Barnett said the power went out at 5 p.m., and as of Monday, they were still waiting for it to return.
Lisa Dodds lives on Higel Avenue, and with the bay in her backyard, storm surge and flood waters were her main concern with Hurricane Irma. But after the storm was over, she found her home undamaged, with just some tree debris in the front yard to show for the powerful winds.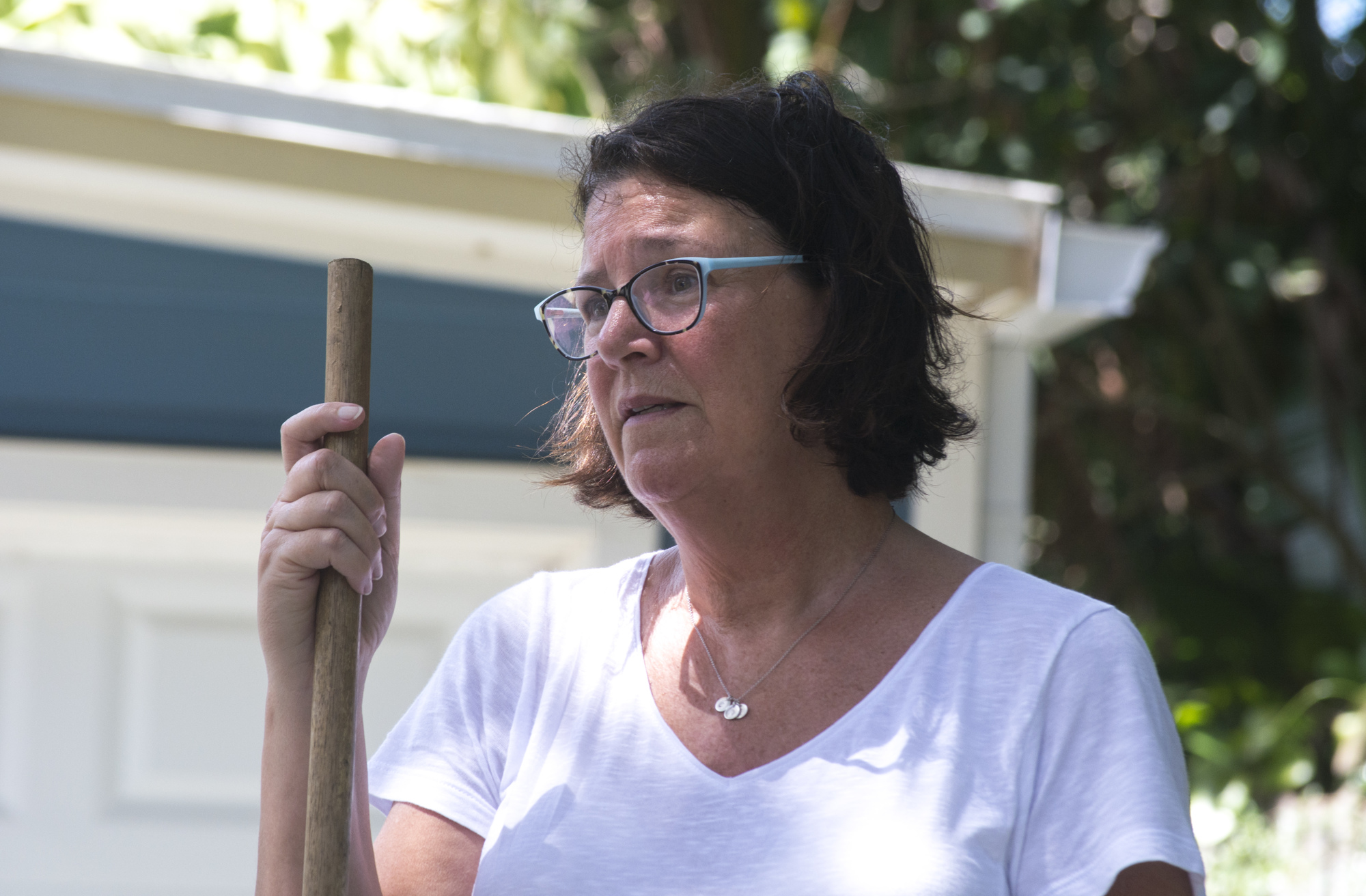 "We were relieved, and we're very, very tired," she said. "It's a lot of work in a very short period of time. You're running on adrenaline, and now that adrenaline is gone. We're just about ready to take a long vacation."
Dodds is no newcomer to storms — before moving to Siesta Key, she lived in Louisiana and Miami. She said she and her husband knew what to watch for as Irma brewed.
"We're just grateful it wasn't a Category 4. That would have been really devastating, I think."
The majority of visible damage Monday came in the form of broken branches and whole trees toppled, with roots sticking out of the ground. Longboat Key residents were allowed back on the island around 4 p.m., but a tree across Bayview Drive could possibly delay residents of that neighborhood until Tuesday. Also, residents who live behind both Bay Isles gates couldn't drive through into their community. Because of fallen trees and safety concerns, they were asked to walk in.
Around Longboat Key, trees were down and broken signs were common sights. 
And when trees fell, they often took power lines with them. Florida Power & Light worked throughout the day to restore power. Sarasota County said about 175,000 people lost power during the storm. Residents reported downed power lines across Sarasota, and traffic lights were sporadically out throughout town. As of Monday evening, 153 out of 233 traffic lights in the county were still out.
Sarasota County was still waiting on Monday night to give the all-clear to residents to return home with so many lights out of service. "We're hoping by not doing an all-clear, we're emphasizing that it's not safe," Sarasota County Emergency Management Chief EJ McCrane said. 
Irma was the largest hurricane recorded in the Atlantic, prompting Florida residents to take notice of its projected path. People started gathering supplies such as bottled water and gasoline early last week, with many stores running out of water by mid-week.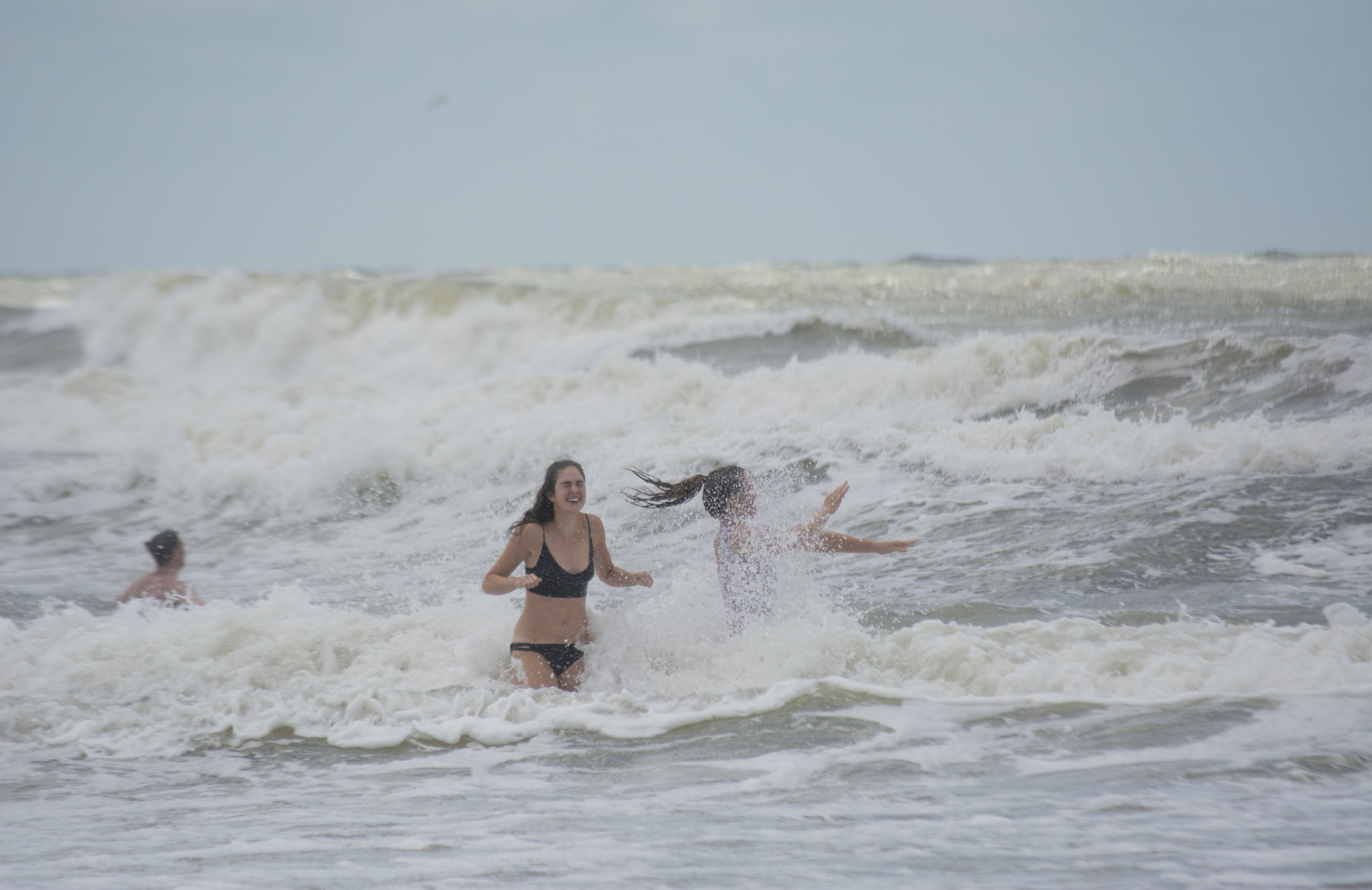 Julia Close was visiting Siesta Key with her family from the United Kingdom's south coast city of Brighton. Just hours after the storm, some of her family members were in the water at Siesta Beach. She and her family evacuated farther inland, but were back on the Key before the county issued an all-clear.
"I've just been amazed at how slick the whole production is of evacuation and all that," she said. "It's been awesome."
The family's two-week stay comes to an end on Wednesday, and Close was hopeful that some of the businesses in the Village would reopen before they leave.
"We're a little disappointed, but they couldn't have done anything different," she said.
Longboat residents Jim and Darleen Lebaron spent Sunday at Aloft hotel in downtown Sarasota, along with friend Mariana Hidalgo, who evacuated from Miami. On Tuesday, Darleen Lebaron said she asked her husband to get some bottled water for the storm. "Then I got to the office and checked the forecast," Jim Lebaron said. "I called her back and said I got us water and a hotel room."
The Lebarons said they were lucky in their choice of hotel. They had friends who had booked rooms at other downtown hotels west of U.S. 41 who had to leave once a mandatory evacuation for Sarasota County's Zone A was announced. "The staff was phenomenal, too," Darleen Lebaron said.
"They said they were down to a staff of 12 people, but they all handled it with smiles," Jim Lebaron added. The best part? The Lebarons two dogs, Gigi and Tucker, were welcome at the hotel, and had plenty of pet pals to play with. "There was even someone with a fish," Jim Lebaron said.