Hannah Benitez's "Dike" is now on stage at Urbanite Theatre. It's a new work, but it's a work in progress. The playwright will fine-tune it before the official premiere, but even in embryonic form, it's a challenging play.
The play revolves around two sisters, Rachel (Alice Marcondes), and her older sister, Kristen (Kelly Pekar). They grew up in a strict Catholic home in the American heartland. Kristen went to nursing school — and recently found true love (and her true sexual identity) in the arms of Charlotte (Jen Diaz). Kristen's happy to be a lesbian, but still navigating the early days of self-discovery. 
Her unhappy sister is more of a mystery. Without explanation, Rachel split up with her fiancée and moved to Dublin. She's now in graduate school — and incommunicado. Kristen's worried about her little sister. So, she flies to Dublin with Charlotte to visit. They enjoy a bit of self-discovery in Rachel's flat — and she shows up immediately after. There's a tension in the air, an unspoken secret, an elephant in the room. Then Rachel's Irish friend, Marion (Morgan Meadows), gets into the act, along with Spinoza, and a long list of Catholic theologians. If that sounds vague, that's because it is. The playwright asks critics not to name the elephant. We won't. But here's a hint …
Besides offering a few steamy scenes, this is also a play of ideas. These can be talky and dull (think George Bernard Shaw at his most preachy). But Benitez avoids lectures, and makes her people talk like people.
Director Tatiana Pandiani reveals those people in the white-hot urgency of now. You get a sense of their messy lives unfolding. And the beautiful illusion that it's all unrehearsed.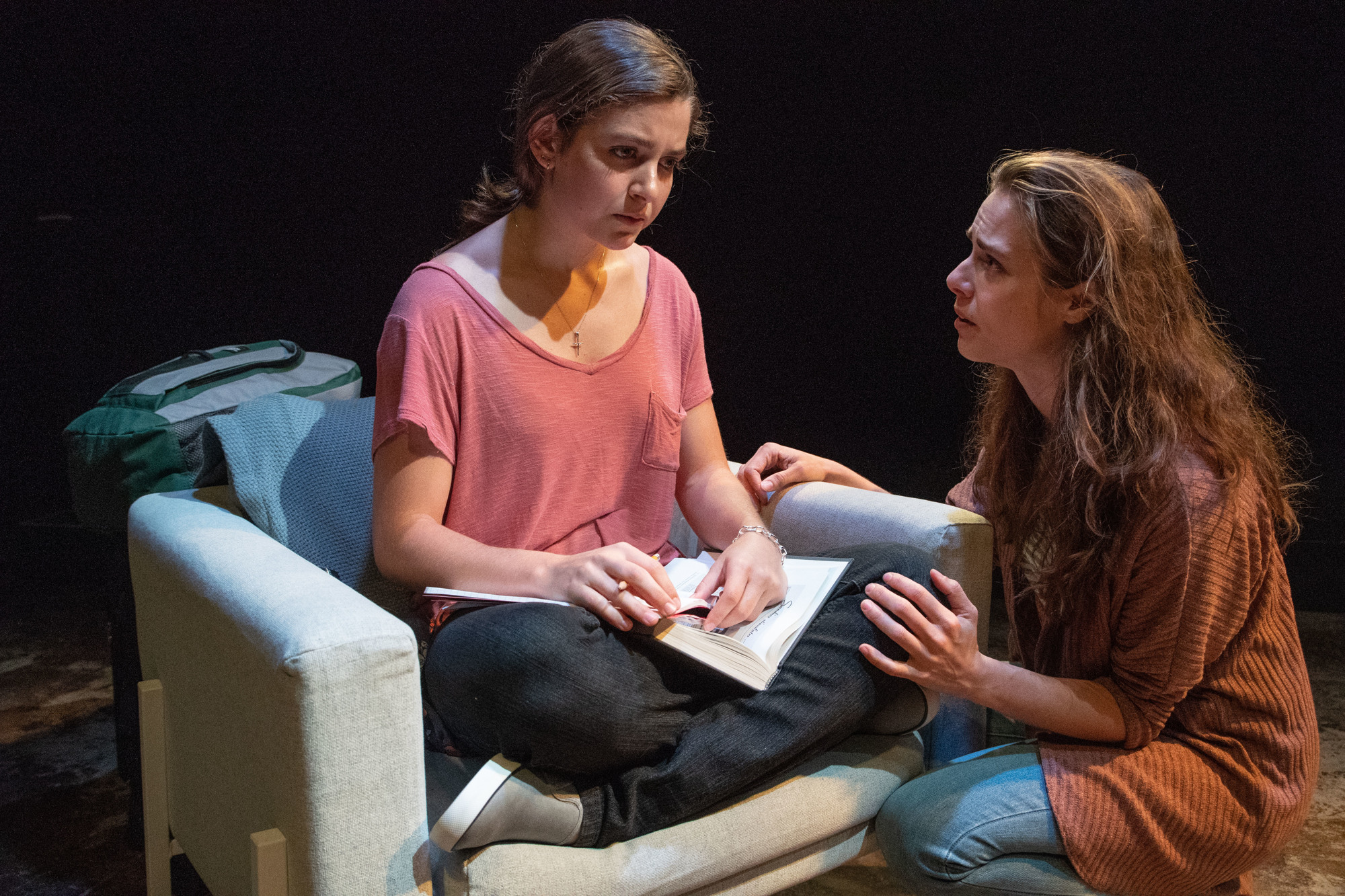 Pekar and Diaz make you feel the love between their characters. Pekar's Kristen is a newly awakened lesbian. She's still trying to set aside her conventional American Girl programming and get in touch with her authentic self. (The self for others, not the one behind her eyeballs.) Diaz' Charlotte is utterly at peace with being gay; this repression thing astounds her, though she's not without empathy. Marcondes' Rachel wears her self-denial like a thorny crown. But the crown keeps slipping off. Self-sacrifice is at the heart of her faith. And her doubt. Marion is Rachel's best friend, and possibly more. Her character seems peripheral. Theology does, too. In both cases, they're at the center of things.
Jeffrey Weber's spare set gives you the feeling you're eavesdropping in on a foreign student who shops at the Dublin Ikea. (I checked. There are two in the suburbs.) It also morphs into an abbey library, complete with books and stained-glass windows. Alison Gensmer's costumes evoke the characters without bluntly telegraphing their identities. Joseph P. Oshry's lighting mirrors the characters' states of mind. Brilliant in moments of illumination, dark in moments of doubt.
All this technical brilliance serves the play's central thesis:
Sexual identity is inseparable from personal identity. Gay or straight, to thine own self be true.
Benitez leaves no doubt about her stance.