Professional wrestling. It's one of America's most popular sports — but it's not what it seems. Kristoffer Diaz' "The Elaborate Entrance of Chad Deity" reveals the shocking truth behind this multimillion dollar franchise at the Asolo Rep. Brace yourselves, readers. Because I'm letting the cat out of the bag …
Professional wrestling is fake.
Yes, everybody knows. In an odd loophole, that's what makes the fakery legal! Nobody busts Macy's for fraud when Santa shows up. Nobody busts the execs at WWE for staging elaborate morality plays with scripted endings. 
Because everybody knows.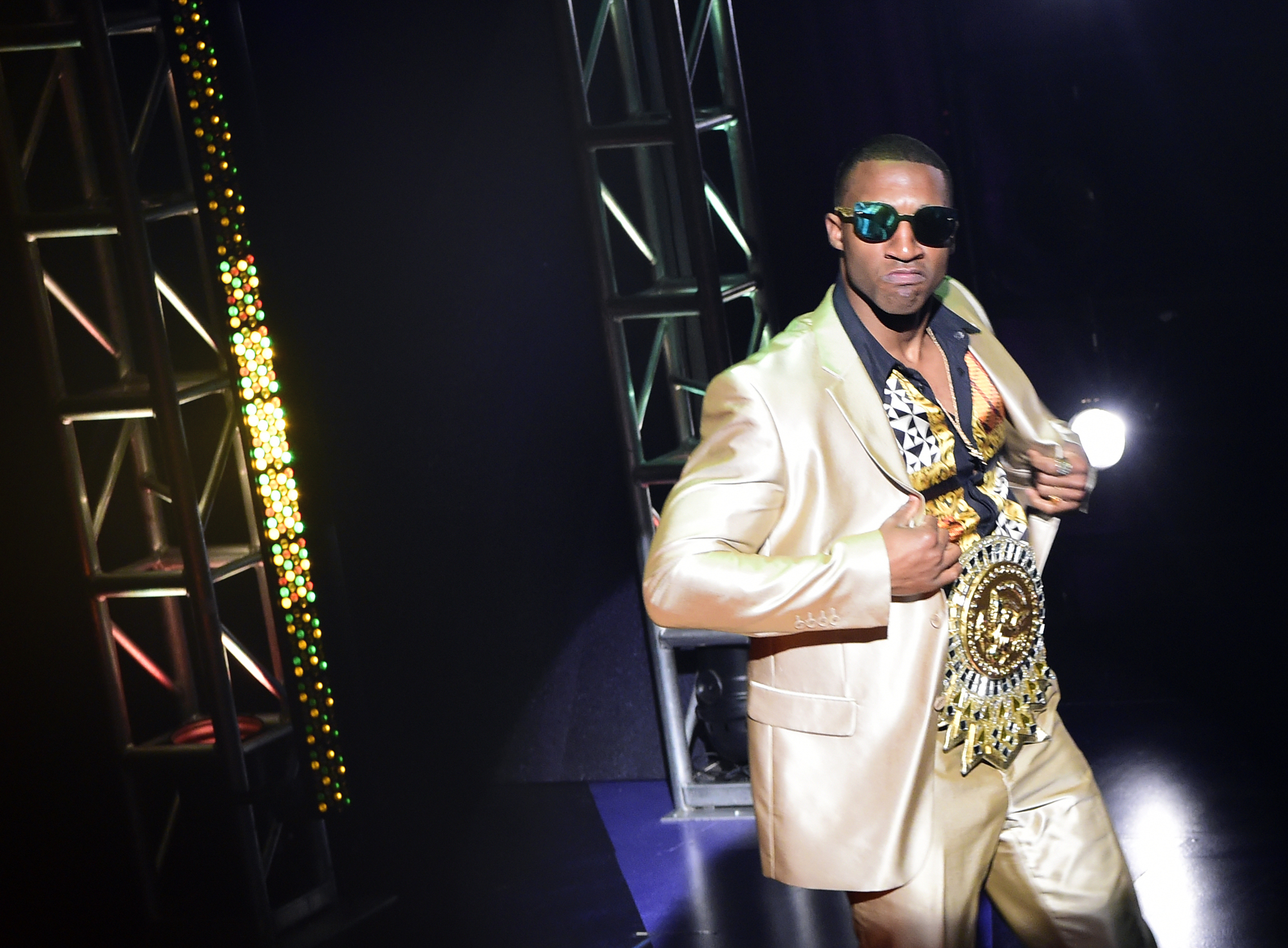 As did the Asolo Rep audience before the big event began. It's a play, not a sporting event. Duh. Ersatz or not, the electric excitement crackled through crowd at the Cook Theatre — which had been converted into a multimedia snake pit, complete with large-screen projections of muscled, cartoonish warriors, abundant fan swag, and the bone-rattling beat of AC/DC's "Thunderstruck." Ding. And it's showtime!
Or more like show-and-tell.
Macedonio "Mace" Guerra (Pierre Jean Gonzalez) is the play's motor-mouth protagonist/narrator. When he's not being slammed to the canvas, he keeps up a constant patter. It amounts to a crash-course in the theory and practice of American wrestling.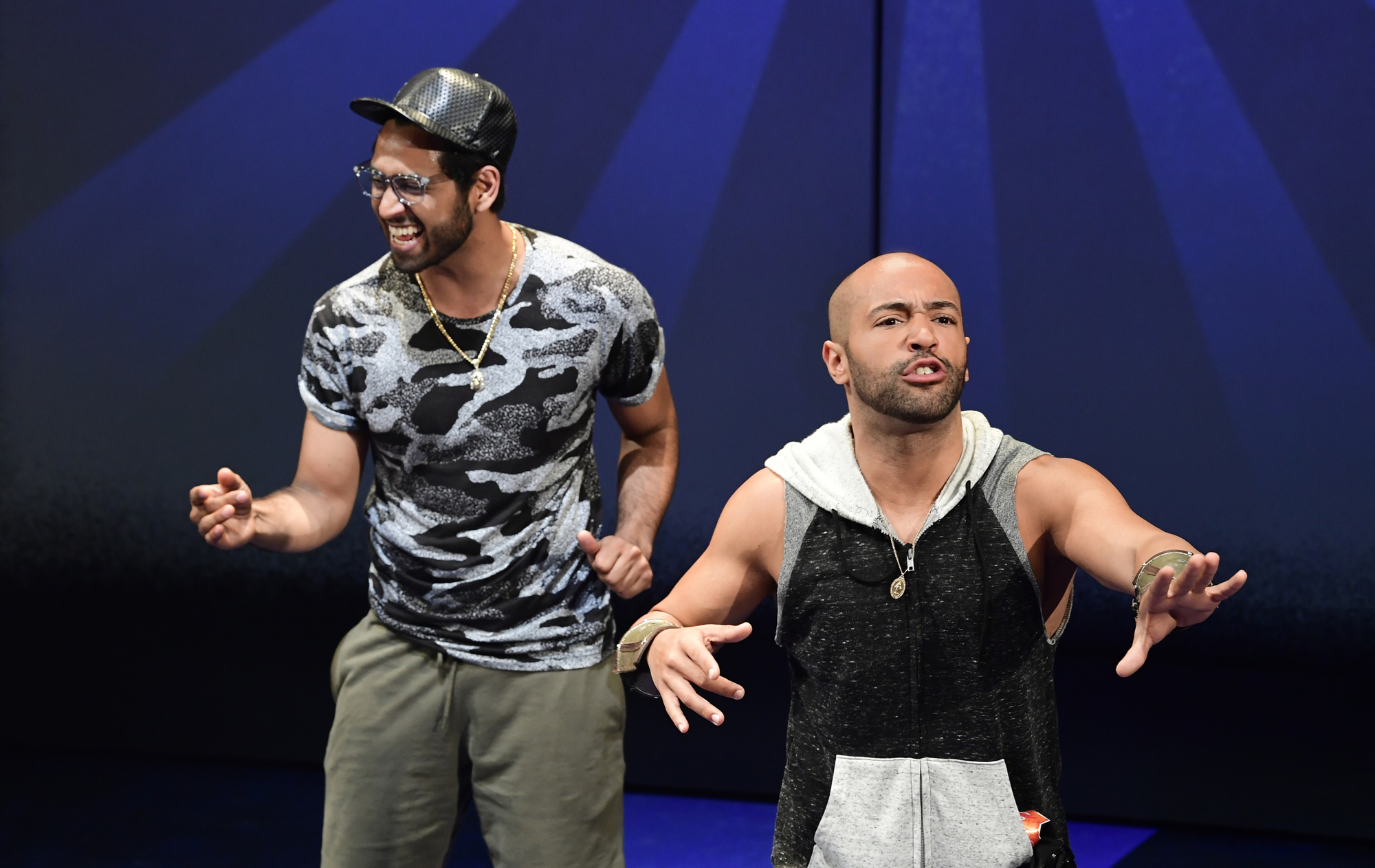 You discover that Mace works for a wrestling franchise with an incredibly unimaginative name — "The Wrestling." He's one of its many designated "heels." Like the robots in "Westworld," it's his job to lose. In Mace's case, he takes a fall for the designated good guy in the wrestling ring. He's almost always the better wrestler. But it takes a high level of skill to make a so-so talent look good, and convincingly fake defeat at their incompetent hands without breaking your neck. The irony is, the more talented heel gets paid less.
Mace, a wrestling purist at heart, knows it's unfair. But he's just happy to be in the ring at all. It's his childhood dream, OK? So he's kept his mouth shut, and taken the money — and the fall — for years.
That all changes after Mace meets a prodigious, polylingual talent named Vigneshwar "VP" Paduar (Raji Ahsan) in the Bronx. The cocky kid is a charismatic, hip-hop Shakespeare, and a natural athlete to boot. Mace introduces him to Everett K. Olson (Scott Aiello), aka "EKO," aka the cheesy big cheese at The Wrestling. This smarmy CEO immediately throws away VP's natural abilities and repackages him with a fake identity. He's now "The Fundamentalist," an Islamist terrorist who wants to humiliate America in the wrestling ring. Indifferent to Mace's Puerto Rican heritage, EKO reinvents him as the terrorist's trusty Mexican sidekick—"Che Chavez Castro," an illegal immigrant who also hates freedom. This devilish duo declares a personal jihad on the franchise's boastful, trash-talking, African-American champion, Apollo Creed — sorry — Chad Deity (Garrett Turner). And the pay-per-view crowd just eats it up! We're talking big bucks for Mace and VP — if they swallow the ethnic slurs. Will they take it? What do you think?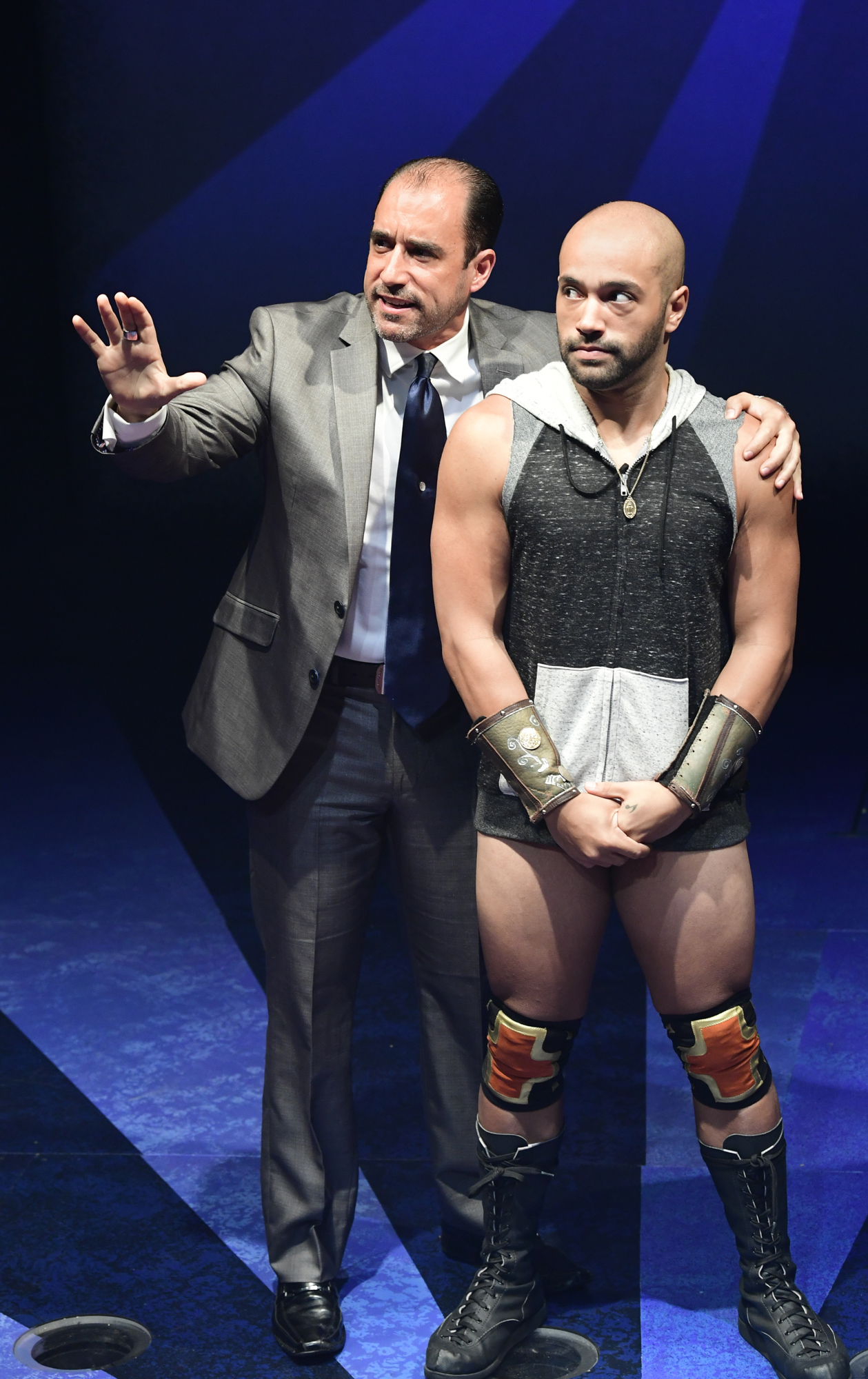 It's all about hype—both the medium and the message. The ever-inventive Jen Wineman whips the crowd up to a fine frenzy with her direction, and keeps the action clear despite the sensory overload. Credit for that goes to Michael Rossmy's fight choreography, Tim Mackabee's flashy, splashy set, and Eduardo Sicangco's lurid costumes. Kudos also to Alex Basco Koch's witty projections and Alan Edward's cage-rattling lighting. Their combined technical wizardry creates the vibe of a multimedia Roman arena. (I imagine the director saying, "We've always had a commitment to good taste in this theater. This time, forget it.") They must've had a blast.
Gonzalez' portrayal of Mace grabs you from the get-go. Yes, he's the exploited underdog who fights the system. The trope's as old as a scratched WWF wrestling action figure from 1986. But Gonzalez invests the role with true passion—and sells you on the character's heartfelt devotion to his art form. (And sells you that wrestling's an art form in the first place.) Turner's earthly Deity is a cross between Mohammed Ali, the aforementioned Apollo Creed, and an obnoxious winner on "The Price Is Right." He's a walking caricature of the American dream as wretched excess, conspicuous consumption, and the mean-spirited gloating of the Winner in a world of Losers. (That's the character Deity plays, not his true self. Turner's performance make that clear.) Ahsan's VP comes off as a sub-continental clone of Spike Lee's character in "Do the Right Thing." He's got the patois, he's got the moves, he's got it—and he knows it. Aiello's EKO is the play's true heel. As H.L. Mencken once observed, "No one ever went broke underestimating the intelligence of the American public." EKO always shoots for the lowest common denominator—and he's far from broke.
So what's Diaz' big message? What else?
Professional wrestling is fake!
Not because it's scripted. (Everybody knows that.) But because its scripts are fraudulent.
"Chad Deity" amounts to artistic criticism. Diaz' play resonates with fan's arcane knowledge. And a fan's anger at the corruption of his beloved art form.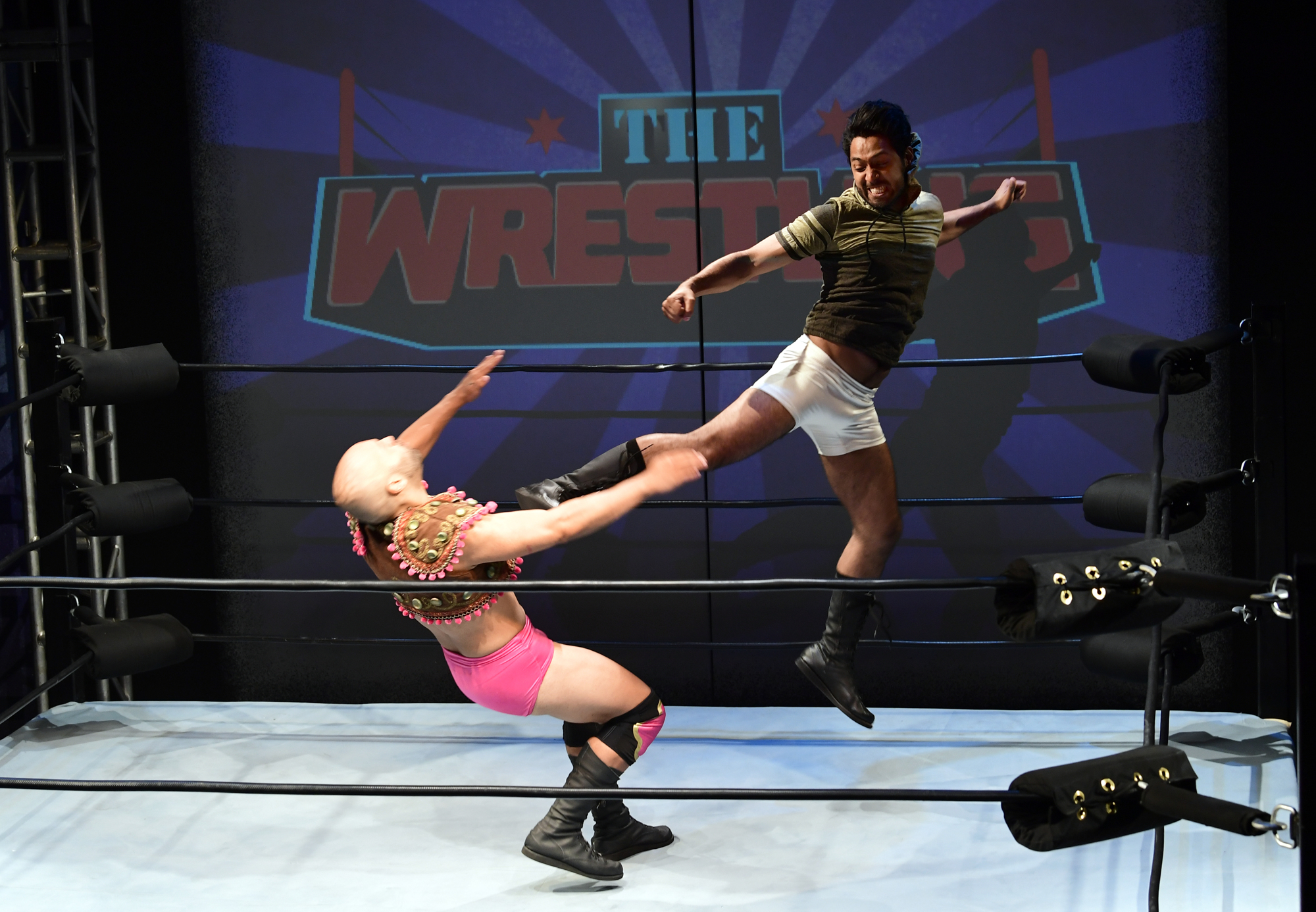 The writing's excellent; the staging seduces you with the guilty pleasure of lowbrow spectacle.  That clever combination earned Diaz an Obie and a Pulitzer Prize nomination. It seems rude to point out an abrupt character turn.
VP knowingly embraces the jingoistic hype of The Wrestling—and then rejects it when it's about to make him rich. A movie could've justified his moral stance with heart-to-heart conversations outside the arena. In a two-act play, his change of heart seems to come out of nowhere.
But it's one false note in an evening of heavy truth. Diaz' captivating, well-written satire lands several body blows. Racism is his obvious target. But he also slams inauthenticity — the ancient villain in the eternal war of style and substance. The moral of this story?
True stories are more interesting that lies.
Even when the truth's dressed in spandex.