Guitar rules pop music, but just barely. The piano is always cutting in, like a competitive little brother throwing elbows and sticking his thumb in his big brother's eye. (While the sax, the more intellectual middle child, stands in the corner and stays out of the fight.) It's been that way since Jerry Lee Lewis.
The honor roll of pop pianists also includes Ray Charles, Billy Joel, Elton John, Barry Manilow and Stevie Wonder. Nimble-fingered artists all. Great composers, some. With a long string of hits to show for it.
FST's "Piano Men" celebrates that legacy. The revue's rough time frame: mid-1950s to mid-80s. Songs with a sprinkling of great piano passages don't make the cut. They have to be built on great piano passages.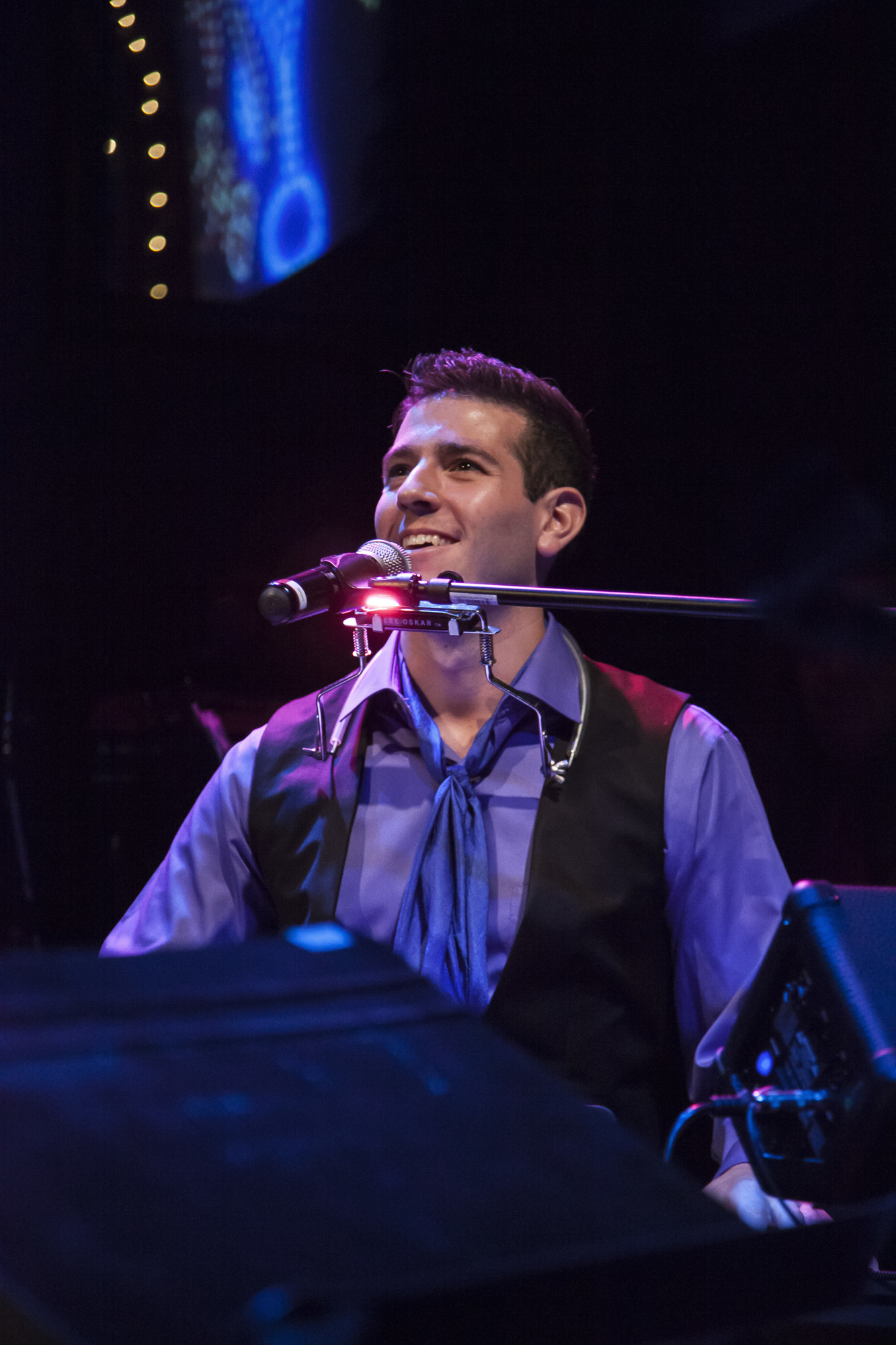 Richard Hopkins, Rebecca Hopkins dreamed up the revue; Caroline Kaiser and Catherine Randazzo contributed; Randazzo also directs. With music direction by Darren Server, snappy arrangements by Jim Prosser, and Susan Angermann's flashy costumes.
Brian Walters and John Grieco are the stars of the show. The piano players, natch. (Strictly speaking, Yamaha keyboard players. But those digital marvels really sound like pianos.) Walters and Grieco can sing, too. They're backed by Greg Amos on sax, Tony Bruno on drums, and Chuck Davis on guitar.
The revue opens with a medley of Beethoven and friends. And quickly enters the twentieth century with Jerry Lee Lewis' "Great Balls of Fire," Ray Charles' "Georgia on my Mind" (composed by Hoagy Carmichael), much wonderment by Stevie Wonder ("Higher Ground," Living for the City," included), and a heaping helping of early Elton John, ("This is Your Song," etc.). Like Candyman, the very mention of Elton's name has a magical effect. Although resulting in swirly disco lighting, not violent death. (Courtesy John Eckert, the lighting designer.)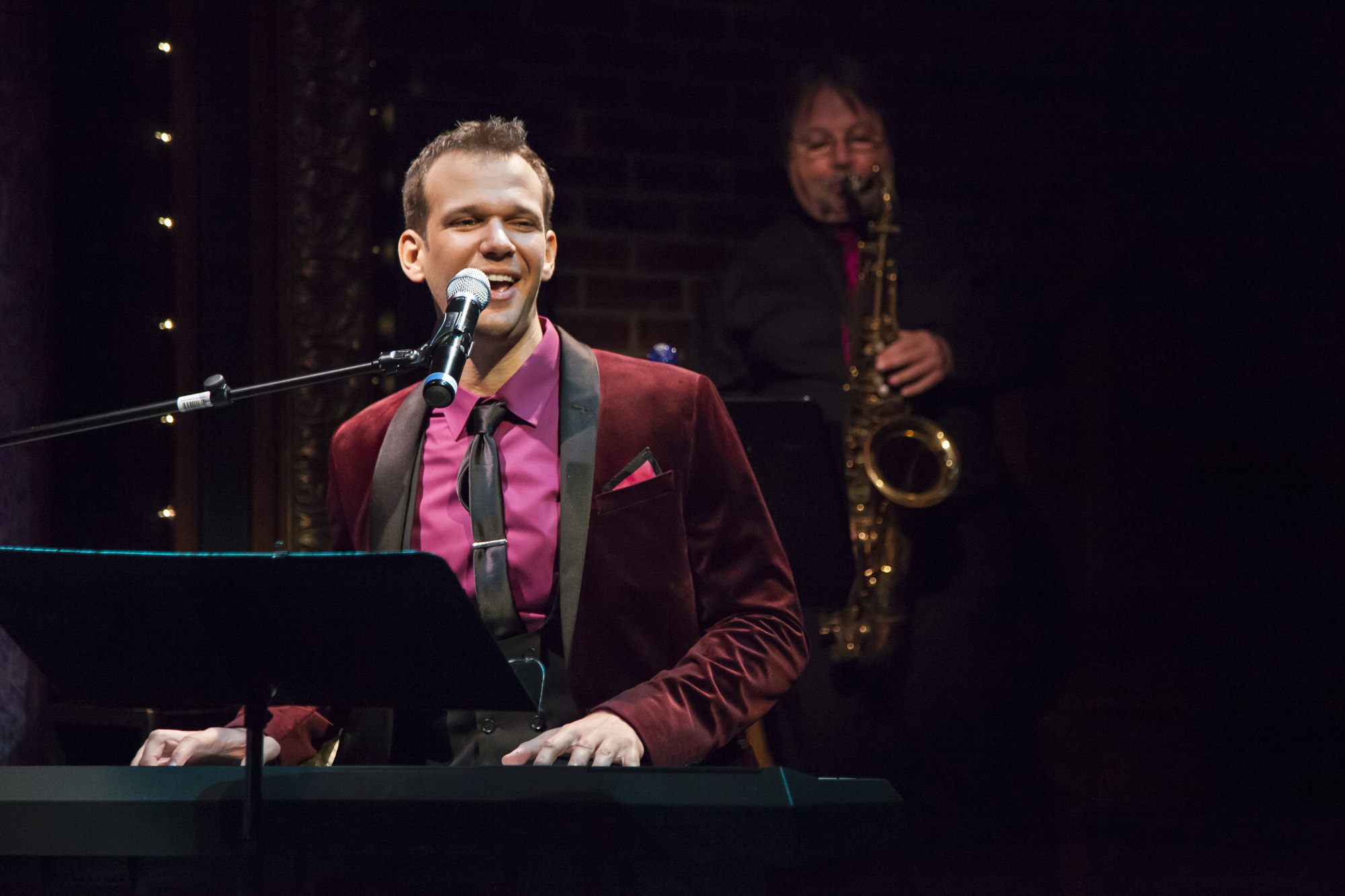 Billy Joel gets his due with a string of his early hits—"The Entertainer" and others. Some are Kurt Weill moody, others are street fighter tough. (Though his punchy "My Life" and "Big Shot" are conspicuously absent.) Joel's a quite bitter being at times. Brutally honest. No sweet-talker.
But most of the revue's piano tunes are upbeat, bouncy and fun.
Which immediately summons the spirit of Barry Manilow.
He writes the songs. Indeed.
Along with his easy-listening monster hits, you discover Manilow penned a slew of commercial jingles. Thanks to him, you know State Farm is there, Hoover sucks, you can get stuck on Band-Aids, and get the break you deserve at McDonalds. That's his work, man.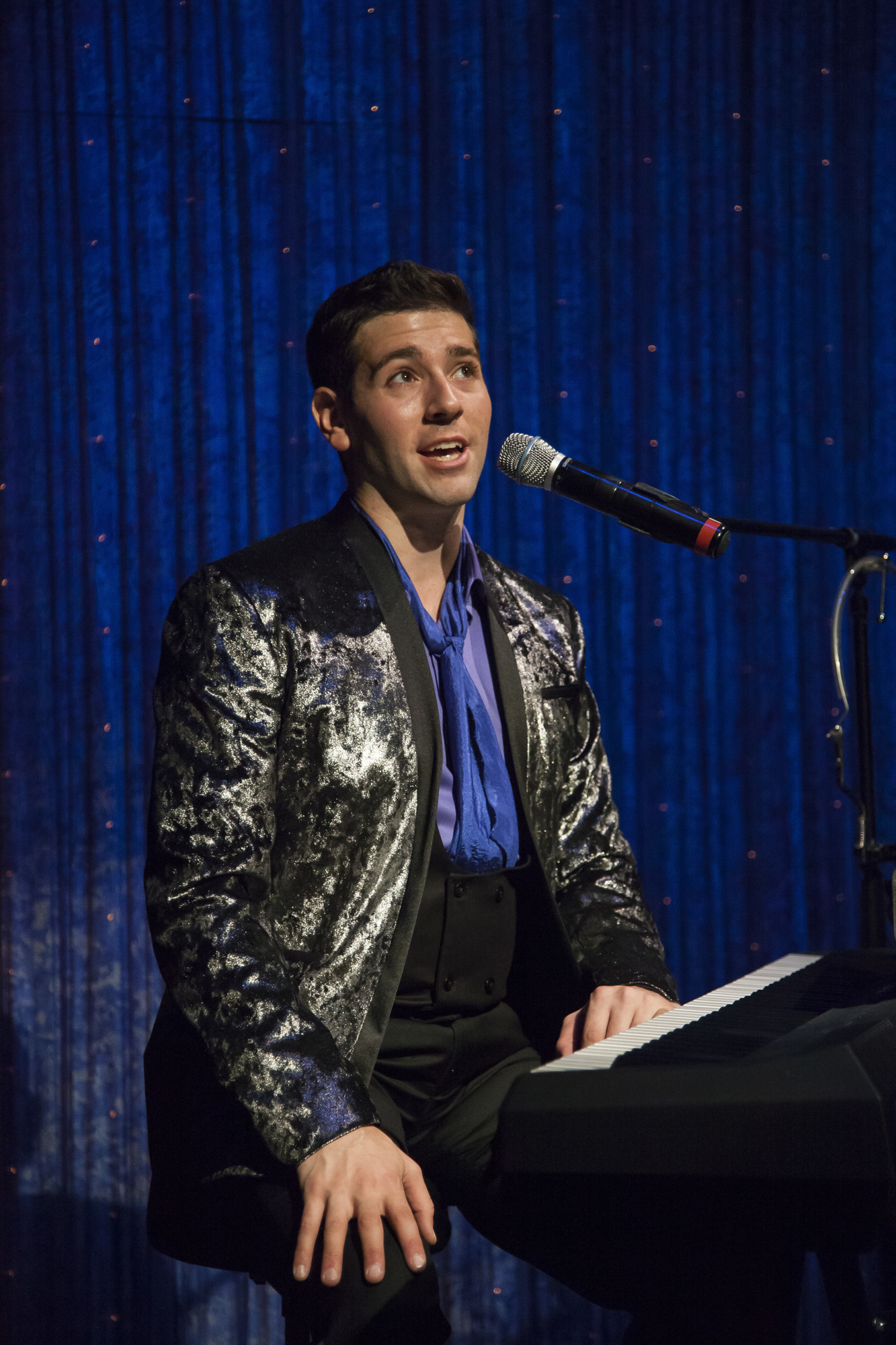 Walters does stellar work on this number. Summons the burned-out bar vibe with his performance. Hits the keys with his flashing fingers; hits the notes with his voice. Plays a mean harmonica, too.
It's the song everybody knows. The revue doesn't stop there.
It circles back to Billy Joel and Elton John in a long segment. Their solo hits. The fallout of the time they toured together. These piano men made a lot of money. But it didn't end well.
Without hitting you over the head, the narrative informs you these high-profile piano players got crazy on tour, succumbed to the temptations of booze and drugs, seduced by fame, addled by yes-men, and finally burned out. Like nearly every other musician, but the observation stands.
Joel and John are a tough act to follow. But the revue takes a quick left turn.
Walters and Grieco take the stage in sparkly, furry capes. Then quickly fire up a classical-gas arrangement of "Chopsticks" with a dash of Ophüls. Grieco says it's an homage to the greatest piano player of his time. Franz Liszt, I'm guessing. Wrong. Liberace is the correct answer. (Should've known. The capes are a dead giveaway. Not to mention Liberace's smiling face on the big screen.)
The revue lights a candle in the wind to a long line of Piano Men. Liberace is not left out. But there's one, major sin of omission.
Progressive rock gets short shrift—in fact no shrift at all. As it usually does. It's one of my pet peeves. Prog-rock's incendiary keyboard artists deserve a nod, Keith Emerson and Rick Wakeman, especially. A whipsaw mash-up of "Tarkus" and "Siberian Khatru" would've been nice, although it might've set the stage on fire. My advice? Cut a few Barry Manilow jingles to make room. It's worth it.
The second act ends with the poignant tune that started it. And what a tune it is. "Piano Man" is one of the greatest bar songs of all time. Beloved by audiences, but hated by the singer/songwriter. Probably because of the performing monkey factor. Audiences demand him to sing it again and again. And again. This rubs Joel the wrong way. Why is that song so damn popular? He still can't figure it out. In interview after interview, Joel says he's done better stuff. And admits his refrains are a series of limericks.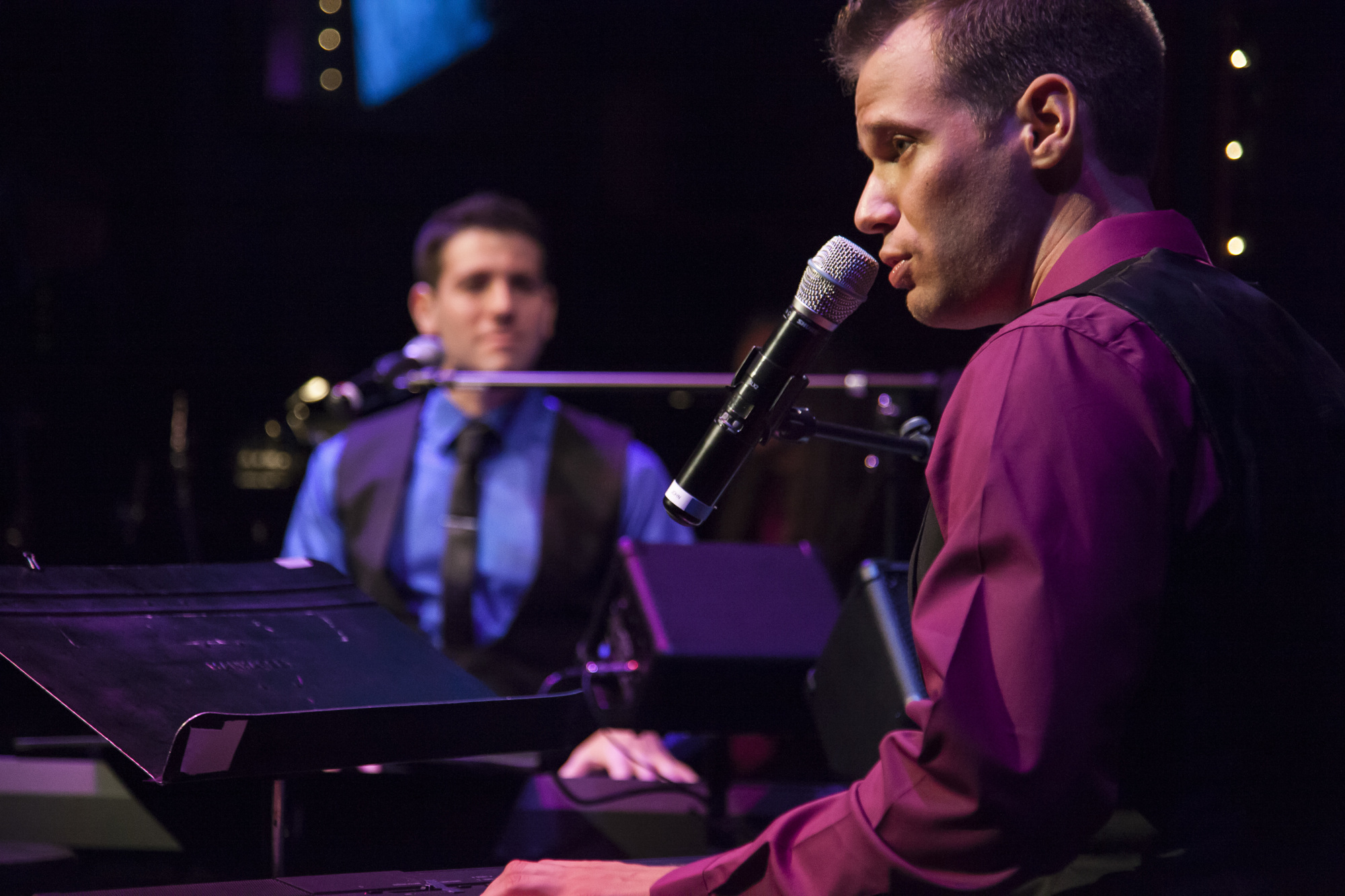 But it's not always wise to be critical. If the audience has a good time. Joel's lyrics can be analytical. And always end up in a rhyme.
Grieco and Walters are great musicians and crowd-pleasing performers. Their back-up band in the shadows is strong, too. (I wish the sax player came in from the cold a few more times.) The revue's tone is bouncy and fun, but not superficial. The revue's creators did their homework. They don't talk over the music with a lecture. They do make sure you know the score.
And, yes, the audience has a good time.
IF YOU GO
"Piano Men" runs through April 2, at Florida Studio Theatre's Goldstein Cabaret, 1241 N Palm Ave, Sarasota. Call 366-9000 or visit floridastudiotheatre.org for more information.