Longboat Key's new fire station is nearly ready to open.
The town plans a grand opening at 10 a.m.  Aug. 11 for Fire Station 92 at 2162 Gulf of Mexico Drive. The next day, firefighters are expected to move out of their adjacent temporary quarters in a mobile home and into their new digs.
"Anything new is a resort," Fire Chief Paul Dezzi said. 
Before the opening, the Longboat Observer got a tour of the new $4.25 million station from Dezzi and public information officer Tina Adams.
Garage doors and ventilation system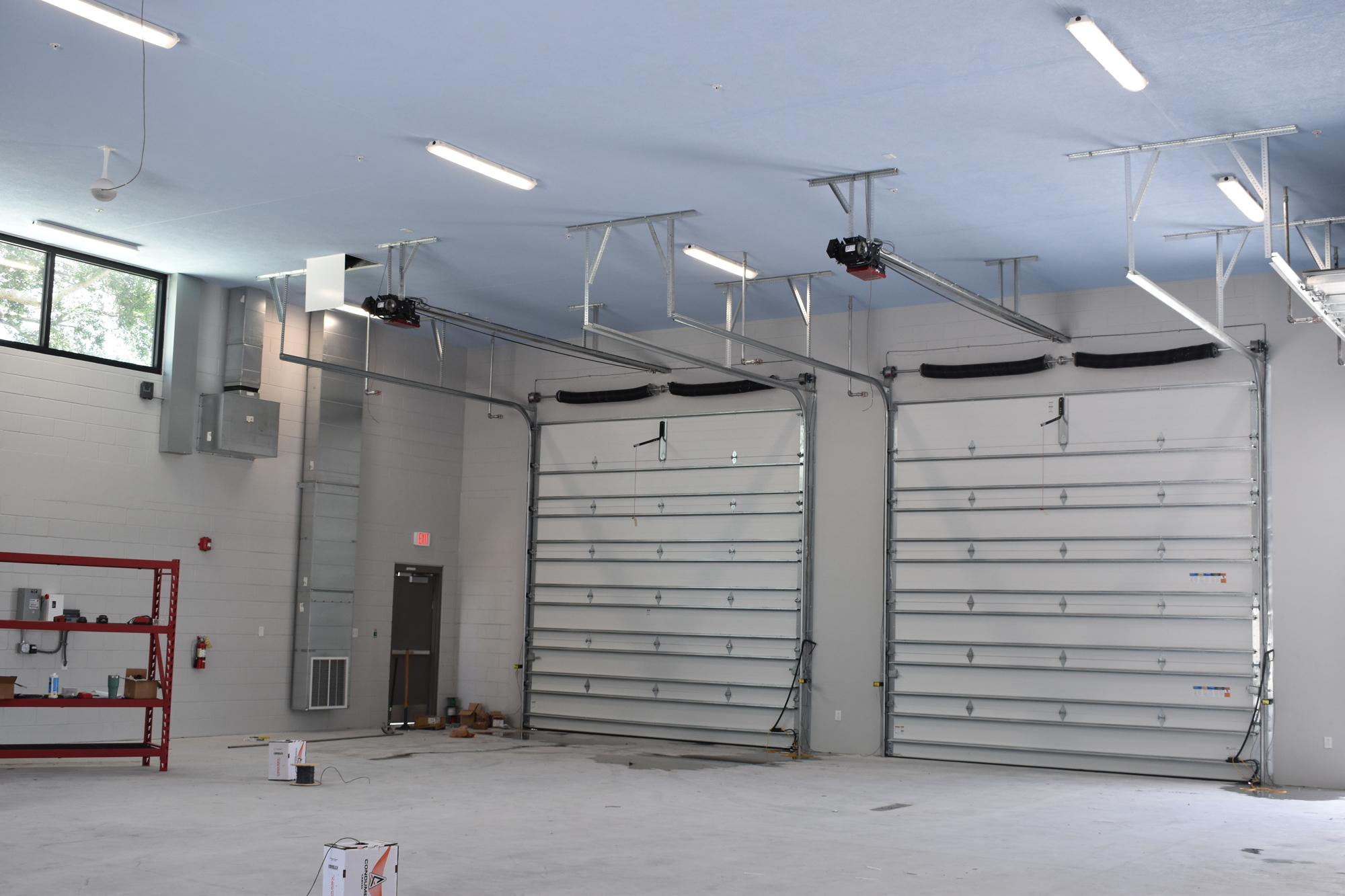 The town's contractor experienced a delay in the delivery of garage doors because of a manufacturing disruption at a plant in Texas,  Town Manager Tom Harmer said.
The delay prompted a later opening for Fire Station 92, which was initially supposed to begin operation in May. The town finally received and installed the garage doors in July.
The ventilation system is one of several ways the fire station is designed to combat carcinogens.
"In the garage, this is a vent system to take all of the fumes out," Dezzi said. "We have them on both sides of the station. We didn't have them before."
Also, the ceiling of the garage is blue to help keep bugs out.
Adams said the Fire Station 91, the town's north-end fire station at 5490 Gulf of Mexico Drive, added blue ceilings to its bay about three months ago.
"We can actually tell a difference from it as far as it working," Adams said. "Just from the past that we've had, having to go up there and clean, we've noticed a drastic change in the non-formation of all of that stuff."
Public entrance on the south end and medical facility for residents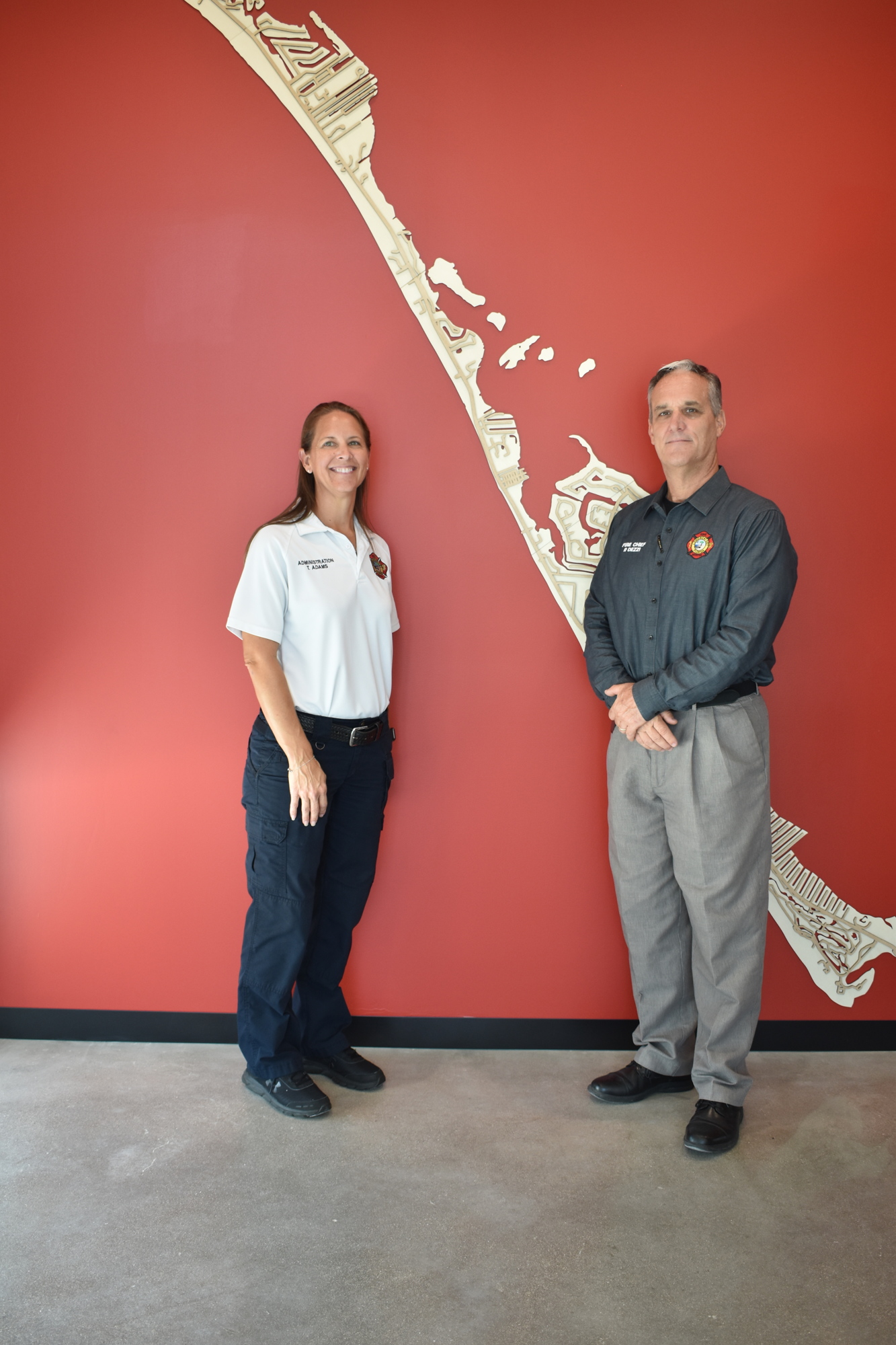 Anyone entering Fire Station 92 on the south end of the building will immediately see a map along one of the walls featuring every street in Longboat Key.
Off the main entryway, the station features a diagnostic room with medical supplies if someone needs treatment, or if they need to use the bathroom.
"In our old station...we didn't actually have a waiting room area," Adams said. "We didn't actually have a treatment room area at that station."
The treatment room is separated from the rest of the facilities at Fire Station 92.
"The crews are secure in their area yet, there's still that front area, the treatment room center where somebody does need to just come in, sit down, take a breather, relax," Adams said. "If they are needing that treatment, we now have that treatment room available."
There is also a commemorative plaque to honor the Longboat Key Town Commission, town manager, town attorney, project architect and construction managers of the Station 92 project.
Locker-room style storage for individual fire equipment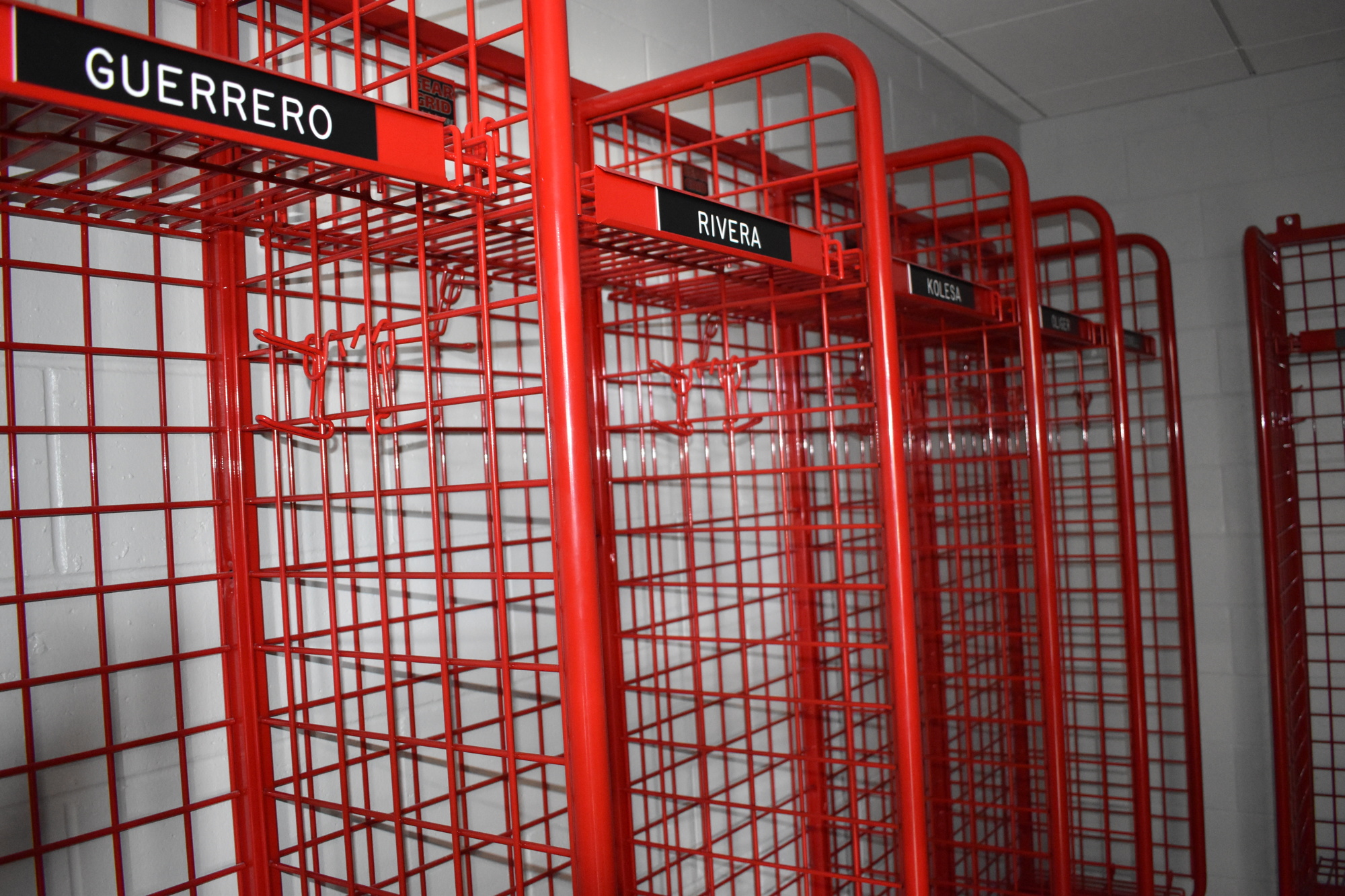 Firefighters will store their individual equipment in a locker room-style, air-conditioned room. The members of Fire Station 92 each have a nameplate marking the area where they can put their equipment.
"(At the old station) they hung them up in the rooms," Dezzi said. "There (were) no names. They were basically thrown in there."
Red, yellow and green system for returning firefighters to re-enter the station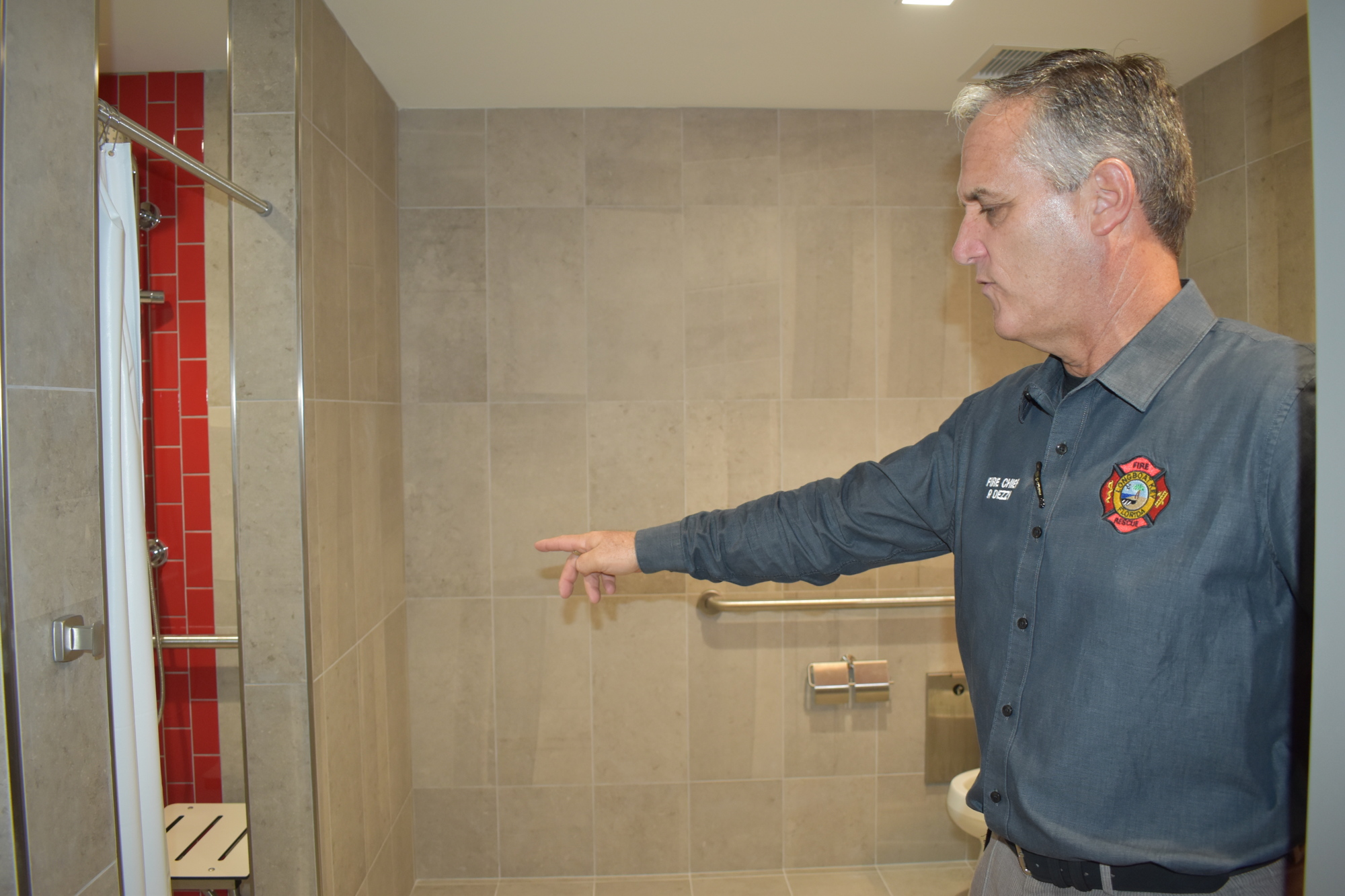 The new system is part of an initiative of the International Association of Fire Fighters.
The decontamination area allows firefighters returning from a call to clean and shower to do their best to remove possible carcinogens.
"What we do is bring the fire gear in what's called the extractor, and the extractor is able to wash two sets of fire gear at one time," Dezzi said. "When we pull the fire gear out, we'll use the dryer and we hang it up there."
The area requires returning firefighters to take two showers in separate bathrooms before returning to the inside of the rest of the station.
"It's a different mentality if you really think through it," Dezzi said. "Whether it's a medical call or a fire call to have to try to think that way."
Fire gear dryer and marine equipment storage area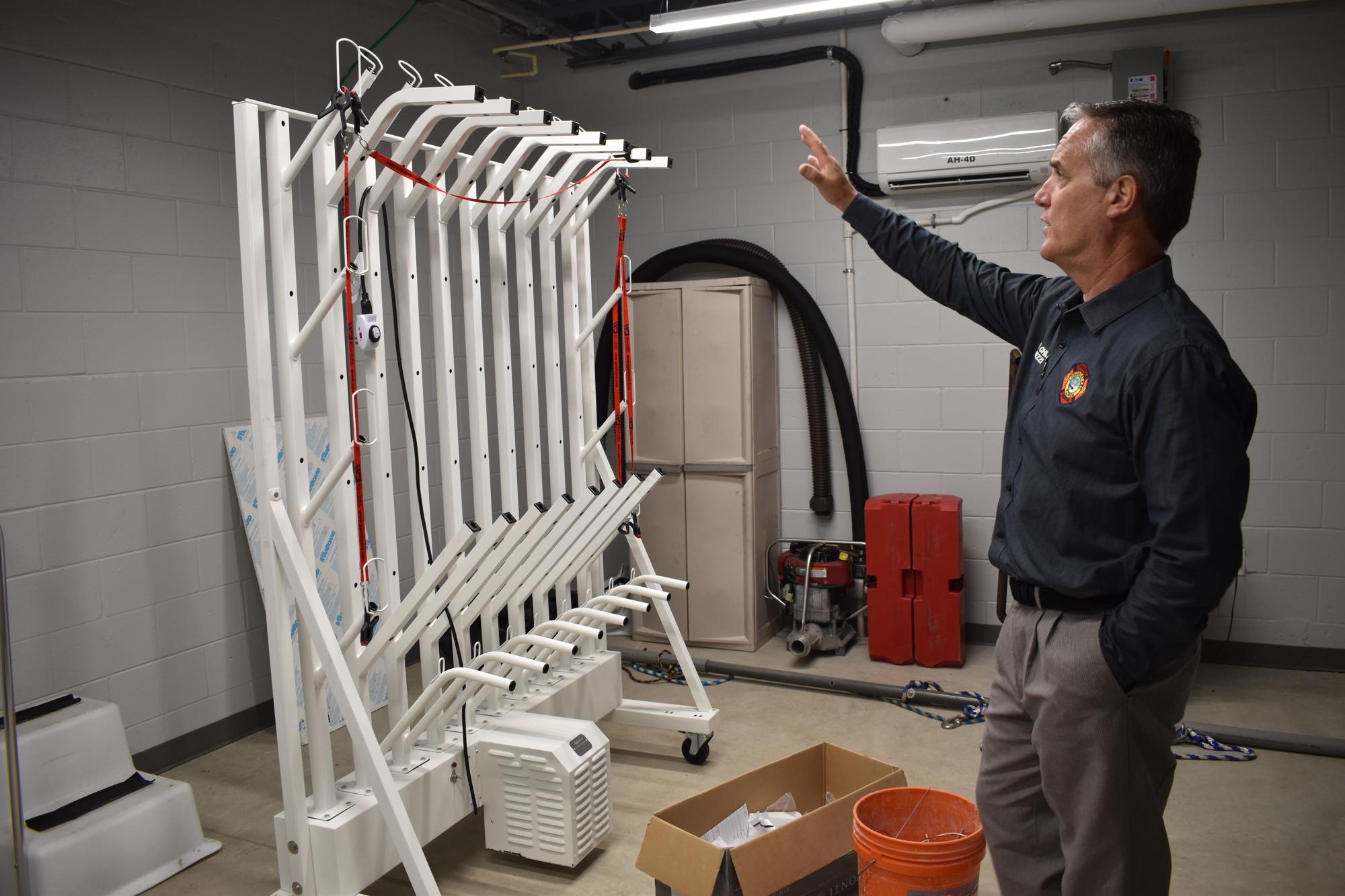 This is the area firefighters will get their helmet, jacket and other equipment dried after washing. Dezzi mentioned the importance of washing fire gear to clean off possible carcinogens when returning from a fire.
"We didn't have this before, and what happens is, after you get done washing your fire gear, you put your gear onto the rack, and then this machine down here blows hot air out of these holes, and dries your fire equipment," Dezzi said.
Dezzi said firefighters will use a spare set of gear until the drying process finishes.
The fire rescue department will also store some marine equipment in this area.
Kitchen and TV room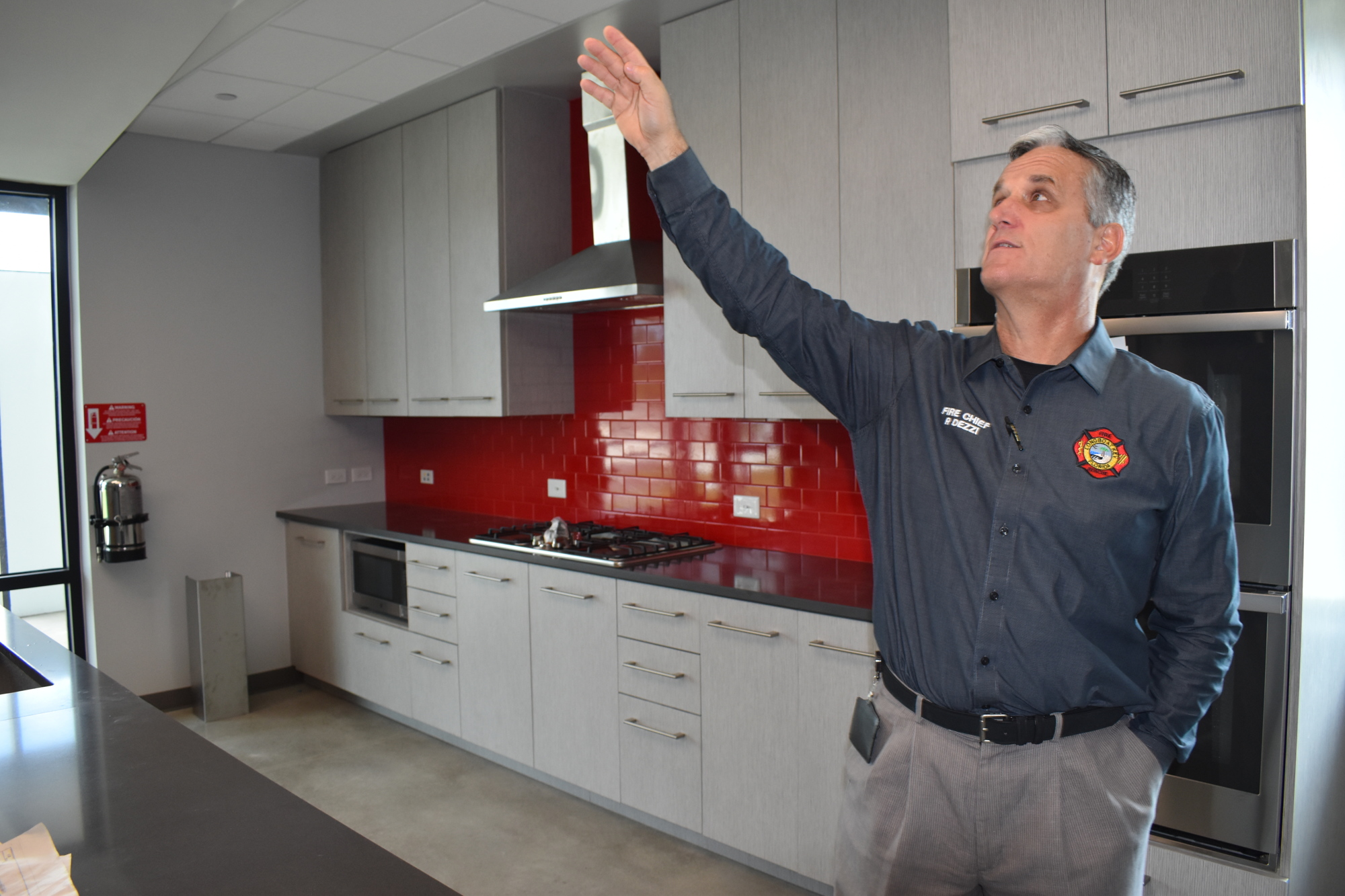 The kitchen features three refrigerators and three pantries, one for each shift. 
"This is where we hope they spend most of their time together," Adams said.
The kitchen also features two ovens, a gas stovetop, a microwave and a dishwasher.
"I wasn't really thinking about a double oven, but one of the chief officers said that when we have Thanksgiving and Christmas, we use these ovens all the time, so we put double ovens in," Dezzi said.
Dezzi said the plan is to put a big-screen TV and reclining chairs in the living room next to the kitchen, which is formally named "Fully Involved."
Gym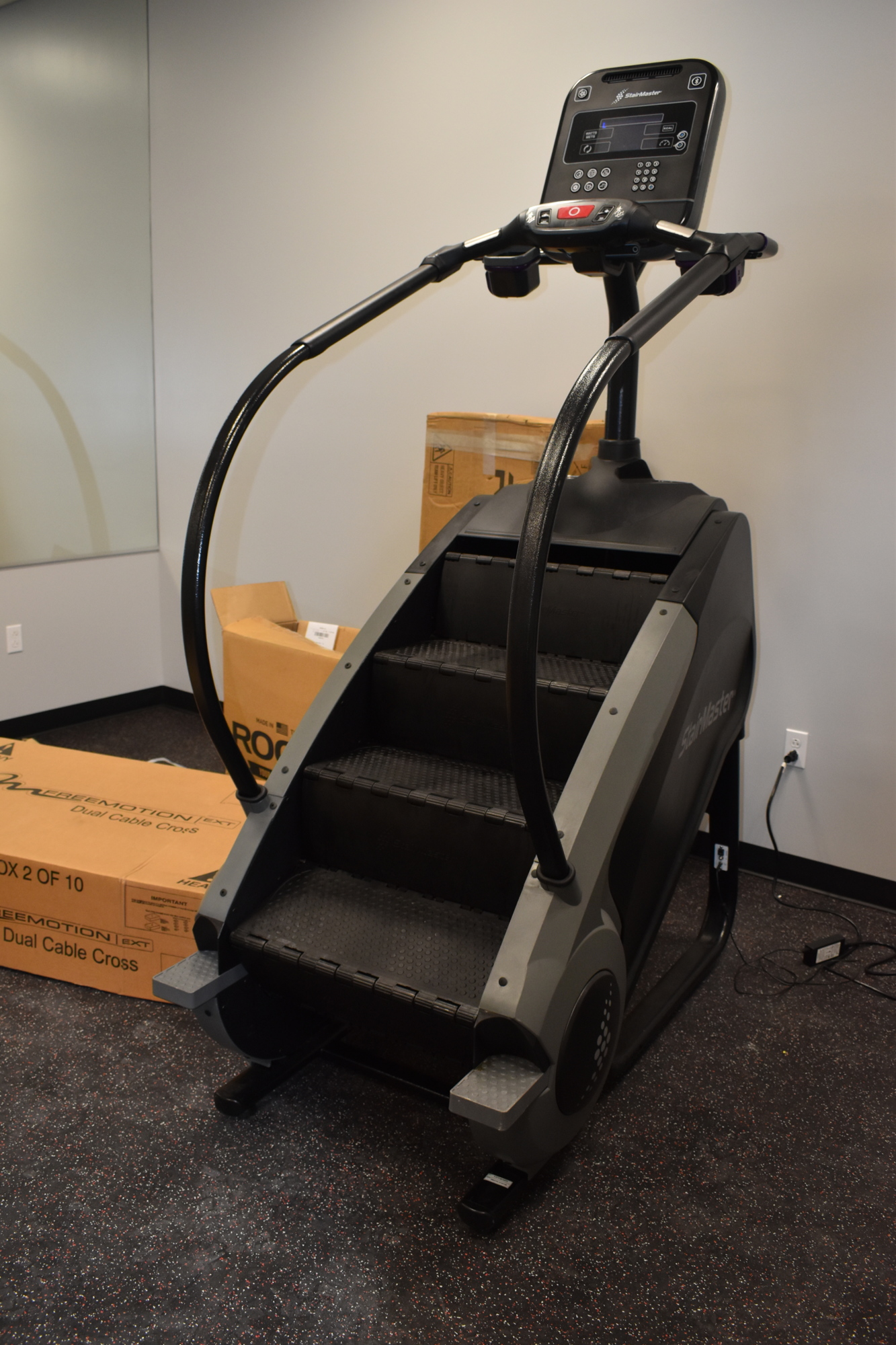 The fire rescue department is still in the process of putting together its gym, but it already features a treadmill, a rowing machine and a stairclimber.
It will also feature free weights and a lat pulldown machine.
"I know these guys that work down here are looking forward to getting back into it," Dezzi said.
Bragging rights will be on the line once again to see who will win the Longboat Key Fire Rescue Department's annual agility test. Firefighter Zack Schield was named the fittest member of the Longboat Key Fire Rescue Department earlier this year.
Four bedrooms for firefighters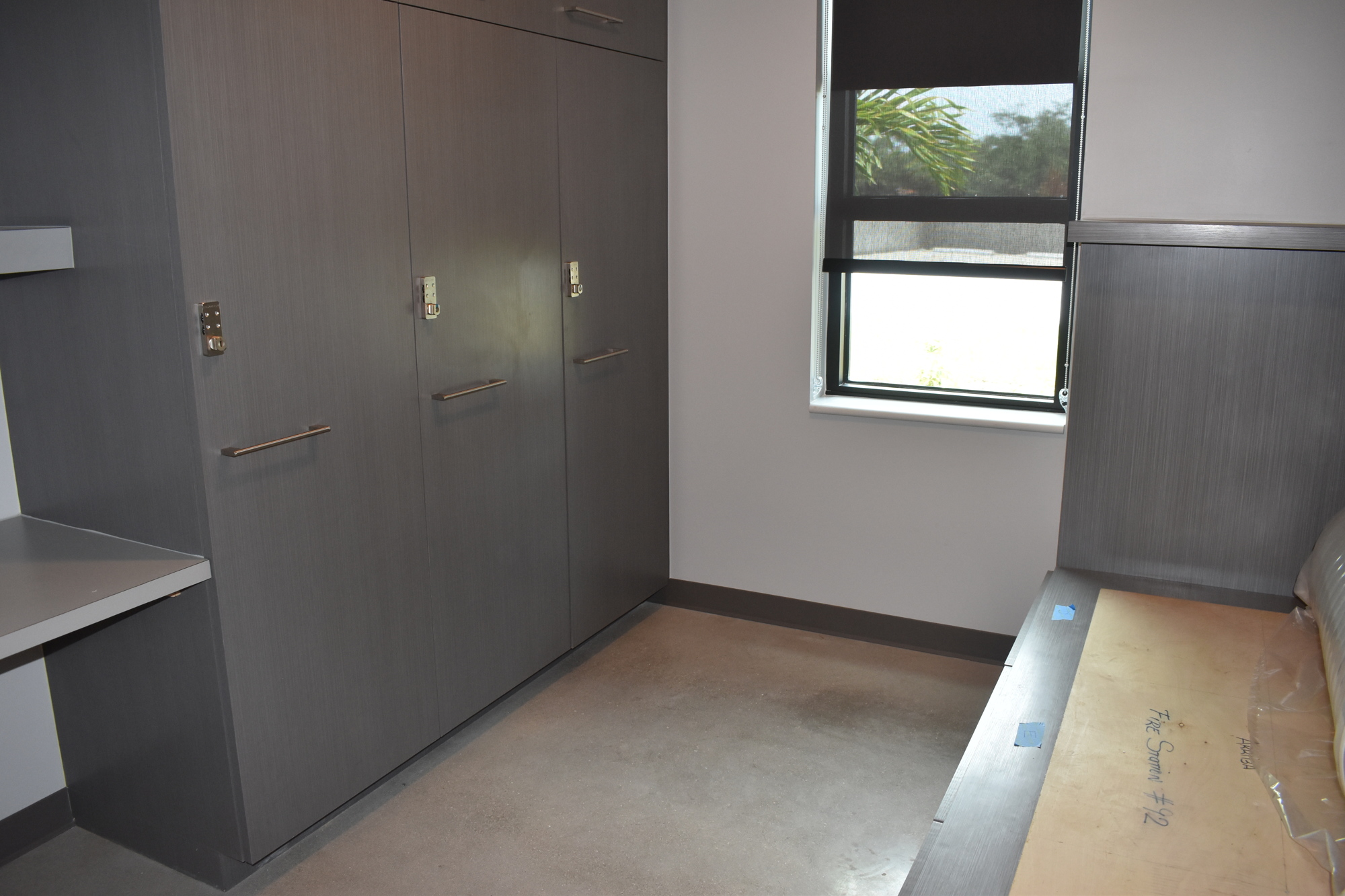 Each bedroom will have a twin bed, a locker for each of the department's three shifts and a red light that comes on at night for nighttime alarms.
Lieutenant's office with bedroom and full en-suite bathroom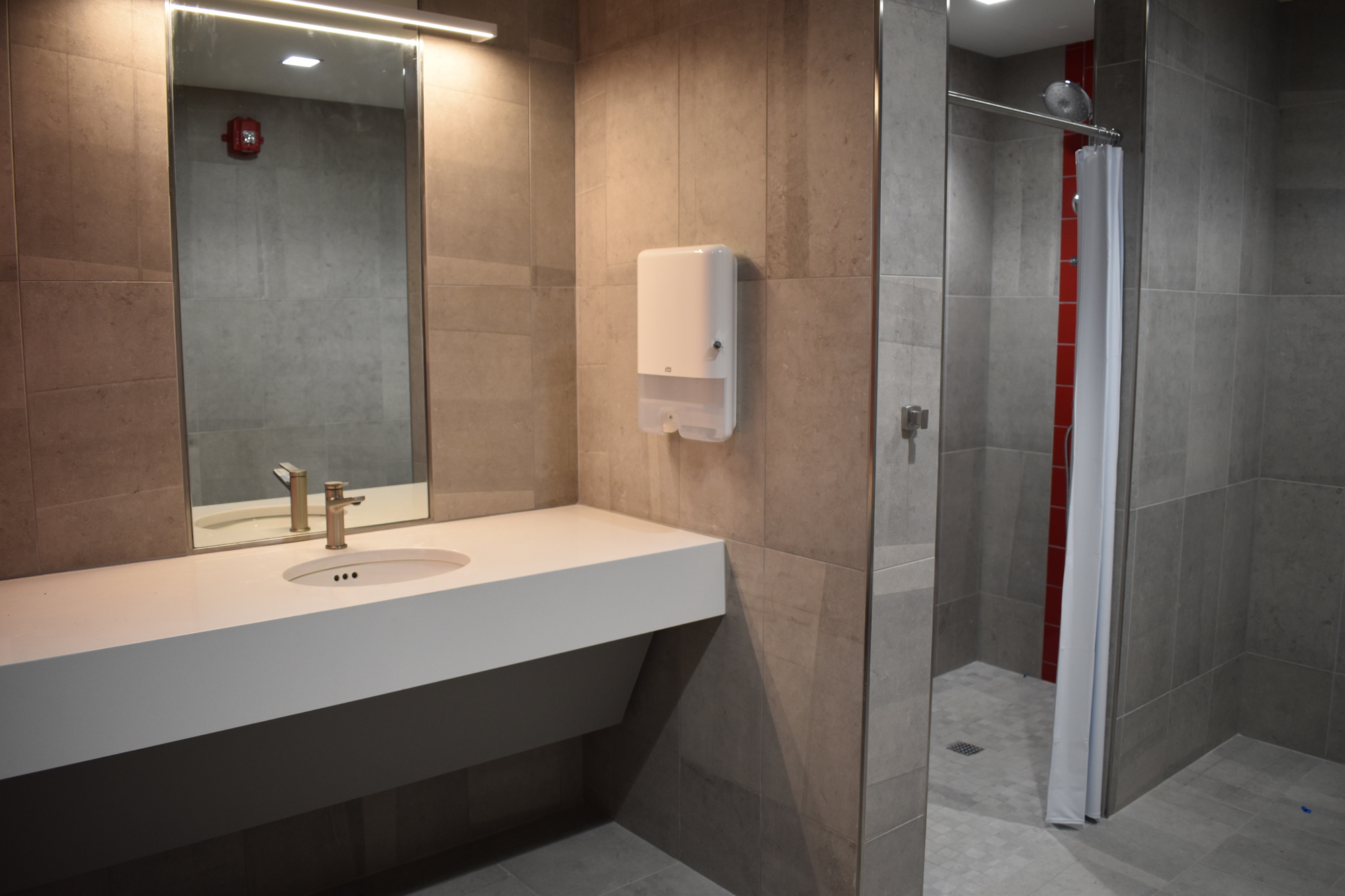 The lieutenant's room is similar to the four bedrooms for firefighters, but is bigger. It features a bed, desk, lockers and a full en-suite bathroom.
Medication vending machine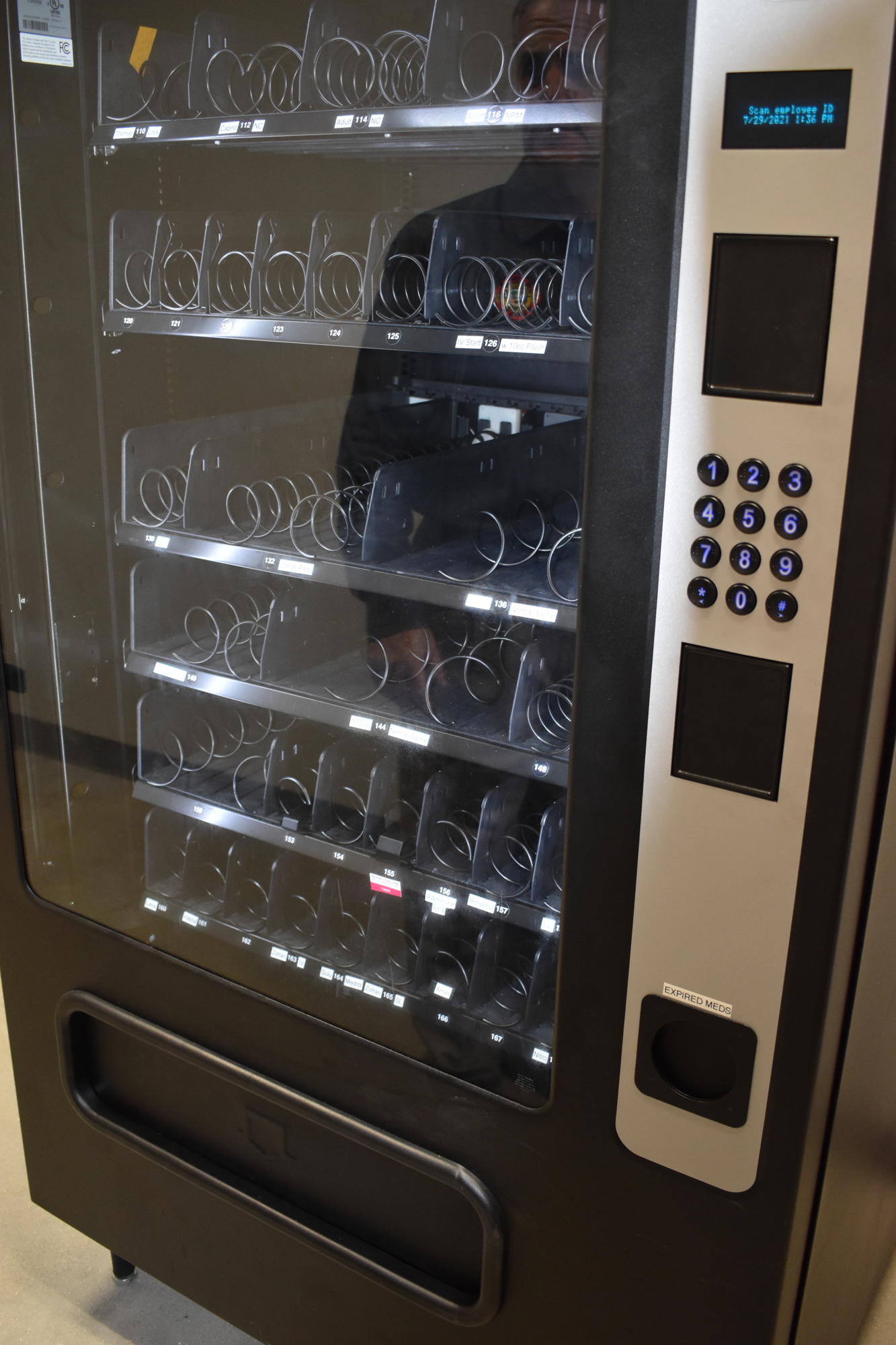 Using a vending machine, firefighters can enter their work identification number to access medications they might need to administer to patients such as Benadryl or epinephrine. It includes heart and respiratory medication, too.
"It's a vending machine, but it's a medical one, so you pay twice as much money for it," Dezzi joked.
Dezzi said all of the department's drugs are in the machines except for narcotics.
"It's for the firefighters to replenish whatever they may use on the trucks," Adams said.
Interior washroom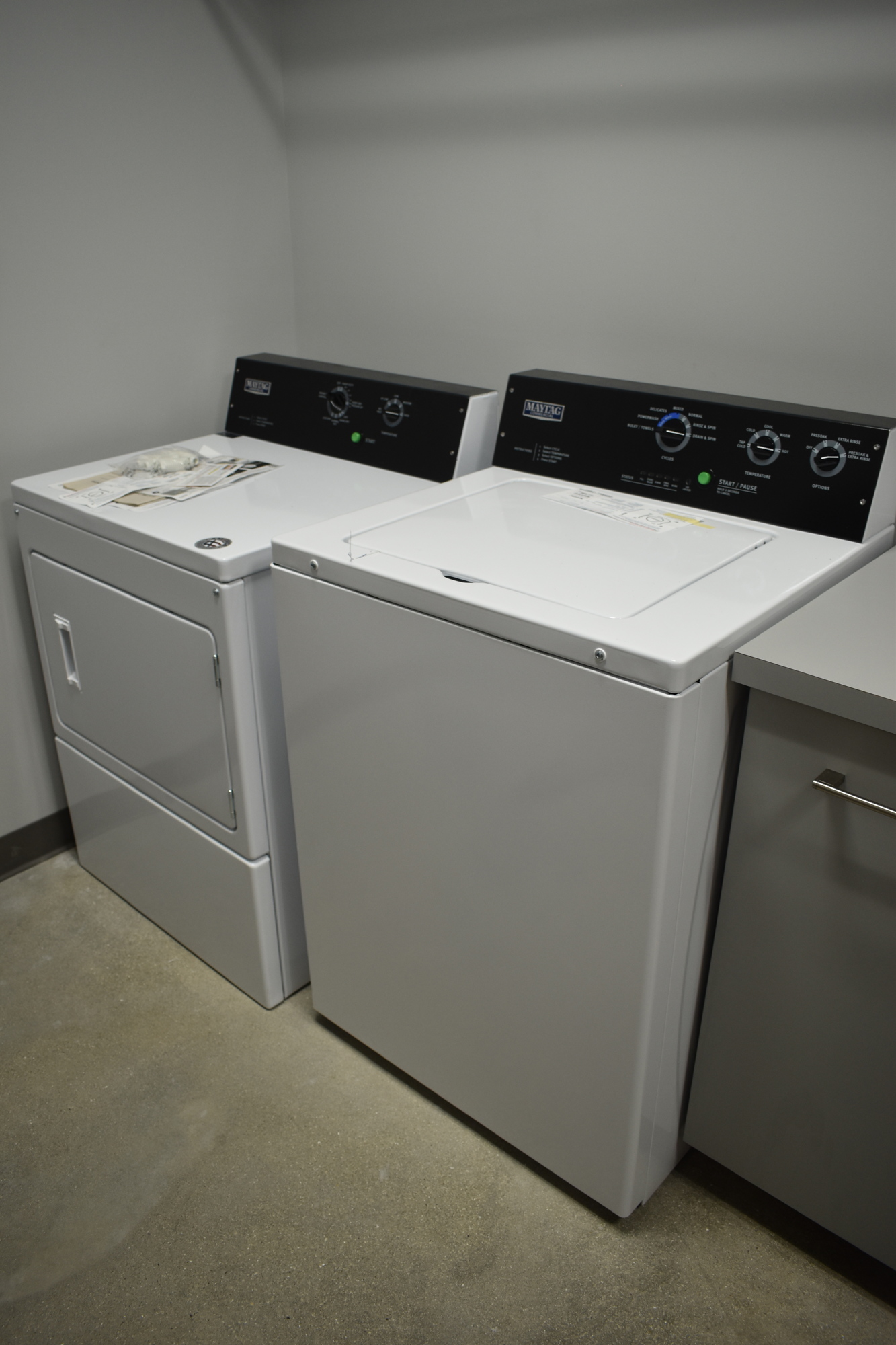 This is area allows fire rescue personnel to wash bedroom linens, towels and blankets.
Medical supply closet/EMS warehouse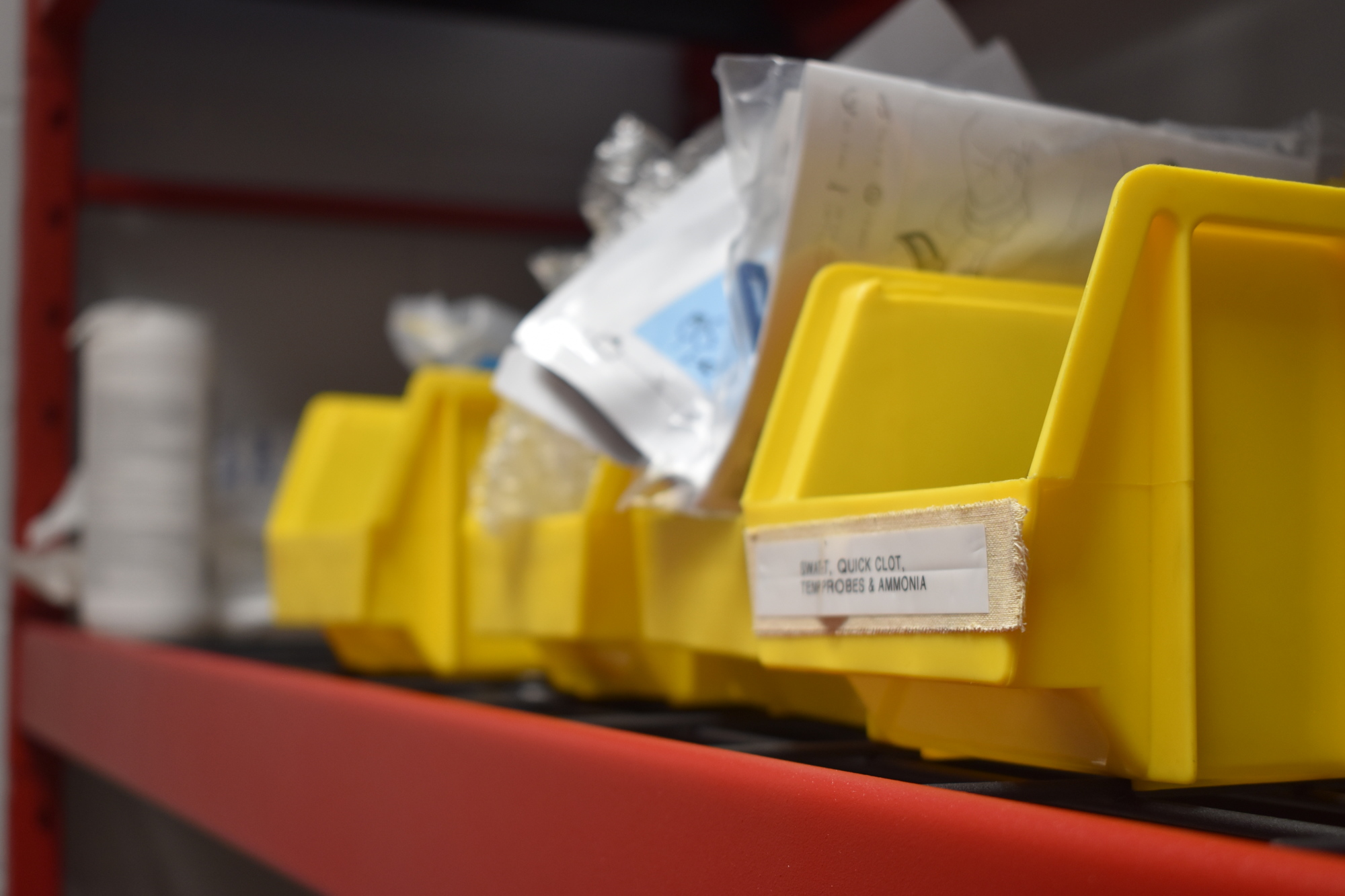 The closet stores First Aid equipment, needles, tubes and sharps needle containers. 
"What we have in here is all of our medical supplies are in one location," Dezzi said.
Weather station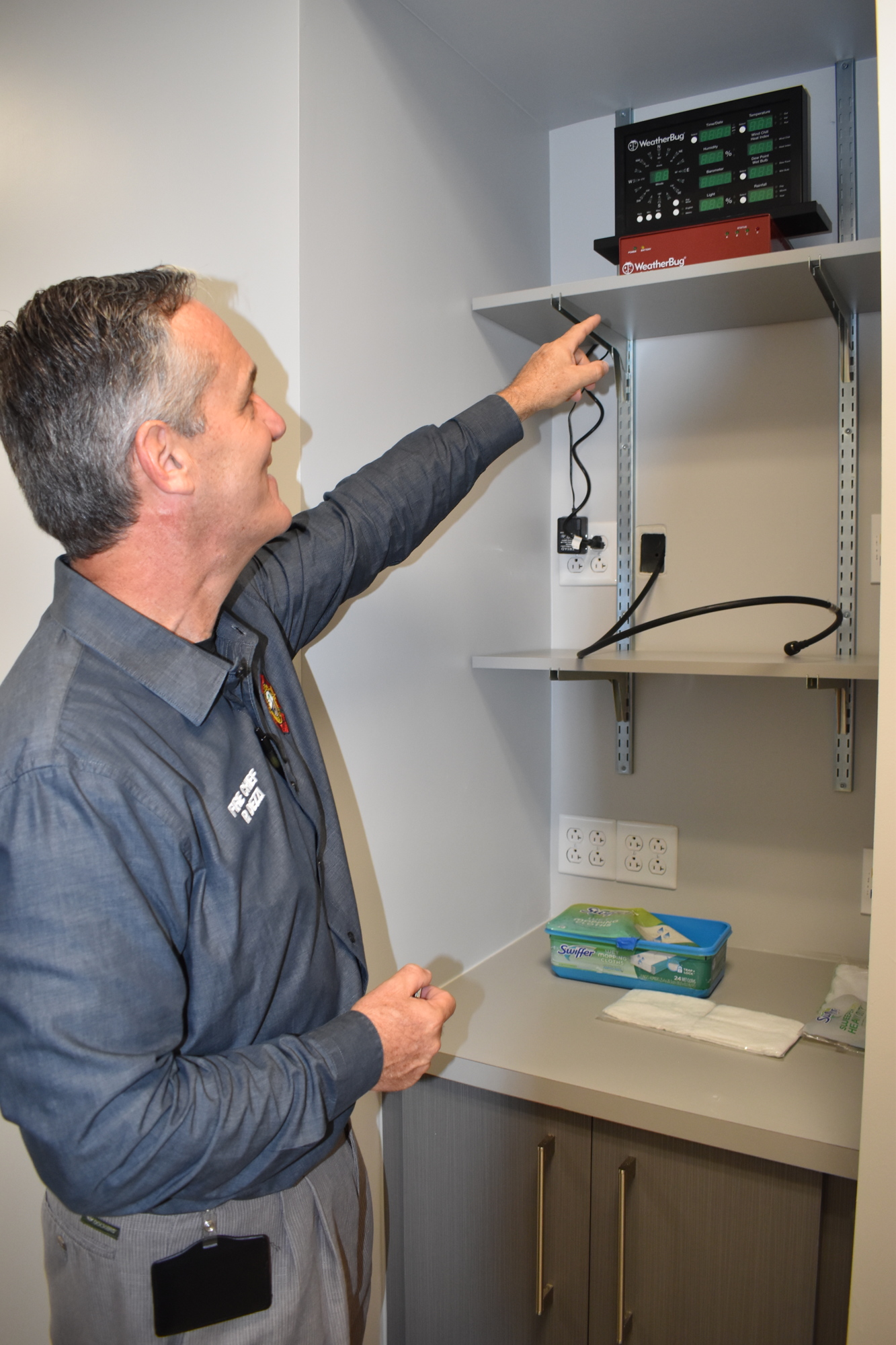 "Another new piece of equipment that we got, and we just installed it last week, this is where the radios will be, but up here is the WeatherBug," Dezzi said.
Dezzi said Fire Station 92 has an antenna on top of the roof linked to the Emergency Operations Center in Sarasota.
"They will also be able to monitor the weather from a distant location," Dezzi said.
Report room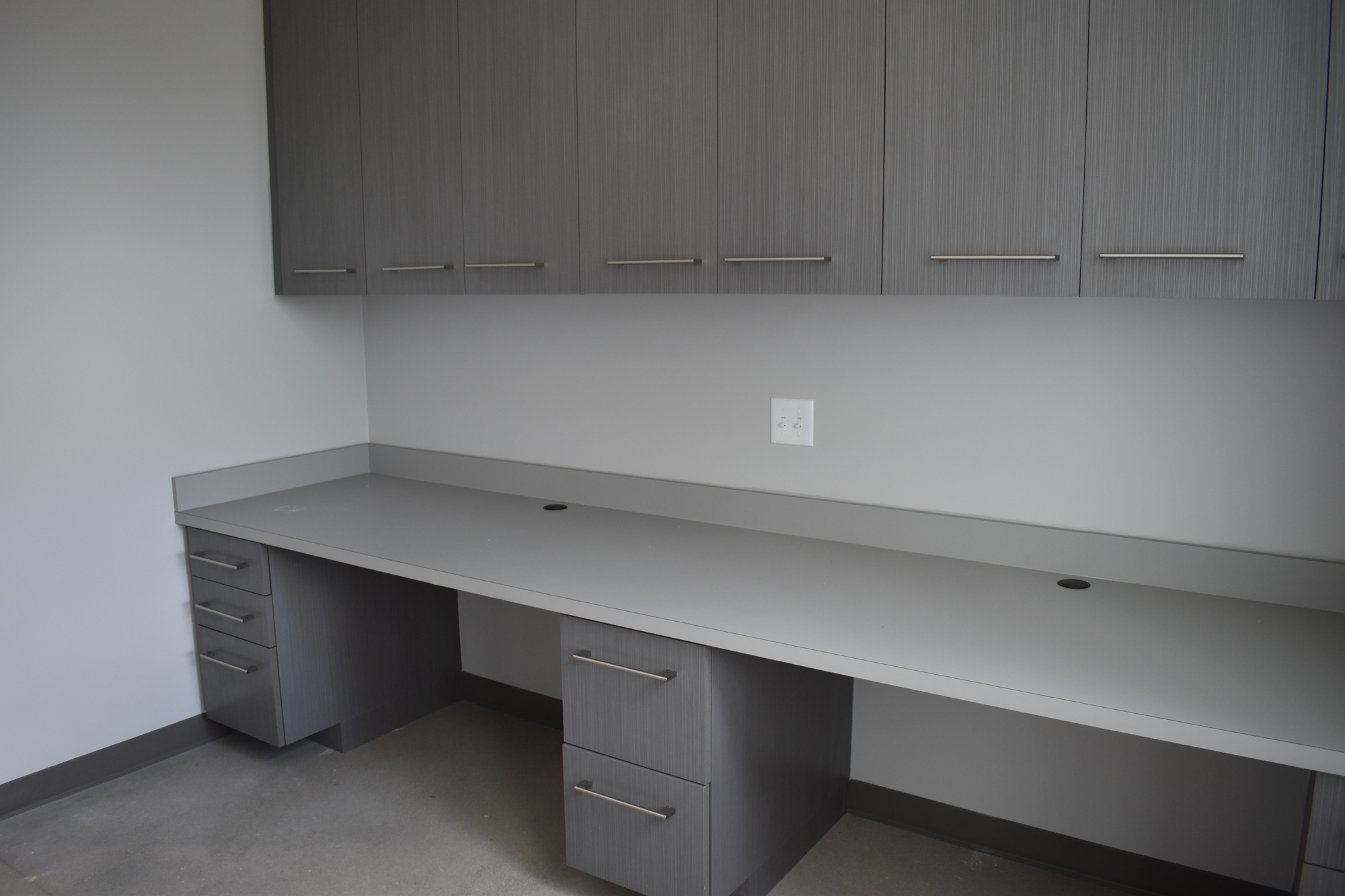 Longboat Key Fire Rescue personnel are required to file a report with the state after responding to a fire or an EMS call.
"In the past, we basically had an open area," Dezzi said. "This is now secure for that."
Adams mentioned how the room also gives personnel a quiet area for other work.
"Some guys, they may be doing additional education," Adams said. "So they can do classes. They have a little bit more privacy."
Renovations at Fire Station 91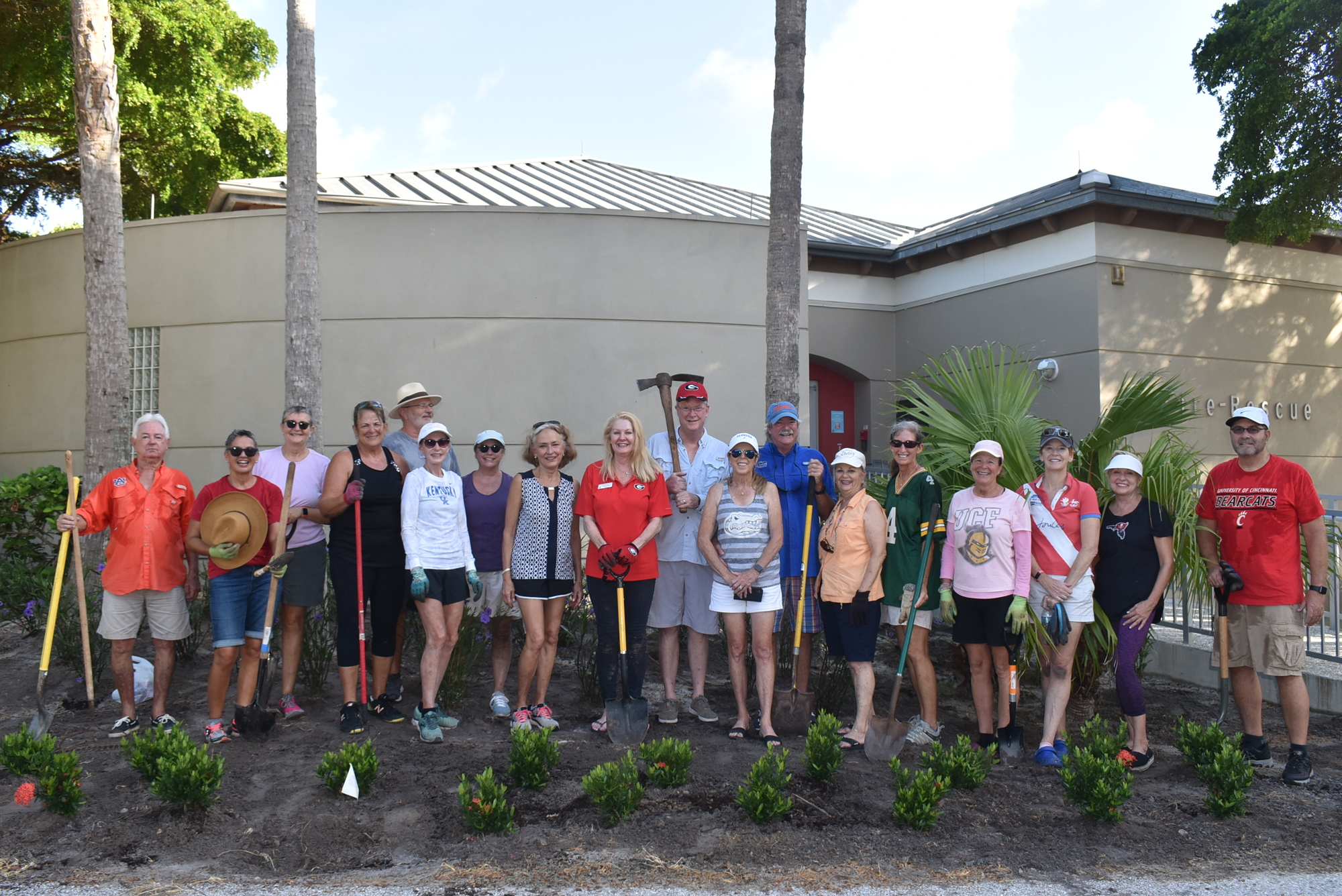 The Longboat Key Fire Rescue Department is also finishing up about $807,000 worth of renovations done at Fire Station 91, the department's north fire station at 5490 Gulf of Mexico Drive.
The town is planning to hold a smaller ceremony for the north station a few weeks after the Aug. 11 event for Station 92.
On July 31, a group of Longboat Key Garden Club volunteers planted 120 plants at the north-end fire station.
In May, the Garden Club added similar landscaping to the south-end fire station.