Soon, there will be one more set of stunning views of Sarasota Bay available on Longboat Key.
Progress on the $3.5 million Bayfront Park, 4052 Gulf of Mexico Drive, is on schedule, according to Mark Richardson, Longboat Key streets, facilities, parks and recreation manager.
"At our current rate of progress, we anticipate that we will have accessibility to the recreation center only, in January," he said. 
During a recent tour of the park, which is expected to reopen in June, Richardson pointed out several concurrent projects. Construction crews were pouring cement on the new concrete sidewalks; more than 60 trees, including cabbage palms, limbo gumbo and oak trees had been replanted; bollards (short, vertical posts) were placed in between the driveway and tennis courts; and landscaping continued to unfurl on the bulldozed bare ground.
But the improvements don't mean the work is done for Bayfront Park, said former Longboat Key Mayor Jim Brown, a longtime advocate for a community center on the property.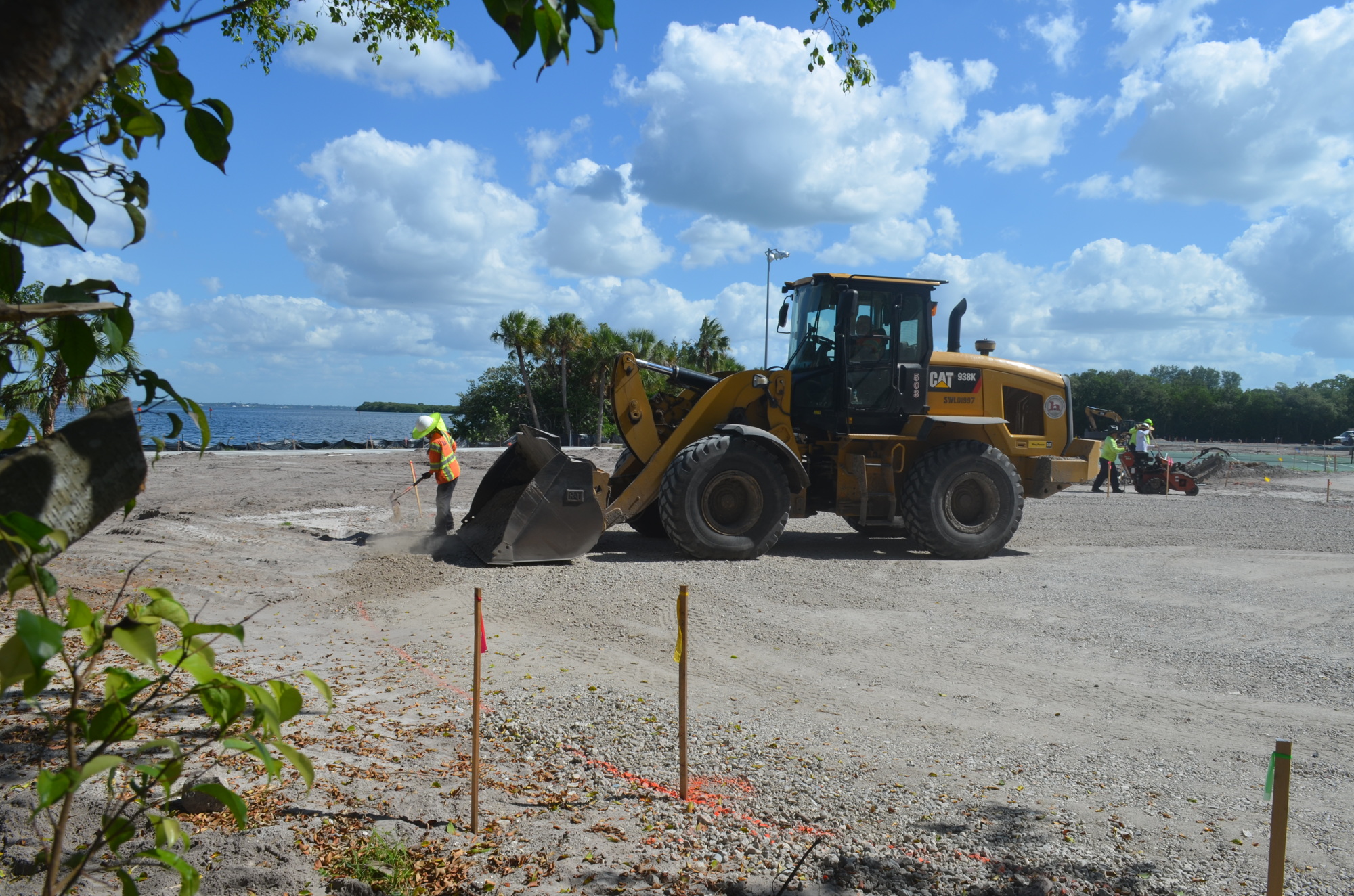 Brown, a retired architect who serves as chairman of the Planning and Zoning Board, is dissatisfied that what he describes as a dilapidated 1,500-square-foot recreation center remains on the property. 
He chaired a community center advisory board committee beginning in 2003. Voters rejected a referendum that, if approved, would have allowed the town to issue bonds not to exceed $6.4 million for a community center. The property's future has been the subject of debate ever since.
"I'm grateful we are finally getting some work done in the park," said Brown, whose home in Longboat Key estates overlooks the park. "I'm disappointed we're not doing everything we wanted to do."
The recreation center is popular and heavily used in the morning during season, Brown noted.
"There is a need for a rec center and, as long as I'm here, I'll push for it to happen," Brown vowed.
He believes Sarasota County added too much to the end project. The county, which owns a 3.88-acre parcel adjacent to the park, provided $2 million for the project.
"I think we're spending money we don't need to spend," Brown said. "It's a little more grandiose than we need."
For example, he says paved walking trails could have been gravel.
The park is laid out with all active sports on the north end and more passive sports such as fishing on the south end, which abuts a residential neighborhood.
The recreation center is the only park facility that won't be new.
Despite his concerns, Brown said he's happy with what's being done overall and is grateful for the county's help. 
"I may take up pickle ball," Brown said. "Just having the walking trails and all that, it's something I may do. I'll take my dogs to the dog park."
Richardson, who enjoys cycling among other recreation activities, said he will use it, too.
"This is awesome to me," Richardson said. "This town has been waiting for this forever."