The Lakewood Ranch Garden Club is on a mission to celebrate "Planet Florida." 
"Florida is so unique from all the other states," President Anita Machlin said. "We're emphasizing the uniqueness of Florida. From that, I developed programs. It could be a trip to a native plant nursery or Mote Marine research lab. We're also doing 'Backyard Botany' because the soil here is pretty lousy."
Harsh weather and sandy soil isn't a gardener's dream, but the club offers solutions and a gorgeous example of a Florida-friendly garden behind Lakewood Ranch Town Hall. Ginger lilies scent the air, as butterflies sip on milkweed and pentas.
It's not perfectly uniform and manicured, but that's the point. While the club maintains the garden, there's not much to do beyond weeding and trimming because native and "friendly" plants don't require fertilizers and daily water. The garden is low-maintenance yet lush.  
"We have to be more conscious of what we're putting on our ground because it's going into our rivers, lakes, streams and the ocean," Machlin said. "We try to educate our members. And with the information we gather and learn, we try to reach out to the public."
In July, the club held a special event with John Gidding from "Curb Appeal" to educate and excite locals about sustainable landscaping. Gidding was on a book tour and the club is normally active only from September through May. 
The club has about 30 members in Lakewood Ranch, but it is part of the National Garden Clubs, which has over 150,000 members and provides a structure for the local club. The national club set the theme of "Celebrate;" while Machlin chose to focus the celebration on "Planet Florida."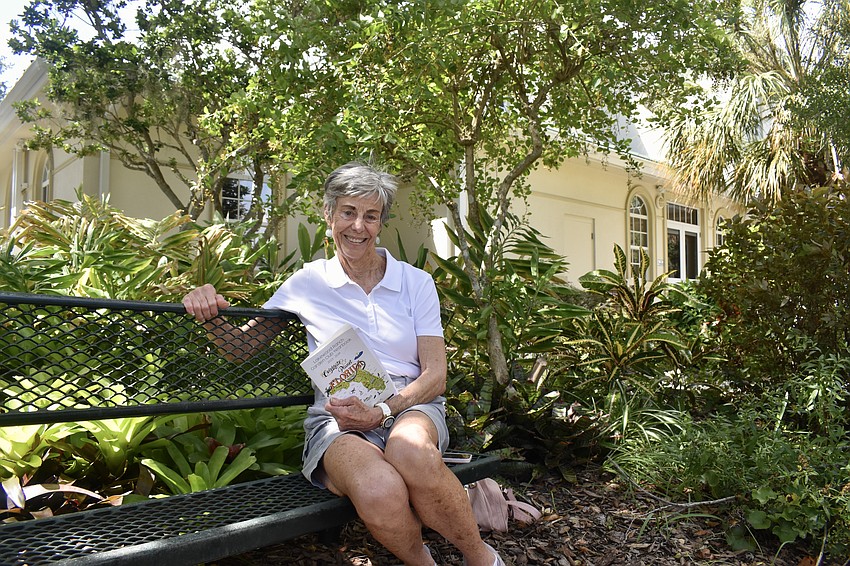 The club is also a part of the Deep South Garden Clubs and the Florida Federation of Garden Clubs. 
The club believes that if one emoji depicts Florida, it's the palm tree. The Sabal palm is Florida's state tree and for the first club meeting in September, members received a lesson on palms courtesy of Amy Stripe, a master gardener volunteer for the UF/IFAS Extension in Manatee County. 
"Everybody likes palms, but palms are also very prevalent with diseases and most of them are terminal," Machlin said. 
For a more hands-on education, members identified over 20 types of palms at CC Nursery in Bradenton in October and will see more varieties in nature when the club visits Robinson Preserve in February. Those will include coconut, royal Florida and sabal palms. 
Coconut palms are the only non-native of the three. UF/IFAS recommends "to plant with caution," when it comes to coconut palms and to never plant them near canals or flowing water. The rotting husks pollute the water.   
Education is not the only way the club serves the community. Members work with the Stillpoint Mission in Bradenton and Meals on Wheels Plus of Manatee.
"We collect about 100 coffee mugs," Machlin said. "Then, we decorate them with soap florals, and they look fabulous. We take them over to Meals on Wheels, and they put them on the trays for people, so it brightens their tables. Stillpoint Mission gives out food, diapers and things like that, but they don't really get the hygiene things like toothbrushes, toothpaste, soap, shampoo and conditioner, so we collect those things and put them in bags for them to hand out."  
The Lakewood Ranch community yard sales have become a major fundraiser for the club. The fall yard sale is coming up on Nov. 4, and the spring yard sale is scheduled for Apr. 6. Homeowners in non-gated communities pay $5 to participate. 
Through their involvement with the Florida Federation of Garden Clubs, the club contributes to a scholarship program that sends children in grades 3-8 to the Wekiva Youth Camp for six weeks to learn about the environment and conservation, They also send children in grades 10-12 to a two-week program (Seeking Education Empowers Knowledge) to study environmental issues. 
As part of the National Garden Clubs, the group donates to Penny Pines, an effort that plants replacement trees in forested areas that suffered natural disasters, such as fires and hurricanes. They also raise money for coral reef restorations and are rallying residents to plant enough milkweed to designate Lakewood Ranch as a Monarch City. In July 2022, Monarch butterflies joined the endangered species list. 
"We consider it our civic duty as gardeners," Machlin said.