After the hustle and bustle of Halloween costumes and sugar crashes, parents deserve a little fun, too. 
Fuego Comida & Tequila Lounge plans to bring it on Nov. 1 with a Day of the Dead block party to celebrate the upscale Mexican restaurant's grand opening.
The block party at 11615 S.R. 70, Bradenton, includes a face painter and pinata for the kids, a tequila tasting for the adults and a fire dancer. The event will feature an Instagram wall and a Day of the Dead altar for guests to make a memory and leave a memory with their loved ones. 
The regular menu will be served inside. Street tacos, churros and Mexican corn will be served outside, along with candy and treats. 
"I haven't decided if I want to do a string pinata or a pinata where they're hitting it because I don't know if it's smart to mix tequila with a baseball bat," General Manager Randi Lee said with a laugh. 
"I want it to be like a festival. It will be adult-friendly, but kid-friendly also," she said. "The adults will be able to relax while their kids play." 
Fuego comida translates to fire food. The restaurant was a joint venture between two already successful Lakewood Ranch business owners: Nick Amanatidis of Modern Gents and Joe Sciulara of Michelangelo Pizzeria Cucina. Both men are longtime Lakewood Ranch residents. 
"They partnered to create this. It was something they thought the area needed," Lee said. "It's not just missing here in Lakewood Ranch, upscale Mexican cuisine is missing in the whole area. It's not Tex Mex. We have a really good scratch kitchen."
From the kitchen to the bar, every syrup and sauce is made in house. The beans are imported from Mexico, so everything is authentic. 
Lee described the menu as upscale Mexican with a steak and seafood flair. It features a range of dishes from classic tacos and enchiladas to high end Wagyu steaks. Prices range from a $14 salad to a $100 seafood tower.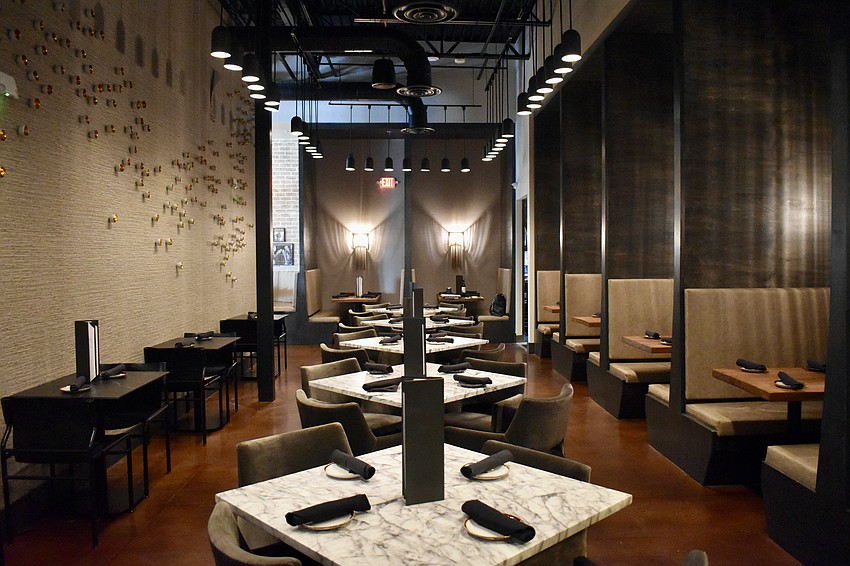 "We tried hard to design a menu that would appeal to everybody," Lee said. "You can spend under $100 for two to four people if you want to, but if you want to spend more and have a higher end date night, you can spend a couple thousand dollars because we have a luxury line of tequilas and many higher end options."
At $400 for a two-ounce pour, Fuego's most expensive tequila is the Collaboration line from Asombroso. If looking for just a taste, guests can also request a half-ounce or one-ounce pour. 
With about 100 tequilas in the mix, the drink menu is six pages of fine print. The restaurant offers house tequila, too, but even their wells are premium. Lee said the watermelon margarita is their best seller so far. It features fresh watermelon juice, a basil puree and a slice of watermelon dipped in tamarin. 
A stand out on the dinner menu is the Lobster Cigars starter. Lobster and cheese filled corn taquitos topped with crema and queso are served in cigar boxes. When the box opens, a tuft of mesquite smoke wafts out.  
Fuego opened on Aug. 28, but Lee said it was a slow and soft opening to not overwhelm the staff. It took about a month to get the restaurant up and running to meet the capacity of 175 seats. 
"We had a couple nights that were a little rough," she said. "But every mistake we make, we learn our lesson and improve it the next day. Our staff is amazing."