A three-part series featuring fellows of the Hermitage Artist Retreat of Manasota Key begins Nov. 16 at Nathan Benderson Park.
The programs, which take place at outdoor venues throughout the area, give audiences a sneak peek at works, such as plays and operas, that often eventually appear on renowned stages.
One example of a Hermitage fellow to make it big is Paula Vogel, who has won Pulitzer and Tony awards, and who wrote a good part of "Mother Play" at the Hermitage. It's set to open on Broadway in the spring.
Hermitage Chief Executive Officer Andy Sandberg said an opera "Grounded" was written by Jeanine Tesori at the Hermitage and is now playing at the Kennedy Center, and will be at the Metropolitan Opera next year.
"I don't think there's any other organization that can say all this new work by new artists is being developed here and going on like that," Sandberg said. "This is exciting." 
Sandberg said he won't know what to expect when he watches a performance at Nathan Benderson Park because they're works in progress and the artists have full reign on what they want to present. The programs will last from 60-75 minutes, and they're interactive with a Q&A following the performance. 
"The one thing that is consistent about all of our programs is that we ask the artists to share and talk about their work. It is not a lights up, curtain up, do your piece and go home," Sandberg said. "If someone is not interested in learning about the process, then our events are probably not as much for them."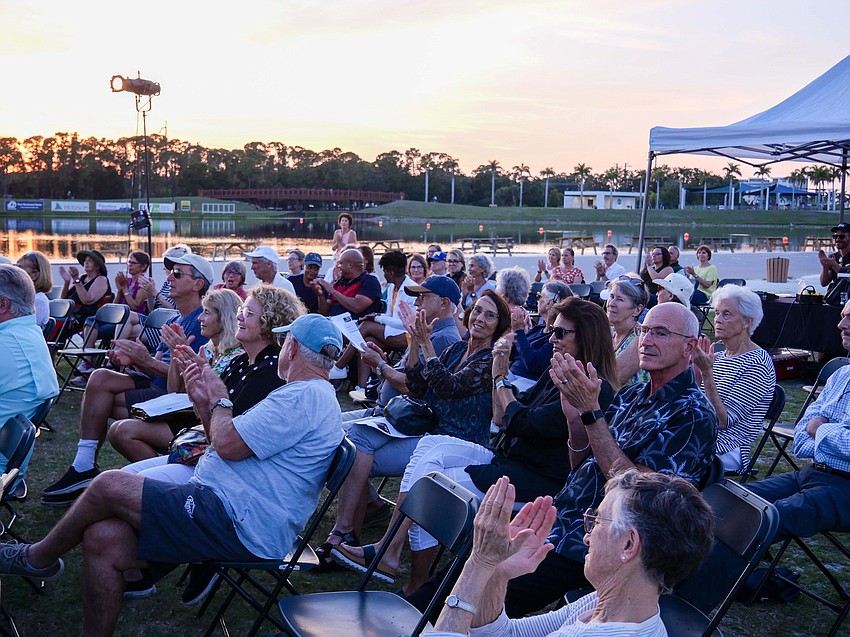 The first performance in the series will feature Terry Guest and James Anthony Tyler. Tyler's play "Hop thA A" was selected as one of the first plays to launch on the platform Audible, and Sandberg said Guest has become a "Sarasota darling." 
Like many artists, who visit the retreat and fall in love with the area, Chicago-based playwright Guest stuck around beyond his fellowship. His play "At the Wake of a Dead Drag Queen" ran at the Urbanite Theatre in 2021, and his new play, "Oak" is set to premiere at the theater next year.  
"I would encourage people to come with an open mind for exploring new work," Sandberg said. "Both Terry and James are Hermitage alumni and wonderful guys with really innovative voices."
This is the first year the Hermitage is launching a series at Benderson Park. Last year's trial run, single performance did so well that the staff recognized there was an audience in the surrounding area and wanted to expand the program. 
Folding chairs are put out, but guests are welcome to bring their own chairs and blankets. The show begins as the sun begins to set. 
Benderson Park organizes four main events throughout the year: Trick-or-treating on Halloween, the Turkey Trot, the Benderson Chase and July 3 fireworks. For all other events, they only rent the space and assist with vendors, but Marketing Director Marnie Buchsbaum said only events that fit with the park and the community are booked. 
The Hermitage program is a departure from the typical athletic competitions that are held at the park, but was deemed a good fit nonetheless. 
"It is a unique opportunity to watch artists' creative performances and interactions with the audience," Chief Operating Officer Bruce Patneaude said in a press release. "Hosting this event at the park is one of the many ways we are pleased to bring creativity, diversity, and culture to the Sarasota County and Manatee County communities."
As for Sandberg, he said they try to double down on finding the most beautiful venues, and the park is a reflection of the waterfront vibe at their retreat on the beach.