From inception, Lakewood Ranch was designed to be so all-encompassing that residents wouldn't have to travel far for anything. But there was one thing missing — close access to arts and cultural events.   
Sights + Sounds at Waterside Place, a monthly performance series created by Nicole Hackel, aims to fill that gap. 
"Lakewood Ranch has a large community that supports and celebrates arts and culture," says Hackel, who also serves as the events and resident experience manager for LWR Communities. "This series is mutually beneficial for Lakewood Ranch residents and for local arts groups. Sights + Sounds gives arts groups an opportunity to promote what they do to Lakewood Ranch residents. And staging performances at Waterside Place means that Ranchers don't have to travel far to enjoy and support the arts."
Sights + Sounds started informally in May 2022, when Hackel scheduled one performing arts program at the pavilion in the plaza at Waterside Place to measure response.
The reaction was fabulous. Audiences loved the location, which overlooks scenic Kingfisher Lake. Because the performances are in the evening, guests can enjoy sunsets during the show. "People come early to shop, enjoy dinner, and stay late for a nightcap or game of cornhole after the performance," says Hackel.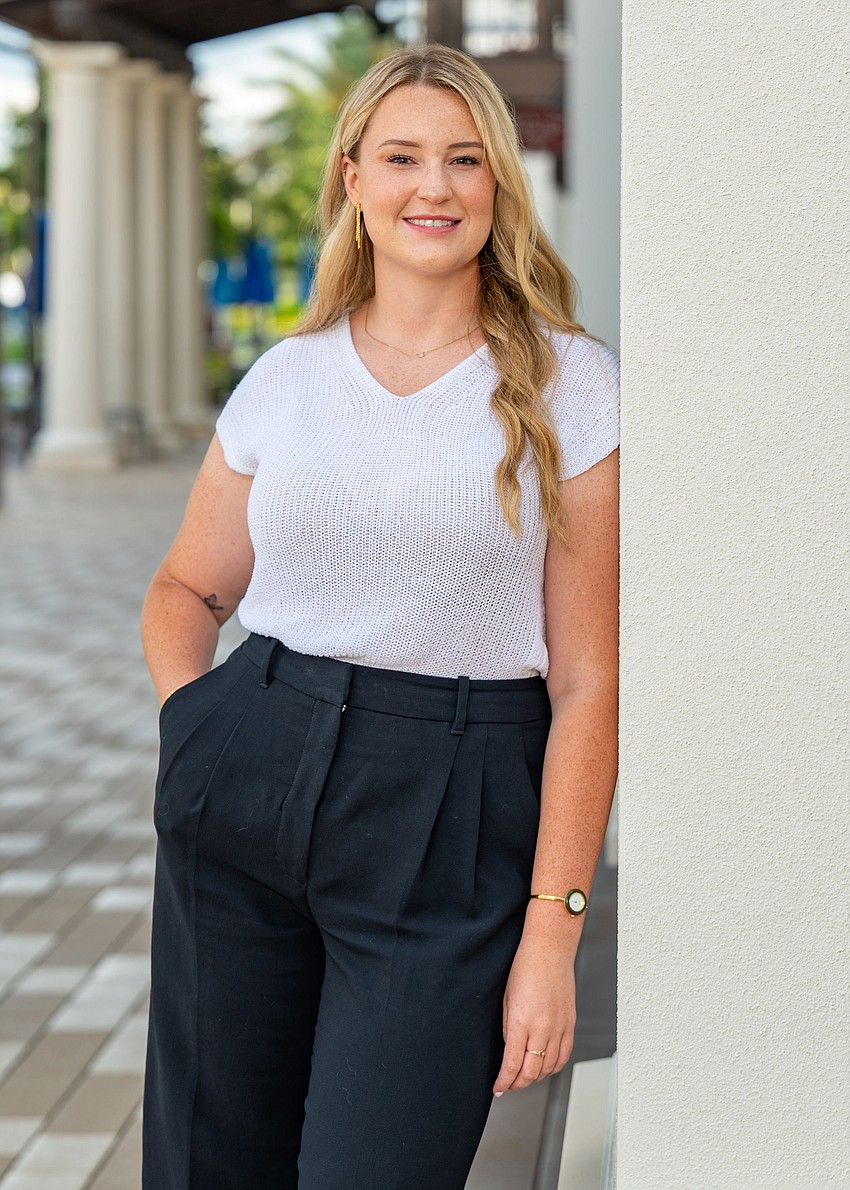 Hackel also found that regional arts groups were eager to participate.  
The Players Centre for Performing Arts was the first to perform in May 2022 with its touring production of "Broadway on the Lake." The following May, the community orchestra, Strings Con Brio, arranged a special tribute to Rodgers and Hammerstein just for Sights + Sounds. Only 40 members of the 60-person orchestra performed, but the pavilion is large enough to hold the entire group, including their instruments. Hundreds of people came to see the performance. 
"To have had that type of response was delightful," says Monica Sirocchi, executive director of Strings Con Brio.
Other area organizations that presented events during the inaugural season included Sarasota Orchestra, Florida Studio Theatre, Sarasota Opera, Hermitage Artist Retreat and Lakewood Ranch Wind Ensemble.
The series breaks for the hottest month of the year — August — and resumes in October. Among the newcomers for the upcoming season are Westcoast Black Theatre Troupe and Sarasota Ballet Studio Company. 
The series' popularity continues to grow. About 50 people attended the first performance. Before the series' summer break, the monthly events drew more than 300 people. 
"I'm happy to give the opportunity to any arts organization that has an interest in performing — from large-scale professional organizations to high school performing arts groups," says Hackel.
Students from Easter Seals and Everyone Rocks paired up for a "Rock the Spectrum" concert in July, and students from the Out-of-Door Academy will be performing a special holiday program in December. Members of the school's chorus, band and orchestra will perform "Sounds of the Season." 
What's next for the series?
Hackel says she'd love to add visual art exhibitions to the mix. She also encourages arts groups in the tri-county area to reach out to her for future programming.  
"Now that Sights + Sounds is getting popular, I hope groups that are interested in performing in Lakewood Ranch will approach us."