No two things are alike at Uniquely Yours.
"You can't make a feather the same way twice," owner Lynn Meder said. "I make things that are uniquely yours because I'm never going to make it again, and that's what people are looking for. They want pieces that represent them that they're not going to find anywhere else." 
After lettering boats, pinstriping cars and painting murals for 40 years, the 68-year-old Meder went back to school at ArtCenter Manatee to become a silversmith just before her 60th birthday. Painting is laborious work, so Meder was transitioning into retirement and knew she had to find a way to keep up with her creativity.
She's been handcrafting jewelry since.
In September, Meder turned her silversmith skills into a business and opened a store next to the Silver Star East at 36255 S.R. 70. 
Meder has lived in Myakka City for 20 years, but with so much acreage in between homes, she didn't know many of her neighbors. She said getting to know people is one of the best parts of being a local business owner so far. 
Meder originally wanted Uniquely Yours to be located on Oak Street in Arcadia, but the plans fell through. Now, she's sure the store landed where it was meant to be. 
"It's so much fun, and I'm meeting so many interesting people. That, to me, is the gift of this whole thing," Meder said. "I'd rather invest my time in Myakka than the next town over."
Jewelry is a constant in the store. The other product lines are ever evolving according to the materials on hand, which Meder often finds around her house.
When looking at a collection of dusty teapots, she was inspired to create a line of decorative bird feeders. When adding on a mother-in-law suite, she told her husband not to throw out any of the copper wire. The wire became a line of copper scroll necklaces and earrings.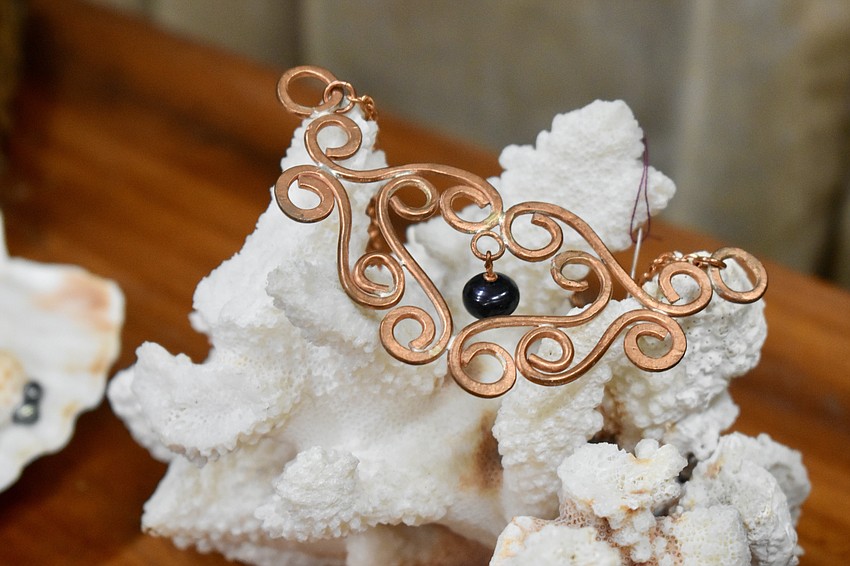 Even the displays won't be found elsewhere. Rings and bracelets line the drawers of a tall chest of drawers, and necklaces hang from disassembled garden faucets.
"Also, I'm addicted to stones. That's why I got into this in the first place," Meder said. "I had all these really cool stones that were a little big for people to wear as jewelry, so I made them the centerpieces of my hats."
Meder's passion is evident in the way she talks about things like fold forming, a technique that transforms flat metal into three dimensional designs. She became interested after learning the technique wasn't invented until the late 1980s. The rest have been around for centuries.
Meder contacted the inventor Charles Lewton-Brain on Facebook, and he replied. The two messaged back and forth. Meder asked for advice and if she could buy one of his hammers. He'd taken a miner's hammer and modified it for fold forming.
Lewton-Brain signed the hammer upon Meder's request, and his advice was to never hammer "willy-nilly." Every blow must be predetermined. The first thing Meder made with the hammer was a sign that hangs in her studio and reads, "Make every blow count."
Meder hadn't made jewelry since an art class in high school, but she was always artistic. She credits her father, Leo Koch, for getting her started and encouraging her talent.
Between the ages of 12 and 18, the family lived on the grounds of an institution for people with developmental disabilities. Koch was the superintendent. He took care of the buildings and grounds, so he was always on call.
Meder described everything from the bricks of the foundation to the interior walls being white and hospital-like. 
About a year after moving into Sunmount, located in New York's Adirondacks, Koch returned from a conference where he learned about the effect colors have on people. He decided to paint the walls in the hospital rooms pastel peach and yellow.  
"He got me started painting murals in the hallway by the cafeteria, so that while (the patients) were waiting in line to go in and eat, they had something really cool to look at," Meder said. "He brought home cutouts of birds, and we made mobiles that hung from the ceiling. My dad got me into doing things like that, and I've been doing it ever since."