Sarasota's Gina Anderson dug through a bin filled with Christmas-themed stuffed animals. 
She found a grey and white husky wearing a Santa hat and red bowtie. 
Anderson thought the stuffed animal was a perfect match for the book "The Pups Save Christmas."
"It's a Christmas-y dog for a Christmas book," Anderson said. 
Anderson, a member of Encore of Sarasota, along with at least a dozen other volunteers helped East County's Jude Creamer pair stuffed animals with children's books for Recycled Reading Buddies. 
In 2015, Creamer founded Recycled Reading Buddies, an organization that pairs children's books with a stuffed animal that looks like a character in the book.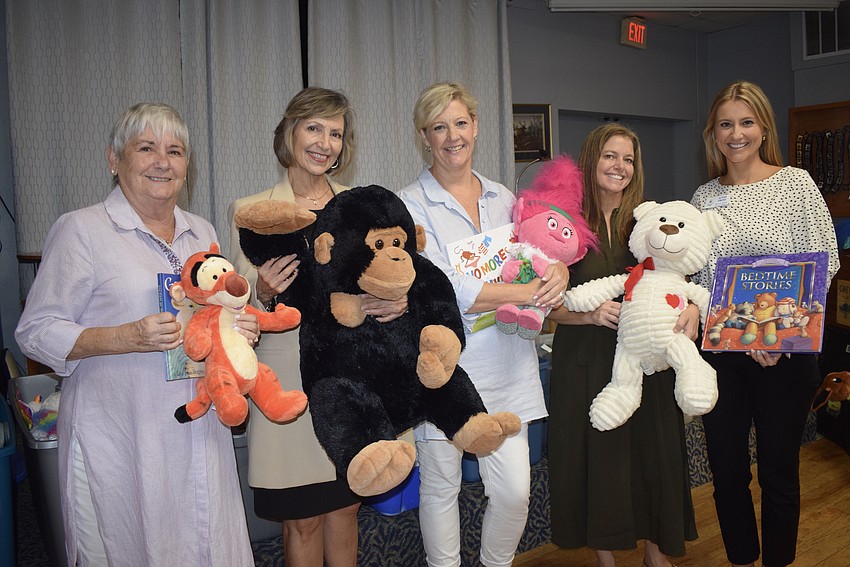 Creamer had learned about reselling on Amazon and loved the concept of pairing two items together to make them more valuable together than as individual items. She also loved going to thrift stores to see what "treasures" she could find. 
She combined the idea of reselling and recycling with her passion for reading, deciding to find stuffed animals that would pair well with children's books.
"I thought it might be a fun way to encourage kids to develop the love of reading, especially if they had someone to read to or someone they could snuggle while they're being read to," Creamer said. "It's my little way of hopefully encouraging a child to like books."
Creamer first started by selling her book and stuffed animal pairings at craft fairs, but after a year, Creamer decided to stop selling them and begin donating them to nonprofits and organizations for the holidays. 
Since its inception, Recycled Reading Buddies has donated approximately 1,200 books and stuffed animals.
Creamer recalled the Christmas of 2016 when she was at a craft fair in Atlanta, Georgia, and a boy fell in love with one of her pairings.
Her sister, Patty Baxter, found a 5-foot long green stuffed fish and gave it to Creamer for Recycled Reading Buddies. Creamer had no idea how she was going to find a book to pair with the fish. 
"I just thought there's no way I'm going to find the perfect book for this," Creamer said. "Sure enough, not long thereafter, I got "Juniors Guide to Sport Fishing," and the picture on the cover was a big green fish. I will never forget the look on this 3-year-old's face when he pointed it out to his aunt and he was like, 'I want that.'"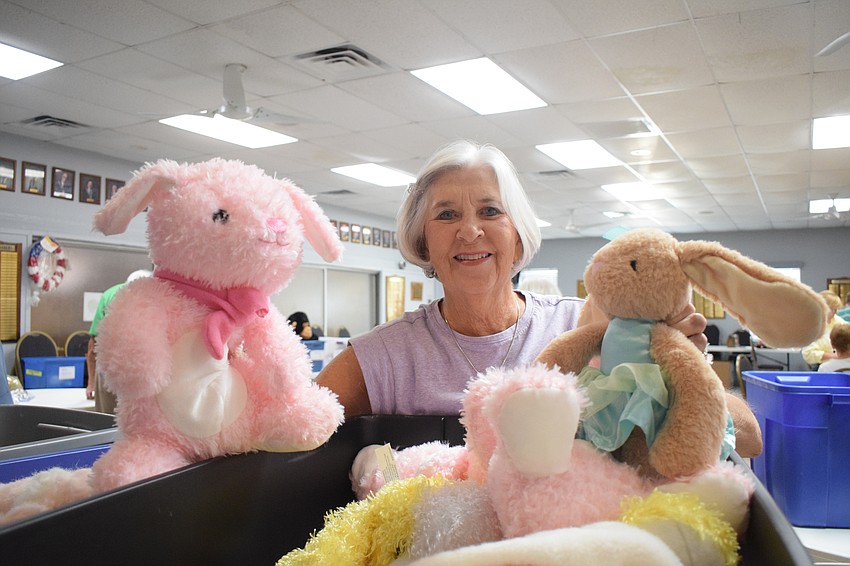 When it comes to finding books and stuffed animals, Creamer accepts donations from individuals and organizations but also goes to thrift stores. She cleans every stuffed animal and ensures every book is in good shape. 
Goodwill Manasota has provided stuffed animals for Recycled Reading Buddies. 
"Goodwill Manasota believes in the power of partnering with other nonprofits to align and expand our missions, so we can serve even more people in our community," said Alexa Olivas, the vice president of donated goods operations for Goodwill Manasota. "Together, we are helping to bring a smile to a child's face, creating lifelong reading habits and doing something good for the planet."
Before starting to enlist volunteers for assembling the stuffed animals and books, Creamer spent hours on Saturdays at her kitchen table matching 16 animals and books. The process took over her whole living room, she said.
"When you get the exact right (stuffed character) for the book, it's just a delight," Creamer said. "We stretch it just a little bit sometimes, but we try to make it as close to the character just to reinforce the imagination and have that book come to life."
Creamer said the hardest pairings involve books with mice or rats. 
"They don't make many (stuffed animals) of mice or rats, but there's plenty of books about that. I guess you don't really want to snuggle up a mouse or a rat," she said with a laugh. 
On Sept. 25, Creamer had 50 bins of stuffed animals to pair with more than 350 books. 
The pairs were packaged and will be donated to 350 children in Children's First of Sarasota's literacy program.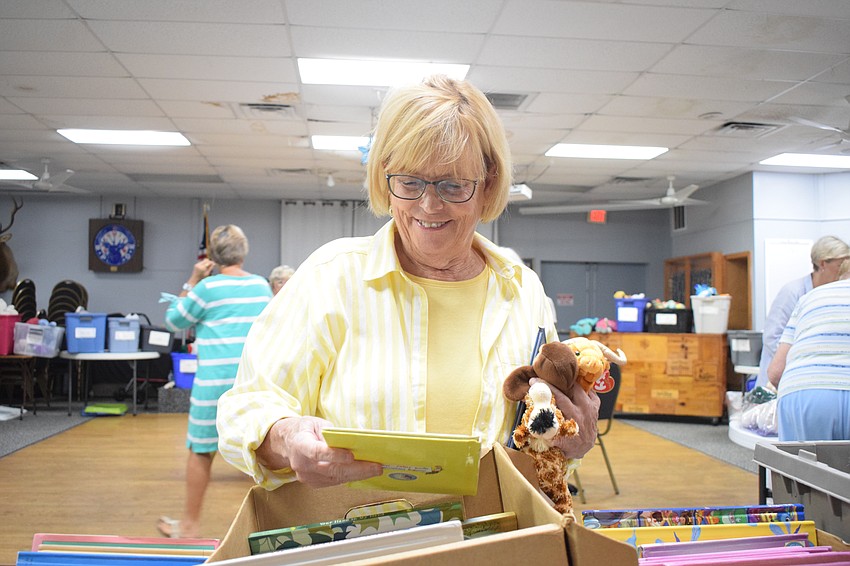 Recycled Reading Buddies has partnered with Children's First of Sarasota for three years. 
"It's a wonderful idea to pair a (stuffed animal) with a book so when a child is reading with a caregiver, the animal can help make the story come to life," said Alyssa Simons, the associate director of donor relations for Children's First. "We really like to strengthen literacy skills in any way we can to get kids ready for kindergarten."
At the end of last school year, Recycled Reading Buddies donated to Title I schools in the School District of Manatee County. 
Through Recycled Reading Buddies, Creamer has been able to see hundreds of children's books. She used to take time after hours of pairing to sit in her reading chair with a glass of wine and read some of the books to herself. 
"It was a chance to revisit them, especially because I don't have children of my own nor grandchildren, so it's kind of a new horizon for me as well," Creamer said. "The best children's stories are the timeless ones, the ones that had a message that worked for us when we were children and still work for children now. They're teaching basic values and basic concepts."