You can add a stop to your bar hop because the Good Liquid Distilling Company is now open in Waterside Place. 
The spirits, syrups and foams are made from scratch, and the cocktails are handcrafted and cleverly named.
"Everyone knows the infamous D.B. Cooper, who robbed a bank. That's our high-end cocktail, our version of a dirty martini," General Manager Rachel Price said. "It gets gold flakes, caviar service, dry ice, the whole shebang. That is our showstopper drink." 
The alcohols and liqueurs are distilled on site. When sitting at the bar, look straight ahead through the glass windows to see the shiny distiller that looks like it was built in Dr. Seuss' Whoville. 
Master Distiller Clara Robbins can produce 105 gallons of spirits every two weeks. Storage is tight in the back room right now, but once the boxes are moved, Robbins will be leading tours of the distillery. 
Robbins has a background in chemical engineering. In 2021, her gin was ranked among the top five gins in the world at the New York International Spirits Competition. 
Price describes Robbins as a "purist" when it comes to alcohol, so don't expect to find flavored vodkas, but she does like to play with flavored liqueurs. Expect to see some seasonal bottles pop up on the shelves as the distillery is up and running longer.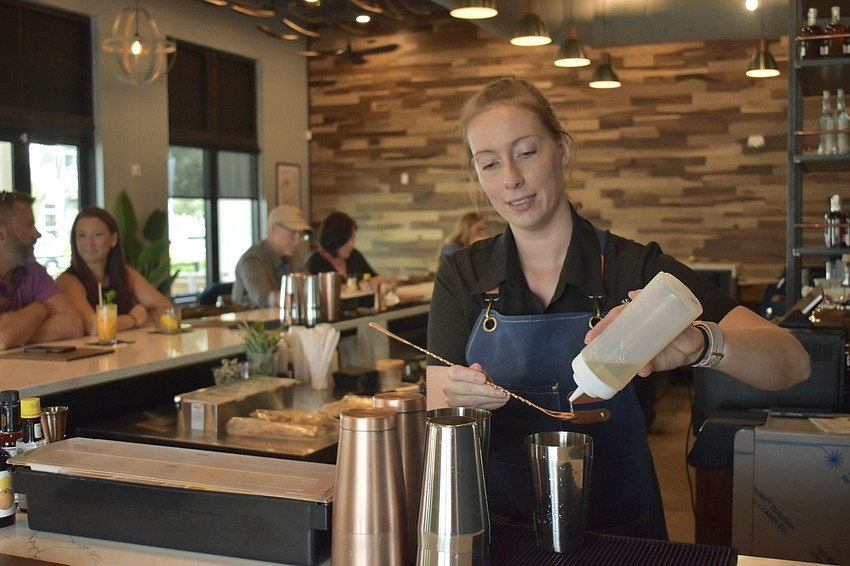 Mike Jolly and Nicole Corti recently moved from Georgia to Martinique at Lakewood Ranch. Jolly is an "Old Fashioned" guy. Good Liquid offers a few twists on the classic cocktail, plus a create-your-own version.
"I went with one that they have a recipe for that's smoked with tobacco," Jolly said. "I liked it. It didn't taste like tobacco. It just had a little bit of a smoke to it." 
Corti created her own version using tequila instead of whiskey. Instead of the traditional orange peel garnish, she chose a smoked cinnamon stick. 
The Good Liquid Brewing Company opened in Waterside Place at the end of 2021. That's where Jolly and Corti heard about the distillery, which opened around the corner on Sept. 15. Price said the crushes have been the bestsellers so far. 
"They're super light, easy and refreshing," she said. "It gets vodka and our orange liqueur, which is our version of Triple Sec, but it's less sweet and heightened on the orange. Then, it gets the flavor of their choice and it gets topped with soda water or sprite, depending on how sweet they want it."
Each drink was tested at least five times before the recipes were finalized. Good Liquid brought in help from a consultant, too: Brad Coburn, the owner of Pangea Alchemy Lab in Sarasota. Coburn knows how to make a drink; he's an award-winning, competitive bartender. 
"He and I got together, and we came up with all the drink recipes, which was a whole bunch of fun. There was a lot of tweaking," Price said. "And we really wanted to be creative with the names and come up with something that really set it apart from all the other restaurants and bars in the area."
Not only are the flavors and names important, but so is the service. While the drinks are extravagant in ingredients, Price said they're all "prep heavy," so customers don't have to wait 10 minutes to sip a specialty cocktail. The foams and 10 types of syrups are made ahead of time. Syrup flavors range from cream soda to Rosé pink peppercorn. 
There are mocktails, too. The "Nutty Parisian" is made up of fresh orange juice, pistachio syrup and almond milk. 
On the second day open, which was a Saturday, Price said the bar was full by 7 p.m. Inside and outside combined, there are about 150 seats. 
Bottles can be purchased to-go, along with Camp craft cocktails. The ingredients are sealed inside a mason jar. Pour in 12 ounces of alcohol, refrigerate for three days and an artisan cocktail is served in the comfort of your own home. 
Good Liquid's current collection of spirits include rye whiskey, bourbon whiskey, gin, vodka, rum, agave spirits and orange liqueur. The alcohols are between 80-90 proof, and prices range from $28 to $50 per bottle.