The Florida High School Athletic Association football playoffs have reached the regional semifinal stage. Three Sarasota-area teams are still alive in their search for a state title. 
Here's how all three teams compare with their regional semifinal opponents and what needs to happen for them to reach the regional finals of their respective classes next week. 
Riverview High (7-4) at Manatee High (9-2)
After beating Palmetto High 49-20 last week in the Class 4A regional quarterfinals, the Rams will head to Manatee for their regional semifinal contest. Like the game against Palmetto, the game against Manatee will be a regular-season rematch. The Rams beat Manatee 21-14 on the road Oct. 14. 
In that game, the Rams' explosive running game was not quite as dominant as it normally is, rushing for just 4.1 yards per carry instead of its season average of 6.3 yards per carry. But the team made up for it by forcing Manatee junior quarterback Andrew Heidel into two interceptions — while having no turnovers themselves — and generally playing stingy defense: Senior Jayson Evans and junior Landon Marsters both had 12 tackles, and the Rams had four tackles for loss and two sacks as a team. 
Riverview will likely count on its running game returning to form for the rematch, but there is room for senior quarterback Braxton Thomas to do damage through the air as well. Thomas completed just five of 12 passes in the first game against the Hurricanes, but those five completions went for an average of 11 yards, and Thomas is coming off a strong performance, completing seven of nine passes for 111 yards (15.9 yards per completion) and two touchdowns. 
Defensively, the Rams will need to watch Manatee senior receiver Bonshavior Bean Jr., who has 53 catches for 989 yards and eight touchdowns. But Riverview has proven it can limit Manatee's offense. If the Rams play like they have during their current four-game win streak, they can advance to the regional finals. 
Booker High (7-4) at Lemon Bay High (10-1)
The Tornadoes pulled an upset last week, beating previously undefeated Fort Meade High 33-17 on the road in the Class 2S regional quarterfinals. They did it by surprising the Miners with their offensive strategy. 
The normally pass-happy Tornadoes opted to keep things on the ground, and it worked wonders. Booker rushed 44 times for 344 yards (7.8 yards per carry) and five touchdowns. 
Senior receiver Josiah Booker, who holds offers from Duke University, Coastal Carolina University and Liberty University among other schools, was the biggest beneficiary: Booker had eight carries for 138 yards and three touchdowns. The Tornadoes attempted just one pass against the Miners, and that also came from Josiah Booker, completing it to senior Hunter Zirkle for 24 yards.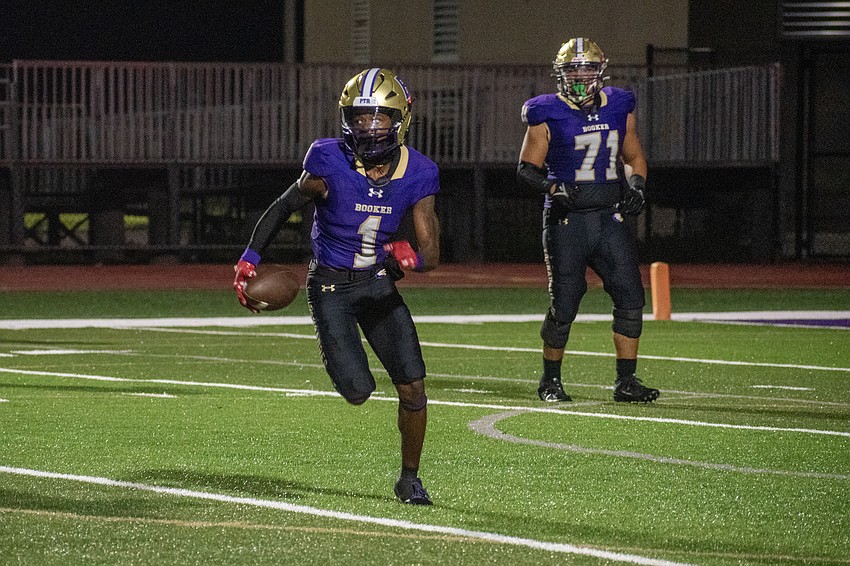 Going to the ground game early and often won't catch Lemon Bay off guard this week, so it remains to be seen whether the Tornadoes continue the strategy or revert to a more balanced offensive plan. 
The Tornadoes' defense held the Miners to zero points midway through the third quarter, when the Miners got on the board with an 80-yard rushing touchdown that gave them a bit of life. For the majority of the game; however, the Tornadoes handled business: Booker had four tackles for loss, one sack and six quarterback hurries, and senior Ahmad Hunter blocked a Fort Meade field goal attempt. 
Lemon Bay presents a different challenge, as the team showed in a 26-18 win over the Tornadoes on Oct. 27. The Manta Rays average 7.4 yards per carry as a team, and against Booker in October, senior running back Joseph Scott had 24 carries for 249 yards and three touchdowns. Booker did throw the ball 32 times in that game, but a shift to a run-heavy offense may help control the clock more, limiting Lemon Bay's time of possession. But the Tornadoes will still need to figure out how to stop the run, or what they do on offense themselves won't much matter. 
Cardinal Mooney High (8-2) vs. Lakeland Christian (7-3)
Both of these teams had a bye last week, as the playoffs begin with the regional quarterfinals in Class 1S due to its smaller size. What I wrote last week about Cardinal Mooney needing to slow down Lakeland Christian junior running backs Josh Bellamy Jr. (124 carries for 1,028 yards and 12 touchdowns) and Killian O'Neal (80 carries for 578 yards and 11 touchdowns) remains one of the biggest keys to the game. 
But I also want to zero in on the Cougars' ability to force turnovers. In the playoffs, when teams are often evenly matched, mistakes are of seismic importance. 
Forcing the other team to beat itself is one way to advance, and Mooney has been excellent at causing turnovers in 2023. The Cougars have snagged 15 interceptions and recovered 10 fumbles. That equates to 2.5 turnovers per game, and when the Cougars themselves have had just three interceptions and two lost fumbles, it can make a big difference.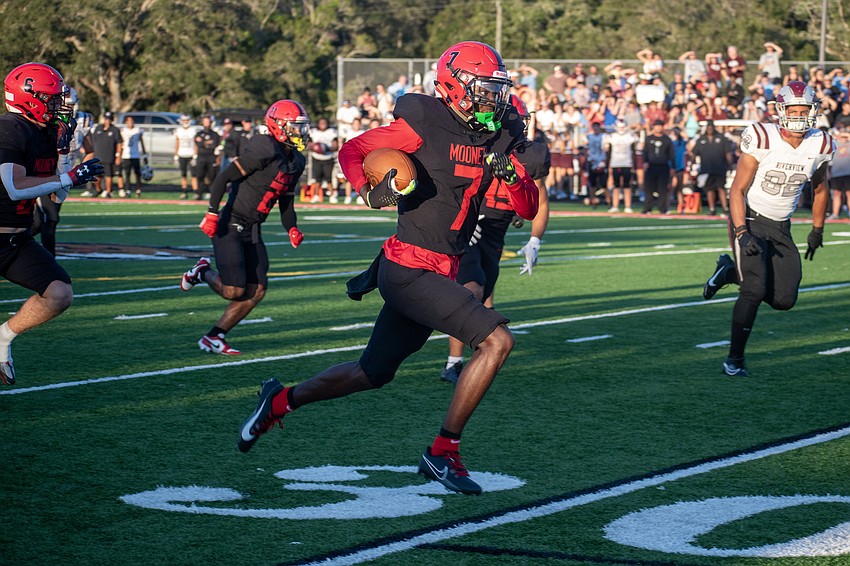 The game against Lakeland Christian will be Cardinal Mooney's toughest test since losing 50-14 to Bishop Verot High (a Class 2S school) on Oct. 20. While that game didn't go as Mooney hoped, the Cougars have plenty of talent across its roster, talent that coaches believe can stack up with anybody else's. Limit the Vikings' running game and win the turnover battle and Mooney can walk out with a ticket to the regional finals.