With a dozen projects and proposals in the works from Interstate 75 east to Bourneside Boulevard, the landscape on State Road 64 East is changing quickly. 
Included are two popular restaurant chains that are moving into the Market Place at Heritage Harbour.
"I can formally announce that we signed two leases with the Darden Restaurant Group. One of them is for Longhorn Steakhouse, and the other is for Seasons 52," said Joe Morris, the senior vice president of leasing and acquisition for M&M Realty Partners. "We feel that they should be open on or about this time next year."
Two fast food restaurants are setting up shop on S.R. 64, too. A Popeyes Louisiana Kitchen is already under construction, and a Wendy's is on its way.
"We're buying the land next week and will start site work in December," the managing director of Southeast Development for Casto, Michael Chadwick, said regarding the Wendy's.
Wendy's is planned for the intersection at White Eagle Boulevard. The Popeyes is at the intersection at 118th Lane East. Next to it is an AutoZone that's also under construction.
Residential additions
Three residential projects are on the books, but only two are approved — Palm Grove and Alton Lakewood. A third project is still in the application process.
That proposal is for up to 300 luxury apartments and 50,000-square-feet of commercial space facing S.R. 64 between 117th Street and Pope Road. Commissioners will have to approve rezoning the 20-acre site before the project can move forward.
The application was submitted on behalf of Penler, a real estate investment and development firm based out of Atlanta. If approved, the commercial space will be sold to retail developers and leased to stores and restaurants.
Once the application is deemed complete by county staff, it will go before the commission within 180 days, but applicants have four chances to get everything in order. The Penler application is under its first review, and according to staff, it's common for applications to be reviewed more than once. If the application doesn't meet the requirements by the fourth attempt, then a denial letter will be issued.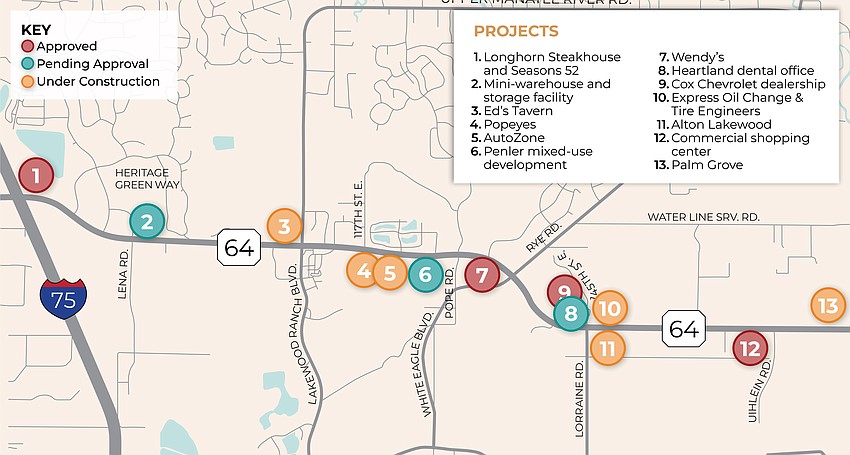 Both Palm Grove and Alton Lakewood are under construction. Neal Communities is building Palm Grove on 310 acres between Uihlein Road and Bourneside Boulevard. Plans originally included 17,750-square-feet of medical offices. On March 23, commissioners approved a request to remove the offices and add 224 more dwelling units for a total of 930 homes, townhomes and villas.
Kolter Multifamily LLC is building Alton Lakewood, a 350-unit luxury apartment complex featuring spacious one to three bedroom units. Amenities will include a clubhouse, fitness center, outdoor running track, dog park and pet spa. The property is just over 28 acres and located on the southeast corner of S.R. 64 East and Lorraine Road.
Commercial additions
On the other side of S.R. 64, where Lorraine Road turns into 145th Street East, a 7,600-square-foot Express Oil Change & Tire Engineers is under construction on the northeast corner. On the other side of 145th Street East, a 4,200-square-foot Heartland dental office is pending approval.
Cox Chevrolet is planning a new dealership on an 18-acre parcel at the northwest corner of S.R. 64 and 117th Street East. Neighbors took legal action to oppose the project after commissioners voted 4-3 in favor of it, but the case was closed in June of this year and Cox is now unencumbered moving forward.  District 5 commissioner at the time, Vannessa Baugh, agreed with residents saying it was a terrible location for a car dealership.
On Nov. 2, commissioners approved rezoning just under 15 acres on the southwest corner of S.R. 64 and Uihlein Road from agriculture to planned development commercial to allow for an 80,000-square-foot commercial shopping center.
The preliminary site plan, submitted by owners Nap McEast LLC and SMR Northeast LLC,  includes one main parcel, two retail parcels and four outparcels for future use. The property is being sold to North American Properties to build a Publix.
Plans to develop a Heritage Harbour outparcel are still in the application phase. The proposal is for a 4-story, 109,000-square-foot mini-warehouse and storage facility located on the northwest corner of S.R. 64 and Heritage Green Way.
Correction: This article has been updated to correct that the Cox Chevrolet dealership is planned at the northwest corner of S.R. 64 and 117th Street East.