It takes a lot of books to open a new library. 
Four trucks recently delivered 42 pallets worth to the Lakewood Ranch Library, which is tentatively set to open during the first week of January. Branch Manager Tiffany Mautino said the staff unpacked 4,700 boxes of books over five days. 
On Nov. 9, members of the Lakewood Ranch Business Alliance helped library staff with the arduous task of stocking shelves. But first, they learned what went into creating the library and took a tour of the two-story, 50,000-square-foot building that literally towers over Rangeland Parkway.
"I drove toward the library this morning, and you can see it from afar," said Stu Henderson, a partner and architect at Fawley Bryant Architecture.  As a landmark, it really sort of locates."  
Fawley Bryant designed the library and worked alongside Willis Smith Construction to get the project accomplished. Both businesses are headquartered in Lakewood Ranch. 
"We dedicated ourselves to keeping as much of the work local as possible," Willis Smith owner and CEO David Sessions told the group. "Most of this project's $18 million (construction) impact stayed right here in this community."
Sessions said 74% of all construction dollars were paid to companies in Sarasota and Manatee counties. The number rose to 96% when he included the neighboring counties of Pinellas and Hillsborough.  
The second floor of the building matches the first floor in square-footage but is unfinished. The county hasn't decided what to do with the space yet, but it was a cost-saving measure to add it into the plans because a separate facility costs more than an extra floor. 
Construction began on Dec. 15, 2021; now, all that remains is a punch list of minor items to be finished or corrected.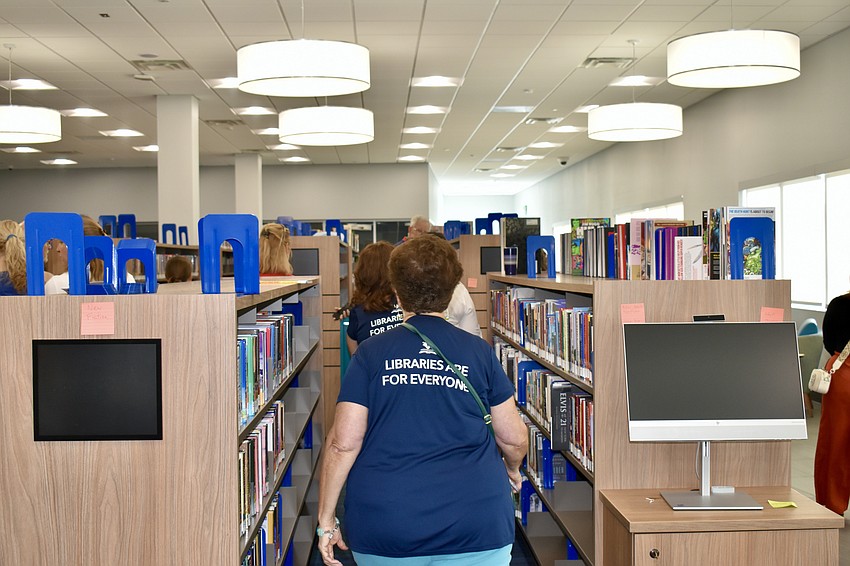 So far, the new library is stocked with 39,000 books, audiobooks and DVDs, but there are more on the way. The full capacity is 47,000. 
"We added shelving because we felt like it was important to the community to have enough books," Manatee County Library Services Manager Tammy Parrott said. "When we bought the books, we bought for 100% fill because, at any given time, a lot of the collection is out of the building."
Libraries can't always afford to fully stock their shelves, but Lakewood Ranch has received help from some friends. The Friends of the Lakewood Ranch Library donated $100,000 to help buy books and the donationn was matched by the Manatee Library Foundation. A check for $200,000 was presented to the library in February. 
It took seven months and a dozen librarians to curate the collection. Then, they had to make a plan to store it. The width of each item has to be taken into account when planning how to shelve the materials. Parrot said it involves a lot of math, averaging and Excel spreadsheets.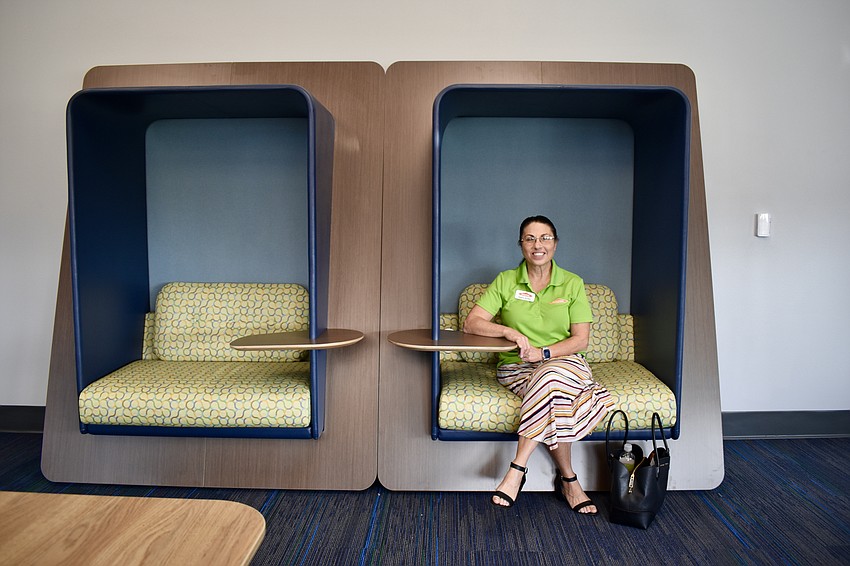 As essential as books are, libraries are not only for reading, so the Lakewood Ranch branch features a rooftop terrace for hosting events, an outdoor play area for children to get out some energy and a makerspace for all ages to get creative.
What won't be found in the new library are rows upon rows of computers. Only 12 were purchased because Parrott said most patrons bring their own nowadays. Instead, staff focused on providing reliable wifi and incorporated cubbies along two walls of the reading room. The cubbies are comfortable, provide a bit of privacy in a public space and come equipped with outlets for charging laptops.  
The children's area was designed to be whimsical yet functional. Trees decorate the room, and the backs of the chairs feature different animals. Lakewood Ranch is the only branch in Manatee County that has an outdoor play area.  
A hallway sets the space apart from the rest of the library to limit noise for other patrons and provide an enclosed area for toddlers who tend to roam. There's also a private area for nursing mothers and low sinks installed inside and out. 
"Because kids get sticky all the time," Mautino said.
A soundproof podcasting booth is being built into the makerspace, but it's the most unfinished room in the library. Parrott said the staff will be looking to the community for suggestions and guidance as the space evolves. 
Mautino said sewing machines, 3D printers and rotary cutting machines, which cut balsa wood sheets, are on her list. While exact models haven't been decided on, whatever equipment is bought will be high-end and come with an instructor instead of instructions. 
"That's the point of something like this," Mautino said. "You get to come in and try something for yourself that you don't have the facility or money for at home." 
Programming for the library will start slow with story times and in-house programs, which are classes only the staff can teach. As some time passes, Lakewood Ranch will offer programs from non-staff instructors as the other branches do. 
"What a fantastic facility," District 5 Commissioner Ray Turner said to Alliance members prior to the tour, "Libraries are way more than what meets the surface, and this is iconic."