It was the trip of a lifetime, so East County's Pam Hyatt wanted to make sure she had everything packed.
Hyatt and her husband, Russell, were going away for a month beginning last April out of port in Fort Lauderdale. They were first going on a two-week cruise across the Atlantic Ocean to North Africa and then Europe, before spending two more weeks touring Europe by car and bus.
The Hyatts were all packed when Pam was reminded by her mom, East County's Pat Ciemniecki, to remember to pack the East County Observer.
"Every time we go on a trip, she reminds me to bring the Observer," Pam Hyatt said of her mom.
While it has paid off in the past for the Hyatts, in terms of having their photo run in the It's Read Everywhere section of the East County Observer, this time included an unexpected bonus.
Pam and Russell Hyatt have won the It's Read Everywhere contest for 2023 and will be going on a seven-day Celebrity Cruise to be booked by Marc Bokoff's ACC Cruise Planners.
They brought their East County Observer to the Bergisel Ski Jump in Innsbruck, Austria which hosted the 1964 and 1976 Olympics.
While their tour group had things planned, the Hyatts drove on their own to the Bergisel Ski Jump because they both are avid skiers, often vacationing in Vail, Colorado. Seeing an Olympic ski jumping site had special meaning for them.
"I know that I watched (the Olympics in 1976), but I don't remember much," Pam Hyatt said. "I was 9."
They walked around the grounds and chatted with the athletes and those working at the site.
"You can go to the top and look out over the edge," she said of the jump.
Observer readers voted for the It's Read Everywhere photo they liked the best, and the Hyatts came up winners. Pam Hyatt said she encouraged all her family and friends to vote for their photo.
She also noted that her parents, Pat and Ray Ciemniecki have been bringing the East County Observer with them on vacation for years, so it has become a tradition in their family.
Now they can take the Observer with them on their next trip.
Pam Hyatt was asked if she tends to be lucky in contests. She said she is not.
She was asked if her husband tends to be lucky.
"He is lucky," she said. "He has me."
They were on their month long vacation earlier this year to celebrate their 30th anniversary. The Hyatts, who live in River Point, were married on Leap Year, Feb. 29, 1992.
"This is so awesome," Pam Hyatt said when received the news about the free cruise.
The contest had 114 submissions, and 3,457 votes were cast for entries from March 16 through Oct. 20.
The Hyatts had 668 votes.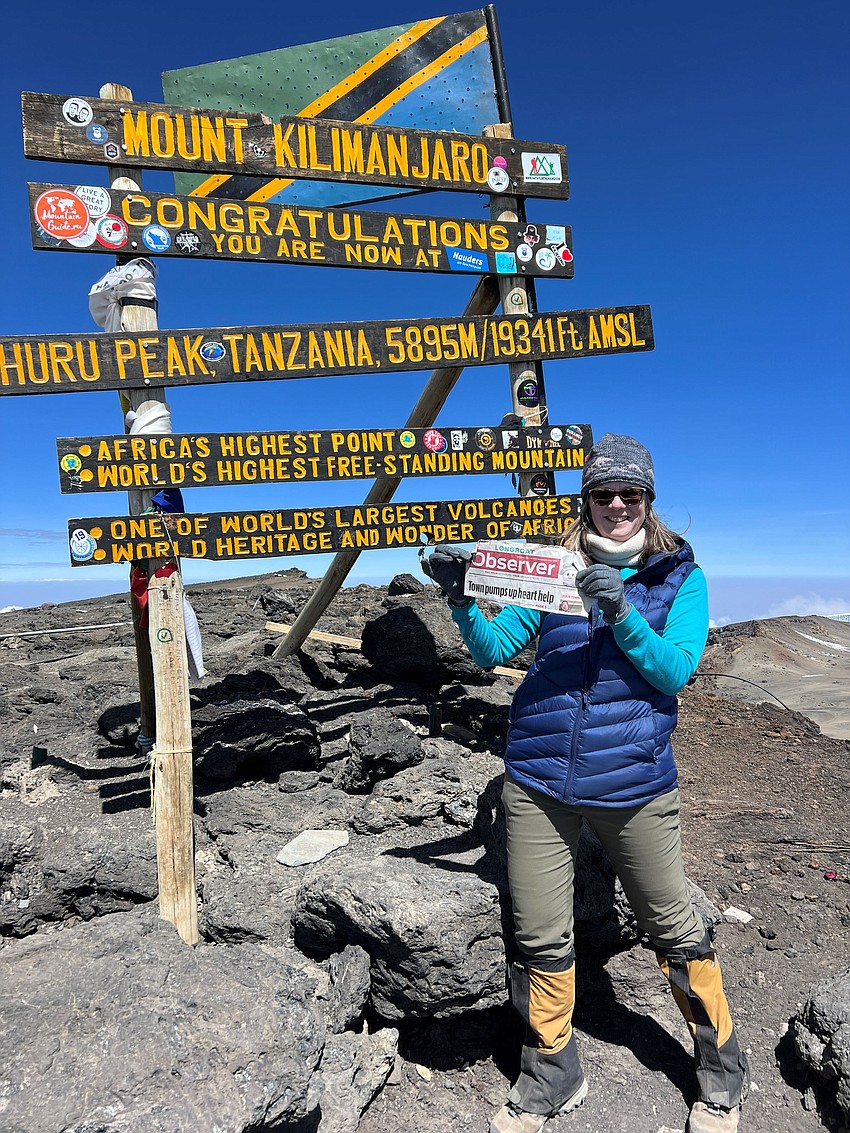 An entry by Jen Mott-Mueller — in which she snapped a photo with the Longboat Observer at Uhuru Peak at Mount Kilimanjaro in Tanzania, Africa — finished second with 589 votes.
Mott-Mueller climbed to 19,354 feet to raise money for Africa New Life's Food and Care program.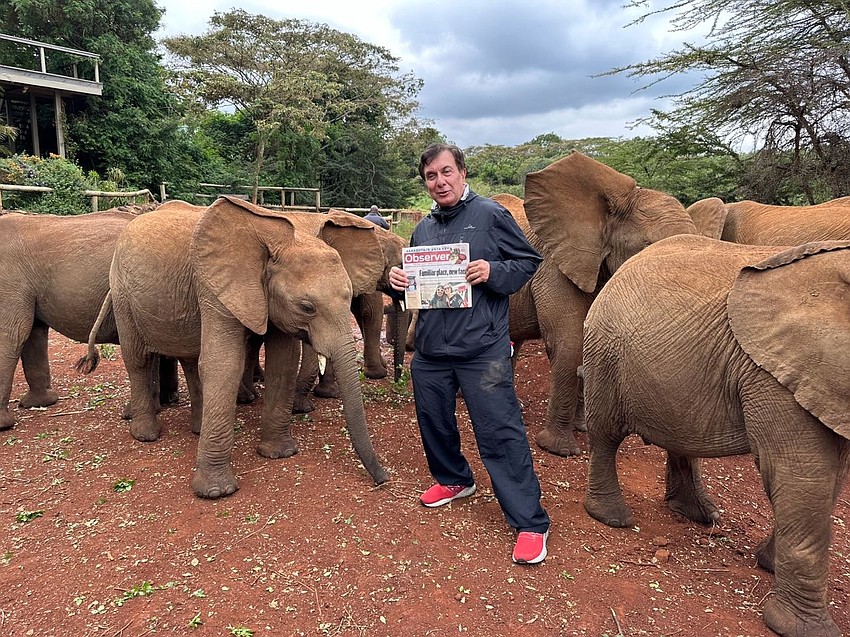 An entry by Myles Tobin — at the David Sheldrick Wildlife Trust in Nairobi, Kenya — was third with 440 votes. Tobin's entry was from the Sarasota/Siesta Key Observer.