Imagine you're standing on the corner of Ocean Boulevard and Avenida Messina, the main intersection in Siesta Key Village. Where are you in the mood to go?
Ready to dance the night away? Head to the Beach Club, where folks have been kicking up their heels since 1947. 
Is one of the Tampa pro teams playing? You can catch the game on one of the big screens at MVP (short for My Village Pub) and grab a beer and burger. 
Want to unwind in a cozy cabin with an Old Florida vibe? The Cottage has a chair with your name on it. 
Wait. You've got more options. Hankering for fish tacos? Meet your amigos at The Hub Baja Grill. Baja California's got nothing on Siesta Key! 
Ready to celebrate a birthday or anniversary with a delicious meal and a nice bottle of wine? The Summer House beckons, just a couple of doors down the street on Avenida Messina.  
There's no shortage of drinking and dining options at the Village's main intersection. And, though you wouldn't know it from looking at them, all five establishments are owned by two partners, Chris Brown and Mike Granthon, founders of Sarasota's Above the Bar Hospitality Group.
"We like the idea of the multiple locations being different," Granthon says. "It's like being on a cruise ship with different style restaurants you can visit in one week. It's perfect for tourists. We offer one-stop shopping within walking distance."
Above the Bar isn't some faceless restaurant company. Brown and Granthon weren't just transferred to Sarasota last month from some faraway corporate office to capitalize on the booming Suncoast market. They've been dipping their toes in the fine-grained Gulf sand that has earned Siesta Key the title of "No. 1 Beach in the U.S." for quite some time. 
Brown, a Milwaukee native, moved to Sarasota in 1993, after his parents retired here. A Peruvian import, Granthon came to Florida 17 years ago via Washington, D.C., where he attended junior high and high school.
While Brown's background is in auto wholesaling and real estate investing and Granthon literally grew up in the hospitality business (his mother worked for Sheraton Hotels), they share a commitment to delivering quality and authenticity in their dining and drinking establishments.
In addition to the Siesta Key eateries, Above the Bar's portfolio includes Mad Moe's Sports Pub & Grill in Osprey and Joe's (formerly Smokin' Joe's) on Main Street in Sarasota. 
Brown also owns a portfolio of properties in the Sarasota area, including the ones occupied by Morton's Siesta Market and Another Broken Egg Cafe, located next door to MVP on Avenida Messina.
Brown and Granthon met in 2005, when Brown acquired The Beach Club, where Granthon was working as general manager. The transaction also included two nearby properties, which were a real estate office and a hair salon at the time.
The two future partners took an immediate liking to one another and soon decided to form the business partnership that today is known as Above the Bar Hospitality.
Their first order of business was revitalizing The Beach Club, one of the oldest continuously operating bars in Sarasota County. The building needed work, and the previous owners had made what Brown considers to be a fatal error by trying to be both a nightclub and a restaurant. "You can be one or the other, but it's hard to be both," Brown says.
As part of The Beach Club's facelift, Brown and Granthon tore out the kitchen. They spruced up the decor, adding a huge, metallic-colored shark suspended from the ceiling over the dance floor, at the decorator's suggestion. Both say they were at first skeptical but now agree the shark is a winner. 
In an effort to raise the club's cool quotient, they added VIP memberships and bottle service. They also beefed up the acts that play live music each weekend.
Once they turned around The Beach Club, Brown and Granthon opened The Hub, featuring a Mexican theme, in the former real estate office in 2008. In February 2009, they put in an application to open a restaurant next door in the cottage where the hair salon was operating. 
Because it was an authentic cottage of pecky cypress that had been moved to Avenida Messina from the beach, Brown and Granthon didn't do much to the building. They complemented the Old Florida flavor by building a tropical-themed patio with a gazebo and other comfy seating.
As they were preparing for their opening in April 2010, Granthon said he and Brown would periodically say to each other, "We have to come up with a name for the cottage" or "I don't know what we're going to call the cottage."
They still didn't have a name for their new tapas joint when it opened, but finally settled on — you guessed it —The Cottage. "It just stuck," Granthon says.
Across the street, MVP was pretty much plug-and-play.
With The Beach Club, The Hub and The Cottage humming along, Brown and Granthon turned their attention to fine dining. All of Above the Bar's Siesta Key destinations were casual places. They hired Kurt Lukas of Sarasota's JKL Design Group to decorate their new upscale restaurant and named it the Summer House — a nod to the former Summerhouse restaurant, a longtime Siesta Key landmark designed by the celebrated Sarasota architect Carl Abbott. 
The Summer House opened in 2018 with lush, beachy interiors accented by a giant aquarium in the middle of an airy space filled with greenery. Comfortable booths and eye-catching fabric lampshades exude a mid-century modern ethos.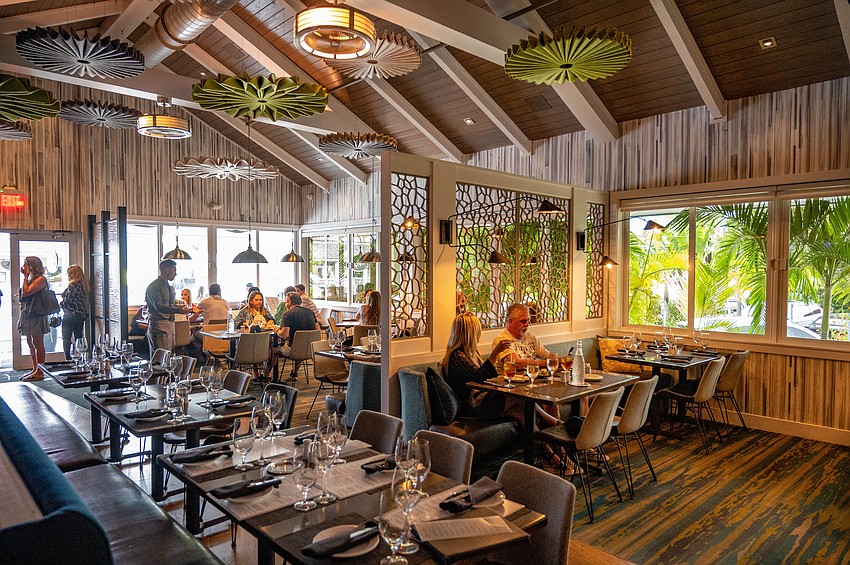 All told, The Summer House seats 155. It's only open for dinner, unlike its neighbors, The Cottage and The Hub. Its menu is decidedly upscale. That's code for "steaks start at $50," Brown says.
After its opening, the Summer House became the engine powering the Above the Bar hospitality train until Covid came along and derailed everything in March 2020. With the immediate future uncertain, Brown and Granthon went into survival mode.
They cleaned out the refrigerators and freezers in their restaurants of nearly $15,000 worth of food destined to perish and invited employees to make curbside pickups. They paid Above the Bar's 400 employees their full salaries as well as their health insurance for about eight weeks, Brown says, at a cost to the company of about $200,000 a week.
When it became apparent that Above the Bar would go broke if it kept paying employees when there were no customers, Brown and Granthon tried to take care of their employees. They did their best to see that all their employees went on unemployment or got other assistance. To make sure no one would go hungry, Granthon took employees shopping regularly at Publix and bought them groceries. 
Above the Bar's efforts were rewarded by employee loyalty. "We lost at most one employee during Covid," says Brown. "I'm really proud of that." 
Like other restaurant companies, Brown and Granthon pivoted to outdoor dining and takeout orders during Covid once they were allowed to do so. They also used the lockdown to do maintenance and make other improvements to their facilities.
Little did Brown and Granthon know but the wild ride was just beginning. Business came roaring back in 2021 and Above the Bar logged revenue increases of between 20% and 30%, compared to the 5% gain of the pre-Covid years. Even though the hospitality company had held onto its employees, it didn't have enough workers to meet demand.
Making matters worse was that new hires were nowhere to be found. A lot of people left the hospitality industry during the pandemic. People were tired of working long hours and found they could make more in other fields. Granthon says he would be willing to hire another 20 to 30 employees right now if he could find them.
Having grown up in the hospitality industry himself, Granthon is familiar with the relentless pressure to put in long hours, including holidays, and the danger of being mistreated by hard-charging managers.
He recalls how when he was in his late teens and managing a restaurant, the boss bragged about how he opened a new restaurant while his wife was giving birth to their child. 
Granthon was horrified. "I promised myself that when I opened my own restaurant, I would never make inhuman demands of my employees."
"Look at him now," interjects Brown during a recent interview at the Summer House. "He's got seven restaurants."
After Granthon outlines his mission of treating his employees like family and offering them opportunities to grow both personally and professionally, Brown adds: "Mike speaks from the heart. This isn't just stuff he thinks people want to hear. He really means it."
Brown notes that Granthon encouraged him to begin offering employees health insurance and paid vacations several years ago, long before other businesses began sweetening their benefits post-Covid to attract hard-to-find workers.
Based on his experience of more than three decades in the hospitality industry, Granthon says restaurateurs can't expect servers to be gracious and attentive to patrons if they are being pushed too hard. "We treat our employees the way we treat our guests — like family," he says.