Each month, All Angels by the Sea Episcopal Church features a new artist in its art gallery. This month's artist is also a Longboat Key business owner, Medge Jaspan, and you can meet her at the gallery in person between 5-7 p.m. Jan. 20.
Jaspan owns and operates the Holistic Healing & Wellness Center of Longboat Key in the Mediterranean Plaza off Bay Isles Road, where she offers services as a positive psychology and metaphysical practitioner. She also has created a made-to-order clothing line of wearable art. 
Jaspan received her master's degree in psychology at Columbia University in New York, but grew up in Paris. Her career was organizing events in Cannes. She didn't sell her first piece of art until she was 35 years old. She's 55 now. 
A successful artist now, her avocation began at age 30 following a nearly tragic incident. 
She slipped on a wet floor into a window. She had cuts all over her body that took four months to heal and left her with nothing to do. That was when she discovered her artistic side.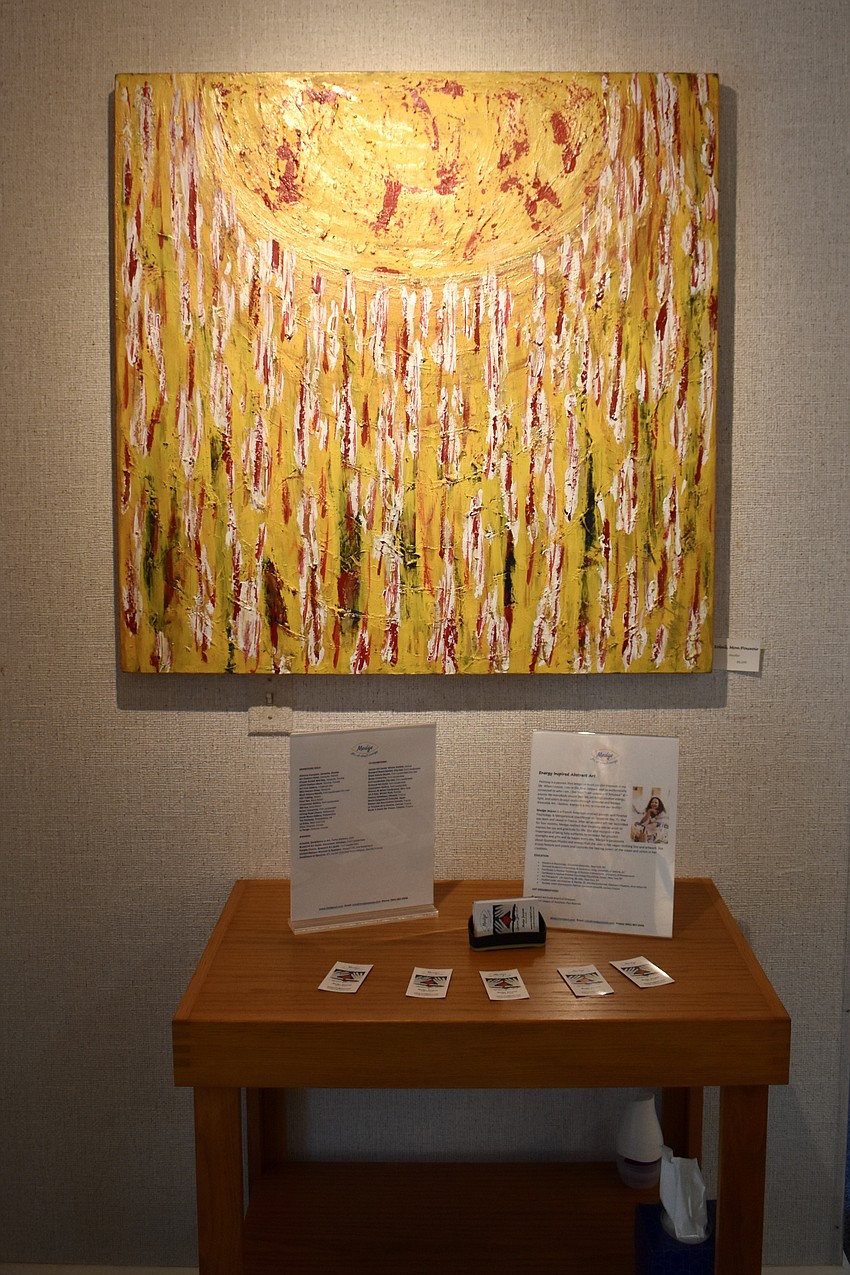 "I think if I learned one thing from the accident, it's that there was too much noise here (pointing to her head)," Jaspan said. "I wasn't eating. I was so stressed, and I was having all this stuff. I would have died, not from the accident, but from the craziness inside here."
The exhibition is called "Energy Inspired," a series of brightly colored acrylic paintings featuring hearts and labyrinths. 
Jasper uses pearls and gemstones to accent her pieces, sometimes crushing the stones and mixing them into the paint. Her emotions are the inspiration. 
"When you walk a labyrinth, when you exit, you are different because you find your calm," she said of a piece titled, "The Source of All", "I didn't like labyrinths before because it stressed me out because I felt stuck inside. But no, if you take the time to walk, to walk, to walk, you exit karma. So if you have the painting at home, you can do the same." 
Jaspan has exhibited in France, Japan, New York, Philadelphia and Orlando.
Her pieces range from $700 to $7,000 and are available to buy. The church receives a commission on each artwork sold.