Year one under Head Coach Scottie Littles was about setting the foundation. 
In 2021, the program finished 0-8. There was some individual talent around, but it never coalesced into anything on the field, and the program was struggling to find depth. Then Littles arrived and instantly changed the culture — plus almost everything else. More success on the field soon followed.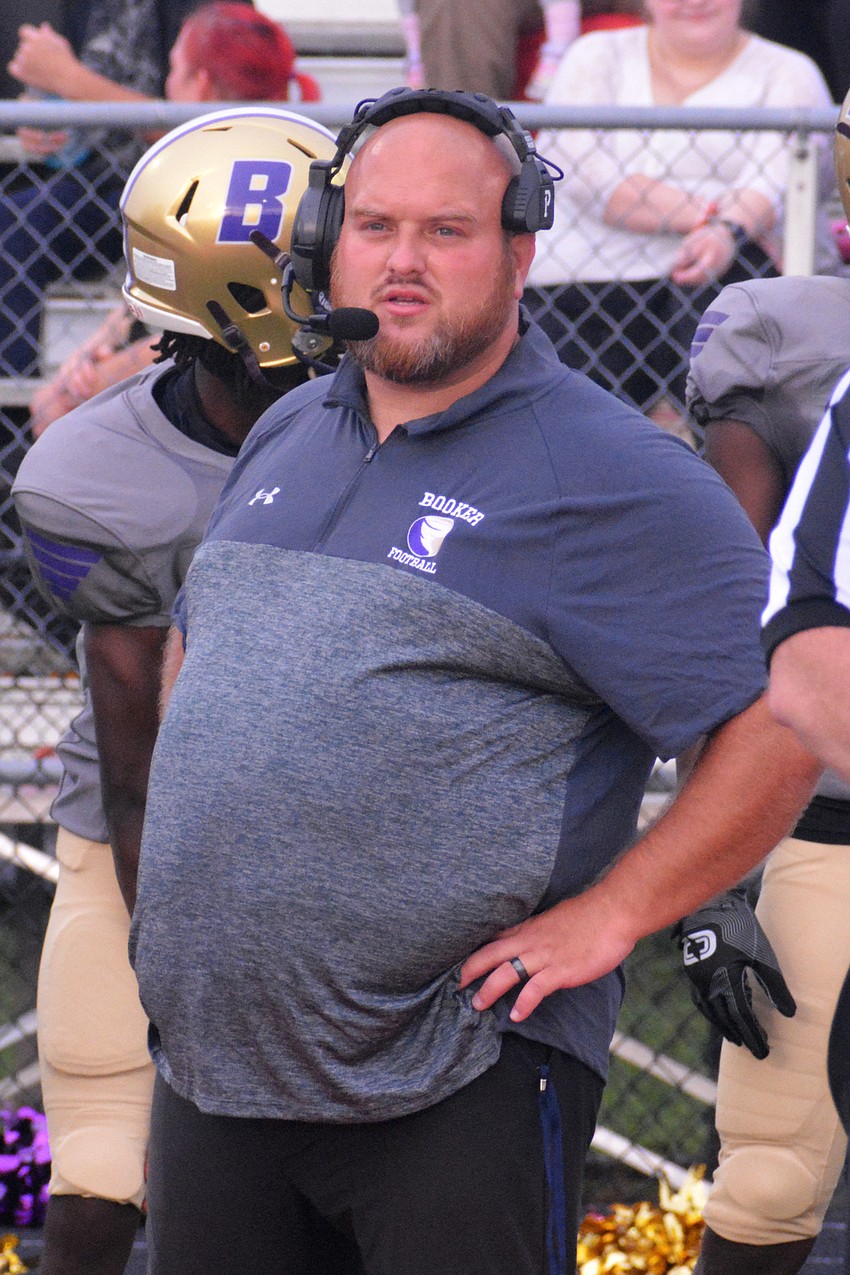 At a Suncoast Media Day press conference, held Aug. 12 at The Mall at University Town Center, Littles talked about some of the changes around the program since he took over in early 2022. The biggest change? Roster size. When Littles first arrived, there were 20 kids who wanted to play football, he said. Entering 2023 fall practice, that number had ballooned to 90. The increased roster size gives Littles more options and more depth, and it allows for a real junior varsity team to get experience for future development. 
The overall talent level has increased, too. That was evident as soon as Littles' team took the field in 2022. The Tornadoes finished 6-5, including a 34-31 loss to Frostproof High in the first round of the Class 2S postseason, but four of the five losses were by eight points or less. They were close to something special, Littles said. Their goal for the upcoming season is to get on the other side of close games. 
"We're trying to find a way to finish at the end (in 2023)," Littles said. "I'm looking forward to a big year from our team."
The Tornadoes will enter the season with a new quarterback under center. Junior signal caller Alex Diaz comes to Booker from Sarasota High, where he was the Sailors' starter for much of the 2022 season. Diaz thew for 911 yards, 10 touchdowns and 11 interceptions last year. 
He'll have plenty of talent around him. Senior running back Ahmad Hunter had a breakout 2022 season, running for 1,212 yards and 12 touchdowns thanks to his physical style of play, often busting through defenders' tackle attempts. Hunter, who is 5-foot-8 and 190 pounds according to MaxPreps, said that his goal is to run for 1,500 yards in 2023. Hunter had touchdown runs of 30 and 60 yards in the team's 24-20 preseason loss to Cardinal Mooney High on Aug. 18. 
"(Hunter) represents what Booker is about," Littles said. "Doing what you're supposed to do in the classroom. Becoming the best version of yourself. Putting the school and your teammates first. We're excited to get him back for his senior year." 
On the outside, senior receiver Josiah Booker is a true deep ball threat. Booker, who is 5-foot-9 and 145 pounds, caught 58 passes for 957 yards (16.5 yards per catch) and nine touchdowns in 2022, and had a 45-yard touchdown from Diaz in the team's preseason game against Cardinal Mooney High. Booker is a three-star player and the No. 165 wide receiver in the national Class of 2024, according to the 247Sports Composite. He holds offers from Duke University, Purdue University and Coastal Carolina University among other schools. 
The offense will also feature players who are talented, but less proven at the varsity level. Junior wide receiver Rashawn Peterson didn't compile many stats in 2022, but has shown enough promise at camps during the offseason that he received an offer from the University of Central Florida in May. Similarly, sophomore wide receiver/safety Karaijus Hayes saw action in just one varsity game as a freshman, but earned a scholarship offer from the University of Miami in April. Both Peterson and Hayes should have more opportunities to show off their skills in 2023. 
On defense, the Tornadoes have a healthy mix of rock-solid veterans and impactful underclassmen. A massive season could be in the works for sophomore defensive lineman Kevontay Hugan, who had 38 total tackles (10.5 tackles for loss) and 2.5 sacks as a freshman. Hugan, who is 6-foot-2 and 236 pounds, holds offers from Miami, Penn State University and the University of Maryland. He'll team with senior defensive end Rah'shad Hill (49 total tackles, 10.5 tackles for loss) to cause disruption in opposing backfields. In the middle of the defense is junior linebacker Daijen Walton, who had 50 total tackles in 2022. 
In the secondary, senior safety Jayson Evans provides speed — he's a track star on the side — as well as strong hitting. Evans led the Tornadoes with 66 total tackles in 2022, with eight tackles for loss, 5.5 sacks and an interception. Junior cornerback Anthony Brown III returns after a sophomore season with 17 total tackles, an interception and two passes defensed. 
The Tornadoes also have a new face on the sidelines. Carlos Woods was brought in as the defensive coordinator. Woods is a former assistant linebackers coach with the Cincinnati Bengals and a former assistant defensive line coach with the Indianapolis Colts among other stops. 
The team's 2023 schedule will be a challenge, but one that a talented Booker team is capable of overcoming. The Tornadoes will play a mix of bigger area schools like Braden River High, Lakewood Ranch High and Sarasota High, and district matchups against Lemon Bay High, DeSoto County High and Bayshore High. If things go how Littles believes they can, matching and exceeding 2022's 6-5 record should be achievable — which in turn should mean another trip to the postseason. 
But as Littles and his team know, the Tornadoes have to finish. 
"It was good for our kids to get that taste of success (last year)," Littles said. "Our district this year will be much improved, but I think we're improved. It's not going to be a cakewalk. We're going to have to be disciplined and mature. We have to play hard and find ways to win close games at the end."