Zaine Lodhi's childhood might have taken him on a journey throughout Manatee and Sarasota counties, but the places he saw in his mind were some of the most influential in making him the artist he is today, a winner in January of the Illustrators of the Future award.
Despite his parents, Wail and Melissa Lodhi, going through a divorce when he was very young, the now 22-year-old Lodhi said his childhood was a positive experience despite several moves in the region. Both parents continued to care for him and his brother, Shareef.
He lived in Lakewood Ranch on Yellow Top Drive; in Sarasota on Webber Street; Bee Ridge Road; and Lockwood Ridge Road; and recently in Myakka City. He said he had a sense of uncertainty in his life, but he adopted art as his anchor.
His fascination with fantasy art stretches back as far as elementary school, when he first glimpsed a set of "Magic: the Gathering" cards at Target. Although he didn't take up the game, he became an avid collector of the cards themselves.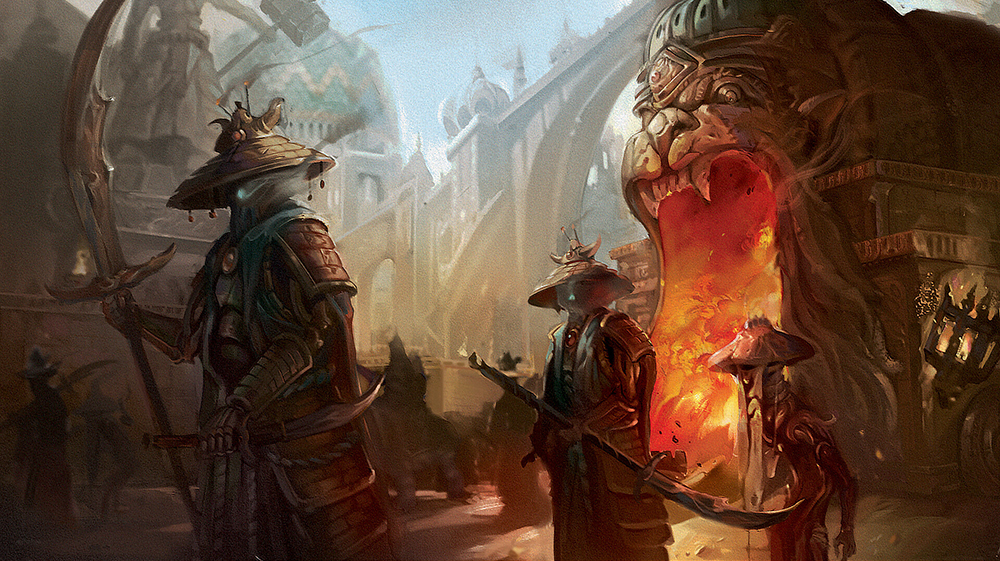 He also found inspiration around him when his mother brought him on his first visit to the Ringling Museum. "The Lion Tamed" by Peter Paul Reubens was particularly inspiring to him for its grandeur, and he gazed in fascination as the eyes seemed to follow him across the room.
Lodhi calls the museum an important influence on his art, and said the sculptures located throughout its grounds also provide an excellent basis for studying the idealized human body in heroic poses, a feature which is prominent in his work and which he said video game designers also favor.
"When you're an artist, you're taking multiple things that already exist and creating something new out of them," he said. "Nothing comes from nothing."
He also takes plenty of inspiration from artists of his own style — from video games like "World of Warcraft" and from fantasy artists such as Frank Frazetta, Alex Ross, and Gerald Brom.
Eventually, Lodhi's art became more than an escape — it became an aspiration. A turning point came when an art teacher at Sarasota's Booker High School, Gregory Rumph, told him, "You should be in an art program."
"It was the best advice I've ever received," Lodhi said. "It kind of pointed the trajectory of my life."
As Lodhi's skills grew, his style evolved as well. He had initially been a traditional painter portraying local sights such as the Marina Jack and Celery Fields, but his style gradually edged more into fantasy that captured unique worlds.
It didn't escape the influence of his own life. Lodhi's family comes from Pakistan, and although he has never traveled there himself, he said his heritage impacts his work to a degree.
"It helps a lot with design language," he said. "I still really love the Western fantasy thing, though. I use a lot of South Asian architecture because that's my heritage, that's my family. I'm really interested in the rhythms of the architecture. I think it's beautiful, that there's a lot going on."
He said heritage may be a source of his motivation.
"Being South Asian, the family puts a heavy emphasis on success," he said. "My dad said, 'Do whatever you want to do, as long as you're successful.' So, I just tried to be a very successful artist."
True to this advice, his family follows a wide variety of pursuits. His father sells cars and real estate, his mother was a dancer, his brother is in real estate, his cousin is a nursing assistant.
"I never feel like I'm really good at art," he said. "It's just, there's never a point where I'm going to be like I am perfect ... there's never that ... because there's so many people out there."
Some of his most difficult experiences, he said, have been applying to a company he was invested in only to receive a rejection. He said his girlfriend Haley Burton, who he started dating in his freshman year of college, has been important in helping him through these times.
Lodhi currently attends Ringling College of Art and Design where he pursues a Bachelor of Fine Arts in illustration with a visual development focus, learning from talented artists such as James Martin who provided visual development art, and also texture and matte painting, for Walt Disney Feature Animation and DreamWorks Animation.
He had been applying each quarter for the Illustrators of the Future Award since early 2020, and he was announced as a winner in June 2021. The award has been given out previously to 382 winners worldwide who have contributed to create books, movies, TV shows, album covers, comics, and more.
Lodhi said from the way his teachers and peers regarded his artwork, he has begun to understand that he stood a real chance of winning.
He will attend the awards event April 8 at The Taglyan Complex in Hollywood. It will include a week-long professional workshop taught by prominent names in the field, and his work will be published in "L. Ron Hubbard Presents Writers of the Future Volume 38," the next volume in an anthology which has appeared on bestseller lists in the past.
Now that he's claimed one of the most prestigious awards in his field, what's next for Zaine Lodhi? Perhaps to help start the story again.
"What I'd like is to work as an illustrator for a big game that a lot of people play," he said. "That will inspire a lot of people. It'll create this sort of positive feedback loop where people get inspired by your stuff and want to create more stuff like that and inspire people just the same way.
"If you push your skills and work hard, there's always a place for you."