"Life is a cabaret." That's a famous line from a famous song from a famous musical — "Cabaret." 
It's now on the Asolo Repertory Theatre stage. Surprisingly, the talents behind this show have given the musical new life. 
The basic story remains the same, of course.
The year is 1931. Seeking material for his next novel, an American author named Clifford Bradshaw (Alan Chandler) rents a flat in Berlin in the twilight of the Weimar Republic. 
What he finds is Sally Bowles (Iris Beaumier), a vivacious, ambitious chanteuse. She leads him to the Kit Kat Klub, a fantasyland of artful song, dance, and drag where she's the star performer. 
The Emcee (Lincoln Clauss) is the gleeful ruler of this hedonistic domain, which has a strong magnetic pull on the young writer. 
When Sally has a run-in with the manager and loses her gig, she winds up sharing his flat. 
Cliff (who's either gay or bisexual) thinks he might be falling for her. 
But Cliff might also be falling for Ernst (Blake Price) — a shady German businessman who pays him handsomely to smuggle packages in from Paris. 
Young love blossoms. And middle-aged love does, too. 
Fraulein Schneider (Kelly Lester), Cliff and Sally's landlady, gives her heart to Herr Schultz (Philip Hoffman), a fruit shop proprietor, who happens to be Jewish. 
Wedding bells are in the air; until the sound of Nazi jackboots drowns them out. Fraulein Schneider withdraws her consent. The Nazi voices are getting louder, and breaking into the private world of the Kit Kat Klub. 
Cliff decides to get the hell out of Berlin. Sally stays.
Seen it before? Me, too.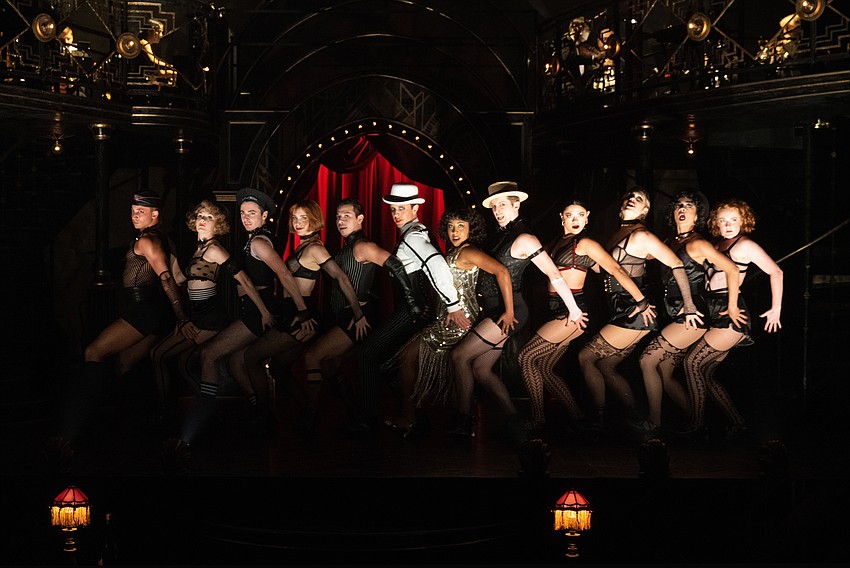 I've seen "Cabaret" so many times that you could wake me at 2 in the morning and I could probably give you a plot synopsis. 
But I've never seen this before. Without violating the musical's text, director/choreographer Josh Rhodes turns the context inside-out. In the process, he shows you something new. 
One simple shift of focus changes everything. In Rhodes' reimagining ….
He looks at the Kit Kat Klub's art and artists with respect.
Sally Bowles isn't a spoiled, not-so-talented, rich kid slumming in Berlin — she's a charismatic virtuoso on her way to bigger things. 
The Emcee isn't a corrupt, soulless creep. He's a transgressive talent who's created a refuge for other such talents. The Kit Kat Klub isn't a working class dive with a stage full of losers; it's an alternative performance space and a launching pad for first-rate artists. 
The gender-bending on its stage isn't decadent; it's a bold artistic experiment.
The actors' powerful performances bring Rhodes' vision to life. 
Clauss' Emcee steals the show whenever he appears. 
His incarnation of the character is a gleeful, gender-fluid trickster, not a malign clown. His Emcee is having fun; he wants the performers and audience to have fun; his art is an expression of joy. (He's also got amazingly expressive hands. They really should get separate billing.) 
Beaumier is a smash as Sally Bowles 2.0. Her character's wildly ambitious — and it's no joke. She's got the drive and talent to back it up. 
(Halfway through the show, I realized I wasn't comparing her to Liza Minnelli's iconic performance. Having a fresh performer drive that memory out of my head is quite a feat. Brava!) 
Chandler does a great job in the thankless role of Clifford Bradshaw (an Americanized stand-in for Christopher Isherwood). He gets a few moments to shine — especially in the scenes where he refuses Nazi money and confronts Sally about their future in the USA. 
But the bulk of "Cabaret" isn't Cliff's story — he's mainly a witness to the stories of others. Lester's Fraulein Schneider initially dismisses the Nazi menace as a passing fad. As a landlady, she's overworked and cash poor. As a human being, she's basically decent. Hoffman's Schultz is also good-hearted, and you can see how he won her heart. 
Tijana Bjelajac's set is a double-decker birdcage spangled with geometric Art Deco designs. It's seen some wear-and-tear, but it's not a broke-down palace. The Kit Kat Klub is still a happening place. 
(And American writers who drop in aren't slumming.) 
Alejo Vietti's costumes are an excellent shorthand for the club's class structure. Sally Bowles is the star and the Emcee runs the show; they both get show-stopping costumes. The lesser dancers on the kick-line get shabbier garb; And a few seem to be wearing their own lingerie. 
Music director Angela Steiner keeps the band cooking on the set's second tier. According to the Emcee, "The orchestra is beautiful." 
I didn't get a good look at them. 
But they made beautiful music with Kander and Ebb's tunes. 
It adds up to an evening to remember. 
I laughed, I cried, I thought, you name it. This revivified vision ticked all the boxes of body, mind, and soul. It's an entertaining show. 
But it's more than that. 
Watching this musical's characters is like watching the cast of a musical set in the World Trade Center on Sept. 10, 2001. You know what's going to happen to them. It hasn't happened yet. But it's only a matter of time. 
The book for "Cabaret" leaves you guessing at the characters' futures. Rhodes spells it out without hitting you over the head. 
The musical ends with a haunting scene evoking the fates of people like the Emcee and Ernst. Inside the Cabaret, life is beautiful. 
Outside, it's getting very ugly in Nazi Germany. 
And we all know how that story ends.