A handful of residents were taken by first responders to shelter during the height of Tropical Storm Eta – two by Longboat Key Fire Rescue to shelter at Manatee High School and two by Longboat Key Police to a family members home.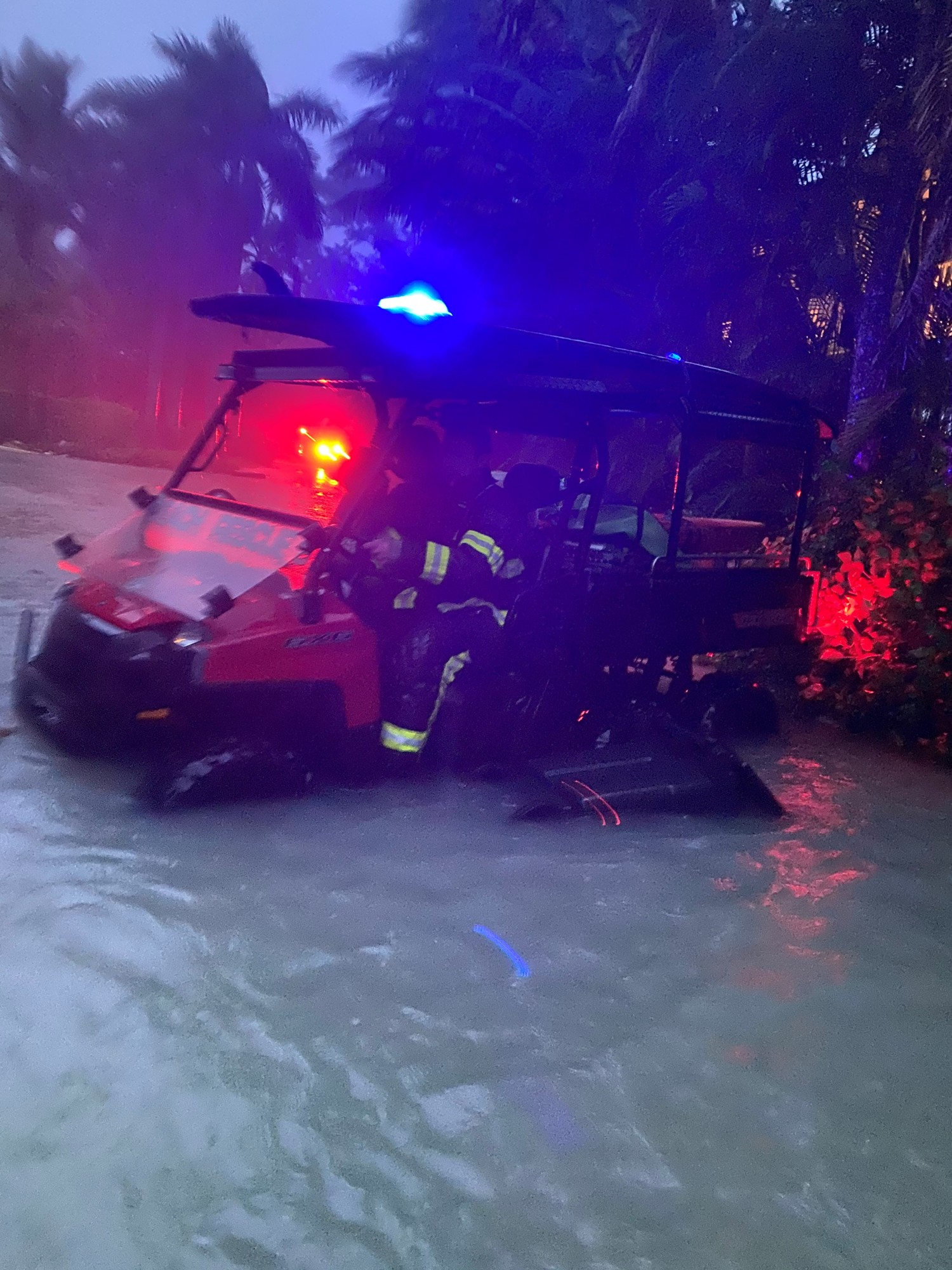 Initial assessments indicate at least 30 homes in Longbeach Village alone experienced water intrusion.
Here is a sampling of some of the responses from the town's first responders on Wednesday night:
At about 5 p.m., Engine 92 was sent to a home in the 6300 block of Gulf of Mexico Drive following a call from a resident who couldn't get out. The fire-rescue crew encountered a narrow, overgrown driveway which was deeply flooded, cutting off access from the road. The town's beach rescue vehicle was called to help deliver first responders closer to the home. A woman and her son were carried from the home to the beach rescue vehicle, then brought to safety. Longboat Police took them to family members elsewhere in Longboat Key.
Around 7 p.,m., Truck 91 was sent to a home on St. Judes Drive over a resident's flooding concerns. The resident was told he could either leave now or wait to see the extent of the flooding. The resident chose to stay put, and commanders were told of the situation and the possible need for a high-water vehicle to return if called back.
Around 8:15 p.m., police and fire units were sent to the 600 block of Russell Street to help with the evacuation of residents with the assistance of a high-water vehicle.
Around 10 p.m., multiple units were sent to 600 block of Fox Drive following a report of a burning smell and a haze of smoke visible. Units were initially delayed in arrival by high water on the roads in Longbeach Village. Power was cut off at a garage electrical panel, and a washer/drier unit was found to be warmer than the surrounding area. Further investigation found soot and a strong burning smell coming from the machines, which were removed from the garage. Electronics in the machines likely had short circuited while underwater.
Around 10:35 p.m., Engine 92 and police officers were sent to the 600 block of Russell Street to respond to call for help from a resident with water coming in and concerns about electricity. The Longboat Key engine stood by at the corner of Gulf of Mexico Drive and Broadway Street while a high-water vehicle arrived from Manatee County. Longboat firefighters rode with the Manatee County team to the home. The resident said he had cut off power to several circuit breakers in the home and that no further assistance was needed.
Around 10:55 p.m., Longboat and Sarasota County firefighters with a high-water vehicle were sent to the 700 block of St. Judes Drive. A homeowner had water inside the residence but was otherwise OK. The homeowner remained in the home.
At 11 p.m., firefighters responded to electrical arcing in the 500 block of Bayview Drive. They arrived to find about 3-4 inches of water in the garage. The homeowner said he had cut off power at the main breaker. Firefighters determined a garage refrigerator likely has short circuited in the water. Two residents of another flooded home in the area were taken to Manatee High School. 
At 11 p.m., Officer Joel Ascencio was heading south on Gulf of Mexico Drive in flooding and heavy rain when a car passed him from the north, nearly sideswiping his patrol car. Ascencio reported the car made an abrupt turn to Reclinata Drive and hit a mailbox while trying to make a U-turn, then hit a tree in an attempt to back up. Ascencio then reported the vehicle headed straight for his police car, prompting the officer to brace for impact and activate emergency lights. After the car slid to a stop, the officer took the drivers keys, cited him for reckless driving and leaving the scene of an accident. The driver, who police did not identify, and a passenger agreed to leave the vehicle and be taken to a storm shelter at Manatee High School.