"Everything old seems new again" could have been the theme for the Masterworks 5 series of Sarasota Orchestra concerts this past week. The program featured two familiar works in a new light and two artists new to Sarasota: Violin soloist Midori and conductor Michael Balke, making his American debut.
"Midori Honors Bernstein" was the theme of these concerts, and her performance certainly did great honor to this centennial year of Leonard Bernstein, composer, conductor, educator and all-around purveyor of music to the world.
Midori is something of a phenomenon herself, a child prodigy who has continued to enjoy an international career while also forming organizations promoting the musical education of young people worldwide and being named a UN Ambassador of Peace.
Bernstein's "Serenade, after Plato's Symposium," for violin, strings, harp and percussion, was commissioned by the Koussevitsky Foundation and completed in 1955, a year or so before his triumphant "West Side Story." According to the composer, it has no literal program and was originally considered a concerto for violin. He later compared it to Plato's dialogues because each movement uses material from the previous one. Bernstein himself said at the time that some people would not enjoy his "funny modern music," but already present in this score were musical hints of his future works, especially "West Side Story."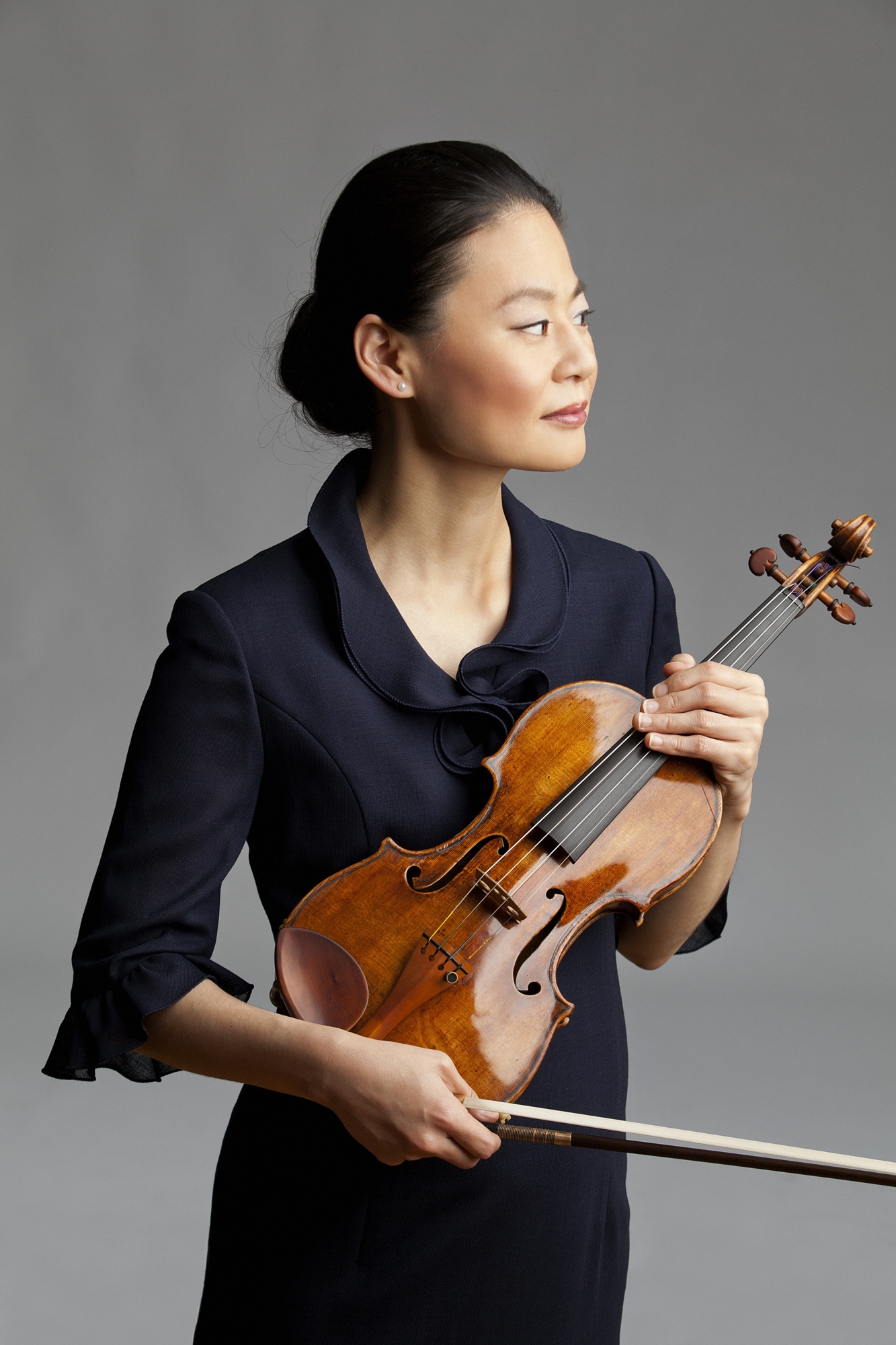 Midori, the Sarasota Orchestra and conductor Balke gave us a moving performance of this sometimes thorny but deeply moving work, with recurrent themes growing from one another as the musical ideas migrated from movement to movement, ending in a brilliant jazzy finale. Throughout the piece is a virtual maze of changing time signatures, showing more than a little influence of Stravinsky, yet it all comes together as an impressive work of the "serious" Bernstein.
Midori is an amazing, introspective performer, definitely "at one" with the music, yet she projects all the qualities of the score in an almost spiritual way. The lyrical passages were things of beauty, especially in the exquisite dialogues with the muted strings, which were at times barely audible, but still ever present. When power and technique were called for, she never failed to deliver both with spark and elan.
For this concert, Balke chose to reseat the orchestra in European style, with the first and second violins opposite each other, with the cellos and basses placed to the left on the stage. The resultant antiphonal sound of this reseating was most evident in Beethoven's "Pastoral" 6th Symphony, which concluded the concert.
Beethoven saw his 6th Symphony as more evocative than programmatic, but its representation of peasant life and the bucolic countryside seem to almost be a forecast of the orchestral tone poems by later composers. Though this work sounds simple and straightforward, it is a challenge for any orchestra, since the writing is quite open and transparent.
Balke paid close attention to the instrumental interplay and inner voices that are often submerged, providing a new richness of sound and texture. Critical woodwind solos abound and all were handled deftly and expertly by Adam deSorgo, oboe, Betsy Traba, flute, Bharat Chandra, clarinet, Fernando Traba, bassoon, and Joshua Horne, French horn.
Selecting a fitting encore to follow the "Pastoral" symphony is not an easy task, but Balke wisely chose "Dreaming by the Fireside," by Richard Strauss from his opera "Intermezzo." Using the same instrumentation as Beethoven's symphony, it was a projection of where Beethoven's classical yet romantic compositional ambitions would be realized by other composers some years in the future.
The concert opened with a rollicking yet precise and charming performance of Rossini's overture to his opera "The Barber of Seville," providing a perfect beginning for this excellent concert by the Sarasota Orchestra.