Classic Condo Celebrates 40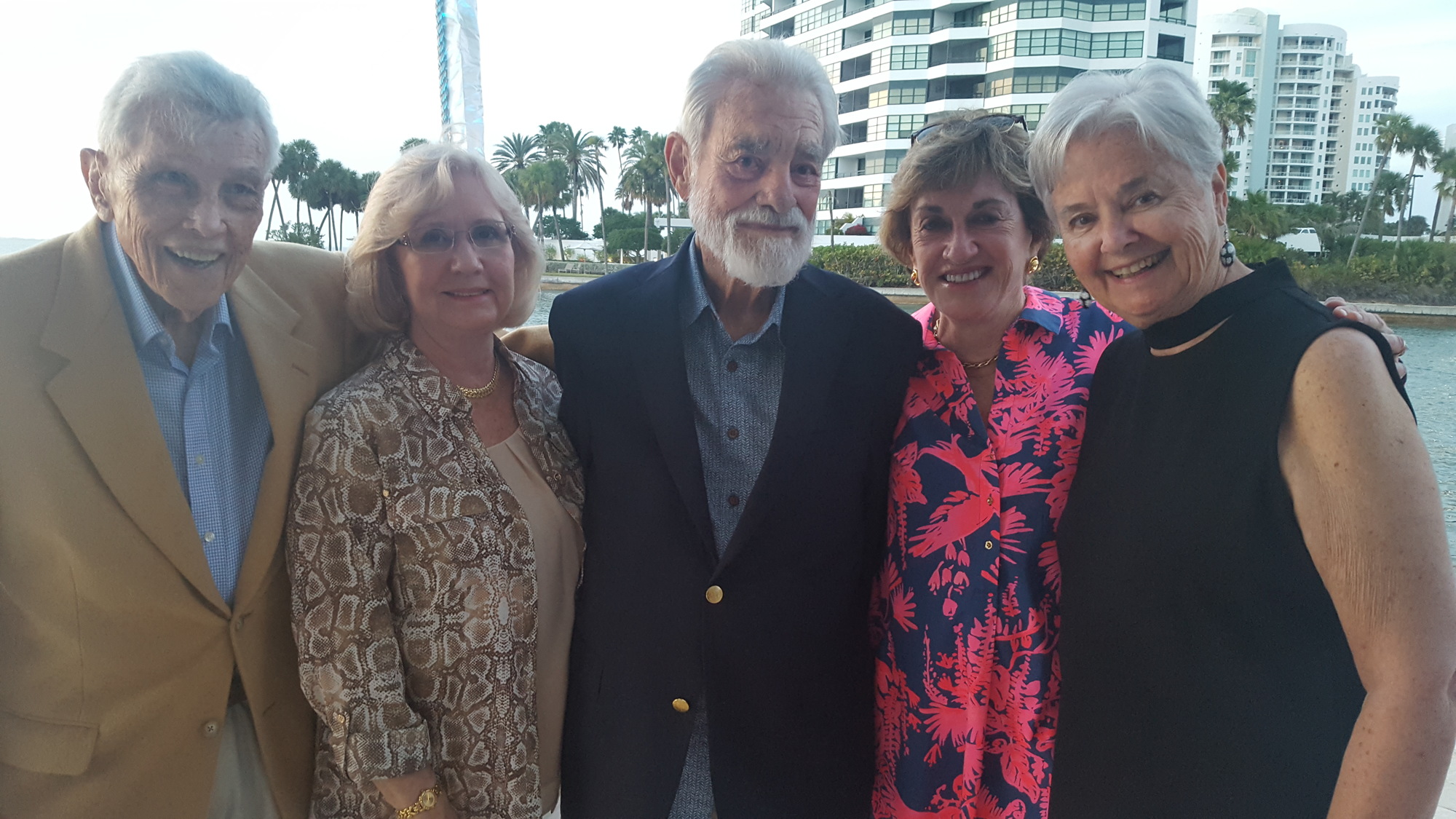 It's not every architect who gets to attend a 40th birthday party for one of his projects but that's what Tim Seibert and his wife Lynne did at Lawrence Pointe on Feb. 10. The community of three, mid-rise buildings spectacularly situated between The Ritz-Carlton, Sarasota and Sarasota Bay was Seibert's second condo development in the area (Longboat Key's Bayport was his first) and it has been in high demand for its modern design, architectural integrity and spacious units for virtually all of its 40 years. A celebrated leader of the Sarasota School of Architecture, Seibert expressed great pleasure to find his project intact and in exceptionally good condition.
Jack Shea who has lived at Lawrence Pointe for several decades was Siebert's CPA and remains his close friend. He arranged for the architect to come up from his home in Boca Grande. Pam Baran, wife of condo Board President Ed Baran, put together the poolside dinner attended by 50 residents. Her informal "committee" included residents Susan Sherman, Judy Gergin, Jan and Roger Young, Carol Dornbush, Marlene Petro and Ellen Layman.
-Molly Schechter
Going Full-Warhol
This year's Orchid Ball focused on the pop art of Andy Warhol and his love for including nature in his art. One Orchid Ball guest, Susan Malloy Jones, took the theme to heart with her outfit. After googling Warhol, she came across "kitsch Warhol pieces" on Red Bubble (a website that supports independent artists).
"I shelled out $48 and crossed my fingers," Susan says.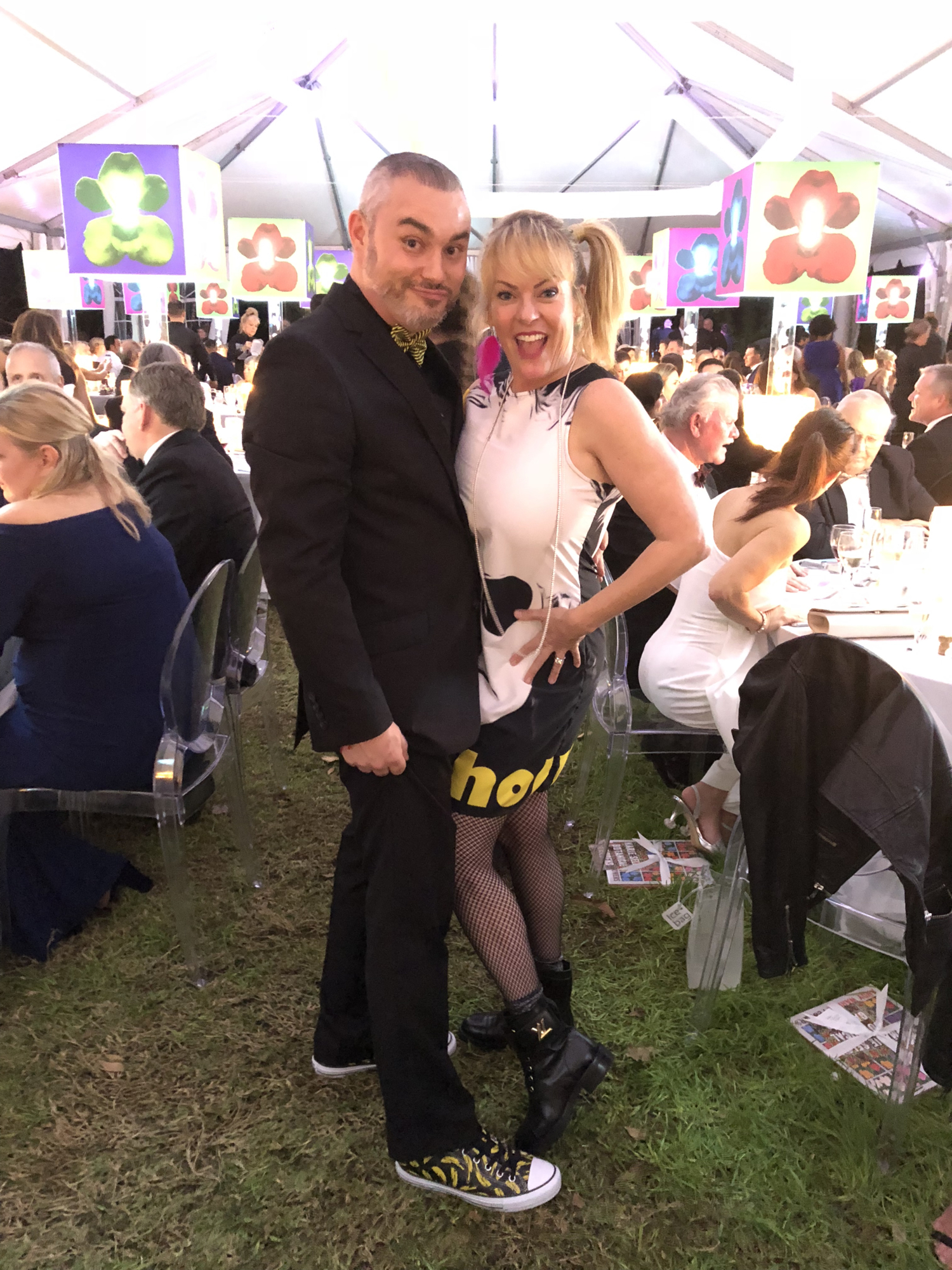 The finger-crossing must have worked, because the fit was perfect. The black and white Warhol graphic on the dress offset the yellow typeface at the bottom, Susan said. After cutting and sewing it to her liking, she paired it with a black leather biker jacket, Louis Vuitton ankle boots, a fuchsia feather earring and a side ponytail.
"I felt like I just walked out of The Factory," Susan says.
A Glitzy Change-Up
Dancing in long ball gowns can be tough and uncomfortable. The solution? A wardrobe change. 
Emily Stroud, Deidre Beaudette, Sepi Ackerman, Chelsea Dunbar, Ashley Kozel and Chelsea Walker ditched their gowns after Orchid Ball and put on their cocktail dresses for the after party. The after party was held at Michael's on the Bay for the VIPs who were still willing, and able, to dance the night away. A DJ got the party started while go-go dancers painted silver danced on cubes and guests danced around the silver balloons adorning the floor. 
The ladies planned their dresses to mimic the silver affair with glitzy cocktail dresses dazzled in sequins. 
Tidbits:
Turning into characters … At the Author Luncheon on Feb. 7, James Patterson agreed to write-in the highest donor in one of his upcoming novels. An abundance of donations were given to the Library Foundation for Sarasota County, but only David and Betty Bavar will become James Patterson characters. Where's the swag? … Many guests were overheard wondering and looking for where the swag bag was after this year's Orchid Ball. Attendees went home without one this year, although there were Andy Warhol books placed on every other seat.