"Loving Vincent" is a totally unique and groundbreaking film. Seven years in the making, 125 artists participated in creating the world's first painted animation feature film. And they did so by employing the same technique used by Vincent van Gogh.
It is also the fascinating and little-known story about the mystery surrounding the artist's untimely death in 1890. The account takes place one year after his demise when a postmaster (Chris O'Dowd) entreats his son, Armand (Douglas Booth), to deliver the artist's final letter written to his brother Theo. When Armand arrives in Paris to do so, he discovers, through stories of those who knew Van Gogh, that the artist may not have committed suicide, but was likely murdered.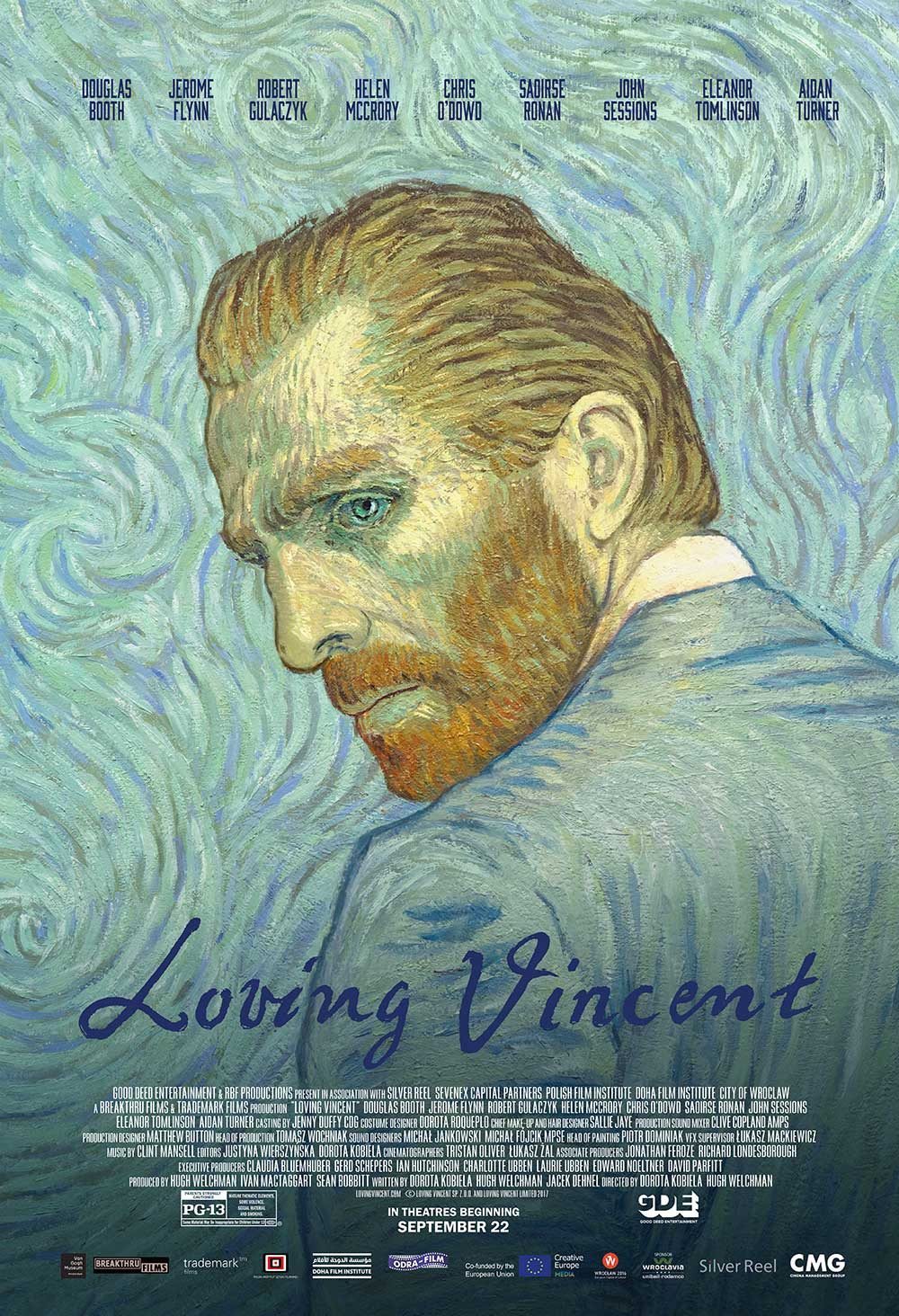 As Armand sleuths about the french countryside, we glean vast insight into Van Gogh's tragic life. Fraught with failure (having only sold one painting while alive), Van Gogh was a tormented, tragic soul. He was guilt ridden from having to rely upon Theo for sustenance and driven to madness by his shortcomings. Ironically, six weeks prior to his death, all reports from acquaintances were positive about his demeanor. He seemed to have finally found peace with himself.
But Van Gogh's story takes second place to this visually astounding piece of filmmaking. Directors Dorota Kobiela and Hugh Welchman have managed to accentuate the movement which Van Gogh's paintings evoke upon viewing by brush stroking all of the shots via animation. It's nothing short of mesmerizing to watch. There's an air of hypnotic surreality that permeates every frame of this film, uncontrollably casting you under its spell.
The actors eerily morph into their characters with dazzling camerawork. You barely recognize them, i.e. Saoirse Ronan, Jerome Flynn, John Sessions. But the visual and vocal meld into eventual familiarity. A soaring score by Clint Mansell elevates the constantly evolving painting technique utilized in filming to perfection.
Vincent van Gogh brilliantly recorded the details of life with his brush. "Loving Vincent" invents a startling new canvas upon which Van Gogh's genius can be appreciated. It is definitely a labor of love and a celebration of creativity.