Poulenc's great, romantic tragic opera, "Dialogues of the Carmelites," came storming into Sarasota this past weekend and took many in the audience by surprise with its passionate, horrific story. But this is no mere story. It's based on a true incident, in which some 16 nuns were martyred by guillotine during the French Revolution. We get, not only to watch, but also to hear the swift blade as they march bravely to their deaths.
Told musically by Poulenc in his very distinctive voice (when you hear this composer, although he embodied the French Impressionist style, you know this could only be his music), these are true dialogues. Told in 12 scenes, separated by interludes as shadowy cast members change the scenery, masterfully wrought by Robert Little, we are taken behind the scenes that lead up to the ultimate sacrifice.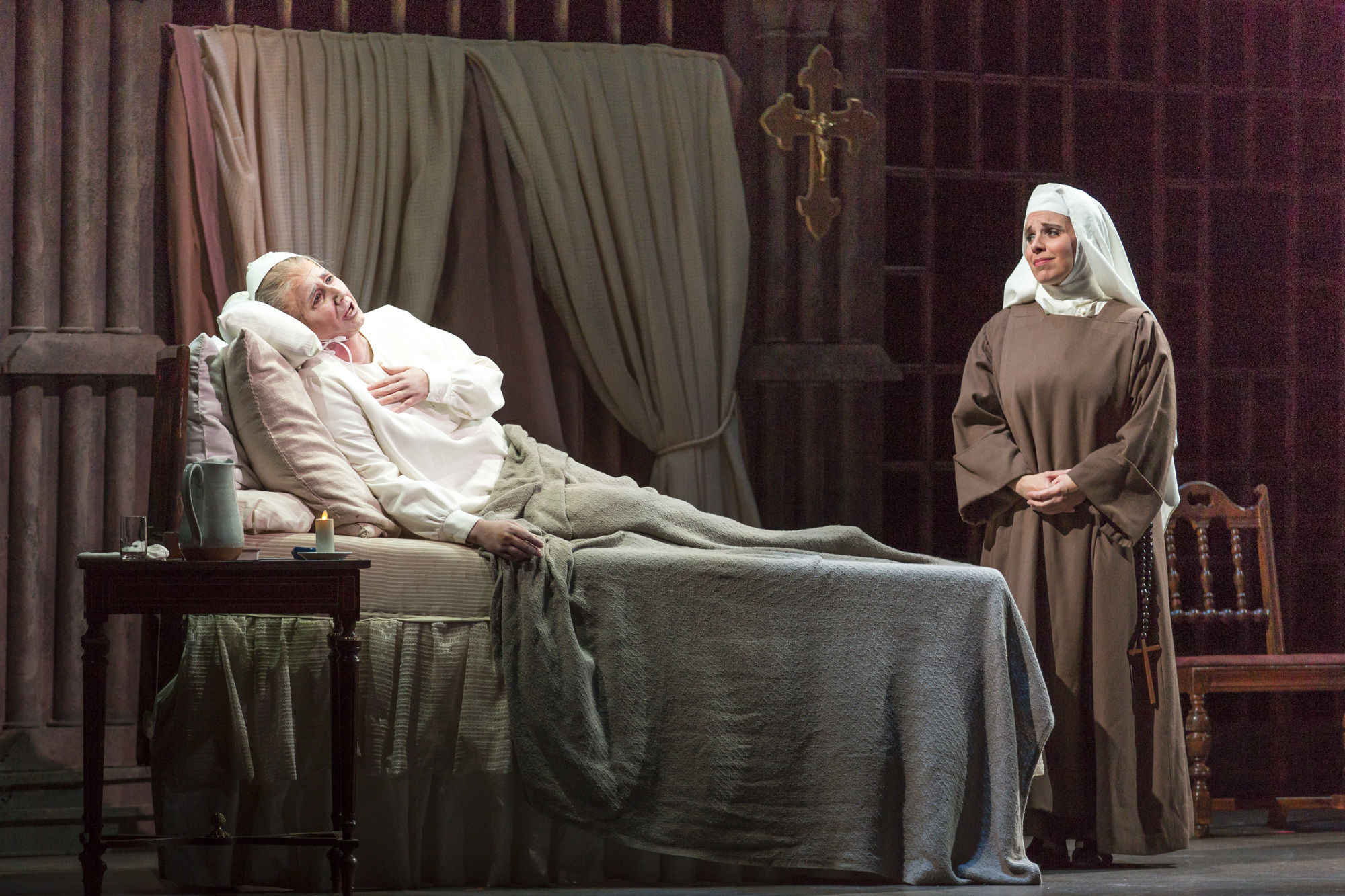 The cast members are all believable as members of the Carmelites, an extremely strict order of nuns that believes life's sole mission is unceasing prayer and rigorous attention to orders. In this opera, their lives are mixed with those of people outside the convent who are in disarray, including mobs of peasants, the people they worked for and the rich, whom they hate with a passion beyond uprising.
Ken Yunker's lighting design spotlights with accuracy and great coordination the characters currently telling the story, while Howard Tsvi Kaplan's costumes, which run the gamut from the well-to-do's gowns to the peasant's rags and the Carmelite nun's accurately brown habits, keep us focused on who's who and what class they belong to.
Best of all is Martha Collins' succinct direction, allowing each character his or her own voice within the context of Poulenc's music, so there is constant underscoring of the dialogues among the characters. No person on stage is lacking a personality — even the unruly mob at the end that comes, angrily, to watch a group of women sacrifice themselves at the guillotine's altar.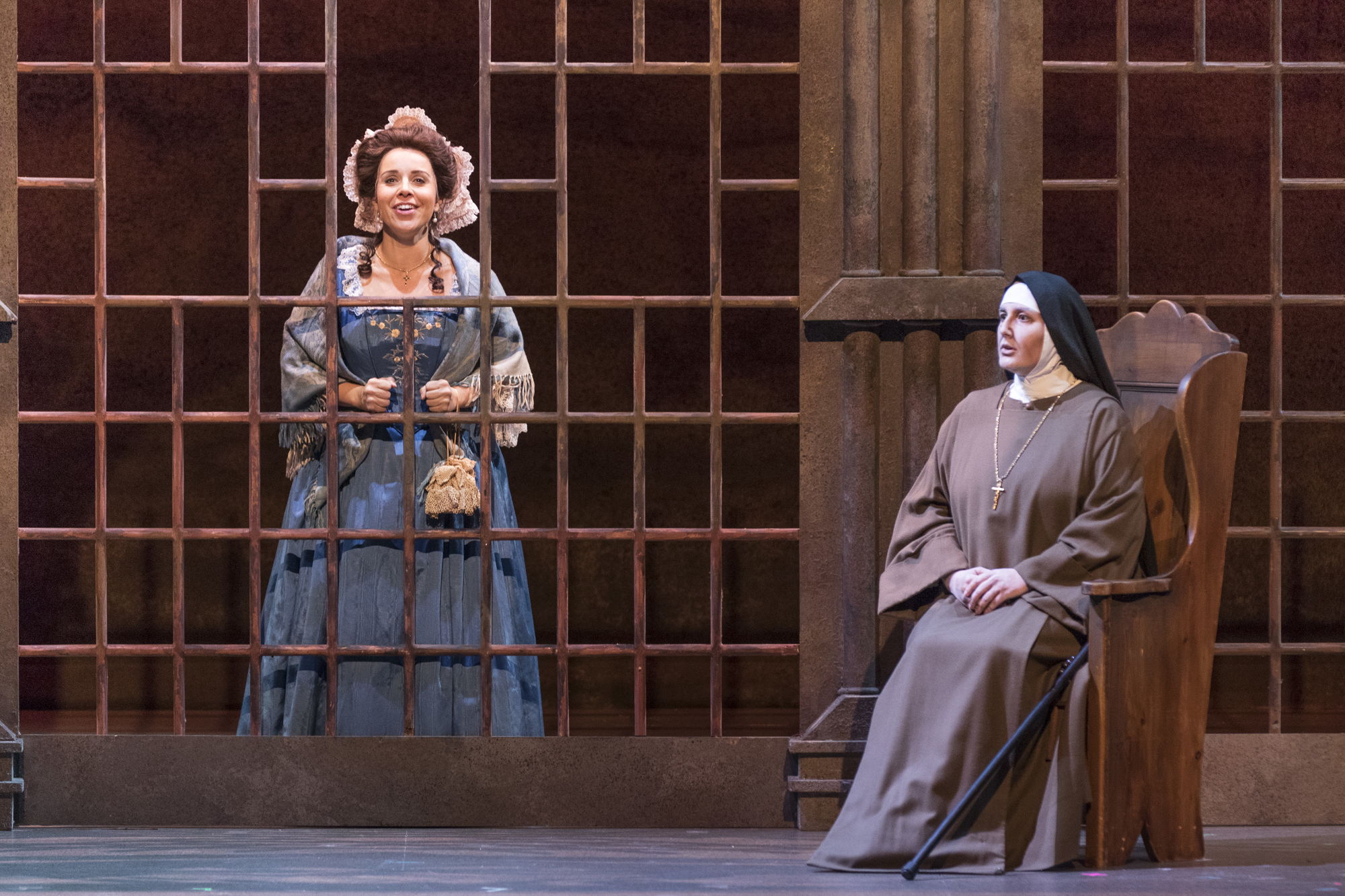 David Neely, in the pit conducting the excellent Sarasota Opera Orchestra, always kept things moving in an extremely French manner, tying together all the disparate scenes and interludes so they were seamless, dramatic and overwhelmingly musically beautiful. This is not an easy opera to conduct or play because of its many separate scenes, but Neely and the orchestra kept things moving at just the right pace with enough space between swelling phrases to allow the singers the freedom to breathe.
The cast proved to be one of the most cohesive and best this season with great voices, dramatic, believable acting and a way of drawing us into each of them, from chorister to soloist, with an intensity that left us breathless.
Young Bok Kim, although given the small part of the Marquis de la Force, who appears only in the first act, gives us the important psychological backstory on his daughter, Blanche, whose mother died in childbirth, casting a pall over the household and giving Blanche a terrible guilt and leaving her to live in fear for the rest of her short life.
Blanche's brother, the Chevalier, can't let go of his little sister and never sees her as anything but a fragile, frightened "Little Bunny Rabbit," never to grow into adulthood. Played by studio artist Sean Christensen, his ringing tenor led the music but never got in the way of his characterization.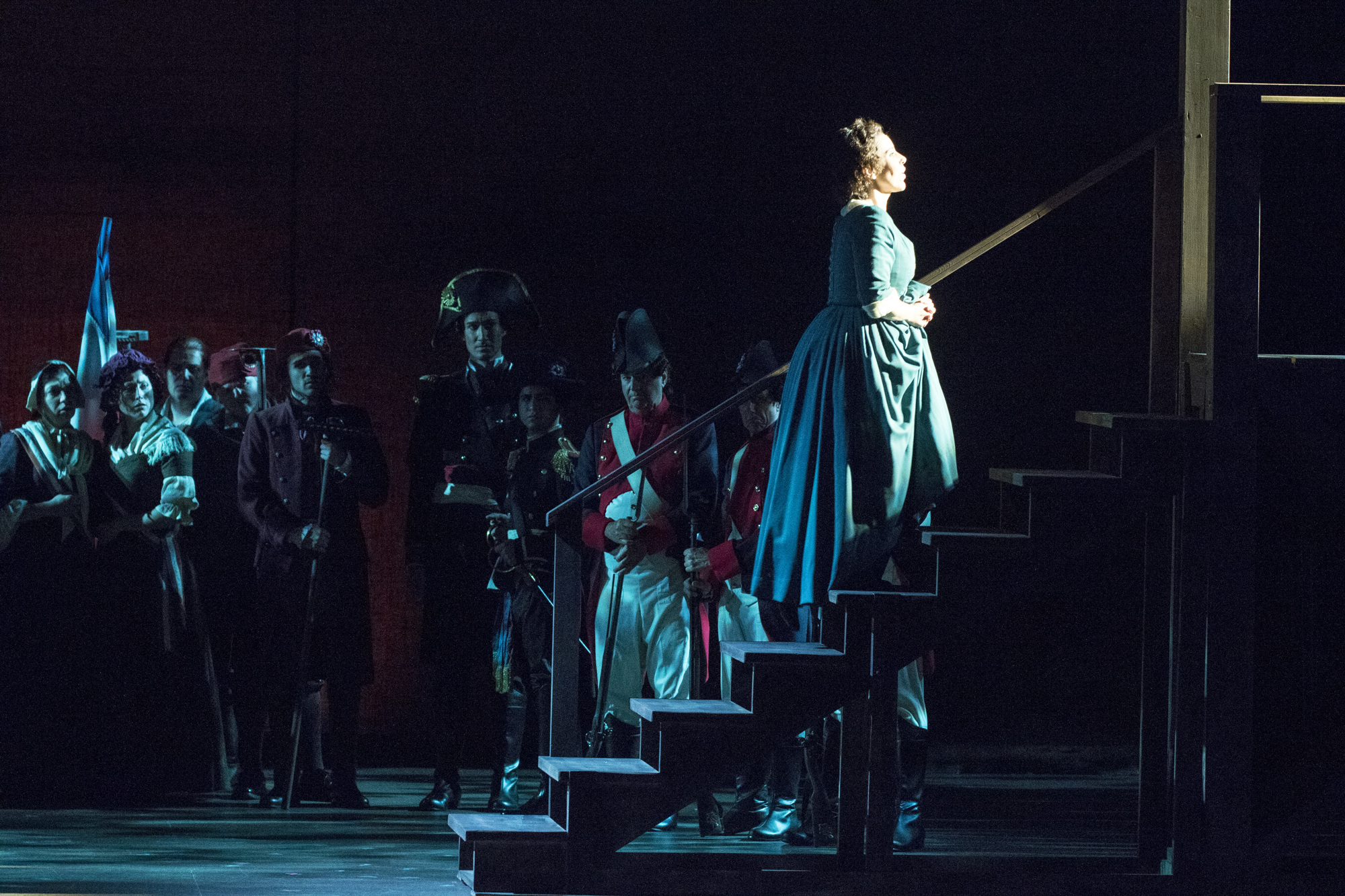 Blanche, performed by Sandra Lòpez, was beautifully acted with conviction and strength, but she has a bit of a flutter to her voice that took away from the strength and depth we usually associate with this role. Especially when she was in duet with much bigger, stronger voices, her singing made her fade a bit into the background, even though she is one of the pivotal characters in this opera.
Those bigger stronger voices were also acted with supreme depth by Michelle Johnson, the loving and strong Madame Lidoine, the Second or New Prioress, who comes to take over the order when the First Prioress, Madame de Croissy dies. Played with a startling terror of death by Lisa Chavez, her cry for Mother Marie of the Incarnation is a sure sign this is not going to be an easy death for this otherwise kind and wise Prioress who's led the order for about a dozen years.
Olivia Vote, as Mother Marie, has a large but beautiful voice that rings through the house and soars over the orchestra. She's the ringleader who believes in martyrdom, but her ultimate fate is not what she thinks God has in mind for her, and her voice and passion stay with us beyond the last slice of the guillotine.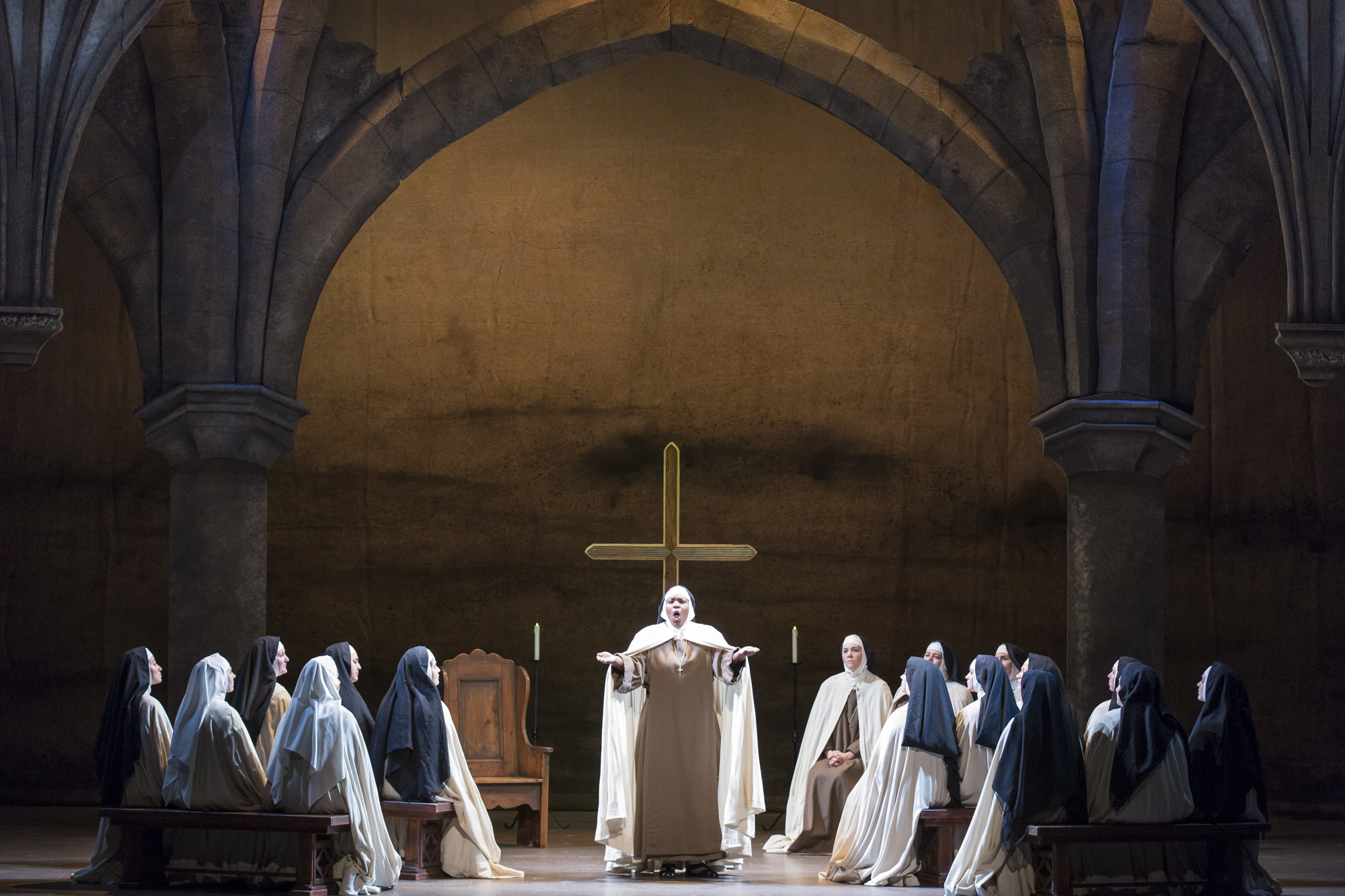 Clair Coolen, also a studio artist, was one of the finest of the many Sister Constances I've heard. She has the crystalline voice of the youngest nun, but it's bigger and fuller than most lyric sopranos, and although depicted as a dreamer who believes in miracles, her voice gives her a strength most in that role don't have.
The smaller roles of Mother Jeanne (August Caso), Sister Mathilde (Fleur Barron), The Father Confessor (Peter Scott Drackley), the two officers (Xavier Prado Caceres and Hans Tashjian) and the jailer (Suchan Kim), all studio artists, were sung and acted with inspiration. And Peter Morgan and Andrew Richardson, both apprentice artists, handled their parts as the valet and the physician like true professionals.
For a horrifying slice (forgive the pun) of life and death during the French Revolution, "Dialogues" is an important opera to see. For impassioned singing and acting, don't miss it.