If you want to kill some time, here's a question to wrestle with: Where is downtown Sarasota?
That's easy, you say. A stupid question to ask, really. If you live here, you can pretty much instantly conjure an image associated with that name.
But where does downtown begin and end? If you were sitting in front of a map, where would you draw the boundaries?
If you want to look to an expert for help, you won't find any clarity. Retail consultant Robert Gibbs said it was the area bound by U.S. 41, U.S. 301, Fruitville Road and Ringling Boulevard. The downtown Community Redevelopment Area stretched from 10th  Street to Mound Street, from the bayfront to School Avenue.
On Google Maps, the word "downtown" hovers over Payne Park — that can't be right, can it?
For downtown stakeholder groups, this isn't just a theoretical exercise. The Downtown Improvement District is asking other organizations if they're interested in uniting for a joint campaign to promote downtown.
That's why, on Tuesday, a room full of downtown leaders sat down at The Francis to have a 90-minute conversation about what "downtown" means, exactly.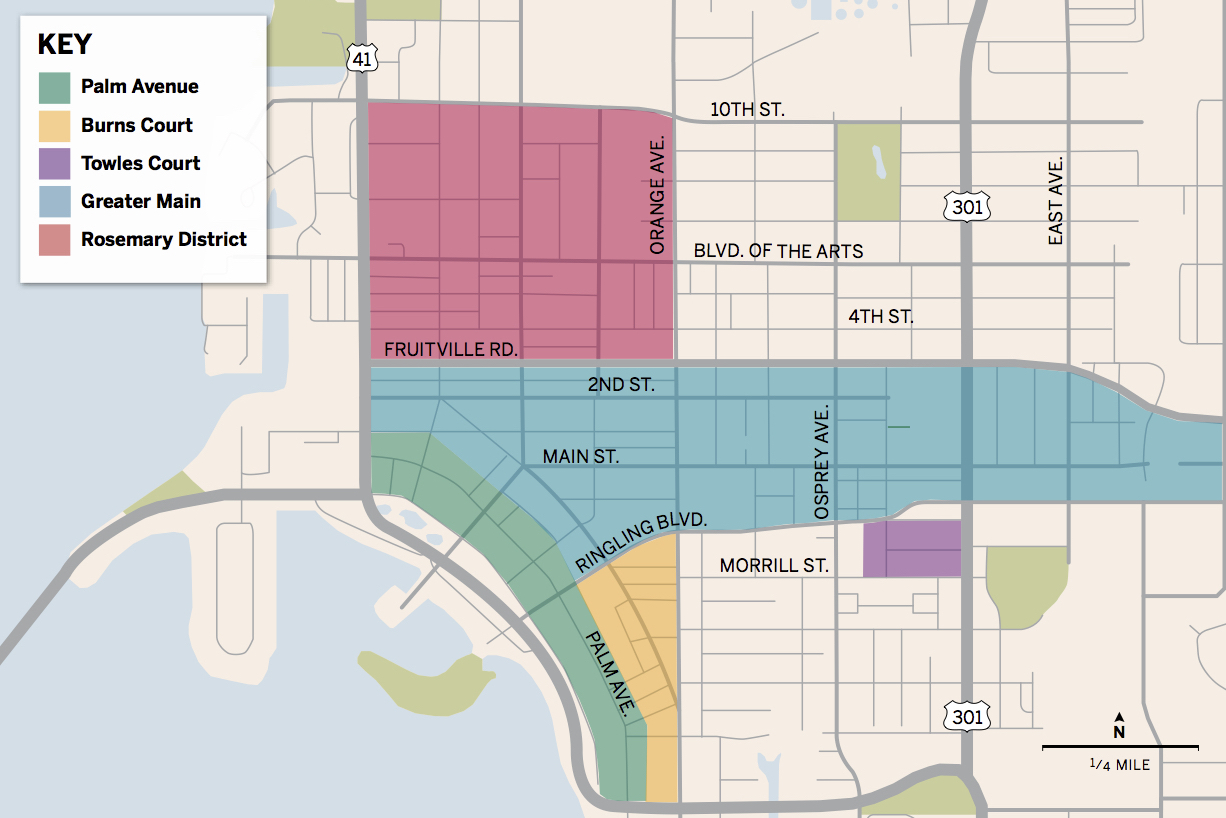 Come Together
Within downtown, there's a history of fragmentation.
Groups work in isolation toward similar goals. The Downtown Improvement District, Downtown Sarasota Alliance, Sarasota Downtown Merchants Association and Downtown Sarasota Condominium Association all have some overlapping interests.
When the Downtown Improvement District prioritized marketing at the beginning of the year, though, the board agreed it could more effectively promote downtown if it linked up with other groups. After all, visitors don't care about stakeholder groups. They only see one downtown.
It's not a novel idea. Most recently, the Downtown Improvement District, Downtown Sarasota Alliance and Sarasota Downtown Merchants Association supported the "We Are Downtown" advertising campaign in 2014. That united support quickly dissipated, though, and the campaign relied on merchant funds to stay afloat.
The challenge may be getting groups to commit to something they don't control. Francine DiFilippo Kent, chairwoman of the Downtown Sarasota Alliance, agrees that working together could be productive. Still, she's skeptical.
"There probably is a need for it," DiFilippo Kent said. "Is there a will or desire for it?"
DiFilippo Kent pointed to one area for potential improvement: consistent branding. Different groups put out different maps of downtown. Different districts use different iconography to distinguish their area. If the goal is to create one unified downtown identity, then the message has to be consistent throughout.
"We all have to be on the same page — or at least pages in the same book," DiFilippo Kent said.
"We all have to be on the same page — or at least pages in the same book."  — Francine DiFilippo Kent
Problems arise when you discuss funding. The Downtown Improvement District generated $640,000 in revenue last year, but board member Mark Kauffman doesn't want the organization to bear most of the costs — especially if it's promoting businesses outside of the district.
Before St. Armands Circle had its own taxing district, Kauffman said, area businesses were reluctant to contribute to group advertising. If other people were going to pay to promote the Circle anyway, why bother spending your own money?
Kauffman doesn't want to see the same thing happen downtown. Everyone has to chip in.
"If we don't get that, our advertising dollars are going to be constrained to the DID district," Kauffman said.
On the Map
Areas like Towles Court, Burns Court and the Rosemary District are why so much of Tuesday's workshop focused on defining downtown.
To some people, those areas stand out as distinct from downtown. Businesses within those districts could see stores on Main Street as competition.
"Burns Court — they don't want to be bothered with downtown, because they're special, and they are different from downtown," Kauffman said. "The problem is, everyone has their own identity."
But people such as Tre Michel, one of the organizers of the We Are Downtown campaign and owner of State of the Arts Gallery, said there are no rigid boundaries for visitors.
"When people from the islands come over, the moment they're at the top of the bridge, they're downtown," Michel said.
Downtown Improvement District board member Eileen Hampshire thinks there's a way to promote a united downtown area while acknowledging the distinct aspects of various sub-areas. She see the different districts as assets, not liabilities. She wants to promote downtown as a mosaic, one unit made of many parts.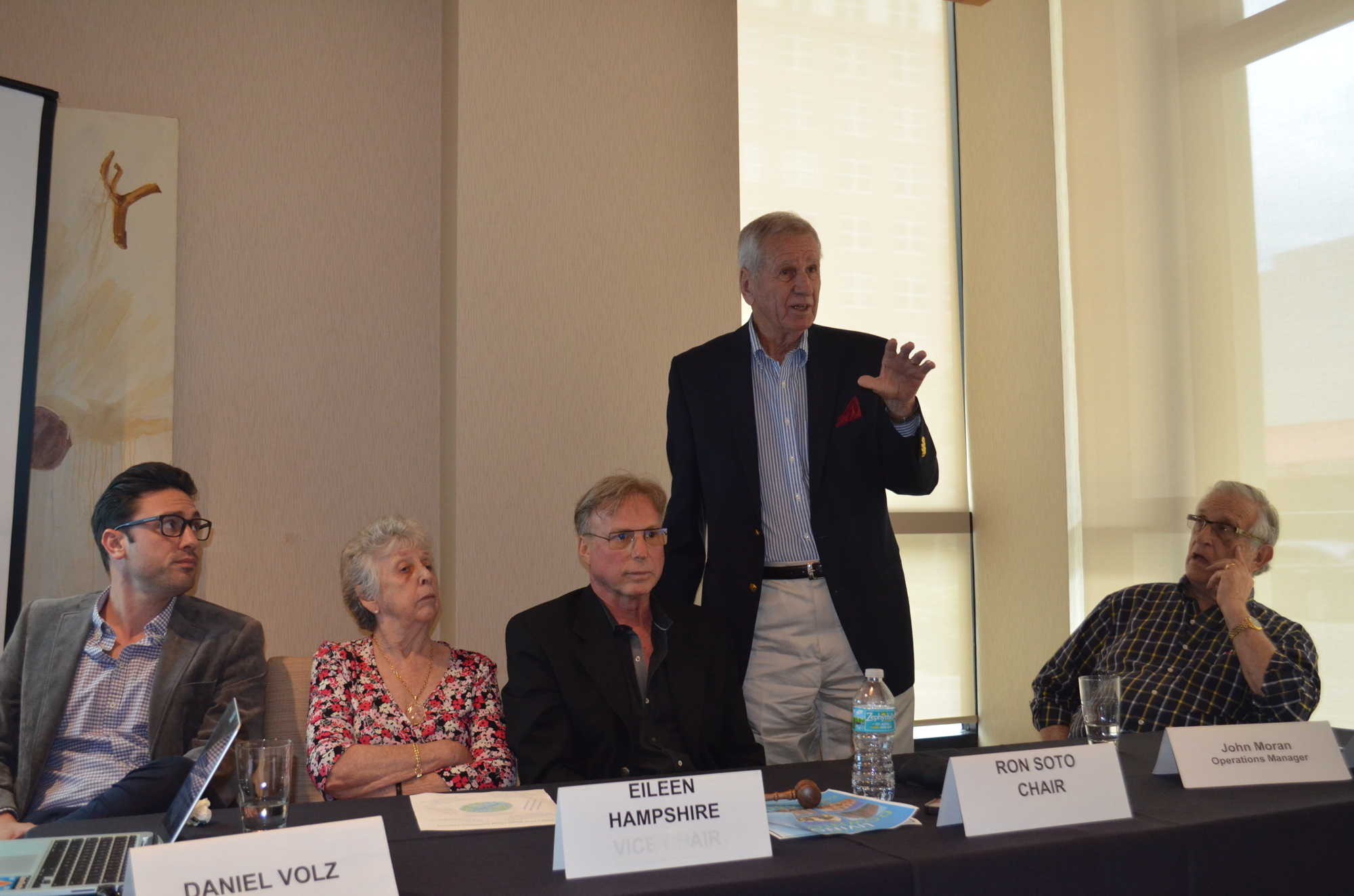 John Moran, operations manager for the Downtown Improvement District, suggested a different focus. Instead of fretting about what is and isn't downtown, the different groups should distill the identity of the area into a simple message they could easily communicate.
"Downtown is a mindset, not necessarily a geographic boundary," said Anand Pallegar, the founder of digital marketing company atLarge and the leader of Tuesday's workshop.
At least half a dozen groups were represented at Tuesday's meeting, but real estate broker Ian Black pointed out several stakeholders weren't present. Getting all the organizations to the table was its own challenge. Would it be possible to get everyone to commit to a long-term project?
"That's going to be quite a tall order to get everybody on the same page and marketing Sarasota as a city of different districts," Black said.
Tuesday's workshop was the start of a conversation, but it didn't produce any solid plan to pursue. Still, the Downtown Improvement District is committed to keeping the dialogue active.
"I don't want to see, 'It's not what I want; it's not what they want,' so we all go back to doing what we originally did and it's all in vain," said Downtown Improvement District chairman Ron Soto. "I hope we can all come together."
Whether downtown groups will actually be able to overcome their divisions — or at least learn to work across them — remains to be seen.