With 126 current openings for teachers, the Manatee County School District adopted a first-strike mentality.
The district's first job fair held last year was in June, but the 2016 job fair was moved up to May 5 at the Bradenton Area Convention Center.
 "We decided to move it up to get the new grads, or those new to the area," said Sarah Brown, the chief of Human Resources.
Besides the 126 teacher openings, the district has 233 positions in all to fill. The number has crept higher the past four years in response to the Deferred Retirement Option Program. This year's number of openings could grow as others choose to retire or leave.
The amount of teachers hired per year by the district has almost tripled in the past five years. It hired 121 in 2011, 118 in 2012, 266 in 2013, 356 in 2014 and 345 in 2015.
On May 5, the district had 35 schools with vacancies set up tables so prospective candidates could talk to the principals and staff about the school and the position. School staff members collected resumes and principals scheduled interviews. The starting salary for a teacher with a bachelor's degree and no previous experience in the Manatee County School District is $38,285.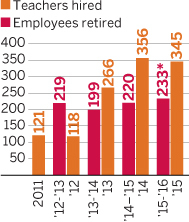 The emphasis has been on hiring teachers who specialize in science, technology, engineering, math and the arts.
Brown said the past three years have resulted in similarly high numbers of openings due to the increased retirement numbers. While the Manatee School District has many openings to fill, Brown said other districts, especially in central Florida, are seeing five times the number of vacancies. She said Orange County has more than 1,000 vacancies listed.
For that reason, Brown wanted to start hiring as soon as possible.
"We know we're competing with other school districts," she said. "It's a tough competition."
Fortunately for David Marshall, the principal at Gene Witt Elementary, he's had several people apply for his two teaching positions that are open. He's received applications from both internal and external candidates as well as experienced and new teachers.
"It's going to be a nice thing for us to choose from a lot of candidates," he said.
Witt had no retirements last school year, but it did have to hire additional teachers to serve its growing student population.
"People want to come and work here," he said. "It's a testament to the teachers and the community, and the parents, too."
Addie Bertrand was a recent graduate who was putting in applications at the job fair. She studied elementary education and currently lives in St. Augustine, and drove three-and-a-half hours to attend the fair. She hopes to move to Bradenton to be closer to her family.
She said Manatee has an edge over some districts because of "location, location, location."