Sarasota Orchestra's Masterworks IV program was better on paper than in performance but, as the saying goes, All's well that ends well and the "All About Mozart" concert this past weekend certainly ended with a bang.
Truth be told, the Sarasota Orchestra is becoming all about romantic Russian, Slavic and Baltic music and, because so much of its programming features composers from those areas, they've inadvertently become specialists in that sound. So the program featuring Variations on a Theme by Haydn and a pair of Mozart works seemed, in part, somewhat foreign to the players and Anu Tali, the conductor. In addition, the program was somewhat monochromatic and, even though the Haydn Variations were written by the romantic Brahms, the theme was purely from the classical era and, unless you're going to one of the old Mostly Mozart programs in New York, the palette was too much of the same thing.
Brahms' Haydn Variations was taken faster than we're used to, but as always, the excellent musicians of the Sarasota Orchestra had no problem negotiating the tempo. There was some lovely phrasing and, at times a Brahmsian warmth. But the many repeated notes were all the same, not traveling anywhere, and the bass line, one of the best in the business, wasn't as strong as I'd have liked.
Mozart's "Sinfonia concertante" featured violinist Sergey Dogadin and violist Andrei Dogadin. Although they're son and father, their tones couldn't have been more different, with the son, Sergey, playing with a sweet, virtuosic tone and the father, Andrei, digging into his viola for a very throaty, almost rough-hewed sound. Although this work has become a staple in the repertory, it can be somewhat soporific, especially in the slow movement. But, keeping us awake, was some lovely phrasing, smooth transitions and a sprightly Presto movement as the finale.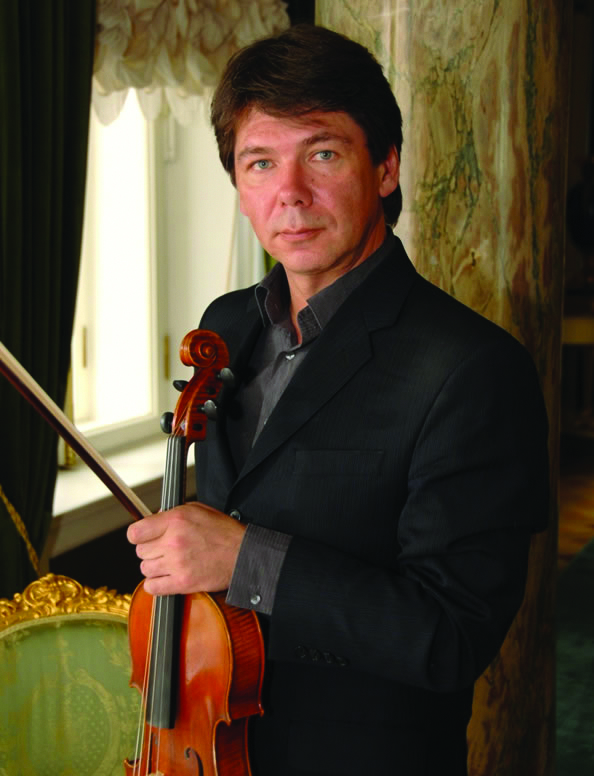 There was more Mozart as the Dogadin duo offered a brief encore by the composer.
The highlight of the program was Mozart's beloved "Jupiter," his Symphony Number 41. Written in the last years of his short life, this is a fun, almost jocular work and Tali and the Orchestra gave it a charming Mozartean grace that was, for the most part, stylish and refreshing.
Throughout the concert, the horns were particularly outstanding, with some great solo work in the Brahms-Haydn Variations.
The Orchestra's encore was a rousing rendition of the first movement from Mozart's "Eine Kleine Nachtmusik," played with great joy and polish.
Some housekeeping details. The seating order of the Orchestra was changed for this concert, perhaps in a spatial experiment to improve the sound with the new, improved shell. (It probably was those pesky Van Wezel acoustics, again, but it was hard, at times, to hear the Dogadins. It simply can't be that every soloist and chamber musician coming to the Van Wezel has a small sound, especially when the Orchestra sounds so good.)
Also, the Orchestra has reverted to warming up on stage, vanishing into the wings, and reappearing, en-masse, for the start of the performance. This may be a European tradition, especially with small, conductorless ensembles, but here it's unnecessary and a little pretentious. In fact, someone behind us said, "No one's practicing. They must really know this music."