Lisa and Chris Brown had a big problem.
Really big.
Not only had their 8-year-old boxer, Toby, been attacked by two dogs, but they were all-out to get the 100-pound animal in their car for the trip to Animal ER of University Park.
 Toby was attacked on Mother's Day, 2015 at their home near Panther Ridge. 
"We found him out by the pond and he was covered in grass, dirt and wounds," Lisa Brown said. "Two dogs had come into our front yard and attacked him. It was horrific. And no way we thought we could transport him like that. We managed to do it, though, but we kind of thought we were taking him to die."
Dropping Toby off at Animal ER started a medical odyssey that included visits to the Sarasota Veterinary and Specialty Center along with the Animal Hospital at Lakewood Ranch.
Fortunately for the Browns, during their ordeal they learned about Vet Care Express Animal Ambulance, owned by Creekwood resident Cheryl Brady. They called Brady and arranged for her to handle some of Toby's transportation between medical centers.
"Having Cheryl's service made a world of difference," said Lisa Brown, who added that Toby, despite being covered by scars, has regained full health. "He was so bandaged up, in so much pain.
"As time passed, Cheryl kept checking up on him."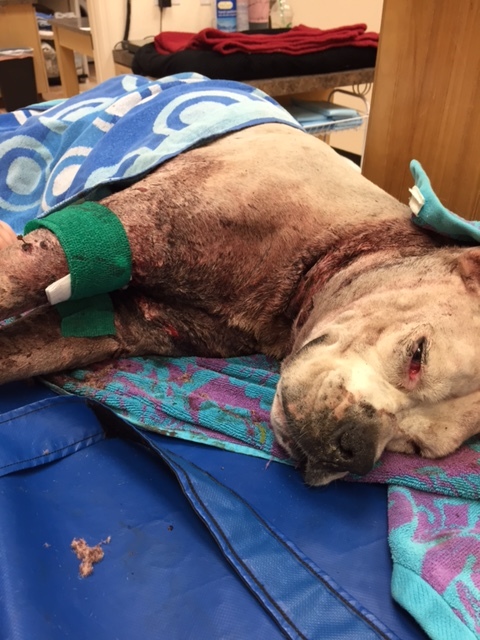 Lisa Brown said she wishes she had known about Vet Care Express before she had found Toby so badly injured. That first trip to Animal ER was agonizing.
Once she did learn about the service, another thought came to mind. Toby's medical bills were climbing rapidly and she thought an animal ambulance would be expensive as well.
"I was worried about that," she said. "I was surprised it was very reasonable."
Brady has battled similar assumptions since she began Vet Care Express Animal Ambulance on Jan. 1, 2010. 
"The assumption is that the service is more expensive than it really is," Brady said. "But we don't really do anything medical on this truck. We are trained to handle pets and we can immobilize, stabilize and monitor them. We are in communication with the emergency room so we know where to go and who the specialists are."
Brady said a non-emergency transport, whether a dog, cat or other type of pet, usually runs about $65 with the cost rising a bit higher depending on the distance traveled. An emergency call usually runs about $125.
As more people have learned about the service, Brady's business has expanded. She has three ambulances in Manatee County and also has expanded service to Pinellas and Hillsborough counties. She has hired three drivers as well.
The idea started in 2008 when Brady was selling office products and working as a volunteer firefighter for the East Manatee Fire District. A friend came upon a stray dog who had been hit by a car in their Creekwood neighborhood.  "I helped her with the dog," Brady said. "My first thought was, 'Who is the closest vet?' The dog died."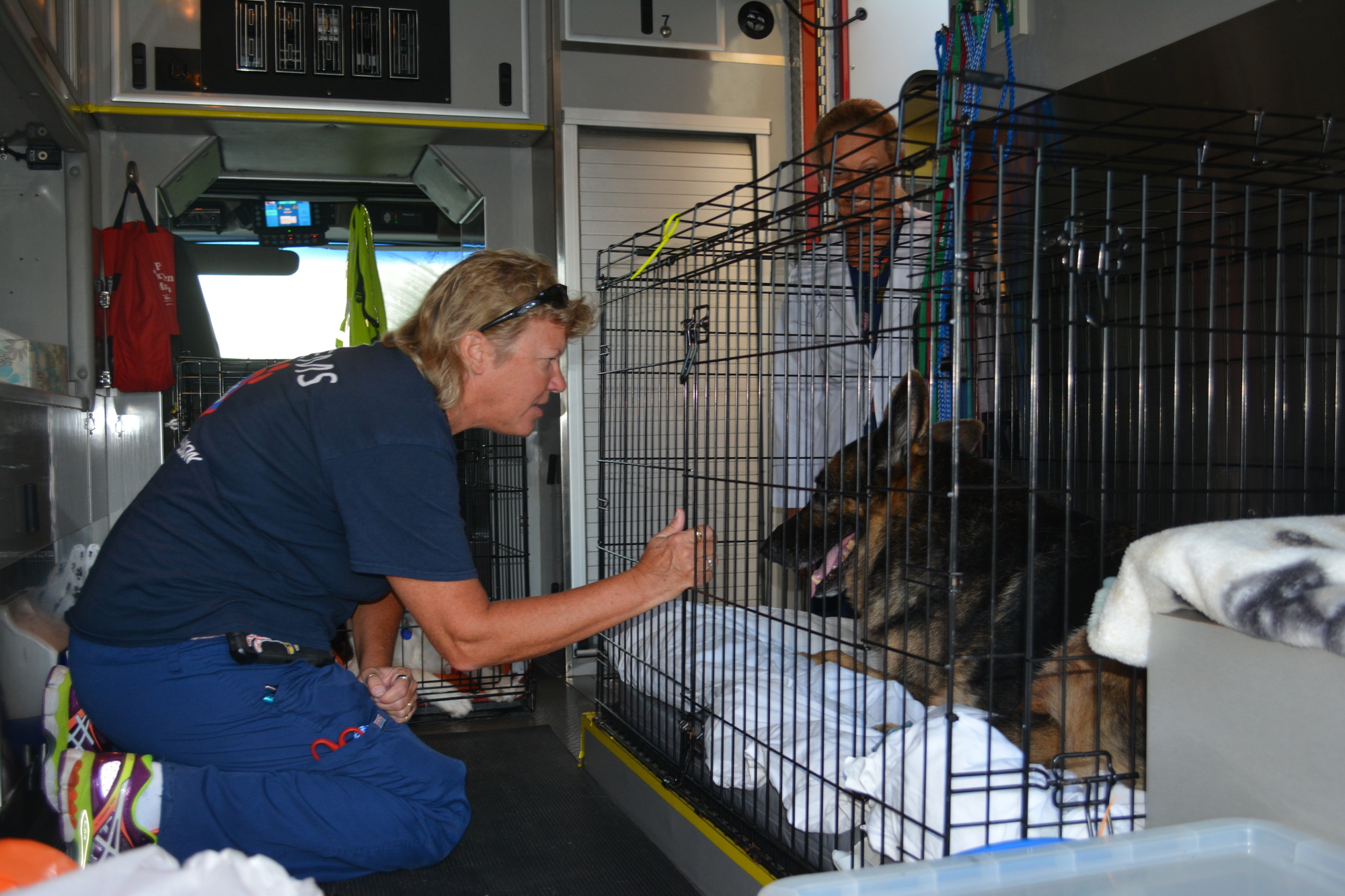 Brady said she had a life epiphany at that moment.
"I was miserable in corporate America," she said. "I saw that dog might have had a chance if there was an ambulance. It was my calling."
She went home and began researching animal ambulances, but couldn't find any other than one in Great Britain and another in the United Arab Emirates.
"It's so funny because 30 years earlier at the University of Maryland, I wrote a paper about an animal ambulance," she said.  "I was a pre-vet student and the assignment was 'If you were going to start a business.' Of course, the veterinarian scene wasn't what it is now."
She started talking to local vets and animal hospitals to see if they thought there was a need, The answer was yes.
Even so, when she rolled out her ambulance for the first time in 2008, it was slow going.
"It was nerve racking and not for the feint of heart," she said. "I had bought a Dodge Sprinter (van) and retrofitted it to what I thought an animal ambulance needed. Then I constantly drove around. People thought I was out of my mind, but I wasn't doing it for money. This was for the direction I was supposed to go."
Eventually, she formed working relationships with vet centers and ERs. "That van now has done more than 3,800 transports," she said proudly.
In 2013 she bought a Sarasota County Ambulance at auction, cutting out the human benching in the back and fitting it to accommodate extra large pets. She purchased another ambulance in 2015.
Brady said she now averages seven to eight calls a day and her business often works with the Humane Society and Southeastern Guide Dogs.
Her ambulances are stocked with oxygen masks for dogs or larger animals and "oxygen boxes" for cats since "They don't go for the masks." She has answered the call from the Sarasota Fire Department when dogs or cats have been rescued from a fire.
On Monday morning, Brady was at Animal ER of University Park transporting two dogs to another animal hospital. One of the dogs, Kash, was somewhat of a celebrity.
"Kash is well-known around Sarasota," said Dr. Sarena Von Der Heyde. "He is a service dog."
Kash, a German Shepherd, had surgery for an intestinal problem. Von Der Heyde helped Brady load Kash into the ambulance for a trip to another medical center. "(The ambulance) is a wonderful service," Von Der Heyde said. "Cheryl is so professional and caring. She is so compassionate."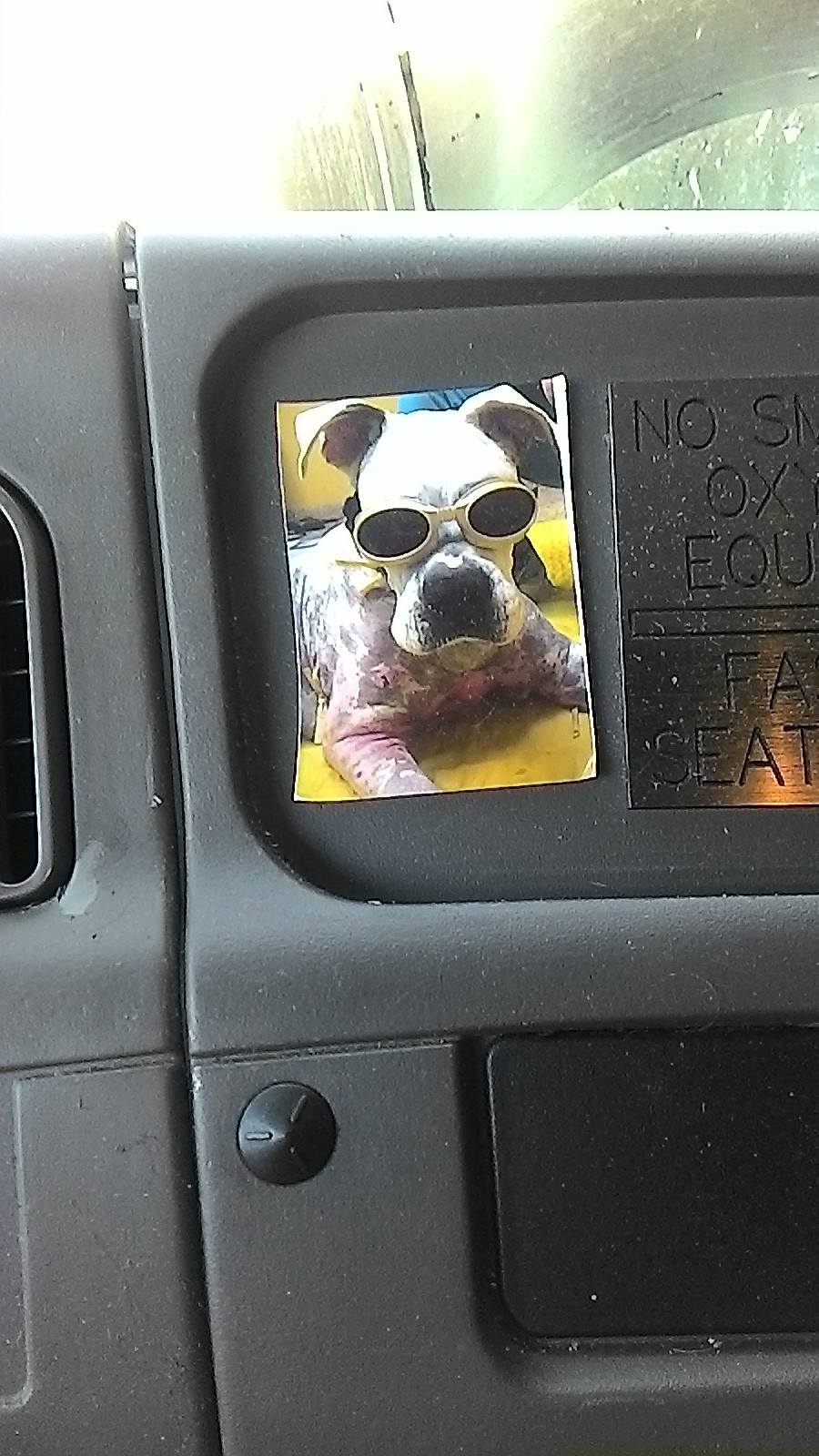 Von Der Heyde, who has pets, said she wouldn't hesitate to call Brady to transport them. "I like that Cheryl is qualified," Von Der Heyde said.
Brady make sure Kash was comfortable in a big cage in the back of the ambulance and then checked on Buddy, an English Springer Spaniel puppy. She talked to them a bit before heading down the road.
When Brady sat back in the driver's seat, she smiled. To her right on the dash was a photo of Toby, wearing sun glasses.