At almost every monthly Siesta Key Association meeting, the subject comes up, and President Michael Shay reminds members that the problem will never be completely eradicated: violations of Siesta Key's short-term rental regulations.
Rentals of fewer than 30 days are prohibited on Siesta Key properties with residential single-family home zoning. But residents say violations of the rule are mounting as the economy and tourism rebound.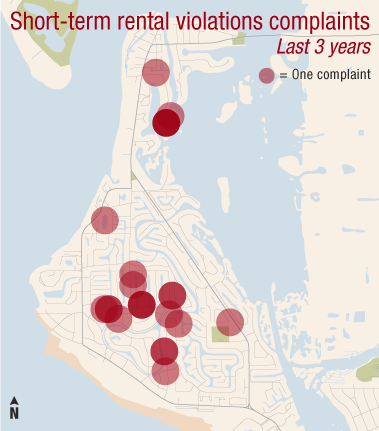 Mark Smith, chairman-elect of the Siesta Key Chamber of Commerce, believes there's an increase and that it could be attributable to a rise in investor purchases combined with a limited code enforcement staff.
Charles Marchione, Sarasota County code enforcement supervisor, agrees that the issue will never completely go away. But he said Siesta Key's lone code enforcement officer is keeping up with complaints — which aren't increasing. 
Data provided by the county reveal 25 complaints in the last three years, though all but two were made in 2014 and 2015. Marchione said the low volume of calls in 2013 was an anomaly. He said the county gets about a dozen complaints about Siesta Key rental violations each year.
But many residents cite listings on rental websites like VRBO and Airbnb that appear to be in violation of codes.
"I looked on VRBO, and there were three houses listed in Siesta Isles as weekly rentals," said Harold Ashby of the Siesta Isles Association board of directors.
Marchione said code officers use website listings for corroboration but not to identify potential cases, which are generated by complaints.
"(Searching for listings) sounds like a good opportunity for education, but our officers are not only covering this," Marchione said. "We cover a multitude of violations. How much resources do you throw at it?"
SKA member Joe Volpe said he's witnessed noise, profanity and late-night partying from short-term renters.
Although Volpe stressed that most renters are well-behaved, he believes the situation is getting worse "because the island has become so popular in the winter, there's nothing available in the normal commercial districts."
But many owners don't know the rules, Marchione said, and comply when notified.
"The general response," he said, "is that they're not aware of the law."