Fences have been erected and interior demolition of buildings at the corner of Goodrich Avenue and Main Street has begun. In approximately two months the site will be cleared for construction of SOTA, a hybrid boutique hotel and luxury condominium coexisting in a 16-story tower.
Trepp Development announced the start of the project on Sept. 22 with the first step being removal of asbestos from buildings currently on-site. 
Within 60 to 70 days, developer Rodrigo Trepp said all the structures will be removed, including pizza-lovers' favorite, Il Panificio, which will be the last building razed. 
When SOTA is completed, Il Panificio owner Nick Melone will own a street-level restaurant in the building, which will include a fifth-floor restaurant owned by Trepp and project financial partner Michael Ealy that will be open to hotel guests, condo owners and the general public.
The $124 million project will include a 120-room hotel operated by Tapestry Collection by Hilton, below 35 condos ranging in price from $1.8 million to $5 million. 
Completion is expected in March 2026.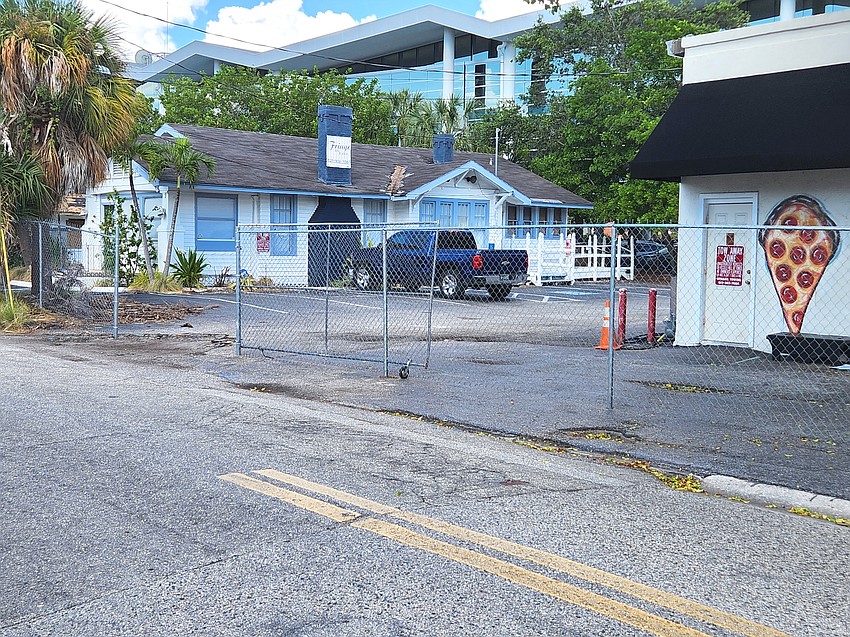 As redevelopment continues eastward on Main Street, SOTA is being marketed as "In the heart of what's next."
"We plan on transforming the way luxury is looked at upon," Ealy said. "With the team we put together, we look at every detail of this project to cater to all the residents and guests who visit this property. It's just not a development, but a testament to how we want to transform Sarasota."
That includes the concept of residents and hotel guests sharing public spaces such as the fifth-floor, lobby-level pool and restaurant. In addition to the restaurants, pool and fitness club, residents may also avail themselves of all the amenities a luxury hotel has to offer.
"You could have room service, you could have maid service, everything would be optional to pick and choose, but it's still available and all about convenience," said Michael Saunders, whose real estate firm is marketing the condos. "If you've got your workout clothes on you can pop in downstairs and get a muffin and a bagel and take it back up to your balcony."
Above the first-floor restaurant and retail space will be four levels of parking. The fifth floor will hold the hotel lobby, a luxury restaurant and bar with sliding glass walls that will open to the pool deck. On that floor will also be a fitness center, meeting rooms, and separate elevator banks for residents and hotel guests.
Hotel rooms will occupy the next five floors topped by six floors of condos, with the lowest residence elevated at more than 100 feet. The 16th floor, at 180 feet, will have a sunset terrace for residents only, featuring an outdoor kitchen, lounge and private lockers for wine and spirits. 
SOTA has operated a sales center across Main Street from the site for several months, recently taking delivery of a scale model of the building set against a wall-sized photo of downtown looking toward Sarasota Bay to give prospective buyers a glimpse of the future view. Trepp said interest has been strong with two condos already under contract. He said the entry-level price has been held steady at just more than $1.8 million since announcing the start of marketing the project in February. 
Six floorplans on the lower floors will range from 1,843 square feet to 2,697 square feet.
"I think that we will maintain that price until the end of the year when there will be changes because we have the demand to do it," Trepp said.  "We want to offer the buyers that price point for now from $1.8 million because is accessible to a lot of people that want that price point. 
"And of course we have penthouses."
Five penthouses, in fact, starting at $5 million. Those will range from 1,834 square feet to 3,064 square feet. 
"It's exciting because I think everyone no matter what price range wants service," Saunders said. "We have hotels that deliver incredible service, but to have a hotel that will have one of the most exciting bars and lounges and gathering spots in Sarasota in the same building where the residences have access to all the services is unique. 
"We don't have $10 million and $12 million residences like many of the other branded properties, so I think it's very exciting to have a better price point for people who want the services of a hotel."