For many New Yorkers, attending the Big Apple Circus under the big top at Lincoln Center is a Christmas tradition. 
Renowned Sarasota aerialist Nik Wallenda wants attending the circus to become a holiday ritual in his hometown as well. "I want the circus to be like 'The Nutcracker' and the Radio City Rockettes at Christmas," he explains during an interview at his home off of Fruitville Road, past the Founders Club.
To achieve his goal, Wallenda is teaming up with his mentors and friends Dolly Jacobs and Pedro Reis, co-founders of the Circus Arts Conservatory, to bring a giant tent to the University Town Center/Nathan Benderson Park Area. 
Wallenda and the CAC will present a holiday spectacular called "A Brave New Wonderland" from Nov. 18 through Dec. 31 at a big top that will be located east of the Mall at UTC.
"I've always dreamed of sharing the magic of my New York City productions with my beloved hometown and revered circus community of Sarasota," Wallenda said in a statement. "With 'A Brave New Wonderland,' I'm thrilled to collaborate with the Circus Arts Conservatory to bring this dream to life and create unforgettable holiday memories for the community that means so much to me."
Nik Wallenda is the most prominent member of the multigenerational acrobatic family once known as The Flying Wallendas. He is known to millions around the world for walking a wire across Nicaragua's Masaya Volcano, the Grand Canyon, Niagara Falls and Times Square. In 2017, he became the headline act at the Big Apple Circus and has since become its proprietor.
The Wallenda family's roots are intextricably linked to both the history of the circus and of Sarasota. The family was performing in Cuba in the 1920s when they were recruited by circus magnate John Ringling, who made Sarasota the winter home of what became known as the Ringling Bros. and Barnum & Bailey Circus. 
"My family stayed in the Ca' d'Zan until they found their own place," Wallenda says, referring to John and Mable Ringling's bayfront mansion, which today is a museum.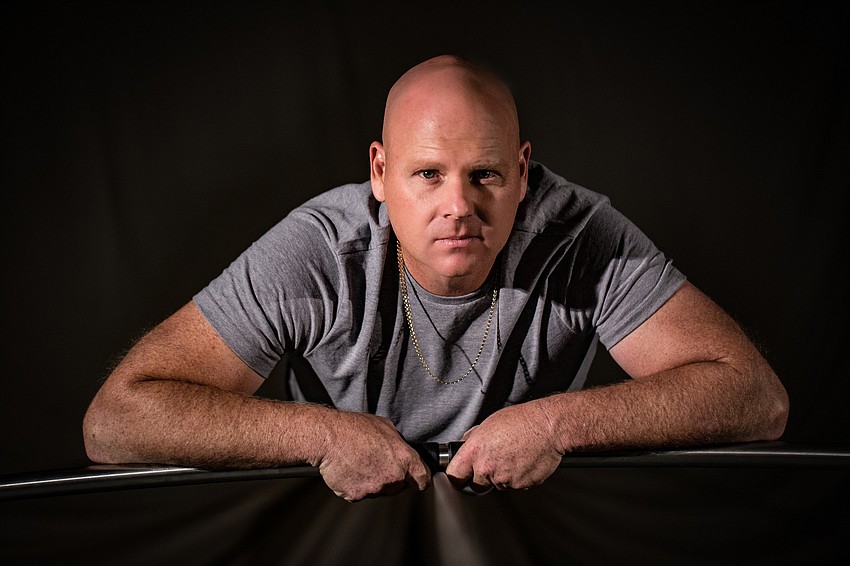 As anyone who follows circus arts knows, the Wallendas are an acrobatic troupe that has sought and achieved unprecedented glory but has also suffered unfathomable tragedies.
Among them are the death of Nik's great-grandfather Karl Wallenda in 1978 when he fell from a tight rope at age 73 in Puerto Rico, and the life-threatening injury of his sister Lijana, who broke every bone in her face after the family fell during a performance of their signature human pyramid in 2017.
The obvious question is: Why do the Wallendas continue to court danger and tempt fate with ever more daring performances? According to Nik Wallenda, there are two reasons: It's in their DNA, and they love the circus. "My family has literally given their lives to elevate the awareness of circus arts," he says.
About 15 Wallenda family members are active performers, including his 72-year-old uncle, who is currently on the road performing at state fairs.
Nik Wallenda meets a visitor to his home gym wearing a T-shirt that says "Wired Different." There's no argument there. He walks the wire in his backyard the way most people in Sarasota stroll along the beach. "When I'm on the wire, I'm calm," he says. "It's where I belong." 
Wallenda is excited about his latest collaboration with CAC because it allows him to give back to the hometown he loves and to introduce a new generation to the thrill and beauty of circus arts. 
"When Nik came to us with his idea for a holiday show, we were thrilled at the concept and got to work right away to help bring the idea to life," said CAC Executive Vice President/COO Jennifer Mitchell in a statement. "It's entirely appropriate for Sarasota's 'hometown hero' and 'hometown circus' to come together for a show that will delight and inspire residents and visitors alike."
As Wallenda's phone buzzes with text messages during an interview, he talks about his love/hate relationship with technology. Cell phones allow us to communicate instantaneously, making life more efficient and convenient, he notes. But Wallenda believes "technology has robbed us of the magic of live entertainment."
Wallenda says he allows audience members to take photos and videos during his shows even though it is distracting to the performers and others in the audience because it would be even more annoying to have ushers stop them from recording the moment.
As he talks about the history of the circus and the bankruptcies of Ringling Bros., Cirque du Soleil and Big Apple Circus, Wallenda notes that the big top has been forced to adopt to changing tastes, particularly when it comes to animals. 

Wallenda is well aware that the circus has taken a few knocks in recent years ("SpongeBob makes fun of the circus"), but he remains focused on elevating the circus arts and earning the love and respect of his family's audiences.
Although the circus has welcomed misfits and outcasts during its 150-year-plus history, Wallenda downplays the opportunities for exploitation in favor a message of acceptance. The circus welcomes different types of people who ultimately form a family, he says, even if they aren't related by blood.
At Sarasota's Sailor Circus, Wallenda says the young performers are often introverts who get the chance to express themselves in the big top in a way that they wouldn't in a classroom or on an athletic field. 
Not that Wallenda is down on sports — he played high school football — and standing close to six feet tall and weighing about 230 lbs., looks ready to don shoulder pads if need be. Most of the strength required to hold up a human pyramid resides in his core, he notes.
As he ticks off his accolades and accomplishments, including setting 13 Guinness World Records, winning Emmy Awards for his TV performances and writing two books, Wallenda doesn't seem boastful. His passion for his lifelong profession is obvious. 
That's why he goes out in the crowd and signs autographs that say "Never give up" after his performances. "No one else does that, not Criss Angel, not David Copperfield," he says, referring to the popular illusionist and magician, respectively. "I want to inspire people, to let them know they can overcome any obstacle."
In every aspect of his life, Wallenda is determined to prove he deserves the title of "Sarasota's hometown hero."