While high winds during Hurricane Ian caused the majority of damage across Manatee County, Myakka City suffered more damage post-hurricane because of flooding.
Homes were destroyed in the final days of September 2022. People and animals were left stranded in need of rescue. The water was so high that Hidden River resident Susan Kucia had to wait for rescue workers on top of her golf cart. 
During those intense days following the hurricane, East Manatee Fire Rescue Deputy Chief Paul Wren said he learned a few things about Myakka City residents.
"The water rose, I want to say it was over 10 feet, but the folks out there are resilient. And they're very independent," Wren said. 
As first responders surveyed the area, they came across a lot of residents who said, "We're OK. Go help the others who need it." 
Since then, fire rescue and county staff have reassessed the kind of help needed for Myakka City residents.  
"In terms of our response, it definitely highlighted the need to have a point of distribution (for supplies, such as tarps and water) out in Myakka when something like this happens," said Jodie Fiske, the Manatee County director of public safety. "Myakka, traditionally, had not been an area that needed it because they are not in an evacuation zone when you look at storm surge. This was a reminder that when those rivers flood, we need to make sure we're pivoting to make sure we do have something out there for the residents who may take an impact."
Fiske said the wells will be watched more closely, too. When the power went out, the wells stopped pumping and were contaminated with bacteria. The issue falls under the purview of the Department of Health, which has strike teams the county can call on to test the water and advise residents on what to do.
In January, East Manatee Fire Rescue held its annual officers meeting, where the team reviewed what worked and what didn't within their response and rescue operation. 
Although not purchased yet, an additional watercraft is being added to the fleet, likely something inflatable with a hard bottom. According to Wren, one problem first responders encountered was having to shift between flood waters and land. The hard bottom can be dragged over debris without popping the raft.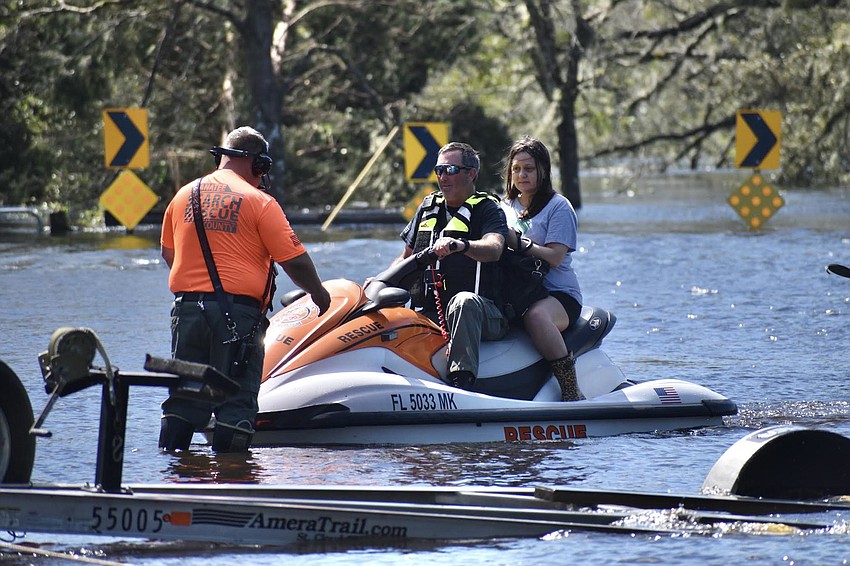 However, Wren said communication was the bigger issue. After one of the county's radio towers went down due to flooding in the control room, rescue workers were communicating through Very High Frequency radio, which he said has capabilities but is "trickier" range-wise. The tower was restored, but the temporary loss pointed out a flaw in the system.
"We realized that maybe we could have a better system set up for redundancy and a better plan in place for how we can trump together our communication system to where we can decentralize and allow those guys out there to be a little bit more independent," Wren said. "When we set up for Hurricane Ian, we set up our district operations center in our main station on Lakewood Ranch Boulevard. Well, that's a far cry from Myakka." 
Wren is looking to the future. Willis Smith Construction was hired to rebuild Station 11 in Myakka City and should be breaking ground soon. It'll take about a year to complete. The current station isn't rated for a Category 3 hurricane or above. During Ian, workers had to evacuate to Myakka City Elementary School. 
"A new facility out there would not only allow our crews to stay in the building, but it would also be designed in such a way that it could serve as another district operations center that could be more easterly located," Wren said. "Once that's in there, that'll be a beacon for the community, a place they know they can count on to be there and have firefighters and first responders inside and ready to help."