The colorful decor and pastel-painted walls that greet visitors to the new campus for Dreamers Academy in Newtown are about more than just embracing the cultures associated with the Spanish language. 
They're also about education, according to Head of School Cathy Rodriguez.
As her saying goes — something of an unofficial school motto — "A happy child is a child who learns."
"You can feel the energy of the school, very positive, very joyful," she said. "Our students are happy, and they express that. Our parents put their trust in us, and we take that seriously."
Founder Geri Chaffee said in a traditional school, Spanish-speaking children can become impeded in their ability to learn, hurting their self-esteem. Dreamers Academy, she said, was founded to turn this problem around, something it can do more effectively through its new campus.
The tuition-free public charter school's new campus hosted a ribbon cutting on Aug. 7. Students arrived for instruction, Aug. 9-10. The school welcomes both native Spanish and English speakers and holds open enrollment from Oct. 1 to January.
Prior to the new, devoted space at 2146 Myrtle St., the school had rented a space from Temple Beth Sholom. 
A dedicated space
The campus will be an important space for teachers to collaborate, said Rodriguez, something important for the school's coordinated instruction, which alternates between English and Spanish throughout the week.
"Collaboration, No. 1 is key," she said. "That's why I believe our teachers are just exceptional, because what they do is not easy. It really takes a lot of work, dedication and passion from them, doing what needs to be done to get the students to the next level."
Finding the right place to carry out the school's mission was also important. The new campus takes the school to the place where its vision had always guided it from the beginning: Newtown.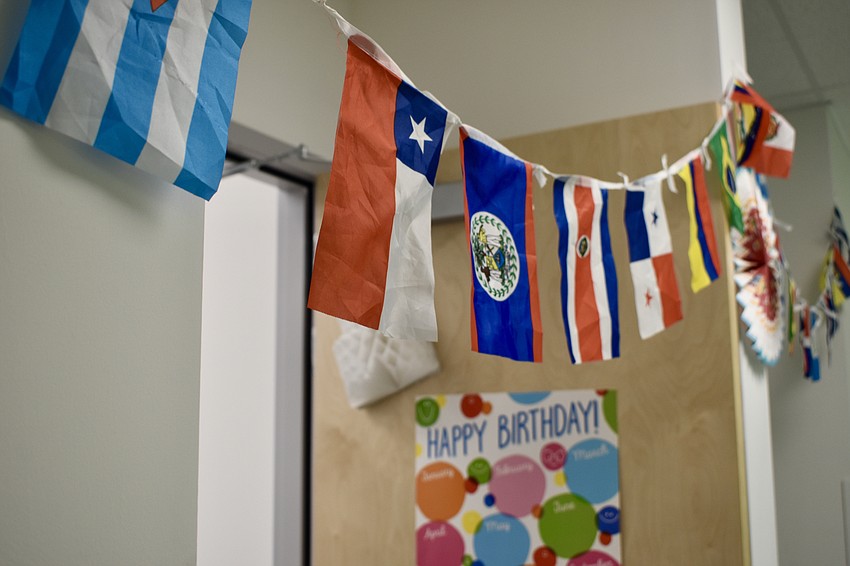 Chaffee called the area the location of greatest need. In Newtown, she said, many socioeconomic factors affect academic success, including lack of access to health care, violence in neighborhoods, domestic violence, and instability. 
"You really have to be able to address that from a culturally sensitive space," she said. 
Another benefit of the new campus will be an increased freedom to hold events.
It will also offer an amenity the school did not have before. 
A dual-language library is slated for opening from January to March 2024 and is being funded through a $110,500 grant from Impact100 SRQ. The library will host events, including a parents' university, workshops, opportunities for parent volunteers and an additional room serving as a computer lab.
A recess area is set to open next month, with the same area receiving a playground within four to six months. 
"We've had great community support and just angels along the way to help us put this together," she said.
One contributor was the Florida Development Finance Corporation, which awarded a state bond based on the school's proposal. According to Chaffee, this was the first time the organization ever issued one for a new school.
A vital mission
The school fulfills a role in the community for which Chaffee found a serious need.
When Chaffee, who is Latina, volunteered at a North County school in 2017, she was surprised to find that although many children did not understand English, they were still taught in that language.
When she began trying to teach a group of students in Spanish, a teacher told her to speak English, which she said caused her to feel "just shocked."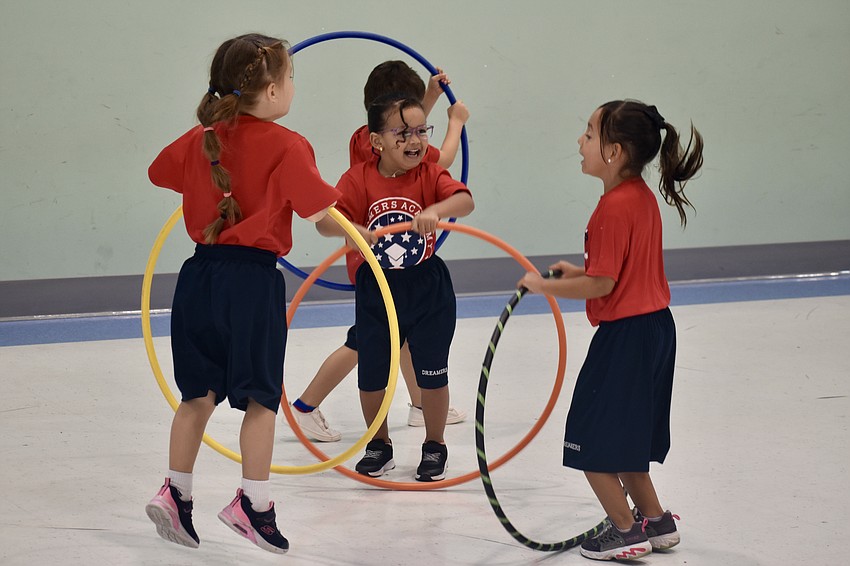 "The kids were really smart, and understanding the concepts, but when I switched to English, they looked at me like I was betraying them."
Questions began to enter Chaffee's mind. Were situations where children were not learning in their native language an outlier, or were they common? After performing extensive research, she found that for many counties, they were in fact the norm. 
However, she also discovered that other states were using a model of dual-language immersion, something she said has many cognitive advantages.
"It actually opens up the doors of your brain and your cognitions," she said. "(Children are) more empathetic, and let's face it, they're smarter, because they know more than one language."
Soon, the planning for the school had begun.
Most of the school's teachers are bilingual and plan their units, standards and content together, with three teachers per grade level teaching in English and three teaching in Spanish. The co-teaching cohort, who uses the homerooms, also alternates between English and Spanish. 
Students exist at many different levels, with teachers working on targeted groups and skill sets.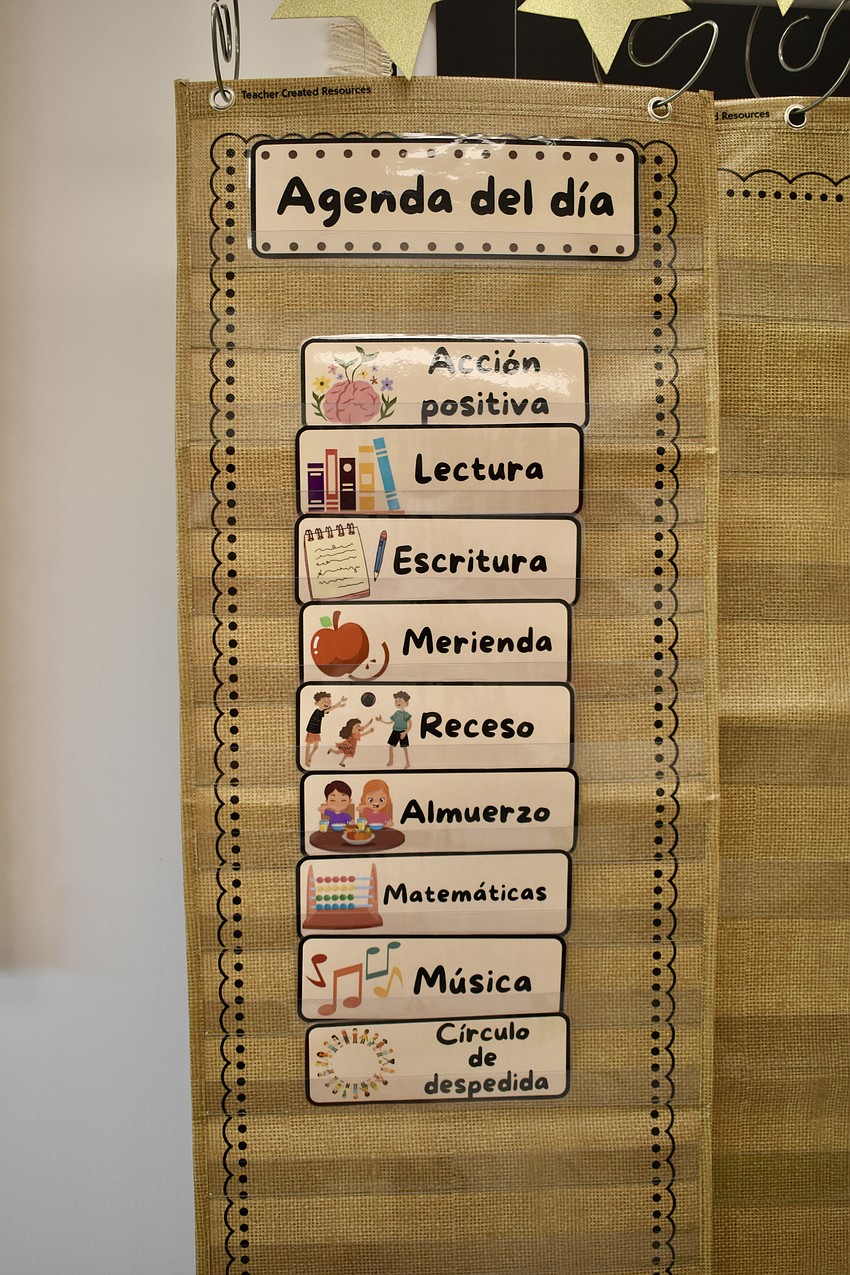 Some students bring no initial knowledge of English, while others have no initial knowledge of Spanish. Kids attend specific centers within each classroom to improve on certain skills, in whichever language they are currently being taught in.
Rodriguez said students easily learn the basic phrases they need to use routinely, like "good morning."
"The first day, they go home, and they say, 'I just learned this word,'I just learned how to count to 10,' or 'I just learned my colors," she said.
Most special subjects in the school are taught in Spanish, due to English being the school's dominant language, but entire specials team is bilingual.
This year, the school is piloting an advanced cohort — the AWC — which is accelerated and challenges students with more rigorous work.
Rodriguez is uniquely qualified to lead the initiative, bringing a doctorate of education degree from Wilmington University, having written her doctoral dissertation on dual-language programming and dual-language K-12 teachers.
Chaffee said the results of the school's educational method are clearly paying off. 
Grade-level reading proficiency was rated at 58% for third graders at Dreamers Academy, according to data collected by the Tallahassee Democrat. Chaffee said compared with the 61% of the county overall, this number was impressive, as many students at the school are non-English speakers.
The data also showed that 81% of students were on grade level in mathematics, a statistic that was rivaled only by five of the county's schools.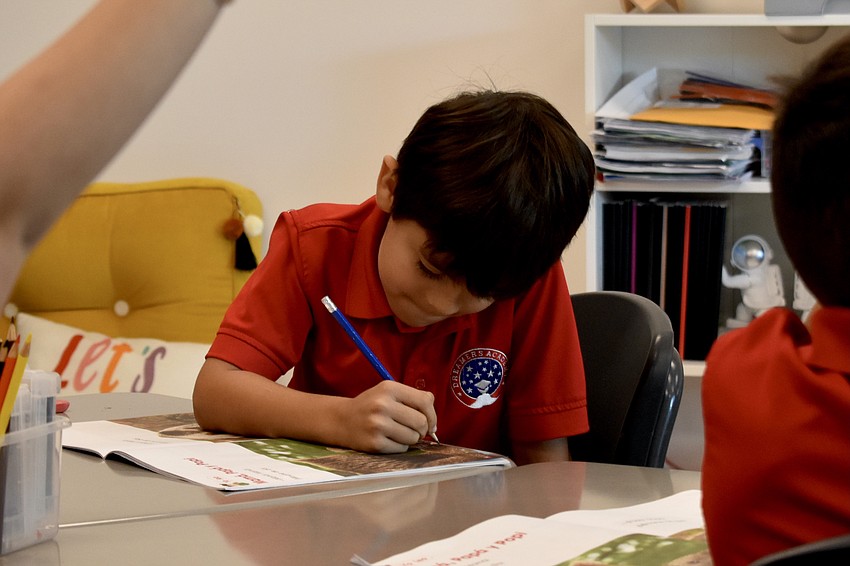 Chaffee said the reasons for the school's academic standing extend beyond its teaching model. 
She also noted the parent-teacher council is highly involved, holding meetings bi-weekly or monthly while volunteering with many events and helping with fundraising.
Finally, the school has had 100% teacher retention for its three years of operation, Chaffee said, something she called "unheard of" in the area.
Chaffee said she is excited to introduce a new grade — fifth — to the school next year. A grade has been added each year since the school's founding in 2021.
"It's very exciting to be able to be a full school with all the different grades, and to be in our own building is just so incredibly special," said Chaffee. "We're hoping to grow and serve the community, have a lot of events and make sure these kiddos are rock stars and go on to middle school incredibly prepared and bilingual."