When Sarasota artist Carlos Goebels sought artwork to adorn the walls of the Betty J. Johnson North Sarasota Library, where he volunteers, he found the answer in his culture and its diverse offerings. 
A volunteer at the library, Goebels has been helping revitalize the space after COVID-19, and his idea for an art exhibition in honor of Hispanic Heritage Month (Sept. 15 to Oct. 15) received the eager approval of Library Manager Erin Clay.
The Hispanic/Latinx Heritage Month Art Exhibition, featuring work by Goebels and four of his colleagues, serves an area where he says 40% of the population within a 5-mile radius is of Latino descent.
"We are passionate about celebrating the rich tapestry of cultures in Sarasota, and this event is a wonderful way to bring people together for a good time," said Clay.
Carlos Goebels
The exhibition's paintings by Carlos Goebels reveal a strong Latin American influence.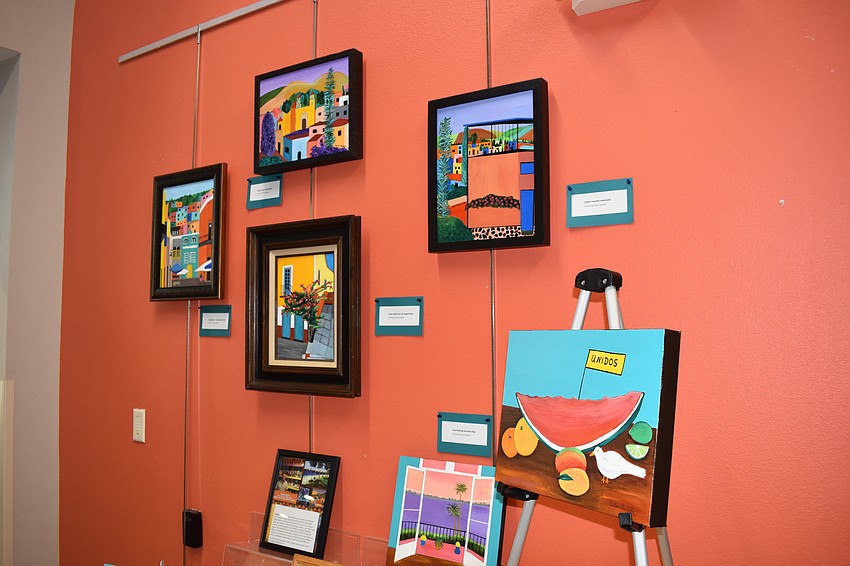 Although born in New York, Goebels, who is half Mexican, has been deeply impacted by the country, including Guanajuato, Mexico, the birthplace of renowned painter Diego Rivera which Goebels considers the most beautiful city he has ever visited.
"I went to his museum, but the city I just fell in love with," he said, noting that he quickly produced 12 paintings from his photographs upon returning home.
Although he chose to focus on Mexico for the exhibition, with a style he compares to cubism and Fauvism, his work frequently features Sarasota seascapes and cityscapes influenced in style by the Florida Highwaymen artists active from the 1950s to 1980s. 
Judy Levine
Inside Judy Levine's display case lies an intricate tapestry of color featuring necklaces and jewelry with beads of turquoise, ivory, hand-painted seed pods, and more.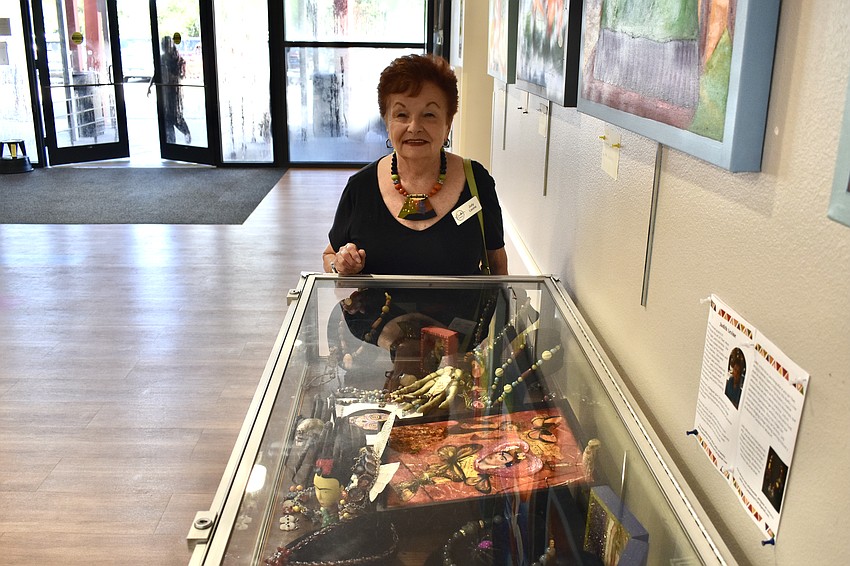 There are even silver beads depicting arms, legs, and faces, part of a Mexican tradition where such charms are placed on saints to heal them from illness.
Levine describes her affinity for Mexican art, which she has been practicing for around 60 years, as resonating with her own artistic style, and has traveled to the country many times.
"I myself draw that way, so I'm attracted to it — I'm not a realistic drawer," she said. "I love the fact that they use materials very creatively, like the pods. It's joyful and they have stories that accompany their folk art, and I'm a storyteller."
As a photographer, Levine curated an exhibit of Day of the Dead photographs at The Players Theatre in Sarasota.
Among her cherished creations are memory keepers, assemblages in boxes that convey different narratives, which she bases on small Mexican shrines. One of these pieces was featured in "Art in Common Places," a Sarasota project where artists displayed their work in unconventional spaces.
Judith Levine features her work at Creative Liberties and also hosts "Art with Judy" on Fridays at Selby Library.
Karen Arango
Goebels approached Sarasota's Karen Arango with the idea of focusing on Latinas, she decided to shine a spotlight on a particular segment of her diverse community — Afro-Latinas.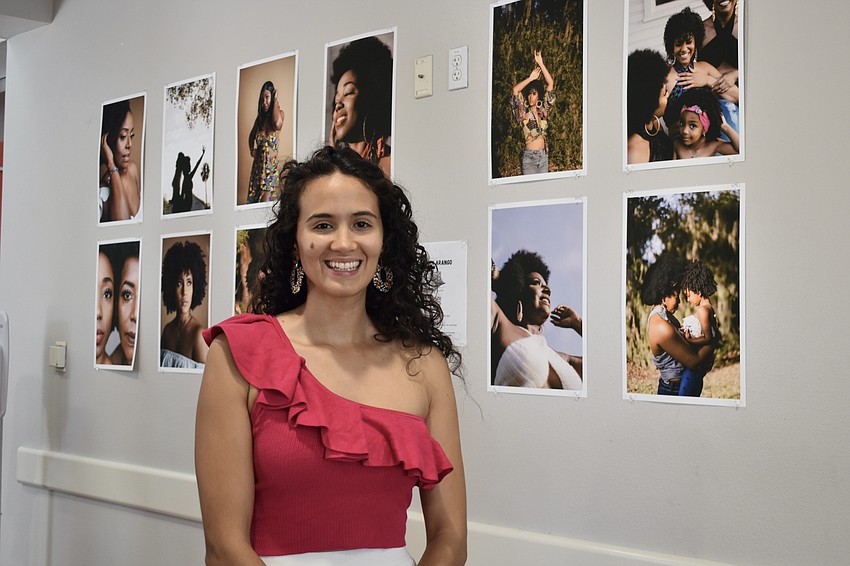 The series of images reveal the home life, culture and community of the Afro-Latina girls and women they feature. Arango's artistic collaboration with these individuals, who live in Sarasota and Bradenton, has spanned three years, resulting in relationships she likens to close friendship.
Arango said she found herself inspired by the bond the subjects share.
"They're very graceful and happy. They're always very close to each other, and they help each other, they're there for each other," she said.
In many of the photos, the subjects are adorned with colorful African textiles. Arango recalled that one of the women she photographed described her experience as "having the best of both worlds," due to her dual heritage.
"I'm honored that Carlos thought of me for this exhibit," Arango said. "I love that I can share my culture through photographs, and I can show a part of my culture that maybe others don't know."
Alfredo Garcia
For Bradenton's Alfredo Garcia, art is the pursuit of connecting with others, a goal he achieved once was able to find his own voice and style.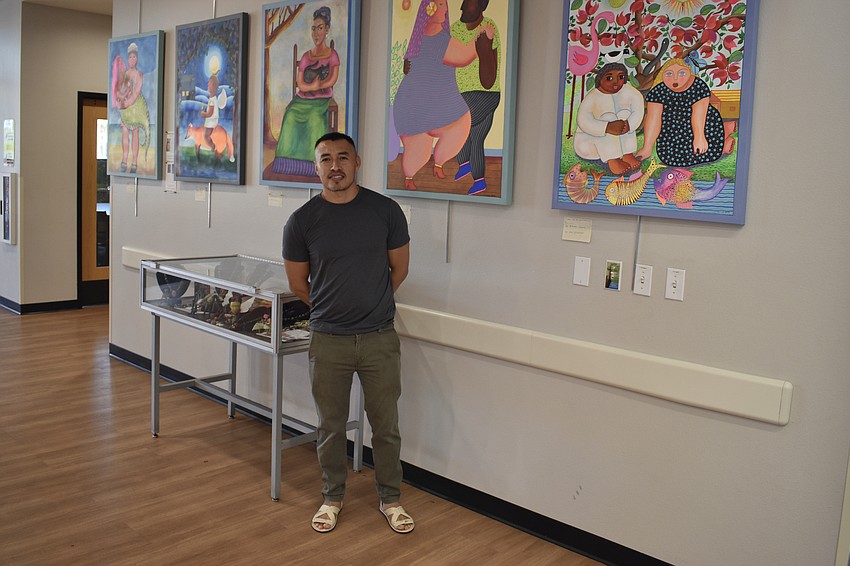 "So many clients claim that when they see my work, they feel a certain peace," he said. "I like that. It's like you're connecting with them, and I think that's the purpose of art, really."
Many of his works portray heavy women in what he describes as a comical yet respectful manner, while others, like a painting of a boy riding a fox titled "On My Way Back Home," he says are "highly spiritual" and have helped ease anxiety impacting him as well as viewers. 
His work was not always distinctive in appearance; while attending college in Mexico, Garcia was trained to paint methodically, but he saw growth as an artist during that time, as well as over the 30 years he has been an artist. 
"I think when you've been doing this for a long time, people will start believing in what you do, but you have to believe it for yourself," he said.
Garcia's heritage is a major influence on his work; he grew up in Mexico and has lived in the United States for 20 years.
"At some point, I feel like there is a fusion between American culture and Mexican culture, and you probably can see that through my work," he said.
Nathalia Rodenas
Bradenton's Nathalia Rodenas had been immersed in the world of art since age 2 or 3, but is crossing a new milestone with her first-ever exhibition at age 16.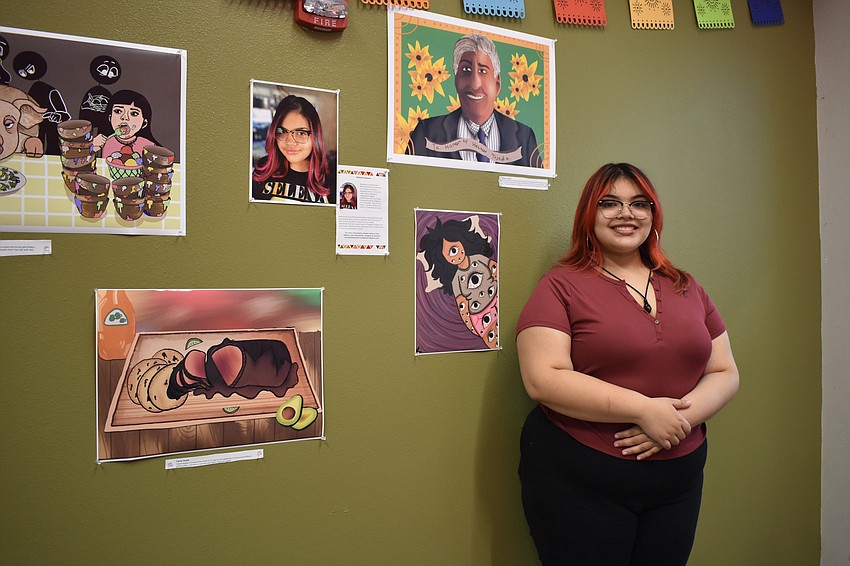 "It really is such an honor to even be invited by Carlos to like, 'Hey, come do your art here," she said.
Every creation on display bears a personal significance for her.
Rodenas was born in Tennessee to Luis Rodenas, whose parents were Guatemalan, and Juanita Chabes, who was born in Mexico, and enjoys sharing her culture through her work.
"Culture is a really big thing for me, and I feel like I'm deeply connected with my culture, so I feel like I just want to share that with others," she said.
Her favorite piece on display is titled "You're Not Hungry" and features a pig, which has been given very little food to eat, seated next to a girl, who has been given much more food. 
"I'm a big girl. I'm a plus size girl, and that piece was really the embodiment of feeling shamed by society, and shamed by other people, for what I ate," she said.
Although she formerly focused on acrylic paints and alcohol markers, her UnidosNow mentor, Ringling College student Mabdelis Rosado, introduced her to digital art, and it now occupies the forefront of her focus.
"What's life without art?" she said. "There's art all around us. The buildings are art: lines, contrast color, everything. I couldn't live without art; life without art would be dead."