Cross country runner Declan Fiorucci spent his summer doing everything except distance running. 
The Out-of-Door Academy senior took up kickboxing and played basketball with his friends. He rode his bike around town. He stuck to a gym routine. He went swimming. He even tried his hand at pole vaulting.
He would do anything to switch up his cross country training routine.
Fiorucci had been running nonstop for three years. Before he geared up for his final year of high school running, he wanted to try other things. 
All of it was for fun, but in retrospect, Fiorucci said all the cross-training he was doing over the summer will help him run, too. 
"I'm looking at my times, and they're the best they have ever been at this point in the season," Fiorucci said. "So I know it has been worth it. The cross-training in those cardio-heavy sports has made a difference."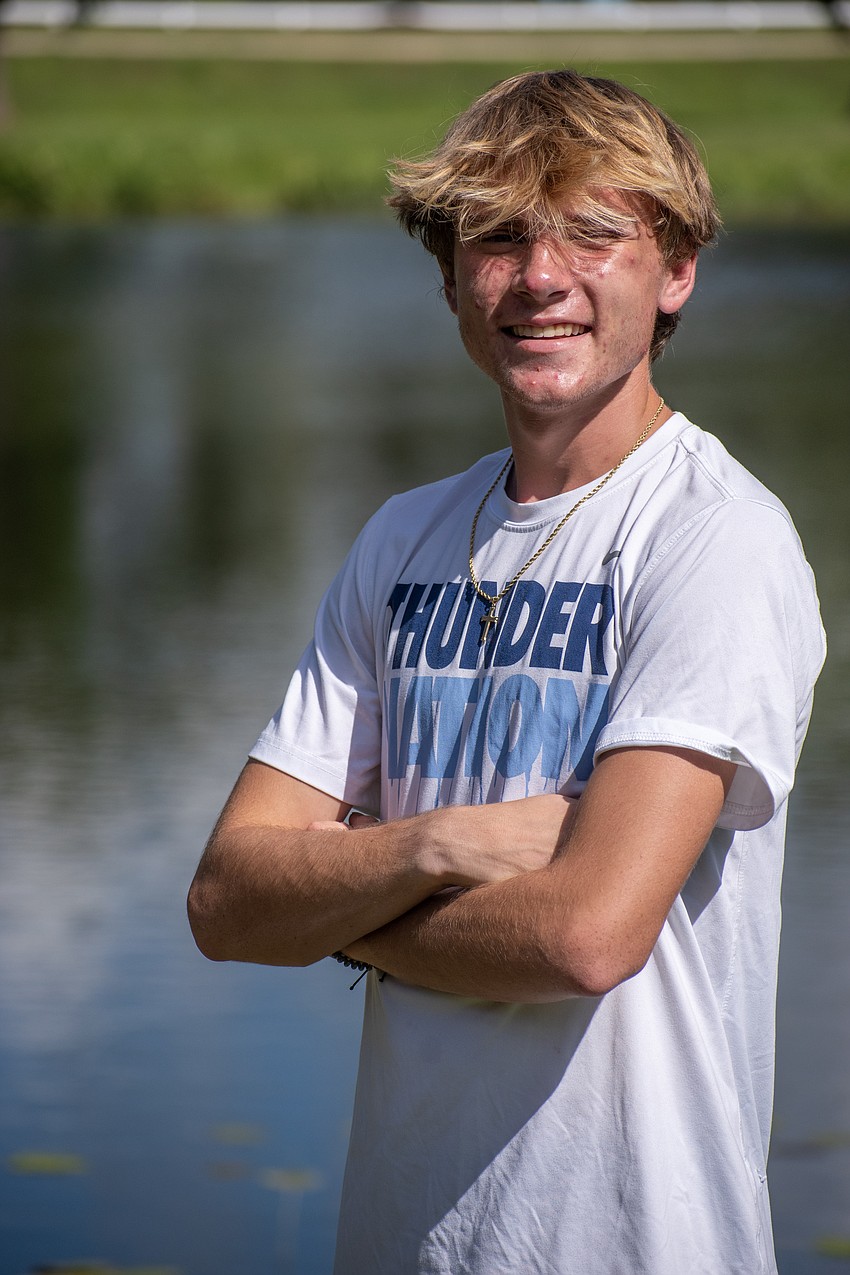 Fiorucci, who finished 19th (16:34.5) at the Florida High School Athletic Association Class 1A state meet in 2022, has already recorded a 16:57.6 in the new season. He recorded the time at the Seffner Christian Invitational, held Sept. 9 at Holloway Park in Lakeland. For comparison, at the Fort Myers XC Invitational held Sept. 10, 2022, Fiorucci finished in 17:40.1. He's approximately 43 seconds faster at the same point in 2023. 
Combined with his belief that he did not run his best race at the state meet in 2022, Fiorucci said he has a shot at a medal this season. Fiorucci said one reason he's put an emphasis on his cardio this offseason is the course at Apalachee Regional Park in Tallahassee, where the state meet is annually held. He said the course there lacks the humidity of courses in southern parts of Florida. For some people, that is a positive change, but not for Fiorucci, who has asthma. He said humidity helps him breathe efficiently. He's hoping the increase in cardio will mitigate the negative effects from the asthma. 
It's not only traditional sports that he's trying. He's also taken to running in his family's backyard pool, back and forth in one-meter sprints. He will do push-ups in the shallow end of the pool, holding himself underwater on the "down" end of the push-ups to work on his breathing and lung capacity.
He will walk backward up a hill to strengthen muscles in his legs. Fiorucci said he takes a lot of inspiration from Navy SEAL training sessions. The SEALs, he said, are not phased by anything thrown at them.
Fiorucci said he occasionally struggles with his confidence as a runner. When he sees people passing him in the second half of races, he gets anxious. When he gets anxious, he gets tight.
To combat this feeling, Fiorucci said, he's altered his race plan. Instead of going his hardest in the first mile, then slowing down over the next two miles, he's pacing himself more. His first mile is still fast, but not at 100% effort; the next mile he aims to be approximately 10 seconds slower; and the final mile he gives everything he has left. That way, instead of people passing him down the stretch, he's the one doing the passing, which gives him more confidence. 
So far, the new race plan is working, in combination with everything else Fiorucci has tried in 2023.
"My biggest problem, and I think a lot of people's problem, with cross country is finding the (necessary) mental strength," Fiorucci said. "I'm trying to do a lot of those exercises now. Like, I'm doing yoga. I've never believed in that type of stuff before, but it's working. I don't know how to explain it."
ODA coach Jay Roper, who came to the program this offseason from Sarasota's Riverview High, has continued Fiorucci's trend of doing things differently. Roper has begun taking some of the team's practices off-campus, having them run the hill at Sarasota's Celery Fields to get used to the feeling of climbing. The course at Apalachee Regional Park, in addition to the lack of humidity, features a hill that runners call "The Wall," a reference to how it stops many runners in their tracks the first time they tackle it. Practicing at Celery Fields, Fiorucci said, adds important experience to his arsenal.
While the state meet is not until Nov. 17, Fiorucci is already thinking about his ramp-up to it. He has good running partners to make sure he never slacks in practice. That includes ODA sophomore Kevin Gyurka, who finished approximately seven seconds behind Fiorucci at the Seffner Christian Invitational, and junior Collin Dillingham, who was approximately 27 seconds behind Gyurka.
Fiorucci said his teammates are not only good runners, but they are knowledgable and they pick good spots to change their pace. The inter-squad competition should keep everyone focused until the postseason, Fiorucci said. 
That's when Fiorucci hopes to earn medals. 
"I'm going to train hard until I get there," Fiorucci said.