It was his day, but Willis Smith Construction owner and CEO David Sessions didn't want to talk about himself.
Standing at the podium Friday at the Bradenton Area Economic Development Corporation's 2023 Annual Update Luncheon, Sessions paid tribute to the late Rick Fawley, an architect who worked on projects with Sessions for more than 20 years.
Lakewood Ranch's Sessions was being presented with the 2023 Rick Fawley Economic Development Award of Distinction. The award honors a person's outstanding contributions in moving the local economy forward, as did Fawley, who died at 65 in 2015.
"I remember the last project I worked with Rick," Sessions said. "That was to build The Lodge (in Country Club East in Lakewood Ranch). Rex Jensen (CEO/President of Schroeder-Manatee Ranch) hired us and challenged us to do something different. He told us not to (mess) it up."
Sessions said Fawley wasn't phased, despite some added pressure from Jensen.
"The project was a lot of fun," Sessions said. "Rick was passionate about Colorado and he wanted to bring Colorado architecture to this community. (The Lodge) continues to exceed the expectations today.
"Rick truly was larger than life. When he was in the room, everyone knew it, because he had such charisma. He was fun to be around and I miss him very much."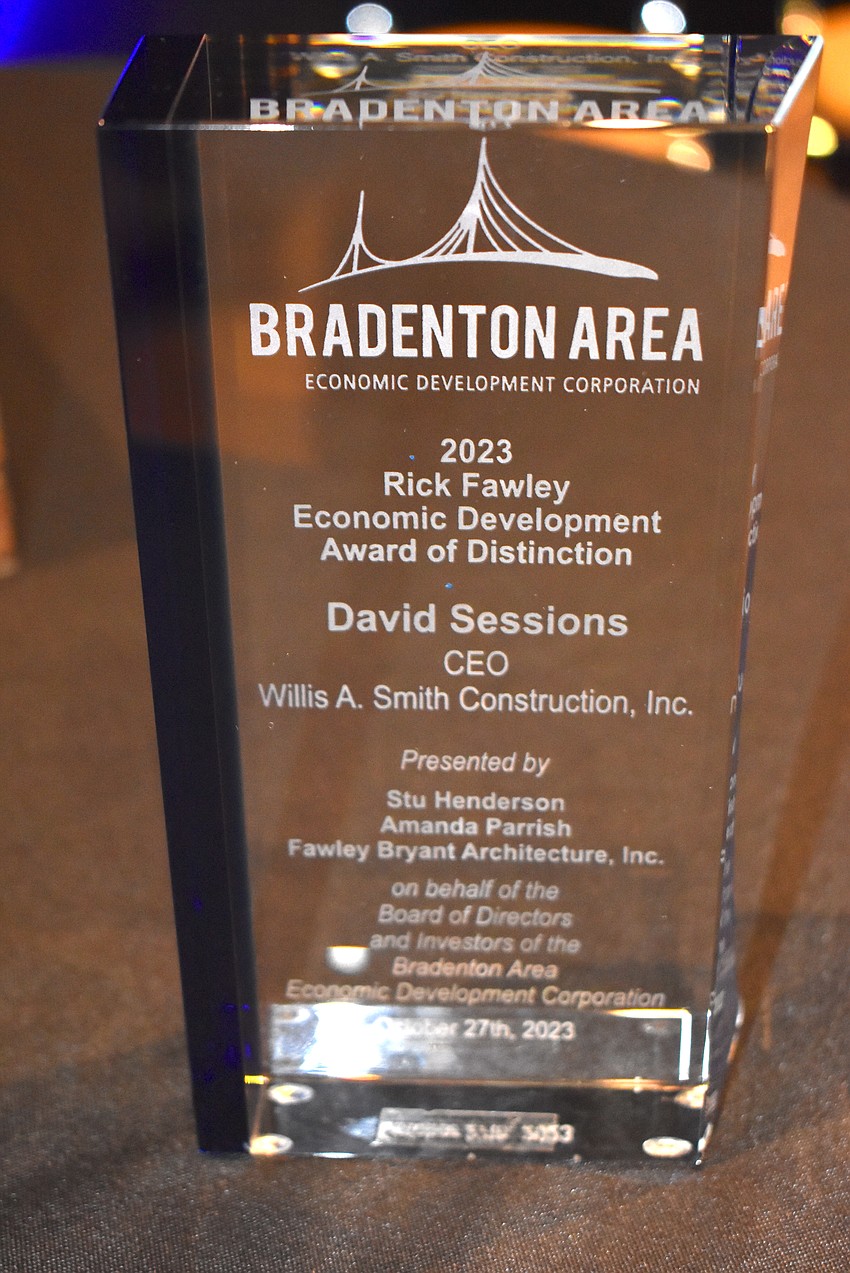 Stu Henderson of Fawley Bryant Architecture presented the award and said Sessions was greatly deserving. Henderson said Sessions not only served the community through his Willis Smith's contributions, but through the many nonprofit boards he has served.
"He is a strong believer in social responsibility,"  Henderson said.
"Rick was a friend and we worked together for over 20 years," Sessions said. "We continue to work together today ... through Fawley Bryant (Architecture)."
Sessions said he was taken by surprise when he received the call about the award from Benjamin Hanan, the Bradenton Area Economic Development Corporation chair.
"I thought, 'Why me?'" Sessions said. "There are so many talented leaders. There had to be a better choice.
"This is something I will cherish the rest of my life."
While Sessions has worked on many nonprofit boards, he said, "I felt I was getting more than I was giving.
"I had the pleasure of meeting many wonderful people who have had a passion for our community."
Sessions, who celebrated 35 years with Willis Smith in March, thanked Bradenton Area Economic Development Corporation President and CEO Sharon Hillstrom and her team for their work along with Manatee County's elected officials in helping Manatee County thrive economically.
He also thanked his Willis Smith team and noted the award was bigger than one person.
"I am overwhelmed," Sessions said. "This is a major milestone in my career. I've been blessed."