Marvin Palominos only needed one yard. 
Palominos, a junior offensive guard on The Out-of-Door Academy football team, said he had been bugging Head Coach Rob Hollway about an opportunity to run the football since Hollway took over the program in 2022
It took until the 2023 postseason for Palominos' dream to come true. 
In a Sunshine State Athletic Association Class 4A quarterfinal game Friday against visiting All Saints' Academy (6-3), Palominos — who is listed on MaxPreps as 6-foot-3 and 300 pounds — took a shotgun snap and rumbled over the right side for a one-yard touchdown dive.
His score gave ODA  a 21-0 lead over the Saints and was just one of the highlights in a 42-28 Thunder victory. ODA improved to 4-5.
"We practiced it yesterday for the first time," Palominos said of his touchdown run. "It was the first touchdown I've ever scored. It was such a nice feeling.
"I definitely felt the pressure (before the snap). All I wanted to do was score, and I did."
The ODA sideline erupted when the play call came in, and after the score, Palominos was mobbed by his teammates.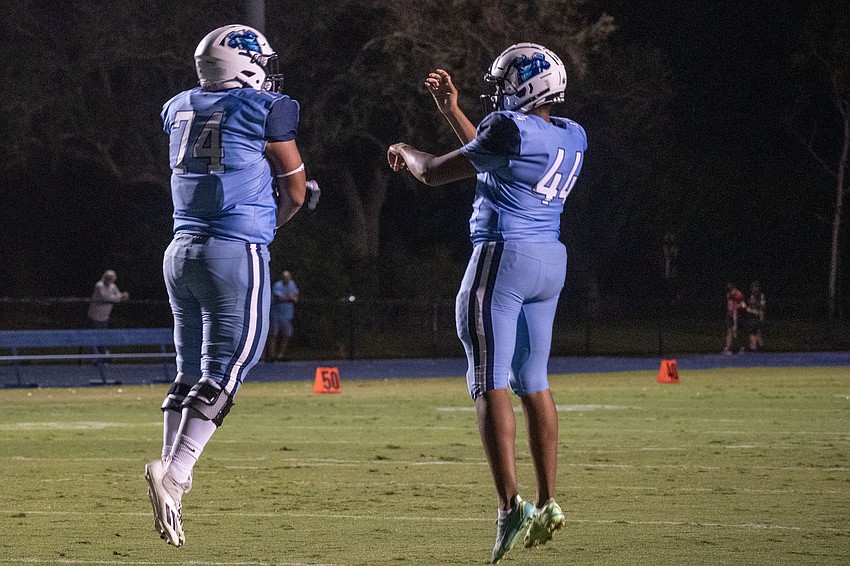 The play, Hollway said, was thrown into the team's playbook for a few reasons. The first is obvious as Palominos' size makes him tough to bring down. When only a yard is needed, bulk becomes an important factor.
But ODA's primary running backs — sophomore Allen Clark, who returned from an ankle injury against the Saints, and senior Jack Meyers — are capable of getting a key yard. The Palominos play was about more than just getting in the end zone, Hollway said it was about having fun. 
The Thunder, particularly the offense, had not had much fun in recent weeks. During the team's final three games of the regular season, all losses, ODA scored six, 20 and seven points, respectively. The offensive struggles, alongside the team's losing record, made the Thunder look like the underdog going into the playoff game.
In reality, ODA actually was the higher seed at No. 2 in Class 4A, while ASA was No. 3. 
Even so, Hollway knew his team needed to improve offensively against the Saints. Getting Clark back helped as Hollway called him a "difference-maker" and "a beast to tackle."
Using Clark on power runs up the middle and Meyers often to the outside, the Thunder offense was able to find the rhythm that had been missing for much of the season.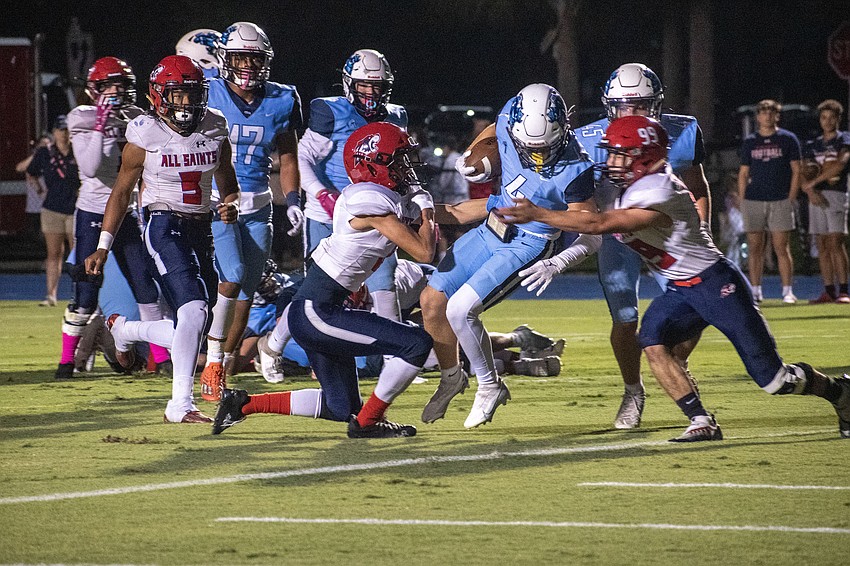 With his players excited about their success early in the game, Hollway decided to call Palominos' number. 
"My players are always going to have a lot of fun," Hollway said. "Marvin is as good as they come. He's a great person and he has put in a ton of hard work for us. I like to reward those guys." 
The Thunder also played with confidence on defense. ODA forced the Saints into five turnovers, including a fumble into their own end zone that was recovered by ODA senior defensive lineman Robert Crisci for a touchdown. Hollway said his defense created havoc while remaining disciplined in its positioning. 
In the SSAA Class 4A semifinals, ODA will play at St. Edward's High (4-5) at 7 p.m. Nov. 2. The Pirates are coming off a 14-12 win over Palm Beach Christian Prep (3-5). 
While the Thunder players are having fun again, Hollway said they still have more work to do. 
That includes changes on offense. ODA did not attempt a pass against All Saints' Academy. As ODA faces more disciplined defenses, Hollway said, the Thunder will need more balance in order to move the ball. That means more responsibility falling on junior quarterback Jackson Roth, who threw for 453 yards, five touchdowns and 11 interceptions in the regular season. 
Hollway said his defensive players need to tackle better. While ODA forced ASA into plenty of mistakes, ASA sophomore receiver Claudarius Bell was able to weave his way through the secondary with regularity. He accounted for all four Saints touchdowns, with two of them longer than 50 yards. 
Hollway was thinking about those big plays minutes after the ASA game ended. 
"I think we're still looking to put all three phases of the game together," Hollway said. "But a win is a win. Obviously we were not very balanced today. I think, to beat a good team like St. Edward's, we're going to have to be more balanced. They are well-coached and disciplined."