Music Compound student Kristina Rosenbaum didn't hold back in her description of performing "The Dark Side of the Moon" from start to finish.
"It was one of the most fun things I've done in my life," said the 46-year old English teacher, who sang and played guitar in the tribute concert. 
Held the night of Oct. 20 as part of the studio's Rocktober Concert at its facility on Cattlemen Road, and in honor of the album's 50th anniversary, the performance wasn't something the music school's staff had planned at first. 
While instructors Iain Harris and Taylor Galford were bouncing ideas off one another for Rocktober, Harris pointed out that that Galford was already suggesting about half the songs from "The Dark Side of the Moon."
If they just learned the other half, they could perform the album in its entirety.
Such a project was no easy undertaking for the 33 individuals — 11 instructors and 22 students — involved in the 45-minute performance. In fact, Harris calls it the most ambitious project the organization has attempted. 
"It was just one of those ideas that sounded so ridiculously optimistic, like, we couldn't do that, but as soon as you thought of it, you go, we actually kind of have to now, because I thought of it," Harris said.
The difficulty came not only from the fact that the album has sold 25 million copies worldwide and is frequently listed among the greatest of all time, but also because the sounds of each song flow seamlessly into the next.
Staging the performance provided some unique challenges, such as when Galford and student and junior instructor Riley Cullather had to switch places on the drums without the sound coming to a stop.
"Getting everyone on the same page about everything was a little bit of an obstacle, but everyone did such a good job learning everything so well, so it just flows perfectly," said Sam Sugar, a bass performer.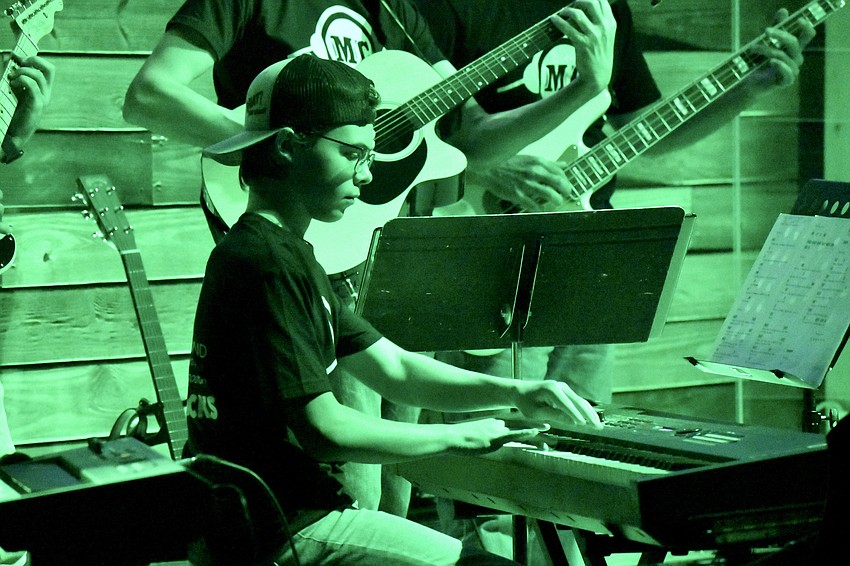 The project also offered a chance for innovation.
Patrick Collins, a student and junior instructor, engineered a setup allowing him to play live radio through his guitar pedals for sound effects, and also had the idea to use an electromagnetic device to play guitar strings.
"It makes it so that the notes just ring out," Rosenbaum said. 
Meanwhile, performers were able to grow their field of experience. 
"Pink Floyd has an interesting voice, because there's so much happening, but it sounds really good, so it's a little hard to recreate," said Sophia Rios, a 13-year-old student and vocal performer in the concert.
Hank Peelle, 68, said he prepared by examining the techniques of Pink Floyd guitarist David Gilmour.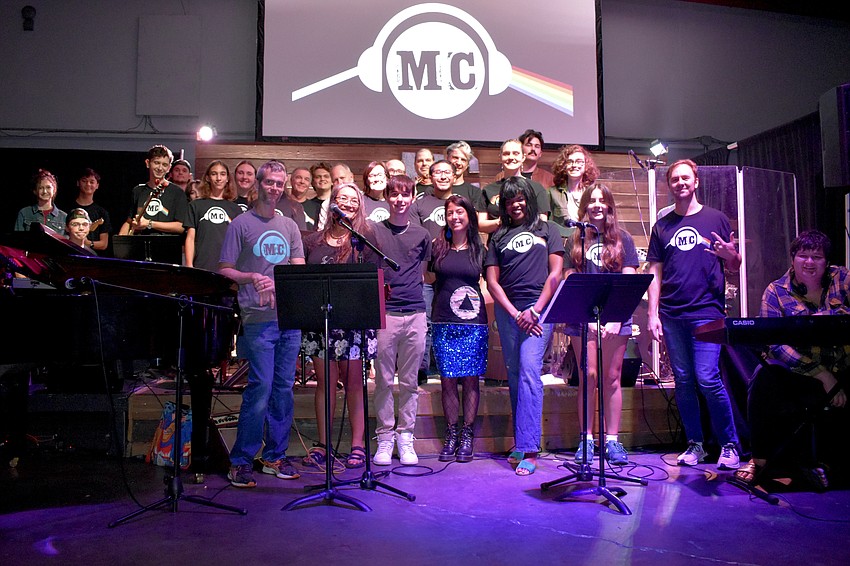 Peelle said he has been practicing at home constantly, but it is difficult to ever perfect the performance. 
The concert was held for the benefit of the National Association of Mental Illness, following a suggestion by instructor and performer Patrick Ensslin.
Ensslin's uncle, Mark Talley, died on Oct. 16 and had dealt with schizophrenia for most of his life. Ensslin noted that Syd Barrett, who was the founder of Pink Floyd, had also suffered from severe mental illness.
"This has just been an amazing experience, and I'm glad that the grief my family and I are going through can be transformed through the beauty of this performance and through our support of the people working to help people with these illnesses," Ensslin announced following the concert. 
Alyssa Martin, studio manager at Music Compound, said the studio is working on scheduling a second performance.