The art of sandwich making is something our cultural community doesn't talk much about. But there is true beauty in creating a great lunchtime staple with the best bread, a collection of cheeses, mouthwatering deli meats and crunchy and creamy add-ons.
To celebrate National Sandwich Day, coming up on Nov. 3, I sampled some of the best sammies since sliced bread. Here are some local masterpieces: 
Main Street Sandwich Bar
1944 Main St., Sarasota; 941-955-8733; TheMainBar.com
This Main Street eatery makes you feel like you've walked into a different decade. Grab a foodie friend, plop into a booth or slide up to the bar and get ready to dig in. Fun fact? You can choose from over 50 sandwiches — or make your own if that tickles your tummy.
Incredible Italian: The Famous Italian ($11.50) is made of salami, ham, provolone cheese, tomatoes, chopped peppers, onions and the bar's own unique blend of oil, garlic and spices on a toasted bun. The creation was inspired by the original owner Thea's hometown of Florence, Italy, and might I say, "Molto bene!"
I Loaf You Too: The Mayan ($12.95) with smoked turkey breast, provolone cheese and jalapeno dressing on a kaiser roll topped with lettuce, tomatoes and onions. I ordered this via Uber Eats for lunch last week, and I should have ordered another one for dinner.
Mirna's Cuban Cuisine
7980 N. Tamiami Trail, Sarasota; 941-316-9793; MirnasCubanCuisine.com
My dad would devour a good Cubano any time of the day, and I wish I would have taken him to Mirna's to bite into the best there is. So, this one's for you, Dad! This cafe crafts homemade Cuban cuisine at a price that simply can't be beat.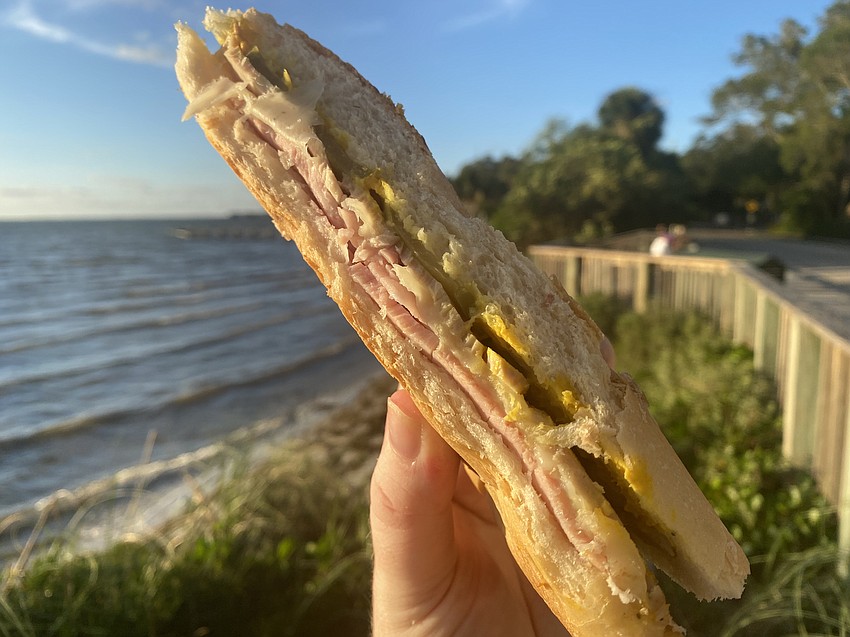 Craving a Cuban: The one, the only, the Cubano ($7.50-$9.50). Whether you're a local or just moved to the fourth most neighborly city in the U.S, you know what our state sandwich is. Crafted with fantastic ham, savory shredded roast pork, Swiss cheese, pickles and mustard, it's like a taste of Cuba in a sandwich, and I couldn't be happier for the vacation.
I Loaf You Too: Don't like pickles? That's O.K., because coming in at a very close second is the flavorful pan con bistec de puerco ($7.50-$9.50). This pork steak sandwich is served with sautéed onions and shoestring fries. You will want to order another before you take your last bite.
Southside Deli
1825 Hillview St., Sarasota; 941-330-9302; SouthsideDeliSarasota.com
Located in Southside Village, this quick bite stop has been serving a variety of delicious deli sandwiches, soups, salads and sides (don't forget breakfast from 7-11 a.m. daily) since 1999 — and they've got a great thing going. 
Tis the Season for Sammy's: Regardless of the calendar, I will order the cranberry chicken panini ($11.25) in the middle of June. Enjoy grilled chicken breast, Boar's Head bacon, Havarti cheese, spring mix and the secret weapon — cranberry sauce. Thank me later.
I Loaf You Too: Hot Spicy Turkey ($11.25) made with Sausalito turkey, pepperoni, pepper jack cheese, sliced banana peppers and a ravishing remoulade sauce. Pressed to perfection!
Corkscrew Deli
4982 S. Tamiami Trail, Sarasota; 941-825-3955; CorkscrewDeli.com
A few years ago I looked at my now-husband and said, "I miss the deli sandwiches I used to get back home." I had been searching for a taste of the tri-state area and all the places that claimed to be a "New York style deli" fell short. That was, until we happened upon Corkscrew Deli.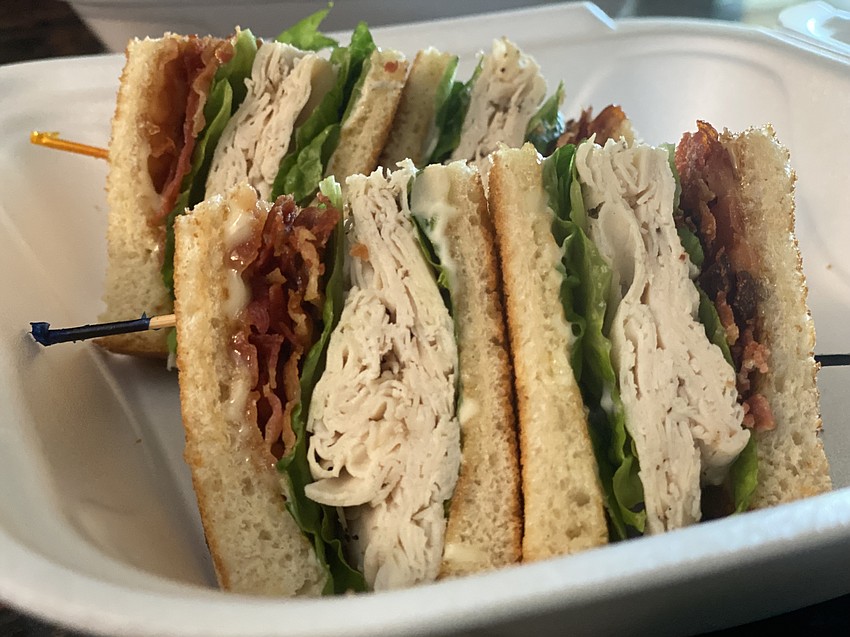 Crazy for Clubs: Corkscrew Club ($9.29) made with sliced chicken, crisp bacon, lettuce, tomato and mayo, all double-layered on white toast. This most classic of sandwiches hits the spot, makes me smile and gets me doing my "foodie dance." I can't wait to order it again.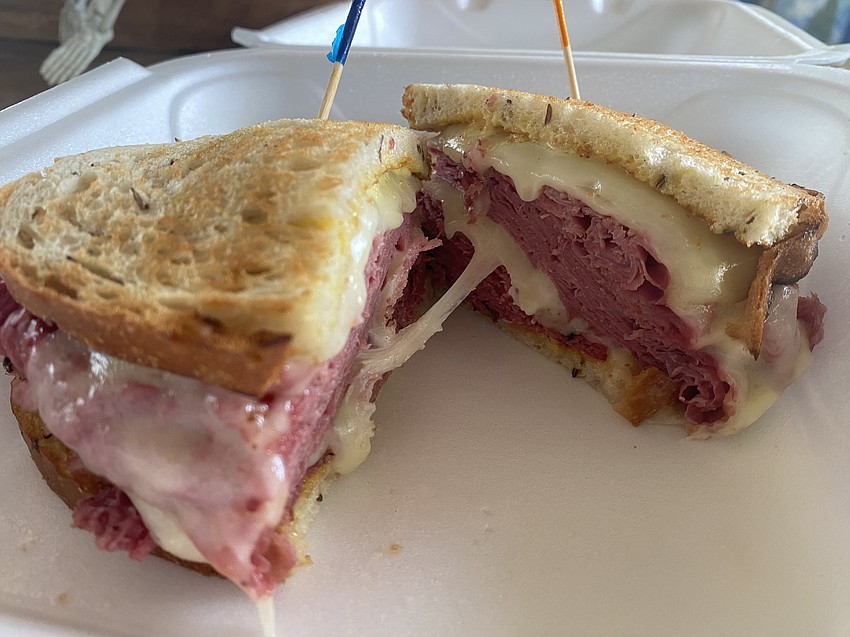 I Loaf You Too: The New Yorker ($11.99) with hot pastrami and corned beef (you read that right!) on toasted rye with Swiss cheese and Corkscrew's own mustard sauce makes me feel like I'm back in the Big Apple.
Faicco's Sandwich Shop
3590 Webber St., Sarasota; 941-960-1395; FaiccosSarasota.com
You know what I say about sandwiches? The bigger, the better. Fiacco's takes that statement and hits it out of the park. Originally from New York City, this family-owned business has been serving sandwiches for over 120 years — and they do it right. 
Heroic Hero: You scream, I scream, we all scream for pesto. The chicken pesto hero ($15) is prepared with a seasoned fried chicken cutlet, mozzarella that makes my heart flutter and homemade pesto. If pesto isn't what your palate wants, any of the heros with a chicken cutlet will banish negativity from your life.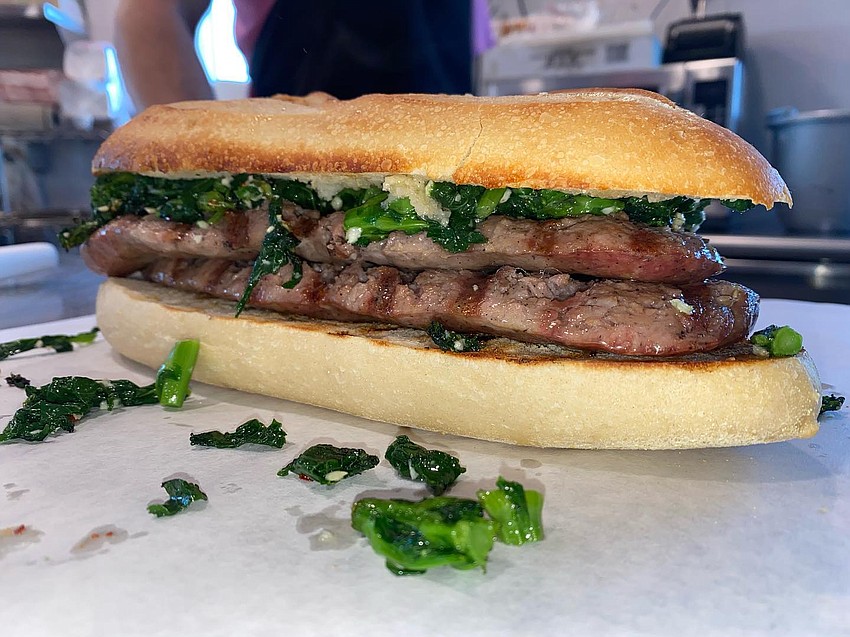 I Loaf You Too: There are so many sandwiches to choose from, but I have to go with the sweet sausage No. 2 grilled hero ($15) with spicy broccoli rabe. It will rock your socks.
Anna's Deli
6535 Midnight Pass Road, Siesta Key; 941-349-4888, 8207 Tourist Center Drive, University Park; 941-893-5908; AnnasDelis.com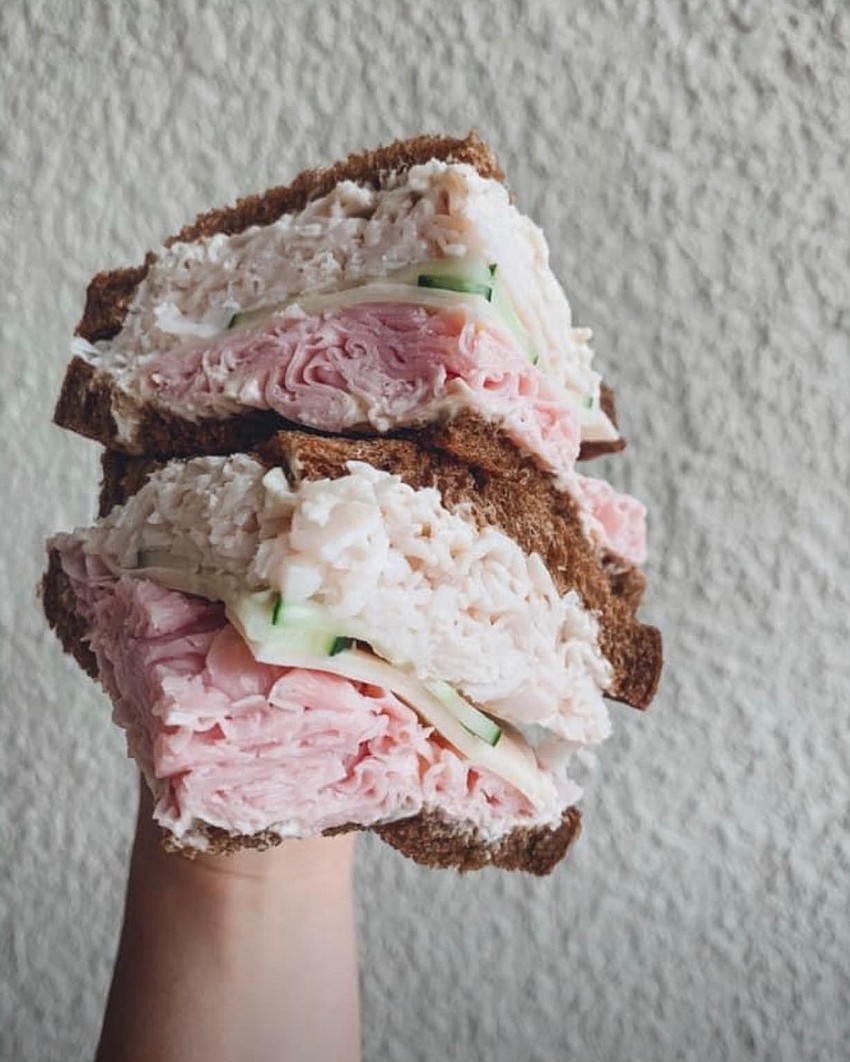 This local eatery has been dishing out sandwiches in Sarasota since 1971. A staple among locals, Anna's serves up larger-than-life sammies generously stacked with meats, cheeses and veggies.
Local Love: Surfer ($9.39) with ham, turkey, Swiss cheese and cucumber. As their motto says, "Often imitated, never duplicated," and they are not wrong. 
I Loaf You Too: Peddler ($9.39) with tuna salad, Swiss cheese and cucumber. If you aren't a fan, this one will change your mind. Don't miss this oppor-tuna-ty, served on Anna's unique "canned bread."
Hamlet's Eatery
821 Apricot Ave., Sarasota; 941-445-1938; HamletsEatery.com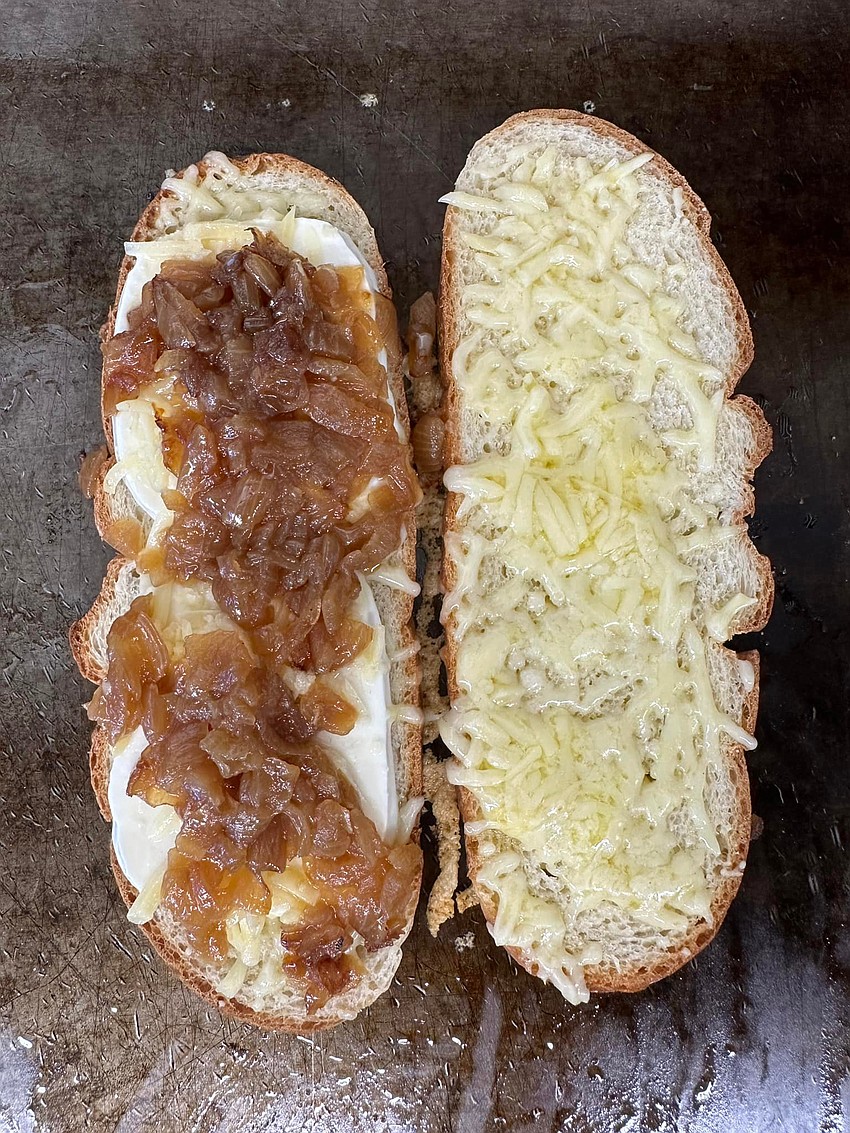 Located in the courtyard of The Bazaar On Apricot & Lime, this food truck will make you ponder Hamlet's tagline, "To meat or not to meat." Why? Every item on the menu has a vegan option.
Vegan Vote: Mid-summer garden panini ($14) with roasted mushrooms, zucchini, red bell pepper, arugula and vegan mozzarella with a pesto mayo on grilled sourdough. Not vegan? Go for goat cheese and fresh mozzarella. This ooey-gooey sammy makes me one happy camper.
I Loaf You Too: Melty MacBeth ($13). Gruyere, fresh mozzarella with caramelized onion jam on sourdough served with fries or lightly dressed greens. 
Publix
Numerous locations, Publix.com
Our friend in Cleveland asked us if we can ship him one. My brother-in-law hops off the plane at SRQ and immediately asks when we are going to get one. When I told my mom I was writing about sandwiches, she asked, "Are they on the list?" Yes, it's Pub sub time.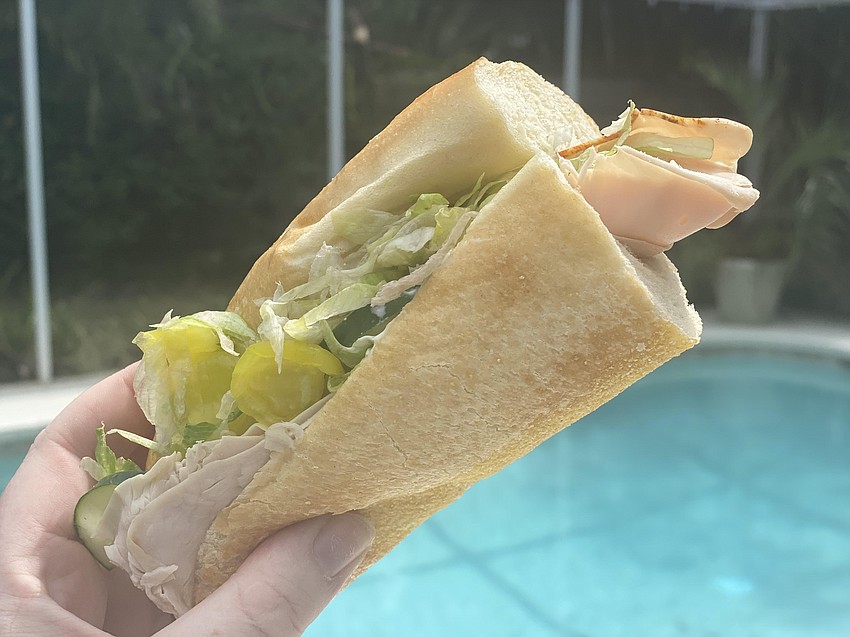 Superbly Stacked Sub: My husband is addicted to the Publix chicken tender sub ($10.49 and up). It's packed with their famous hand-breaded chicken tenders with provolone, lettuce and tomato. You can customize like Patrick by choosing tenders tossed in buffalo sauce, replacing provolone with pepper jack and adding green peppers, cucumber and onion.
I Loaf You Too: I devour Publix turkey subs ($8.49 and up). Get the standard turkey, provolone, lettuce and tomato on a white sub roll or do what I do: Choose cheddar, add green and banana peppers, cucumber and lather up that deli sub sauce.