Not all music enthusiasts today are familiar with a "78" record, but not long ago, you could find them in The Sarasota Music Archive.
The collection of records was so numerous, that when an engineer came to visit the site, he requested staff remove it because of its weight.
Thanks to a corporate grant, the archive was able to digitize and remove the records, the standard format from the 1910s to 1950s and known as "78" for their revolutions per minute.
The process of digitization, just one aspect of the archive's work, may not sound difficult, but it can be when it requires each record to be played from beginning to end, and when the collection is as extensive as what's tucked away in the Special Collections Department of Selby Public Library.
Just for perspective, the collection of a later variety of vinyl records totals about 300,000, with each record being 40 to 50 minutes in length. 
The archive is currently trying to secure funding to digitize that collection.
"Even if we started today, I might not be here when we finish the digitizing, but if you get 100 people doing it, that's a whole different story," said Archive Manager Dave Berry.
Vinyl records are just one piece of a collection that includes sheet music, CDs, VHS tapes, piano rolls, Edison wax cylinders and more, all of them available for checkout to members of the archive. 
A significant organizational commitment goes into running the show, but fortunately, the task is in the hands of the individuals who bring a passion for music, especially the genres they are archiving. 
Volunteer-driven effort
Rick Miller, an opera enthusiast among the archive's more than 40 volunteers, finds a fulfilling experience in sorting albums.
He and his husband Larry Bauer have seen over 170 operas, and he often has flashes of recognition when viewing the album covers within the opera collection, which he spent two years curating. 
Curation includes making sure the records are in the right sleeves, with no extras in each sleeve. All the items in the archive are donations, which may not always be packaged with the utmost care.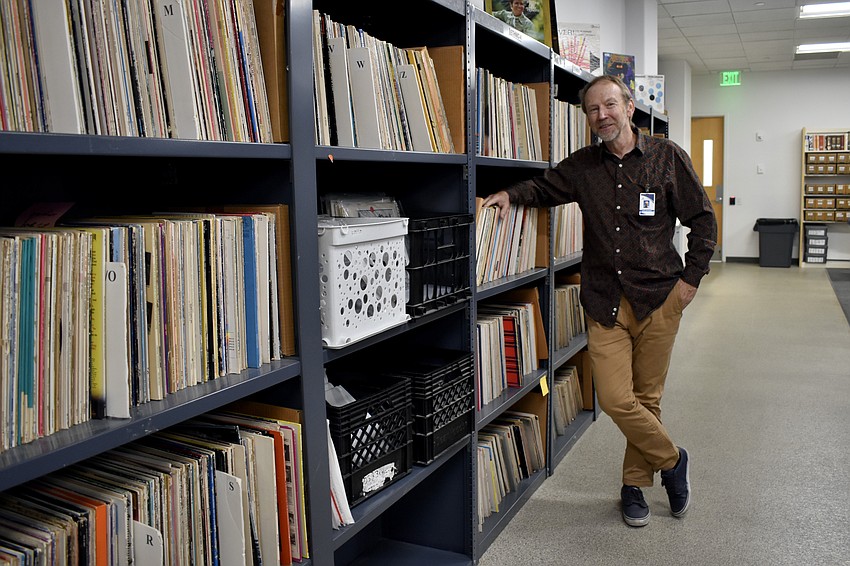 "Oh my goodness, we have a recording of that baritone, that soprano that bass tenor," he said, recounting his experiences. "I was savoring every moment of it as only a devotee would do it. I like working here. It's great fun. It's instructive."
The archive has existed since 1980, and many volunteers remain from the 1980s and 1990s, Berry said.
The musical offerings are not at all limited to opera, although the archive does bring a large classically-oriented collection, having been affiliated with the Sarasota Opera in the past. Visitors will also find sought-after items like some of the earliest Beatles albums.
"Any genre you can think of, we've got," Berry said.
Rummaging through a stack of new donations in his office, he pulls out one example: "Are You Experienced?" the debut studio album of The Jimi Hendrix Experience. He says the copy is valued at up to $350.
"You never know what you're going to run across," he said.
Each time an item is received, volunteers provide a general idea of its value, while Berry performs more detailed descriptive work. The assessment of value is based largely on condition and on whether an item is an original release.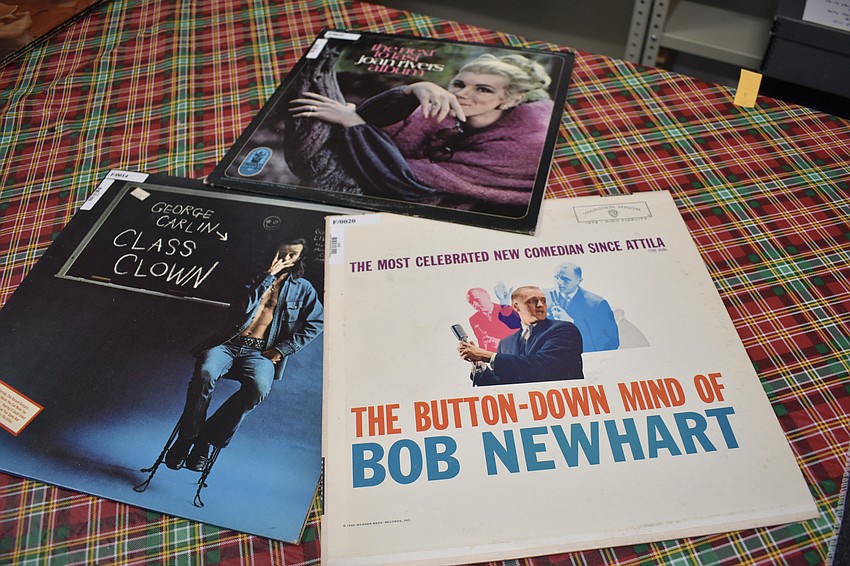 For the vinyl records, many details can be determined through writing inside the ring that states information including the record's pressing and issue date. 
The collection even extends beyond music, with a series of comedy recordings featuring Bob Newhart and Richard Pryor.
One of the collections that Berry thinks will dazzle visitors is the sheet music, including the large collection of pop sheet music from the 1850s onwards. The covers of sheet music from the pre-radio era were made to be admired, he said.
"In the early days of music, there really wasn't radio or television, or any means to send the music out," he said. "The only way to do it, really, was to get the sheet music and play it at home, so the sheet music had to sell itself. It was a whole genre of artwork."
Among the sheet music collection are multiple anthologies, like a book of hits by Jackson Browne and a Frank Sinatra songbook.
The archive recently sent its classical sheet music collection of some 300,000 pieces to Ohio University, in order to free a room for county use.
Berry said the archive is working on its jazz collection, but that it is already extremely extensive.
It contains many early classic jazz records by individuals from before the time of Miles Davis, and a "huge" collection of Ragtime-type jazz donated by one individual.
These vast collections are bound to receive duplicate items, but the archive has a solution for that. Its Musical Store, found at the entrance to its facility, offers those items for sale to help support its operations, allowing visitors the chance to permanently take home some materials that interest them.
Over the roughly seven years Berry has worked with the archive, it has been focused not only on its growth, but on the user experience as well. 
This has included replacing the past cataloguing system. Originally, each area of the archive had its own database, which meant users had to search multiple databases to find an item, but volunteer Mark Gallagher helped connect the databases to be searchable through one search engine.
The archive has also set guidelines that follow archive industry standards as closely as possible, for all departments, and has assembled an employee handbook.
Bringing music into the future
The archive is able to convert reel to reels, VHS tapes, vinyl, cassette, betamax, DVDs CDs, laserdiscs, or, as Berry says, "almost any format you can think of."
Although it typically digitizes or converts content on behalf of outside parties, digitization of some of its own collection also serves its mission and ensures that some of the recordings it contains can live into the future.
"It's important in an archive where you have all these different types of media, 8-tracks, all this stuff, to be able to get it digitized, too," Berry said.
According to volunteer Mark Gallagher, the result of digitization is often a superior product to the original recording. 
Some recordings contain pops or skips in the audio. However, Gallagher removes the pops using a free open-source software called Audacity, excising such a small portion of the audio as to be imperceptible.
More difficult to manage are the skips, but some techniques can help prevent the issue, like spraying compressed air on the troublesome section of a vinyl record.
Once he's finished, he may create a CD of the audio, printing artwork directly onto the disc and printing inserts to slide into the cases.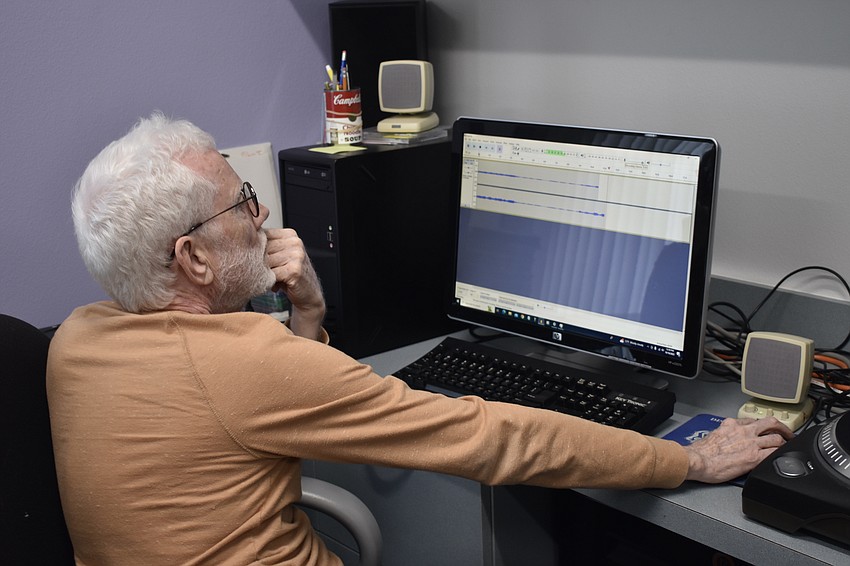 The digitization setup is largely used to benefit the wider community. 
As an employee of New College of Florida, Gallagher was talking with Ana McGrath, a digital imaging technician at the Jane Bancroft Cook Library at the college, when she pointed him to a new project. 
The college, which is currently attempting to digitize all of its student thesis projects, had many reel-to-reel tapes of audio theses on hand, in a collection extending back to 1967. 
The ability to access reel-to-reel to digital conversion in the community was fortunate, said McGrath. 
"To have that partnership locally is great," she said. 
The archive prepares for upcoming events
The archive has another important arm of its operations, which is free and open to the public at the same time it keeps members engaged.
Its events and concerts, held at the Jack J. Gelbart Auditorium of the Selby Public Library, are just rounding a corner into a new series of offerings this year.
An upcoming lecture series begins on Nov. 8. 
Delivered by Joy McIntyre, a professional opera singer and former associate dean of Boston University's music department, it concerns the Richard Wagner opera "Der Ring des Nibelungen," which McIntyre performed throughout Europe and the U.S.
"She gives it a unique perspective," Berry said. "She actually performed it, she's not just a college professor who has read about it; she's been in it, she knows how it works."
The archive holds performances throughout the year featuring individuals both from within and from outside of Sarasota. Winter performances offer mainly classically-oriented music, while a series of jazz concerts takes place in the summer.
"We have events, programs, lectures, all kinds of things, and those are revving up to start," Berry said.