Just before he became engaged in 1978, Dan Slottke was issued a very stern warning from his future father-in-law.
"You had better take care of her, the way you take care of your car," Donald Starr said in reference to his daughter, Deborah.
Slottke took care of both, and 45 years later, he still has them.
On Nov. 4, Dan and Deborah Slottke will be enjoying the Knights of Columbus Car Show and Cookout at Our Lady of the Angels Catholic Church, 12905 S.R. 70. Lakewood Ranch.
They will be sitting alongside the car that has taken them through the years, a 1979 dark blue, Pontiac Trans Am.
Although they have had their car since 1978 (the 1979 model came out the previous year), they actually met when Dan Slottke owned a 1977 Trans Am that had a clutch. Dan loved his future wife (they married in 1980) so much that he wanted her to be able to drive the car, and therefore purchased the newer, automatic model.
Deborah knew he was making a huge commitment, especially after their very first date. They drove in the 1977 model to the movies to see "Smokey and the Bandit."
She remembered the first moments when Dan picked her up.
"Hmmmm," she said, her eyes squinting a bit as she remembered back in time. "Am I going to be allowed in the car? Everything was spit-shined. You don't drink, and you don't eat, or comb your hair in the car."
But she overcame the rules, because after all, the car was beautiful.
The two Mill Creek residents laugh about the memories now, and are aware that many things throughout their lives can be linked to the Trans Am. It makes for great conversation at the car shows, such as event at Our Lady of the Angels.
"He likes the social part of it," Deborah said of the car shows. "It is a good network of people from all walks of life."
Dan was learning to be a machinist early in life at Allis-Chalmers when he met Deborah, who was managing a Sambo's restaurant. They were both ready to leave a disco just outside of Milwaukee, Wisconsin, when Dan spotted her long, flowing blonde hair.
He was a confident guy, because after all, he had landed a good job at Allis-Chalmers, which allowed him to go from an American Motors Gremlin to a Trans Am. He pulled Deborah on the dance floor for a spin.
Dan said the Trans Ams, both his 1977 and the newer one, were like the top toys at the time. He was living the good life.
"Like the movie, there's the Bandit ... you can spin the tires a little," he said.
Although he kept the same car over the years, he tinkered with it at times. The 1979 was an automatic, but it had a 403 Olds engine that was more powerful than his first Trans Am. In 1981, he had his carburetor rebuilt and it was "crazy fast."
By 1986, he had moved to Florida and he stopped piling miles on his favorite car, but he still made a few changes at times. In 1987, he took the car apart and repainted it under the direction of a body man. In 2017, the drivetrain was rebuilt and aluminum pistons were added along with a mild cam.
He now has 86,000 miles on the car, which still flies.
"I guess it's just weird how it happened, that nothing impressed me enough over the years to make me trade it in," Dan said.
Every year a Nebraska car club hosts a run along the Smokey and the Bandit route between Texarkana, Texas and Atlanta, Georgia. Dan and Deborah did the trip in 2017, but decided the crowds were too much to do it again.
Dan did enjoy taking his car on the track at both Atlanta Motor Speedway and Barber Motorsports in Leeds, Alabama, as part of the trip.
While Dan, who is 68, and Deborah, who is 65, come across many other 1979 Trans Am owners, they meet very few original owners. That did catch the attention of actor Burt Reynolds — Mr. Bandit himself — after meeting him through a mutual Palmetto friend, Gene Kennedy, who owns the business Bandit Movie Cars. Reynolds signed the glove box in the Slottke's car.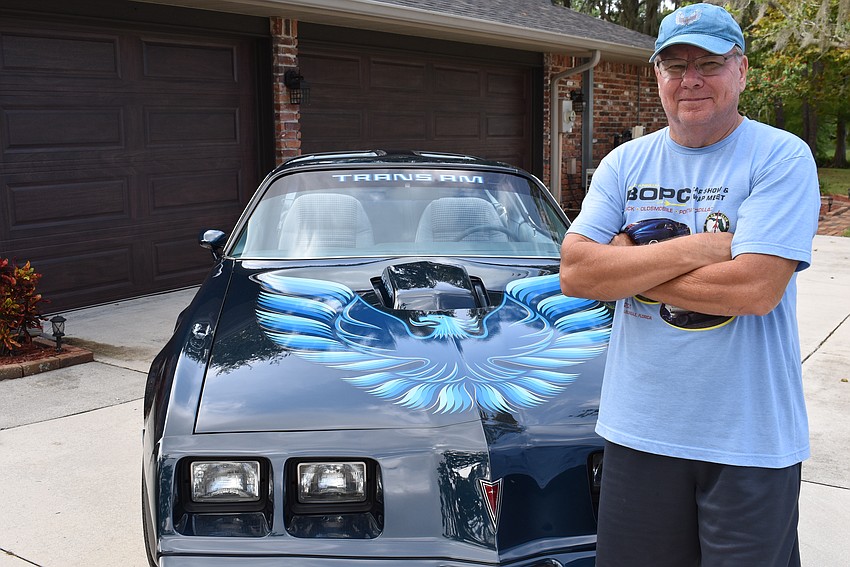 Deborah began to make carrot cakes for Reynolds on special occasions and just to make him smile, and it led to a special moment for her when the movie star took her hand and kissed it for her kindness.
It was just another moment on the road for Dan and Deborah, who probably knew right away they were meant for each other.
Back in 1980, Dan told Deborah to take the Trans Am to work one day — she only had driven it a few times — and she was pulled over by a policeman on her way to work.
The policeman said he was going to give her a ticket because her tires were too wide and sticking out from under the wheel wells.
"I told him, 'You're free to pull out your ruler and measure them, but you are going to find out that they are legal,'" Deborah recalled. 
The policeman looked back at her.
"You're free to go."