On a beaming Oct 18 morning, Aaron Beverly was getting ready to network with a group of corporate executives, all while trying to practice for the start of the Billy Horschel Invitational Presented by Cisco.
Having come to The Concession Golf Club in the Lakewood Ranch area to compete for part of the $150,000 purse at the Advocates Professional Golf Association Tour stop on Oct, 18-19, Beverly had plenty of responsibilities.
Before the start of a pro-am event, the 29-year-old pro golfer from Sacramento, California, was given one more.
"Do you think of yourself as a golfer or a Black golfer?" Beverly was asked.
"A Black golfer," he said without hesitation. "It comes with an extra responsibility."
Tiger's time
When Tiger Woods turned professional in 1996, a wave of hope permeated America, with the assumption that such a dynamic, generationally significant star would serve up golf to minority communities previously blocked from its country club gates.
The First Tee program, founded in 1997, set a parallel route in using golf to teach not just the game, but life skills everywhere the program landed, often targeting minority communities.
How could such a wave of excitement not take hold?
"People were inspired by Tiger," Beverly said. "But it just wasn't feasible. When you play basketball, you get a ball and some shoes and you go play. With golf, you need clubs, a ball, a coach, a place to play."
In 1996, Woods was the PGA Tour's only Black player. Calvin Peete, Jim Thorpe and Jim Dent all had moved to the senior tour. In 2023, only four Black players have PGA Tour status — Woods, Harold Varner III, Cameron Champ and Joseph Bramlett. It has been snaillike progress.
In 2008, Kenneth Bentley, a former Farmers and Nestle executive, and a board member on Woods' TGR Foundation, helped found the Advocates Professional Golf Association. The organization was formed to help minorities gain access to the top equipment, instruction and opportunities and to bring greater diversity to the sport.
After watching the group's work, Horschel wanted to become involved. The Concession event is the third consecutive year he has hosted a tournament.
Three years after he began, he sees change coming.
"All these guys have sponsors on their shirts now," Horschel said. "Three years ago, there were none. It's just going to be a matter of time."
But can the APGA make a difference for this particular group of golfers, who mostly have gone through college programs and had access to some significant resources?
Yes, it matters
Troy Taylor II, a Columbus, Ohio native who went through the Michigan State golf program, said the APGA will make an incredible difference. The access to the nation's top courses, such as The Concession, will allow him to be comfortable when it comes time to hit shots on the Korn Ferry or PGA Tour.
Horschel said the creativity and imagination needed around The Concession in terms of just chipping will be incredibly magnified at a higher level. The same is true of all the other tests.
Taylor, 23, also noted that every time he goes out on the course with the APGA, he doesn't feel, "I am playing like it's my last dollar."
For him, it has been a home.
Besides the golf, Horschel said the players are treated like they are PGA Tour members and that can be an important factor in moving forward. He said each APGA golfer gets important mentoring, lessons on finances, access to coaches and trainers, and opportunities to work as ambassadors for sponsors of the tour, such as Cisco.
Cisco has hired Beverly and Taylor as brand sponsors.
"Cisco has stepped up, and what this tour has done is give these guys a chance to make a name for themselves," Horschel said. "There needs to be more recognition that there is a tour that is helping minorities realize a dream."
Many of the players who headed out to the course last week said they have had a dream of playing at The Concession, which gained notoriety after hosting the Workday Championship at The Concession in 2021.
Horschel, who finished in a tie for second behind winner Collin Morikawa in that one, knows the feeling. He couldn't wait to test the course in 2021.
"I had heard all about The Concession for so many years," he said. "I had never gotten to play it and I had heard it requires a lot of the player."
Cassidy gives back
During the 2021 tournament, Horschel became friends with Concession owner Bruce Cassidy Sr. and his daughter, Sherry. They both shared his interest in the APGA and supported his first two tournaments, which were at The Players Stadium in Ponte Vedra Beach. When Horschel asked to move his tournament to The Concession, they said to bring it on.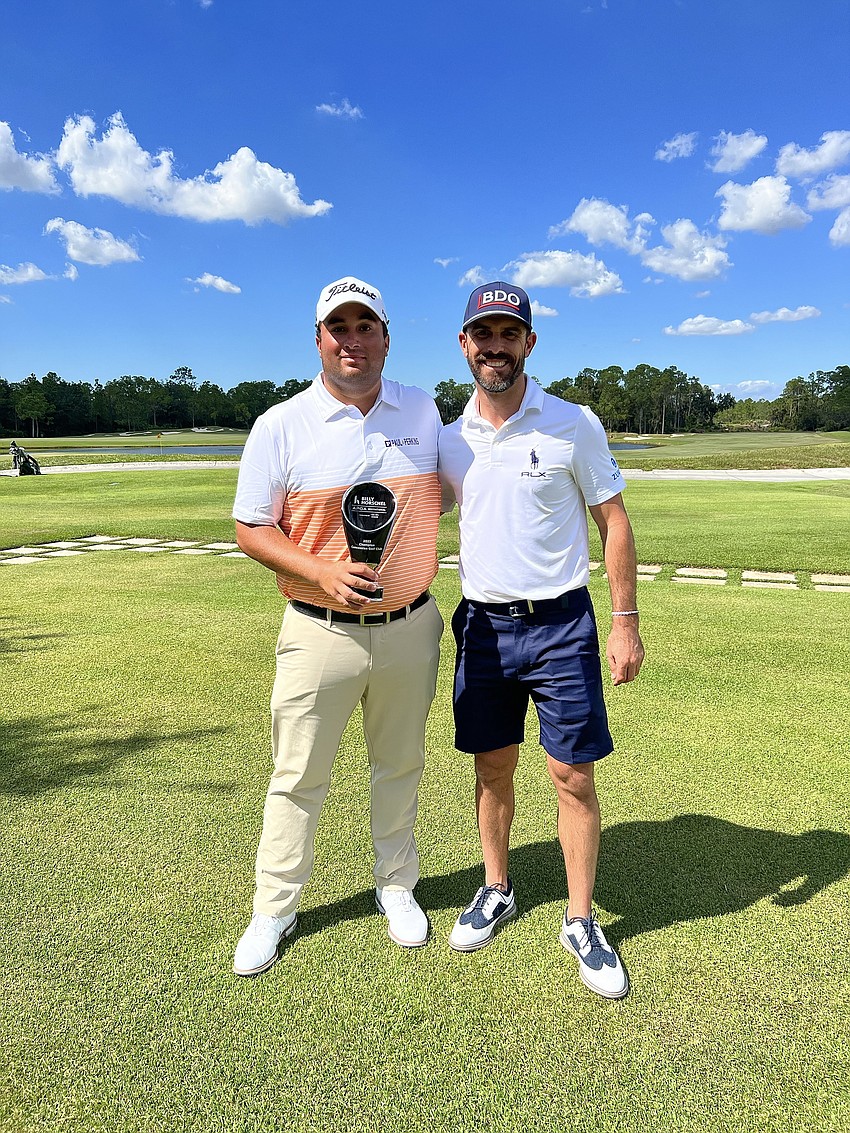 "I've tried to look at the bigger picture and find ways to give back," Bruce Cassidy Sr. said. "This got started because Billy fell in love with our facility."
Cassidy took the request to host the APGA to his management team, staff and members.
"There was never one complaint," he said.
It comes at a time when The Concession is preparing to host the inaugural World Champions Cup, a Champions Tour event Dec. 7, 8 and 10 that matches European, International and American teams. Tickets are on sale at WorldChampionsCup.com.
It all creates an exciting atmosphere for the APGA, which this season hosts 18 events with $1 million in purses.
It has been a great resource for minority golfers at a time when lack of funding can trump talent.
"I love the game, and the APGA allows people to connect with each other," Horschel said. "If the finances are not available, it can be tough to achieve your dreams.
"This sport is expensive. A lot of smart people are trying to find ways to help, but it still costs a lot of money. In the last decade, I see clubs making changes, munis making a concentrated effort to open doors (to young golfers and minorities). They have the opportunity to touch kids, and give them a platform."
The APGA gives minority golfers a platform.
"I have been watching the scores on this tour (over time)," Taylor said. "The guys are getting better. This tour means a lot."
Taylor said one of the biggest benefits of the APGA might not be seen until far down the road, when more minorities are playing on the PGA Tour and more minority children are watching.
"How many more people will get their hands on a golf club?" he said.
Cole Smith, the executive director of the APGA Tour, said golf fans won't have to wait to see how even one golfer can make a difference. Tim O'Neal, who has been a regular player on the APGA Tour, earned a spot on the Champions Tour this season and has earned $466,336. He is quickly becoming a fan favorite on the Champions Tour.
Smith heard a couple of young golfers talking about O'Neal's success. One told the other, "I always wanted to play on the APGA Tour."
"This is about representation," Beverly said. "You have to see yourself in someone else (to be inspired). Kids will see us as players."
The APGA's power was on display at The Concession. Gabriel Lench, a Latino golfer out of St. Mary who was an accomplished amateur in Florida before turning pro in 2019, won the event by a shot and collected a $50,000 winner's check.
Through tears, Lench described what the APGA Tour has meant to him.
"You don't know me," Lench said to those attending the winner's ceremony. "I don't come from anything. I have $200 in the bank and $20,000 in credit card debut. And if I didn't do something this year, it was over for me."
Because of the Billy Horschel Invitational and the APGA, Lench's dream of making the PGA Tour will live on.