Longboat may not have the colorful autumn of New England, but the island's restaurants still love to celebrate the flavors of fall. Here's a roundup of fall menu items you'll find on the Key.
Harry's Continental Kitchens
525 St. Judes Drive, Longboat Key; HarrysKitchen.com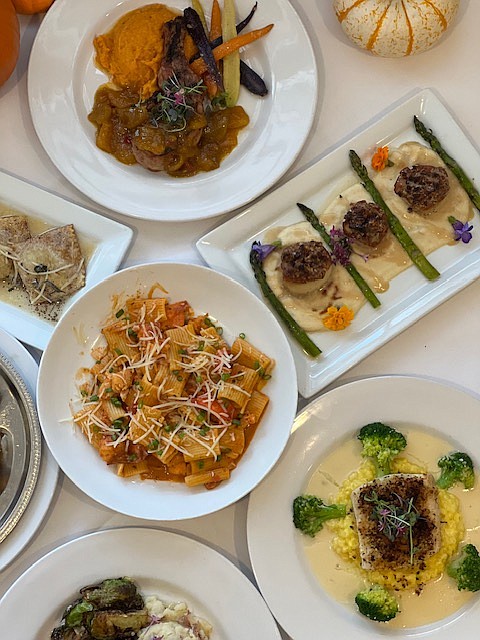 The wide array of fall specials at Harry's brings autumn flavors no matter the weather. The menu includes a variety of options such as a honey-garlic glazed half chicken, oysters Rockefeller, butternut squash ravioli and the vegan miso-agave glazed eggplant steak. Harry's is offering five fall cocktails, such as the pumpkin espresso martini, fall down apple cider with bourbon and the nutmeg-inspired "sombrero."
These menu items will be available until Thanksgiving when Harry's switches to serving Thanksgiving options.
Fall menu highlights:
The Warm Hug (Maine lobster rigatoni)
Pumpkin espresso martini
"You don't really feel fall in Florida but the weather change is nice," said Hal Christensen, general manager at Harry's. "So it's the perfect time to come sit outside on our patio. You can bring your dog and enjoy the nice weather and also enjoy some specials that are really unique and eat some warming home types of meals."
Lazy Lobster
5350 Gulf of Mexico Drive, Longboat Key; LazyLobsterOfLongboat.com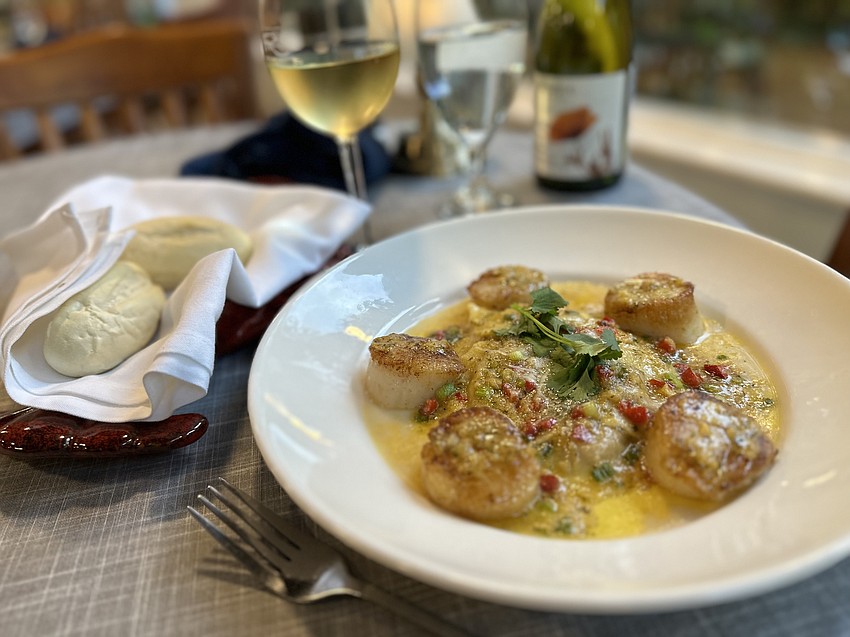 Even amid its renovation, Lazy Lobster offers options for fall-themed specials. 
The apple cheddar squash soup is offered as a side garnished with crispy prosciutto and chives. Their maple pecan salad is mixed greens, dried cranberries, tomatoes, candied pecans, gorgonzola, cinnamon bread croutons and Vermont maple dressing. Garey's favorite is the scallops breanne, pan-seared large sea scallops with citrus cream sauce served over butternut squash ravioli. 
Co-proprietor Michael Garey said that the renovated space will feel more inviting when finished and fit better with the more coastal seafood atmosphere. These menu items will be available until Thanksgiving.
Fall menu highlights:
Scallops breanne with butternut squash ravioli
Apple cheddar squash soup 
Maple pecan salad
"The fall is typically the perfect time of year to dine outside in the terrace garden and to enjoy some of our fall specials," said Garey. "We encourage guests to check out the progress of our renovations; it's starting to come together."
Turtle Coffee Bar
3172 Gulf of Mexico Drive, Longboat Key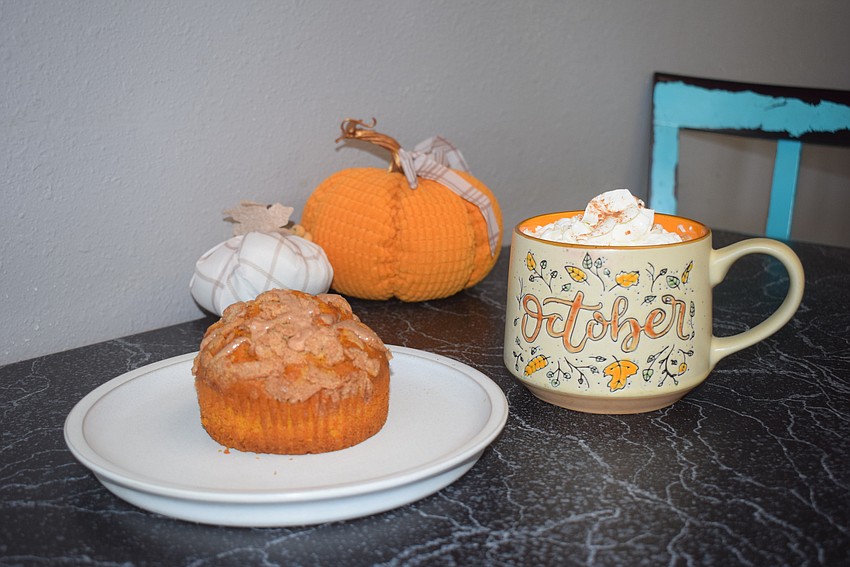 Turtle Coffee Bar has taken the apple theme of autumn and run with it. The coffee bar is serving two apple-flavored lattes and a variety of pumpkin baked goods. Owner Heather Gaus said she is excited to see all the families that come back to vacation on Longboat and catch up with them. These menu items will be on offer until December.
Fall menu highlights:
Caramel apple latte
Apple cider latte
Pumpkin bread and muffins
"People should definitely come by and see us during the season," said Gaus. "There usually isn't a long line or anything. We are the perfect stop-by place. If they're wanting to get out and go do other things, we're a good place to provide that little taste of fall. Super quick and easy."
Tyler's Gourmet Ice Cream
5350 Gulf of Mexico Drive, Longboat Key; TylersIceCream.com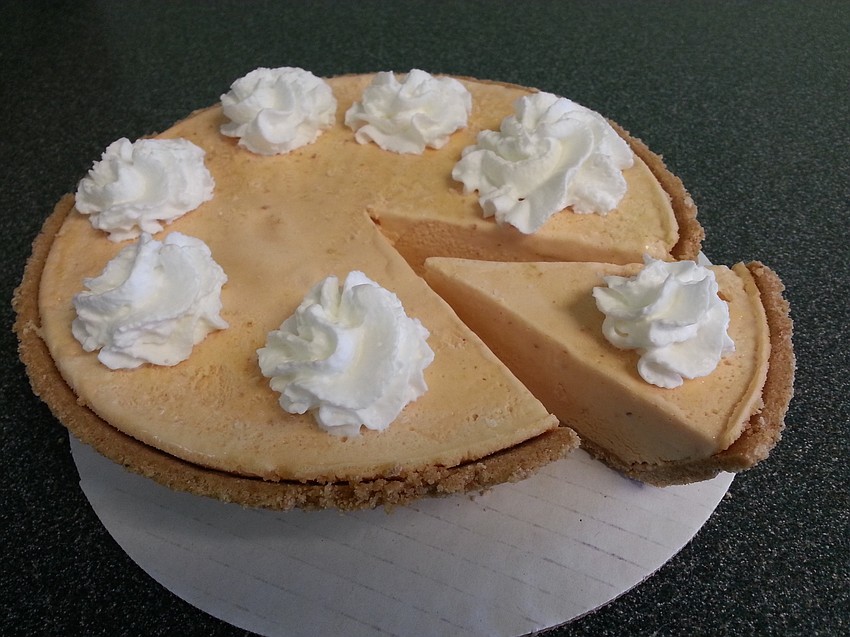 Tyler's is always one step ahead when it comes to seasonal flavors. 
Owner Rob Alderson said one of his favorite flavors to make is the pumpkin ice cream, for which he pours Libby's pumpkin pie mix into the ice cream maker. 
To give a Florida twist to an autumn classic, Tyler's offers special orders of pumpkin ice cream pie, which people have to call ahead for.  
He said he is excited to see all the familiar faces that come during the season. These menu items will be available until Thanksgiving.
Fall menu highlights:
Pumpkin ice cream
Caramel apple ice cream
"We get to know a lot of our customers that have been gone for six months now," said Alderson. "So a lot of times when they come back, it's funny, because they're like, 'Oh, we just got back and this was our first stop. We had to come here, because we miss your ice cream so much.'"
La Norma
5370 Gulf of Mexico Drive, Suite 104, Longboat Key; LaNormaRestaurant.com 
La Norma is bringing recipes from home into the restaurant to give the Key autumn Italian dishes. Owner Daniella Fornieri said the two fall dishes, the pumpkin ravioli and the pumpkin veloute, integrate pumpkin and other fresh ingredients to give an authentic flavor of fall. The La Norma staff is excited to welcome back all the snowbirds for the season to keep up their big family atmosphere as holidays approach. La Norma's fall menu will be available until Thanksgiving.
Fall menu highlights:
Pumpkin ravioli
Pumpkin veloute (pumpkin soup)
"We are a family restaurant," said Fornieri. "I personally have a relationship with the majority of our guests. Many families and the majority of our employees have been with us since the beginning. So everyone knows each other and there is just an excitement in the air when it becomes this time of year."
Sips Coffee
6828 Gulf of Mexico Dr, Longboat Key; SipsLBK.com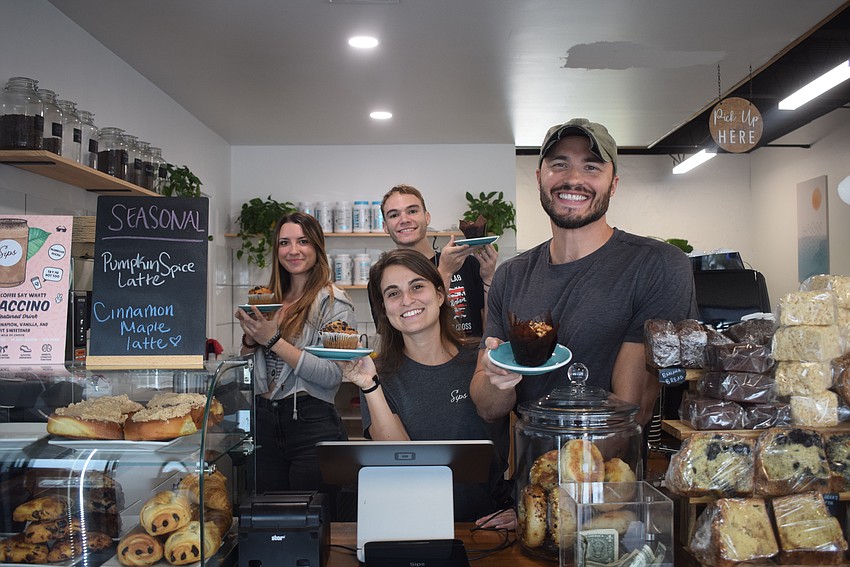 The coffee shop is gearing up for its first full season on Longboat with some classic fall treats.  The fall menu includes a pumpkin spice latte and a maple cinnamon latte. Some of their baked good options are an apple cider muffin and a variety of pumpkin muffins such as pumpkin chocolate, pumpkin cranberry walnut and a gluten-free option. These menu items will be available until Thanksgiving. 
Fall menu highlights:
Pumpkin spice latte 
Apple cider muffin 
"These are definitely perfect for the season," said Carter. "These are fun drinks that are here for a limited time. They are delicious so everyone should come try them."