In the time period between Elvis's early hip gyrations and the arrival of The Beatles and the British invasion, a cohort of songwriters in New York City had an amazing burst of creativity. Who were these hardworking hit-makers?
Carole King and Gerry Goffin; Burt Bacharach and Hal David; Jerry Leiber and Mike Stoller; Howard Greenfield and Neil Sedaka. That's who.
"Up on the Roof" sings their praises at Florida Studio Theatre's Court Cabaret. Rebecca and Richard Hopkins developed this revue with contributions from Sarah Durham; Jim Prosser arranged the music. Jannie Jones, Brandon Wardell, Joey Panek and Jacquelyne Paige do the actual singing.
But the songwriters are the real stars of this show.
You discover that King, Bacharach and the others were all employed by music companies in the Brill Building and nearby streets in Midtown Manhattan. Tin Pan Alley was a thing of the past by the late 1950s. But the music companies' cubicles became a New Tin Pan Alley. These composers and lyricists were hired hands. They worked for hit factories. And they delivered.
The songwriters who collectively produced the "Brill sound" were sophisticated. Their audience? Not so much. Teens aren't looking for witty references to Constantinople and the Turks. 
Adolescent brains have a very simple operating system …
I love you; you love me. I love you; you don't love me. I love you; I lost you. I love you; you were unfaithful. I love you; I was unfaithful. I love you; don't leave me. I don't love you; I'm leaving you. I love you; you died in a motorcycle accident.
Act I of "Up on the Roof" revolves around hormonal harmonies and teenage complaints. It opens with an ode to onomatopoeia — Barry Mann and Goffin's "Who Put the Bomp" (1961). Leiber and Mike Stoller's goofy "Yakety Yak" (1958) is a protest song against performing household chores. (The kid gripes but still obeys.) 
Jeff Barry, Ellie Greenwich and Phil Spector's burning, yearning "Be My Baby" (1963) is as subtle as a train wreck. Goffin and King's "One Fine Day" is a young woman's urge for requited love. (Not that complicated.) But the same team's "Up on the Roof" (1962) and "Will You Still Love Me Tomorrow" (1960) paint highly specific portraits in their first-person lyrics. The singer isn't a generic Everyteen. She's an individual. (Not that simple.) Even in the early days, the New Tin Pan Alley's talents had growing pains.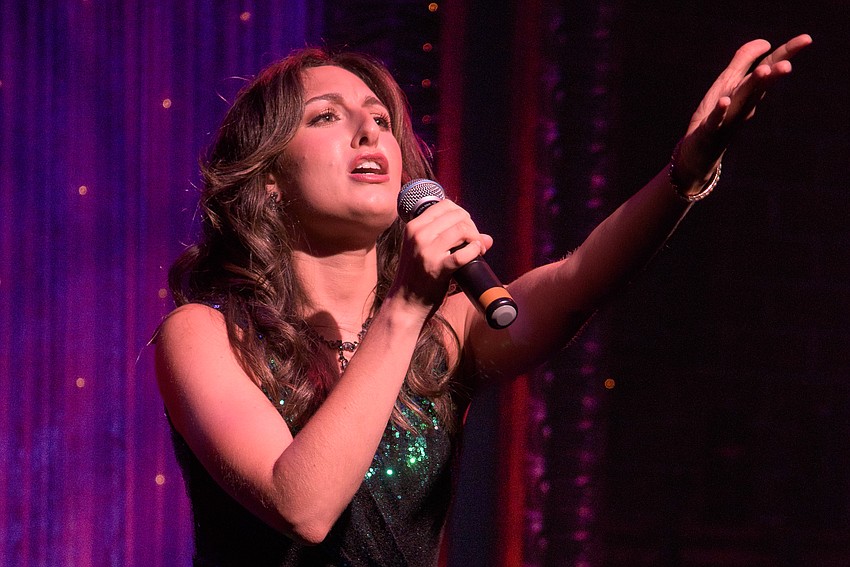 Act II's tunes get a little more adult. Not in the R-rated sense. In the maturity sense. The Brill sound is starting to grow up.
Toni Stern and King's "It's Too Late" is a highly mature post-mortem of a dead relationship. (Hardly teen stuff.) Goffin and King's "Pleasant Valley Sunday" (1966) is a cry against conformity on a suburban street. (The song actually said something!) King's "I Feel the Earth Move" went beyond teenage euphemism. It isn't a love song. It's a lust song. (And it doesn't pretend otherwise.)
Catherine Randazzo's snappy direction keeps the show moving. You hear fun facts between the songs about the Brill sound musicians, some of whom, like Goffin and King and Greenwich and Barry, married and then divorced. No musicology lectures here.
Daniel Ciba's costumes have a shiny, lounge lizard vibe. The earth tones of the late 1960s don't anachronistically appear in his garb. It's all sparkly, and spangled, and bright. (No wonder rock stars wore sunglasses at night.)
Ben Liebert's choreography draws on the frug, the swim and other classics from your parents' dance books. Prosser not only arranged this revue's tunes; he backs up the vocalists on synth piano. By playing over a recorded music track (which he also created), Prosser achieves a rich orchestral sound worthy of the famous Wall of Sound developed by Spector on "Be My Baby" for the Ronettes. Kudos!
As to the singers ….
Jones repeatedly steals the show. (Another singer called out "How are we supposed to follow that?" at one point). Her stand-out, go-to-church, roof-raising numbers include King, Goffin and Jerry Wexler's "(You Make Me Feel Like) A Natural Woman" (1967), and Barry, Greenwich and Spector's "River Deep, Mountain High" (1966). 
Jacquelyne Paige is a sulky, pouting hoot on Greenfield and Sedaka's frothy "Stupid Cupid." Joey Panek hits it out of the park on Barry Mann, Cynthia Weil and Spector's "You've Lost that Loving Feeling" (1964). Brandon Wardell plays acoustic guitar and sings two Bob Dylan tunes without doing a Dylan imitation. He quotes Dylan's dismissal of the Brill Building hit factory.
"Tin Pan Alley is gone," said Dylan, "and I put an end to it."
He helped, at any rate.
And Dylan wasn't wrong about the New Tin Pan Alley's fate.
The days of the singer/songwriter were on the horizon, and those of assembly line music factories were numbered. Aldon Music (the company inside the Brill Building) eventually closed up shop and put a lot of music-makers out of work.
Ironically, some, like King, went on to great careers as singer/songwriters. Her 1971 album "Tapestry" has sold over 30 million copies to date and remains one of the best-selling albums of all time.