The athletes were playing "the beautiful game," but the famous phrase coined by Pele could hardly be applied to what was happening on Sarasota's Fruitville Park soccer field Oct. 8. 
The contest, an "Over 50" Florida Suncoast Soccer League game between LWR Soccer Club and Sarasota Football Club, featured a bevy of missed passes, out-of-position goalkeepers and failed shots on net. At times, even the referees on hand were stifling their laughter — and the players themselves were aware of how it looked, despite giving their all. 
"We were good on the attack, but we were not so sharp on defense," Ian Bowles said with a grin. "It gives us things to work on."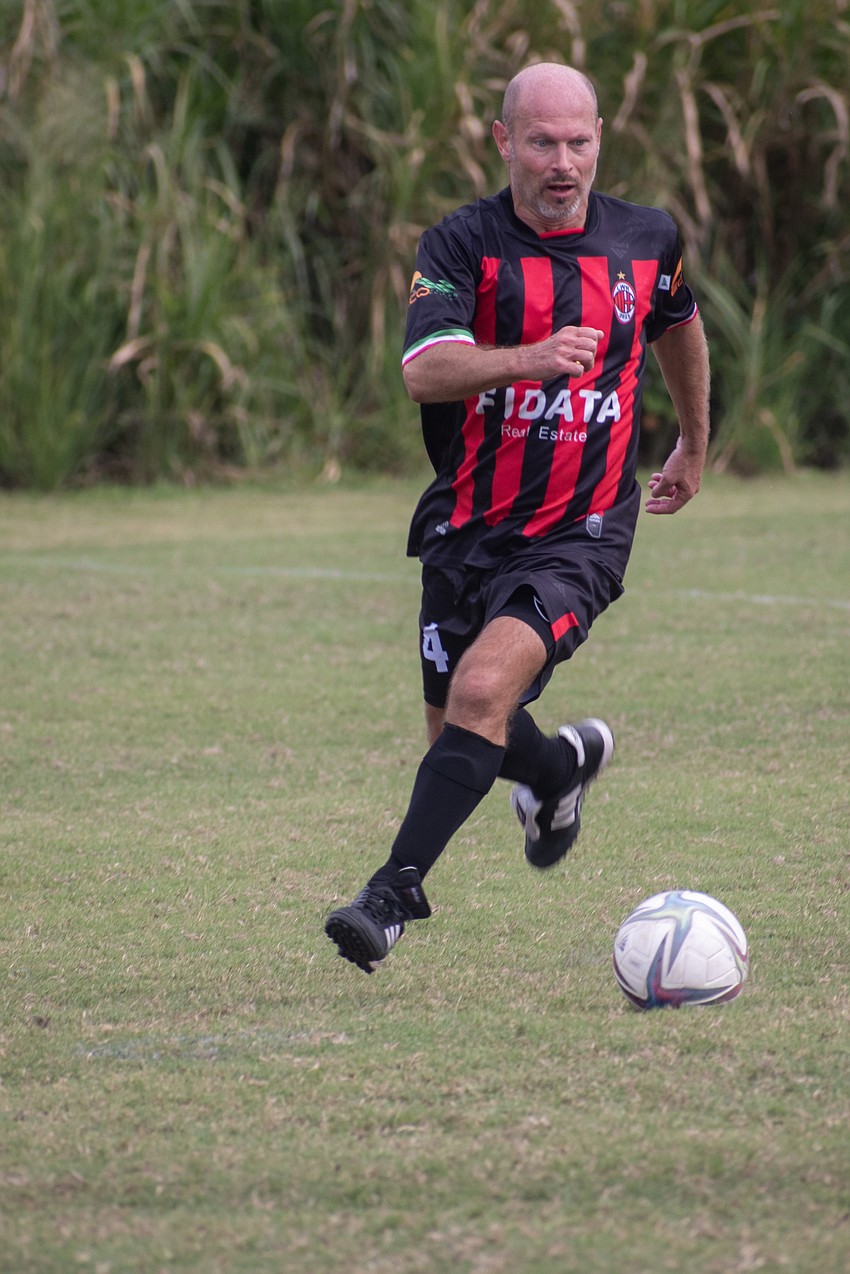 LWR Soccer Club won the match 7-4, but in the end, the quality of play and the result mattered less to the LWR Soccer Club players than being there at all.
The club has been around for 20 years, serving as a reliable and friendly soccer club for anyone with a Lakewood Ranch address, but this season is the first for the Over 50 team. It is still working on its chemistry, Bowles said, but after the Oct. 8 win, the team is 2-0. 
Bowles, 53, has lived in the Lakewood Ranch area for five years. He previously lived in south London. Despite England being soccer crazy, Bowles said he has taken breaks from the sport over the years. He played from ages 11 to 19, and would occasionally put on the cleats for a work outing or a random pickup game with friends. But those games were not competitive and usually did not feature 11 players to a side. 
Bowles joined LWR Soccer when he moved to the area, and there was an adjustment period as he transitioned back to real soccer. Now, he couldn't imagine going without it. 
"I enjoy running around," Bowles said. "I'm 53. It keeps me fit. We're meant to let the ball do the work, anyway. That's a (soccer) cliche, but it's true. And if I end up doing a lot of running, I don't mind."
There was certainly a lot of running during the Oct. 8 Over 50 game against Sarasota. Neither team could control the ball for long before losing it to the opposition, though LWR had some nice goals — and some nice celebrations. When Alfredo Lazo, 53, ripped a rocket from the right side, he celebrated by getting on one knee and pretending to fire a bow and arrow. When Wilfredo Vilchez, 57, got a tap-in goal in the second half, he did a quick jig.
A member of the Sarasota team even tried get on the scoresheet with a bicycle kick, though it did not go as gracefully as he planned. For LWR, 56-year-old John Smyth — whom the team calls Scottish John — scored twice against Sarasota. He leads his team with four goals. 
These players are over 50, and they might not have the precise dribbling skills they once held, but their exuberance for the game is still hearty. Despite Bowles' insistence that the event is as social as it is competitive, it seemed plenty important to the players on the pitch. Guys were pushing each other for the best positioning and players from both teams received cards from the officials. Often, there was language not fit for print used when a player mishit a pass or could not chase down a loose ball. 
It was refreshing. I can only hope I have the same zeal when I'm their age. I've got 21 years to keep it up.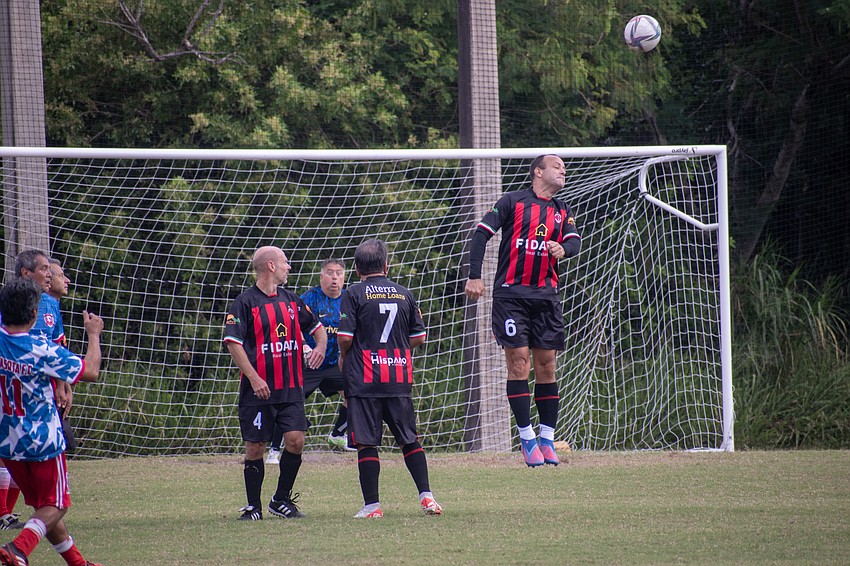 In addition to the Over 50 team, which plays against other leagues, the LWR club plays intra-club games three times a week, with Mondays and Wednesdays at Premier Sports Campus and Saturdays at Summerfield Park. The club has approximately 150 members, according to board member Damon Bell, with ages ranging from 17 to 73 and with more than 40 different nationalities represented in the membership.
Anyone with a Lakewood Ranch address is welcome to come to a game and see if the club is a fit, Bell said. Not just men, either — Bell said the club has three women who play regularly.
The club is happy with its current field arrangement, Bell said, but would eventually like a space they can customize. After the Oct. 8 game against Sarasota Football Club, the two teams sat down at Sarasota's clubhouse to have drinks together and relax. Bowles said LWR would like to have something similar. The club is as much about being social as it is being active, Bowles said, and there's nowhere at Premier or Summerfield where the whole team can sit and enjoy a beer. As the club grows and adds more teams, having its own clubhouse will become more of an asset. 
For now, the team is content to play out its inaugural Over 50 season, as well as its club games. The Over 50 team is waiting for its first home game to be scheduled. It will next play Oct. 22 at Pepsi-Yuengling Field in Tampa against the Tampa Blackwatch. It will be another chance for Bowles and company to bond — and I'm sure they'll find somewhere to have a celebratory beer.